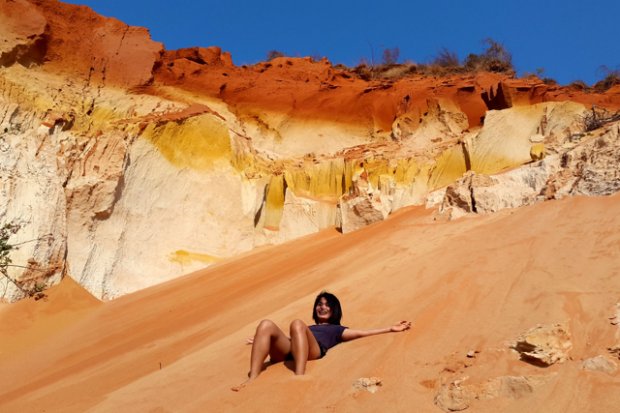 Bet you didn't know that there are sand dunes in Vietnam.
A few months back, I didn't either. As I was browsing the net one fine afternoon, I came across some photos of a spectacular desert. To my huge surprise, the photos were shot in Vietnam. It suddenly dawned on me that fulfilling my dream of being in a desert landscape no longer required me to head to the Middle East or Africa. I booked my flight ticket to Vietnam merely weeks after that day, eager to sink my feet into the sand that stretches to the horizon.
The sandy paradise is in Mui Ne, which is just four hours away from Ho Chi Minh City. Mui Ne is a resort town that spans 15 kilometres along Vietnam's southern coast. There are two sand dunes you can easily access from Mui Ne, namely the Red Sand Dunes and the White Sand Dunes. My time in Mui Ne was definitely the the highlight of my 10 day trip in Vietnam, and when you see the photos, you'll easily understand why.
Sandy attractions in Mui Ne
White Sand Dunes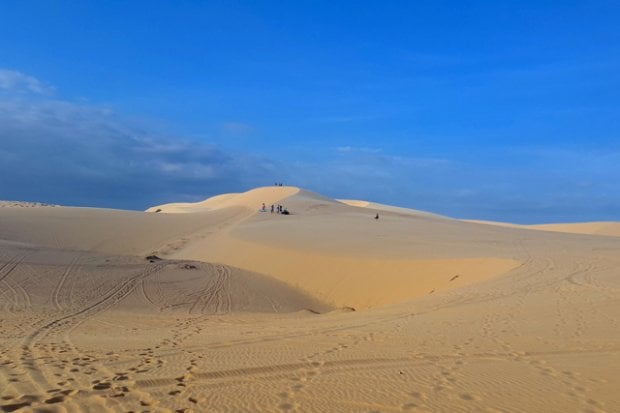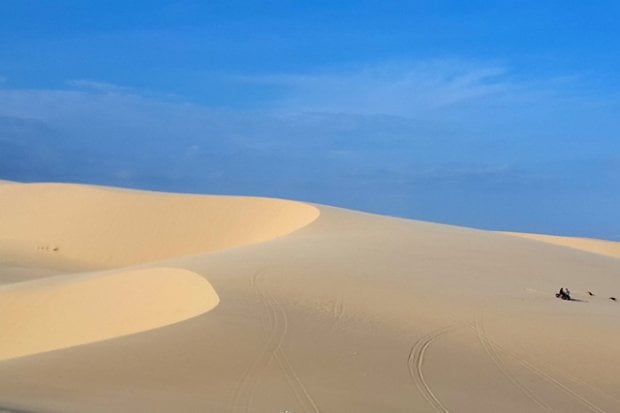 The White Sand Dunes is exactly how I have always imagined a desert to be – a vast expanse of barren land. Undoubtedly more pristine and breathtaking than the Red Sand Dunes, the White Sand Dunes is also less accessible. It is an hour drive from the centre of Mui Ne, and I must say that it is most definitely worth the commute. The only thing I didn't like about the White Sand Dunes are the noisy ATVs speeding around, which tainted the otherwise peaceful atmosphere.
Red Sand Dunes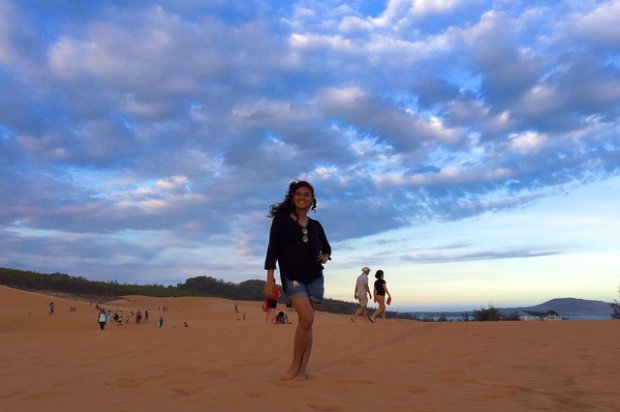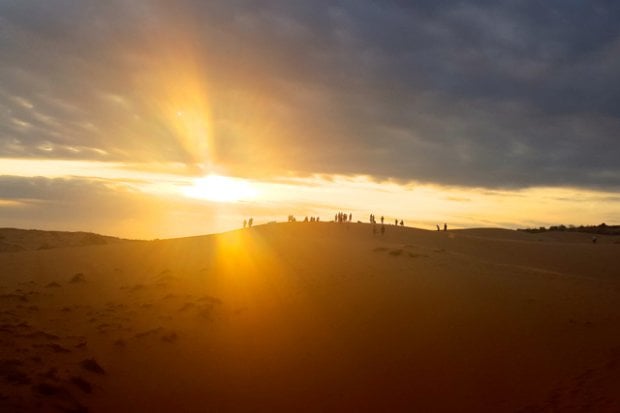 The Red Sand Dunes is just 20 minutes from the town centre, and the sand is really more orangey-brown than red. The gentle slopes make it easy to walk on foot (at least in comparison to the White Sand Dunes), and it is a spectacular place to be during sunset.
Fairy Stream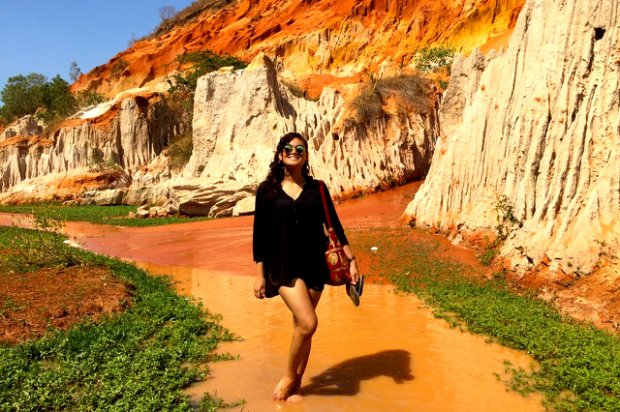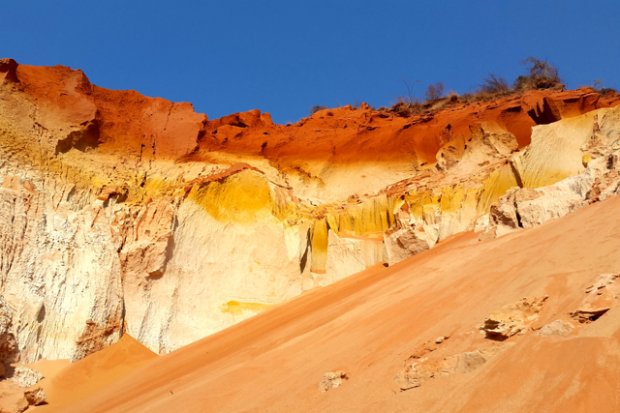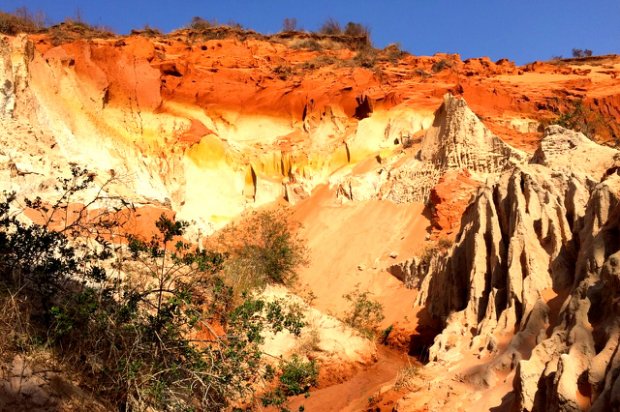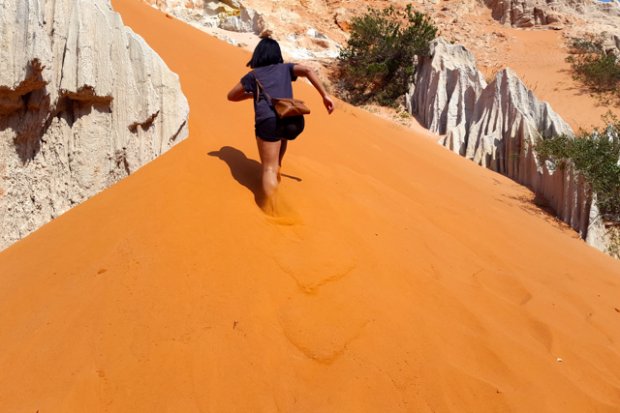 The Fairy Stream is one of Mui Ne's main attractions, alongside the Red and White Sand Dunes. I didn't expect to see hills of sand along the Fairy Stream at all. In fact, I didn't even know what to expect – I didn't do any research on this attraction at all! A stream with fluttering fairies, maybe?
It was a pleasant surprise when the Fairy Stream led me into a photographer's paradise. The ankle-deep stream is flanked by lush greenery on one side and a sand dune on the other. The landscape is absolutely surreal – a miniature mix of Cappadocia and the Grand Canyon. It was too inviting. I trudged up to the top of the sand dune like a little kid, and good thing I did too, because soon after, the midday sun heated the sand to an unbearable temperature.
Also Read: 10 Reasons to go Trekking in Sapa, Vietnam
How to get to Mui Ne
Now that you know about it, I bet you're already itching to make your way to Mui Ne. Here are some essential transport information about getting to the sand dunes in Mui Ne for a little taste of the desert.
Flying into Ho Chi Minh City
There are plenty of flights available from Singapore to Ho Chi Minh City and you can choose from Tigerair, Jetstar, AirAsia, Vietnam Airlines and Singapore Airlines, just to name a few. Budget travellers will be happy to know that return flight tickets can cost as little as SGD 100 if they either book in advance or grab the tickets when there are flight promotions.
Getting from Ho Chi Minh City to Mui Ne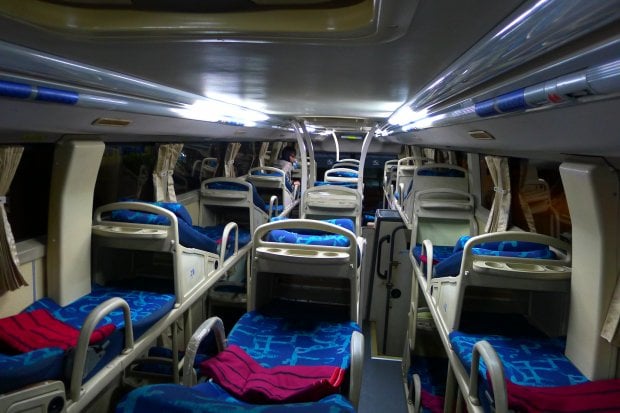 Image Credit: Little_ram
From Ho Chi Minh City, you can either take the bus, train or taxi to get to Mui Ne.
By bus: Getting from Ho Chi Minh City to Mui Ne by bus will take about 5 hours or more, depending on the road conditions. The two recommended bus companies are Phuong Trang and The Sinh Tourist, and tickets are priced at about VND 130,000 (SGD 8.25). I highly recommend booking the sleeper bus, just for the experience. Think bunk seats in a bus! You'll either love it or hate it, and this will probably depend on the seat you are assigned and the bus driver. Some seats have a few more inches of legroom than the others, and this makes a huge difference to your level of comfort.
By train: You can take a 4 hour train ride from Ho Chi Minh City to Phan Thiet and then switch to a taxi for the remaining 20 kilometres to Mui Ne. If the train to Phan Thiet is not available, take the train to Binh Thuan instead, which is about 40 kilometres from Mui Ne. Similarly, you'll have to switch to a taxi to reach Mui Ne. You can refer to the Vietnam Railways for more details on timing and prices. Also, do note that the train station in Ho Chi Minh (also referred to as Saigon Railway Station) is slightly out of the city centre in District 3.
By taxi: I happen to know about taxi prices from Ho Chi Minh to Mui Ne because I travelled during the Chinese New Year period when the frequency of buses and trains were reduced. Desperate to get to Mui Ne on that day itself, my friend and I decided to stand by the side of the road with a slip of paper that reads "Mui Ne, VND 2,000,000 (SGD 128)". We passed that slip to every taxi driver that stopped for us. The two reliable taxi operators in Ho Chi Minh are Vinasun and Mai Linh. Initial quotes by Vinasun taxi drivers are more than VND 3,000,000 (SGD 190), but we eventually managed to get a ride for VND 2,200,000 (SGD 140) on a Mai Linh taxi.
Where to stay in Mui Ne
Navigating around Mui Ne is very simple because all the shops, restaurants and accommodations are lined up along Nguyen Dinh Chieu street. There are accommodations that will suit every budget, and booking a hostel, guesthouse, resort or hotel anywhere along this stretch of road will be convenient. I stayed at the budget-friendly Diem Lien Guesthouse, which is slightly further away from the main hub of the street, but is within walking distance to the Fairy Stream.
Getting to the sand dunes in Mui Ne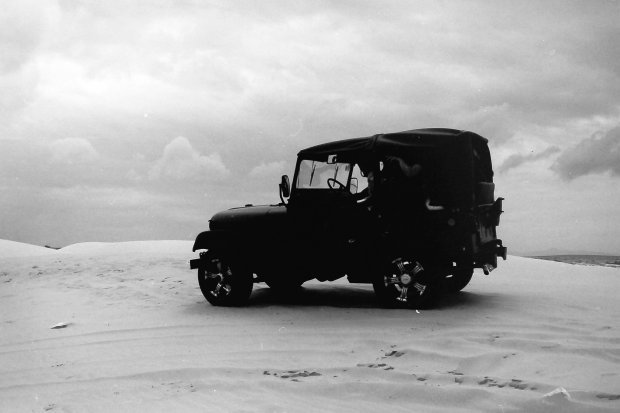 Image Credit: Bi&Me
To get to the Fairy Stream and Red Sand Dunes and White Sand Dunes in Mui Ne, you can go by a jeep tour, motorbike or taxi.
The half-day jeep tour is very affordable, priced at USD 7 (SGD 9.50), and you can book it from your accommodation. The tours depart at 5am (in time to view the sunrise) and 2pm (in time to catch the sunset). The jeep I was on carried 7 passengers, and it brought us to the Fairy Stream, Mui Ne fishing village, the White Sand Dunes and the Red Sand Dunes.
The downside of this tour, as expected, is the limited time we get to spend at each stop, especially the Fairy Stream. The 20 minutes given to explore the Fairy Stream was highly insufficient and thankfully I had already visited this attraction outside of the jeep tour. Further, the entrance of the Fairy Stream that we were directed to by the tour guide required a VND 5000 (SGD 0.30) entrance fee, while another entrance nearby that I took previously did not require any payment.  Though the sum is nominal, it was a scam nonetheless. That said, I will still recommend the jeep tour if you're on a budget and are not keen to ride a motorbike.
Along the main tourist strip, there are many shops offering motorbike rentals which cost between VND 100,000 – 200,000 (about SGD 6 – 12) for a day. A point to note is that the dirt road is really bumpy for the last few kilometres towards the White Sand Dunes, and it can be quite dangerous for those on motorbikes. You can rent a bicycle to get to the Fairy Stream and the Red Sand Dunes, but don't attempt to get to the White Sand Dunes on bicycle as it requires you brave the combination of wind and sand for 30 kilometres.
Taking a taxi to the Fairy Stream and the Read Sand Dunes is quite affordable as they are close to the town centre. If you take a taxi to the White Sand Dunes, be prepared for a one hour ride each way. Also, it is best to settle on a price with the taxi driver beforehand.
Watch the video here:
That's about it, folks! Have a good trip to Vietnam and don't forget to trick your friends on Instagram into believing that you're on a vacation in the Sahara Desert!
*Image Credits: my travel buddy Rosazlin Rosli