All you frequent travellers to South Korea, you might be wondering – where else can you explore next? If you've already been to Seoul, Busan and Jeju, it's time to delve deeper into the hidden side of South Korea.  
This country is more than just shopping, eating street food and (maybe) stalking celebrities…It's also home to gorgeous scenic landscapes that are absolutely breathtaking. The secret is that most of these beautiful locations are located in the southern part of the Korean peninsula.
It pains me to reveal all these locations, but good things must be shared to our faithful TripZilla readers. Let me introduce you to the tranquil seaside paradise of Geoje and Tongyeong!
1. Windy Hill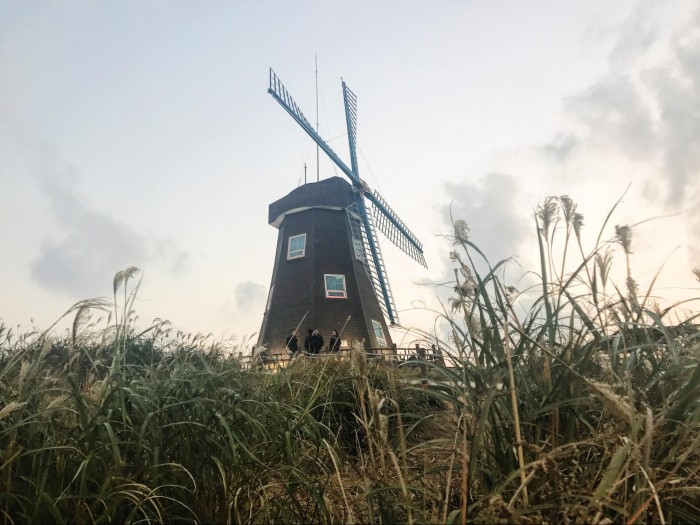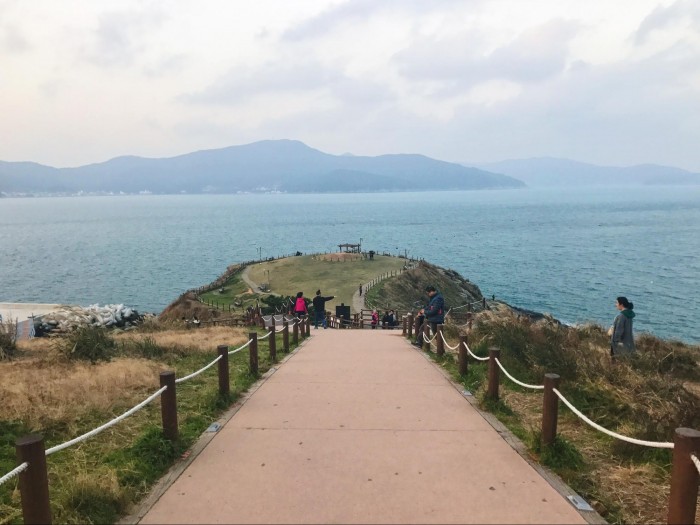 This iconic place is a must-visit for anyone who travels to Geoje for the first time. Featuring a huge windmill, endless lalang fields and a panoramic view of the ocean, I felt as if I had stepped right into a painting. The refreshing sea breeze was an absolute delight, as I stopped at various vantage points to take in the splendid landscape that stood before me.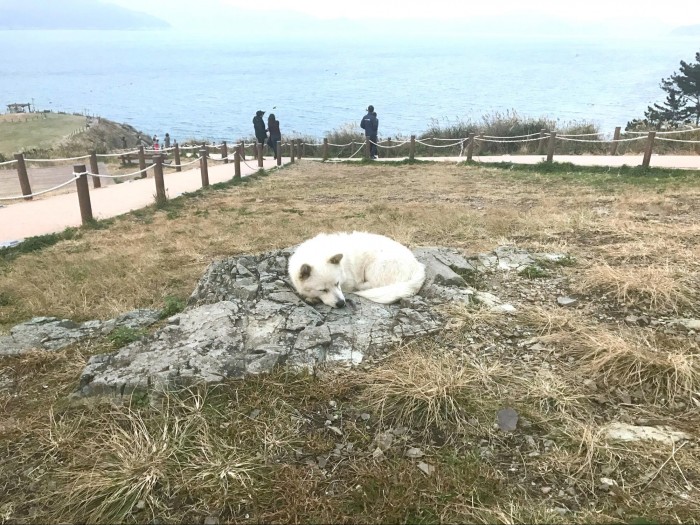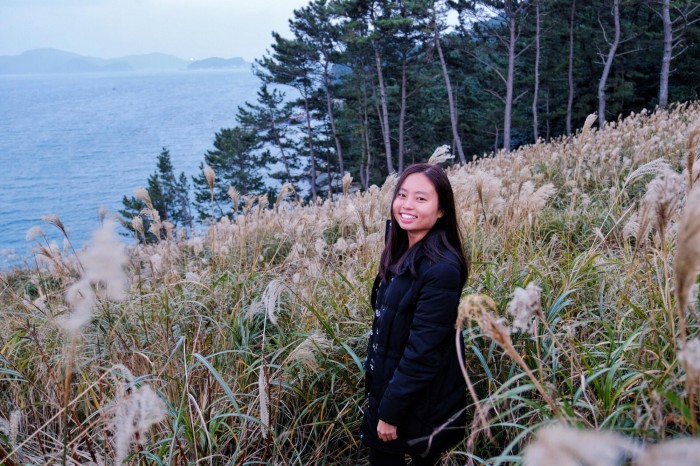 Just look at this adorable dog sleeping soundly on the rock – this will give you an idea how relaxing it was atop Windy Hill. In addition, the sprawling lalang fields are the perfect location to take Insta-worthy shots, or even film your own music video. Such beautiful lalang fields are truly hard to come by! Go ahead and indulge in as many selfie shots as you want. For those who watch the variety show 2 Days 1 Night, you might also find this spot familiar because they've filmed here before!
Address: San 14-47, Galgot-ri, Nambu-myeon, Geoje-si, Gyeongsangnam-do
Directions: From Gohyeon Bus Terminal, take Bus No. 55 and get off at Dojangpo Bus Stop. Walk for about 400m to get to Windy Hill.
2. Sinseondae Cliff and Observatory

Image credit: (left) Prapaiporn Kiamontri
Just 10 minutes away from Windy Hill is the Sinseondae Cliff and Observatory, where you get to enjoy another panoramic perspective of the ocean and the surrounding islands! If you are adventurous enough, climb up the rocks for a picturesque look-out point. Many TV commercials and dramas have been filmed here, so you never know who might bump into next! Make sure you arrive in time for the sunset, as the sky is awash with a myriad of colourful hues which will take your breath away. April and May are popular visiting periods to admire the bright yellow canola flowers across the island.
Address: San 21-20, Galgot-ri, Nambu-myeon, Geoje-si, Gyeongsangnam-do
Directions: From Gohyeon Bus Terminal, take Bus No. 55 and get off at Dojangpo Bus Stop→ Walk for about 400m to arrive at Sinseondae Observatory
3. Singsing Marinated Crab (싱싱게장)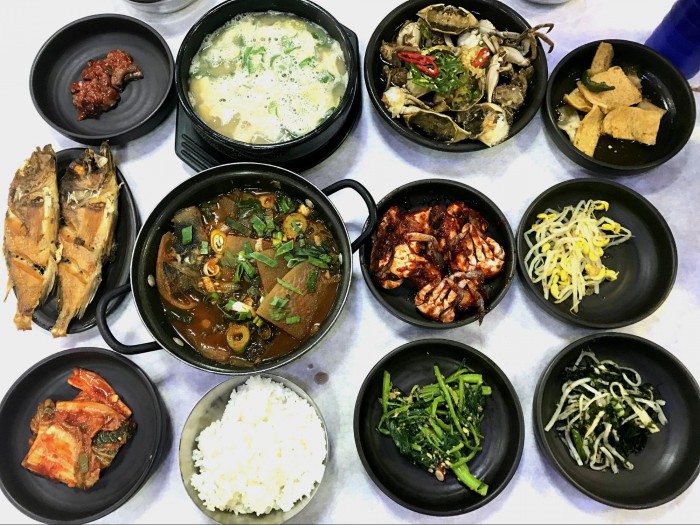 You will certainly be famished after all that travelling, sightseeing, and photo-taking. Well, then you better head to Singsing Marinated Crab restaurant for a sumptuous dinner! Also, you can't leave Geoje without indulging in their fresh and succulent seafood. Take a look at that delectable spread – are you drooling yet?! And let me tell you the best part – they offer FREE REFILLS for all the side dishes!

Image credit: Singsing Kejang
Their signature dish would be marinated raw crabs in either fermented soy sauce (간장게장) or chilli pepper powder (양념게장). An individual portion only costs 12,000 won – that's extremely worth it considering the huge spread and free refills! The raw crabs are best eaten mixed with rice, especially for the roe. Scoop some of that crab-infused brine as a sauce for your rice as well! These do have a unique flavour and might not be well-suited to everyone's taste buds, but it's certainly worth a try. You never know – you might end up loving it, just like I did!
Address: 694-2 Jangseungpo-dong, Geoje-si, Gyeongsangnam-do, South Korea
4. Jangsado Sea Park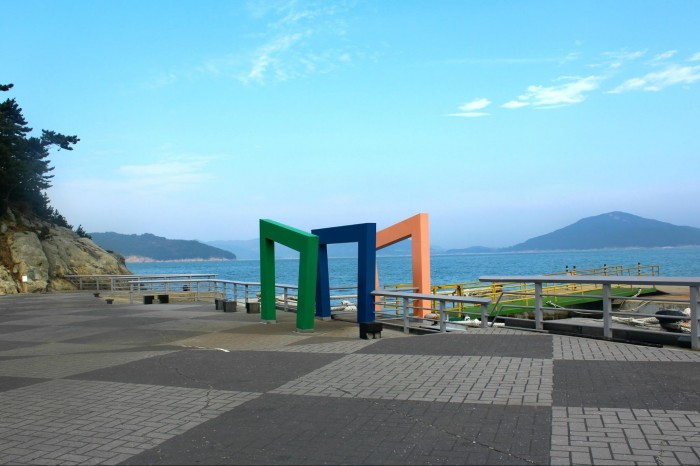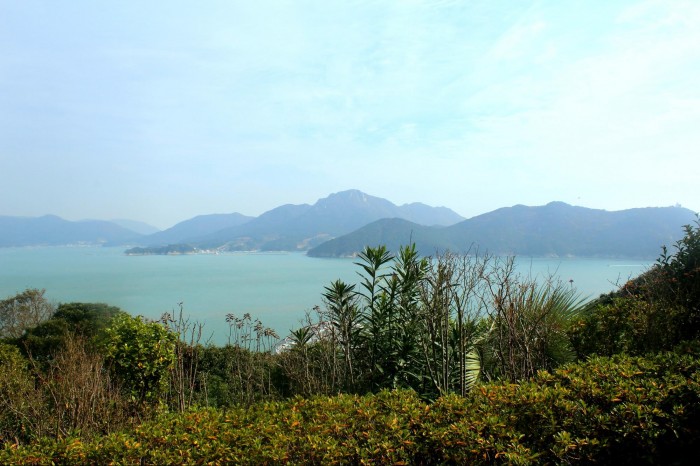 Jangsado Sea Park is an enthralling location filled with lush greenery and colourful flowers. It is famous for the camellia flowers that bloom in winter and the hydrangea flowers that bloom in the summer – so be sure to visit during the right period! I felt as if I was hiking as I explored the park, due to the numerous paths that meander uphill to different gardens and look-out points. It was slightly tiring but the view was totally worth it!


There is even an outdoor theatre for you to have a relaxing break while listening to a live band! If you're feeling peckish or thirsty, head to the cafe offering indoor or alfresco seating, with a panoramic view of the ocean to boot! They serve a delicious bowl of red bean bingsu which we gobbled up within seconds. It was delightfully refreshing – the perfect reward after walking around the park!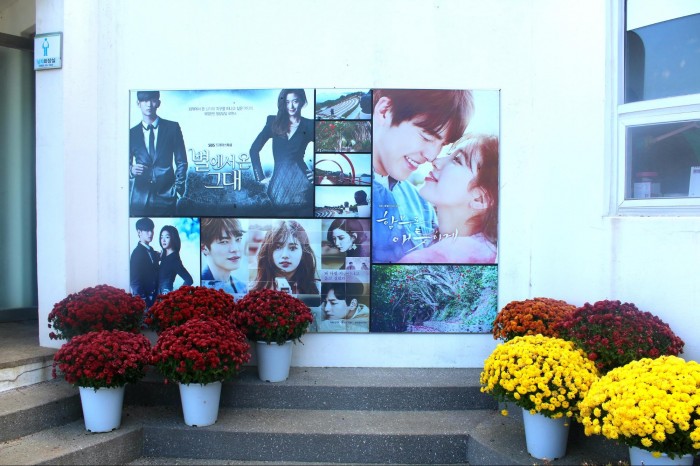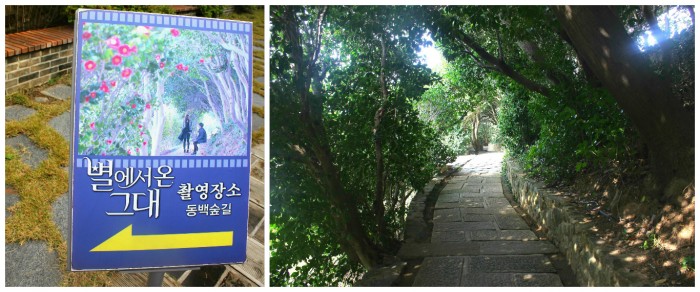 If you're a drama fanatic, you'd probably know that the actors in You Who Came From The Stars filmed an iconic scene here! Unfortunately, when we visited, it was not the season for camellia flowers to bloom, so the actual spot where the iconic scene was filmed looked different.
Nonetheless, it was pretty fun visiting an actual filming spot in a famous drama – I can only imagine how much more wondrous it will look in winter, when the camellia flowers are in full bloom! For those who visit with their partner, you can try recreating the scene just for fun! *winks*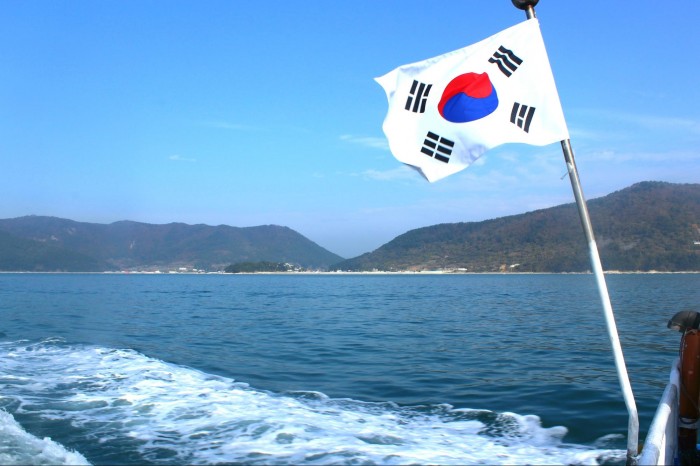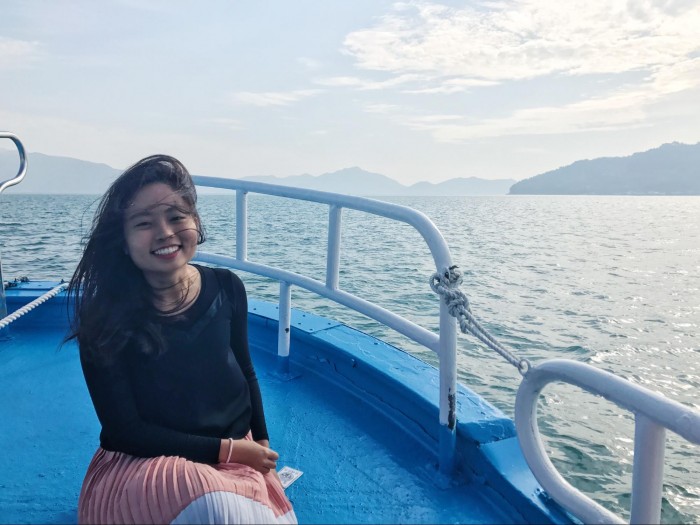 Address: 55, Jangsado-gil, Hansan-myeon, Tongyeong-si, Gyeongsangnam-do
Directions (Jeogu Dock): From Gohyeon Bus Terminal, take Bus No. 53 and get off at Jeogu Village Bus Stop. Walk for about 300m to Jangsado Island Ferry Terminal. Purchase your ferry ticket and admission ticket for Jangsado Island. Board the ferry and get off at Jangsado Sea Park.
The ferry ride takes about 40 minutes one way, and you'll get to enjoy scenic views of the mountains and the refreshing sea breeze along the way!
5. Tongyeong Oyster Seafood Table (통영굴해물밥상)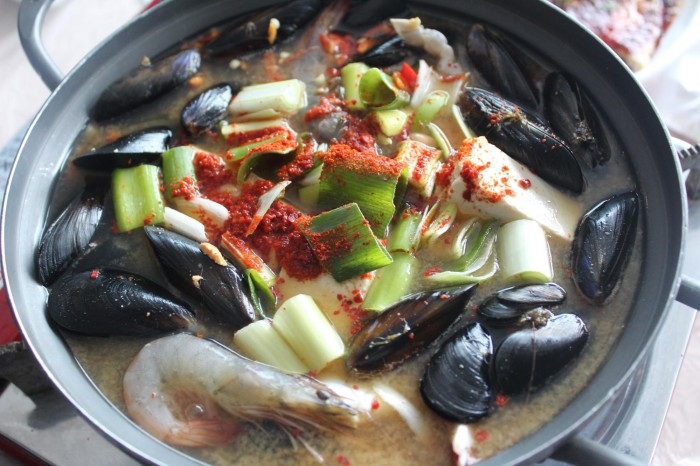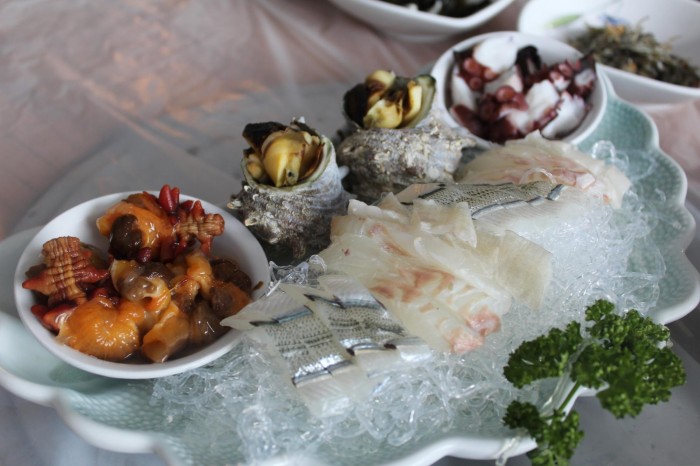 When you get hungry, you've got to head to this famous restaurant in Tongyeong where locals flock to! It is located right beside the oyster and fish farms, where you get to dine with an unparalleled view of the ocean. I feasted on the freshest and most succulent oysters, mussels, sea squirts, seafood stew, sashimi, raw anchovies, and more! My stomach was definitely very satisfied.

Their oysters aren't as briny as the ones you find in Europe, and they even have pancakes made out of oyster meat! That was one of my favourite dishes. And the highlight of all these – is that it only costs 18,000 won for an individual portion! For such a sumptuous spread…THAT'S A STEAL.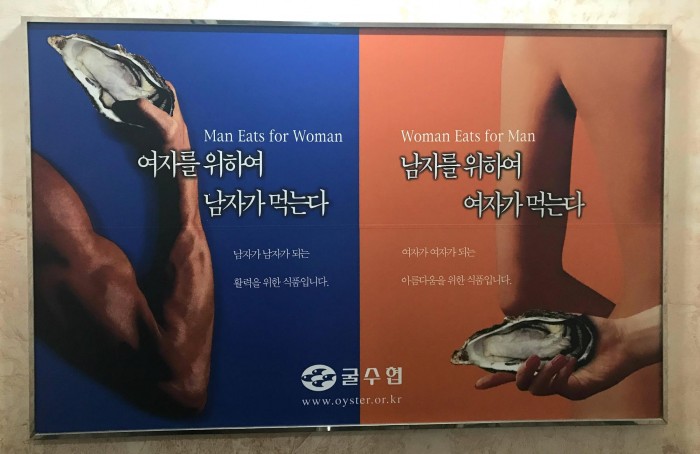 This poster perfectly encapsulates the benefits of eating oysters for all of us, don't you think? *WINKS*
Address: 499 Jangpyeong-ri, Yongnam-myeon, Tongyeong-si, Gyeongsangnam-do, South Korea
6. Dongpirang Mural Village


Visiting Dongpirang Mural Village will brighten your day, no matter how gloomy the weather (or even your mood) is! Personally, this was one of my favourite stops during the trip. I really love exploring quaint and cosy neighbourhoods filled with surprises that come in the form of vibrant, eclectic paintings at every corner.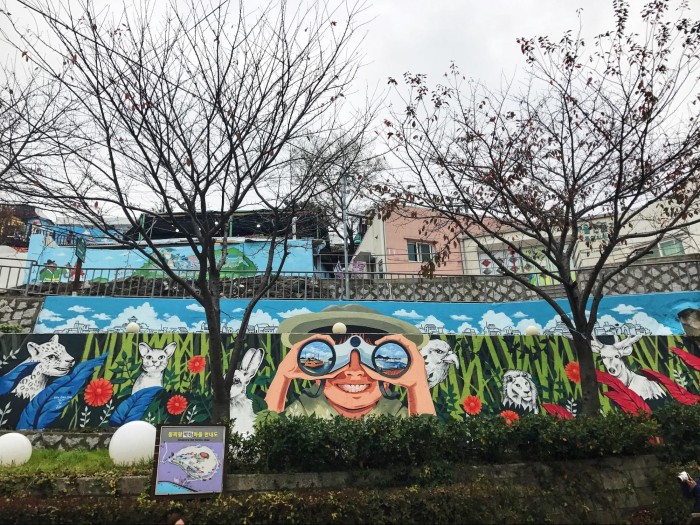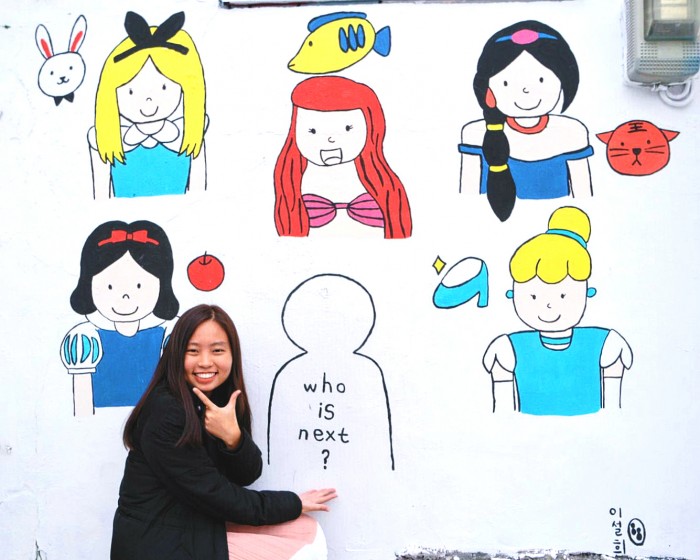 Enlivened by quirky characters, whacky designs and trick art illusions, this mural village is a photo paradise. The entire area is constantly bustling with students on a field trip, families with young kids, and happy couples on a lovely date, which add to a very cheerful atmosphere. I even got to hang out with Disney princesses and pretend that I was next in line, which made me feel like a kid all over again!

Also, you get a bird's eye view of Gangguan Port while traipsing through the small alleyways – what a bonus. There are plenty of cafes all around for you to grab a refreshing iced Americano or ice-cream while you chill and browse through the awesome photos you've taken! For the drama fanatics, this is the filming location of Nice Guy starring everyone's favourite flower boy from Descendants Of The Sun – Song Joong Ki!
Address: Dongho-dong, Tongyeong-si, Gyeongsangnam-do
Directions: From Tongyeong Bus Terminal, take Bus No. 101 and get off at Jungang Market Bus Stop. Walk for about 400m to Dongpirang Village.
7. Tongyeong Jungang Traditional Market


Located right next to Dongpirang Mural Village, the Tongyeong Jungang Traditional Market is the perfect place to grab some delicious street food or dried goods! Situated right next to the port, friendly ahjummas and ahjussis sell their freshest seafood catch to the locals who frequent the market. I was truly amazed at the size of some of the fishes there – they were absolutely gigantic! It was fascinating to discover the different types of seafood sold here.
In addition, there are restaurants nearby that can cook and prepare the fish or other assorted seafood that you bought in this market –how convenient is that?! They also provide a variety of vegetables and sauces for you to enjoy your seafood with, all at an affordable price.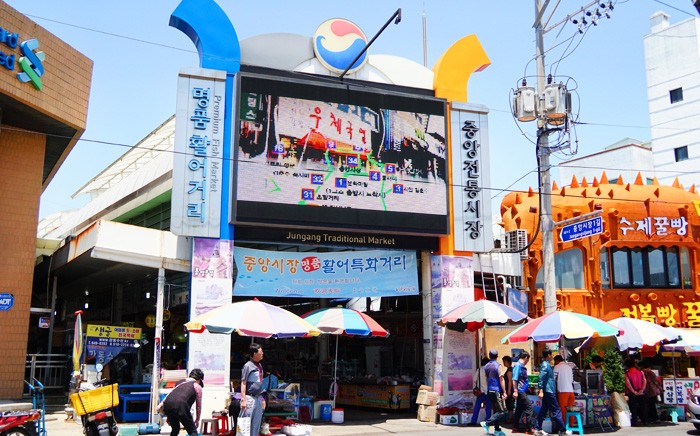 Image credit: (left) KTO
OH MY GOD…These glazed beauties are what dreams are made of! Are you drooling over these pictures yet?! This deliciously seductive honey bread (kkulbang) can be found at the brown building located on the right of Tongyeong Jungang Traditional Market, while facing the entrance. The name of the shop is Monggae House (멍게 House).
A specialty of Tongyeong, the honey bread can be likened to a mantou with filling, or a doughnut ball. Filled with a sweet paste, then deep fried and coated with honey syrup, every bite will leave you addicted and begging for more! They also come in an assortment of flavoured fillings, such as red bean, citron, strawberry and even green tea. It was essentially LOVE AT FIRST BITE for me. You definitely can't get this yummy dessert anywhere else in Korea!
Address: Jungang-dong, Tongyeong-si, Gyeongsangnam-do
Directions: From Tongyeong Bus Terminal, take Bus No. 101 and get off at Jungang Market Bus Stop.
8. Daekweol Pork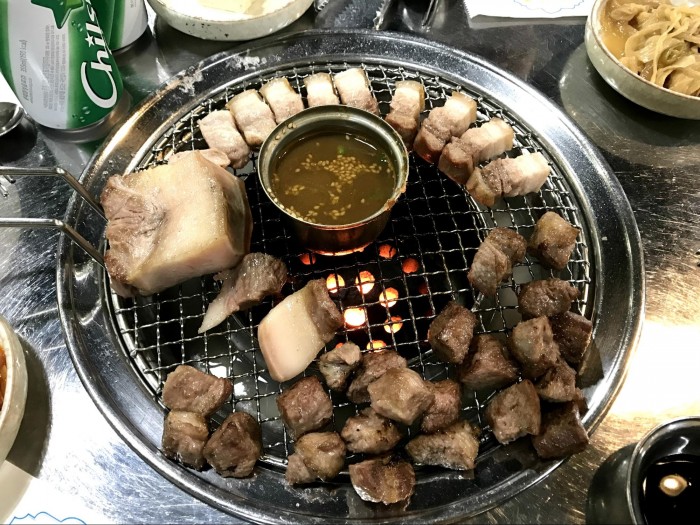 We were craving for meat after so many meals of raw fish and fresh seafood…And Daekweol Pork was heaven-sent! Nothing beats juicy, succulent pork grilled to perfection, dipped in anchovy sauce, wrapped with lettuce and kimchi – and then savoured in one big mouthful. It literally feels like explosions happening in your mouth as it bursts with flavour.
The signature meat here is that scene-stealer on the top left corner, the FIVE layer pork belly. Look at that glorious amount of fats. It's incredibly harmful to your waistline but travelling is meaningless if you don't indulge in local specialities. So, forget about your diet for a moment and just eat to your heart's content! Also, the meal is best paired with a refreshing cup of cider which is essentially a lighter, less gassy version of Sprite. Or for the alcoholics, soju shots would be a great combination as well.
Address: 991-15 Gohyeon-dong, Geoje-si, Gyeongsangnam-do, South Korea
Directions from Seoul to Geoje or Tongyeong:
Seoul to Geoje: From Seoul, you can take a bus from the Nambu Bus Terminal (남부터미널) to the Gohyeon Intercity Bus Terminal (고현시외버스터미널). The trip takes about 4 hours and 20 minutes one way.
Seoul to Tongyeong: Take the subway to the Express Bus Terminal Station. From the Express Bus Terminal, take a bus to the Tongyeong Central Bus Terminal (통영종합버스터미널). It will take about 4 hours and 10 minutes by bus.
Tongyeong to Geoje or vice versa: Take the bus from the Tongyeong Bus Terminal to Gohyeon Bus Terminal. It will take a total of only 30 minutes by bus.
Aren't you dying to explore these hidden gems in Korea already?! I had an absolute blast, and now I hope you will too by following this itinerary. It's always more exciting exploring the lesser known areas and non-touristy parts of the country – you get to interact with more locals and gain a deeper understanding of their culture! KOREA, I'll definitely be back for you!
---

The directions in this article are taken from VisitKorea, and my wonderful trip to Korea was made possible by Korea Tourism Organisation (Singapore Office). For more Korea off the beaten track suggested itineraries to inspire you on your Korea trip planning, click HERE.