It's that time of the year again, where the streets of Thailand come to life and are transformed into a huge water playground. Songkran, the traditional Thai New Year, falls on 13 April, and locals and travelers alike will hit the streets for a joyous celebration all week. In line with the new year, water is used to 'purify' and cleanse one of bad luck – so get your water-guns ready for both a fresh start, and a splashing good time! At the same time, there's more to Songkran than just a wild water-fight. Here are 7 alternative ways for you to enjoy the celebration.  
1. Party away at the S20 Songkran Music Festival
The streets of Bangkok are not the only place to have a wild time this Songkran – for those seeking some beats to accompany the water-throwing extravaganza, the S20 Songkran Music Festival is right up your alley! Rave to the tunes of the world's best DJs (Fatboy Slim, Tiësto, Steve Aoki and more) as you ring in the new year. Dance to your heart's content; you'd still be kept fresh and cool with the steady stream of water jets and cooling mist.
The S20 Songkran Music Festival will take place from 13 to 15 April 2019 at Live Park, Bangkok. Tickets are selling fast, so be sure to get your hands on them while you still can!
2. Make a splash at the Blast! Pool Series – Songkran Festival 2019
Have the pool party of your dreams with the Blast! Pool Series – Songkran Festival 2019. This three-day event guarantees a whole lot of Songkran fun, as you lounge in the sun, sip on a cocktail, and party along to the live House and Techno music in the background. Take part in the ongoing games, and whip out your complimentary water-fun for some friendly cross-fire!
The Blast! Pool Series – Songkran Festival 2019 will take place from 13 to 15 April 2019 at DoubleTree by Hilton Sukhumvit Bangkok. It begins at 1pm, and special promotions such as free-entry for ladies, and free-flow sangria are available at selected timings.
3. Pick up Thai Kickboxing
In the spirit of celebrating the Thai New Year, try your hand at an authentic local sport, Muay Thai (Thai Kickboxing). Contrary to popular belief, it is not just senseless fighting; instead, it requires immense focus and physical co-ordination to perfect each move. Seize the opportunity to get away from the hustle and bustle of the water-festivities in the street, and book yourself a session to pick up basics of the craft. You might even turn out to be the next Muay Thai legend!
4. Get inked with a traditional Yant tattoo
This one's not for the faint-hearted – achieve the ultimate Thai experience by getting inked with a traditional Yant tattoo. More than just pleasing body art, these prints consisting of ancient geometrics and deity symbol are thought to be a way to impart luck, protection and charisma onto the wearer. Blessings come in all shapes and sizes, after all! At the same time, make sure you do your due diligence and head to a professional studio to get your tattoo.
5. Feast on Thailand's culinary gems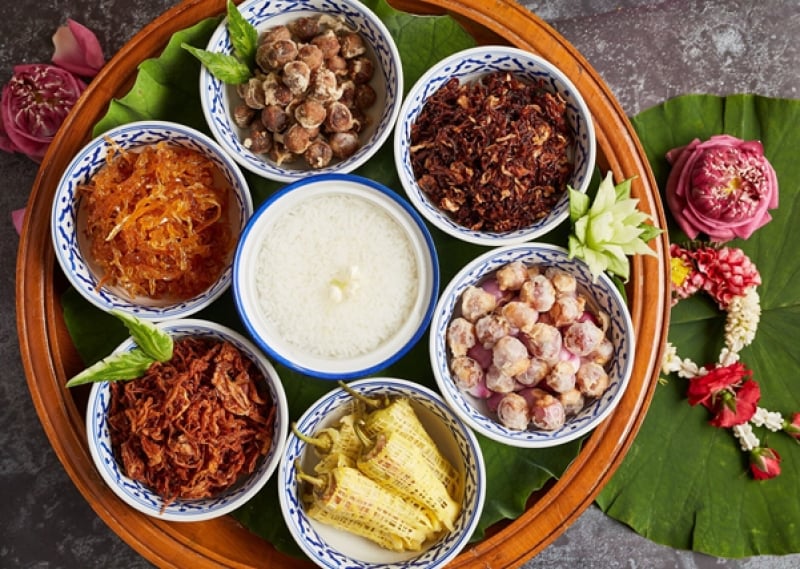 No new year celebrations would be complete without indulging in a gastronomic feast! Featuring a spread of traditional Thai dishes, Conrad Bangkok is offering the 'Songkran Splash', a themed lunch-buffet for all you foodies out there. Sink your teeth into culinary treasures such as Plahang Tangmo (watermelon drizzled with sweet dried fish shallots), Bua Loy Kai Wan (rice balls with poached eggs), Mieng Pla (salted fish vegetable wraps), and more. With these old-school gems being a rarity on the streets of Thailand today, you definitely have to get a taste of them while you can!
The Songkran Splash will be served from 11 to 15 April at Café@2 at Conrad Bangkok. This lunch buffet is priced at THB 1,650++ per person. More information can be found here.
6. Marvel at sandcastles at Chon Buri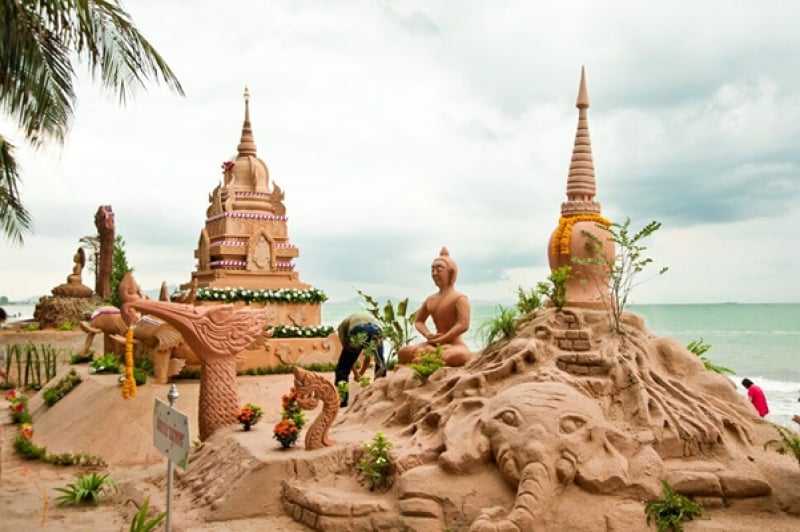 This may seem like the most unlikely celebration of the lot, but is certainly a big part of the celebrations in Pattaya. The city has an extended celebration for the new year, known as Wan Lai. Besides the conventional water-activities, they also organize a beach festival where locals head down to build stupas, or sand pagodas, in a community-wide competition. Marvel at the grandeur and intricacies of each one, and perhaps even try building one of your own!
7. Get wetter and wilder at Atlantis Water Festival
Making its debut this year is the Atlantis Water Festival, a 4-day long extravaganza with a focus on hip hop and electronic dance music. If you're into your music, you'd be please to see the lineup, which sees artistes such as Cesqeaux and Snavs taking centerstage! While music is no doubt at the heart of this event, don't forget your water guns and spare dry clothes – it's Songkran after all!
The Atlantis Water Festival takes place from 12 – 15 April 2019 at Bangkok RCA, with tickets starting from 500 baht. For more information, visit their facebook page.