Thailand makes a great travel destination, be it for a weekend getaway or a month-long backpacking trip. There are simply so many places to visit in Thailand – the vibrant city of Bangkok, the mountainous Chiang Mai province and not to mention the numerous islands that Thailand is renowned for, such as Phuket and Koh Lipe.
The next time you're travelling to Thailand, however, I suggest that you head straight to Koh Samui. Located in the Gulf of Thailand, Koh Samui boasts astounding natural beauty, great shopping and drool-worthy Thai food. Basically, Koh Samui will deliver everything that you could ever hope for in a trip to Thailand. If you're not convinced yet, read on…
[TRAVEL DEAL] Grab this 4D3N Romance in Koh Samui free & easy travel deal from just S$858! This includes 3N stay in Zazen Boutique Resort and Spa, daily breakfast, return airport transfers and more.
1. Everyone else is all about Bangkok and Phuket
These days, everyone is all about Bangkok and Phuket. Phuket seems to be the most popular choice when it comes to beach getaways in Thailand, and I have too many friends who make multiple trips to Bangkok within a year.
Don't get me wrong – I think both destinations are pretty great and they deserve the flock of travellers they receive. However, I feel that more folks should simply start to consider Koh Samui as a travel destination given that, you know, Koh Samui is so awesome.
Also Read: Bangkok Bucket List: 20 Challenges For Your Next Trip
2. Pristine and downright gorgeous beaches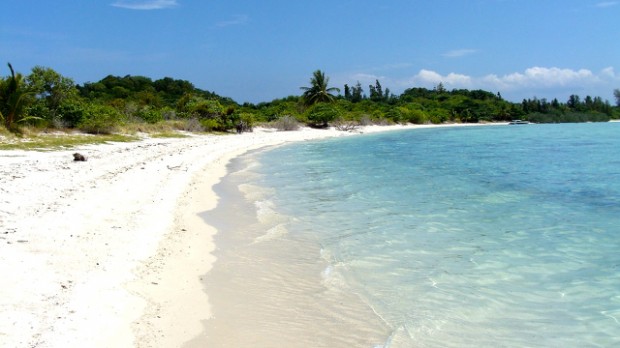 For one, there are some of the most stunning beaches – think soft white sand and alluring clear waters – to be discovered in Koh Samui. Even if you opt to stay in the resort town of Chaweng to be in the midst of all the action, the idyllic Chaweng beach awaits just steps away. There's no need to travel far and wide in search of a secluded beach spot, as this five-kilometre stretch of beach is hardly crowded on its busiest day.
If you still wish to hop on a motorbike to find your little piece of paradise, there is a plethora of untouched beaches just waiting to be discovered. Head to Ban Tai beach, which is close to Maenam village yet largely unheard of by tourists, or make your way to the east coast to find your private cove at Coral Cove Beach.
3. Walking streets that you can go crazy shopping in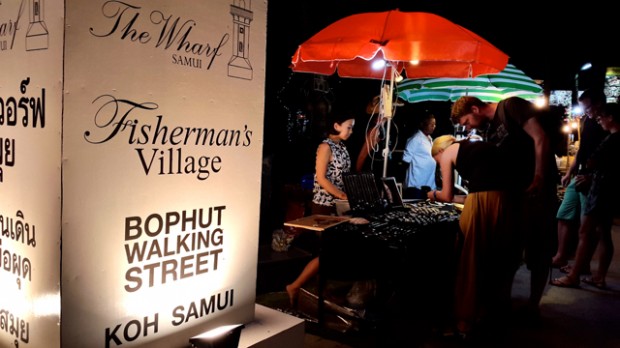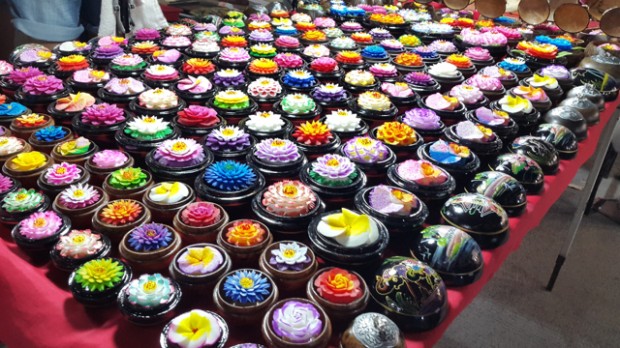 There are some of us who can't go on a vacation without a healthy dose of shopping. Here's the good news: Koh Samui is truly a haven for shoppers. If you happen to be in Koh Samui on a Friday evening, there is no better place to be than the Fisherman's Village Walking Street. This is where you can find market stalls that offer a huge range of products from cheap clothing to carved soaps, as well as tasty street food.
Other places to shop in Koh Samui include Chaweng Walking Street, Maenam Walking Street (Thursday evenings only), Bophut Plaza and Lamai Night Plaza. For a shopping mall home that is home to the likes of Uniqlo and Adidas, try Central Festival Samui.
4. Access to numerous nearby islands
This is definitely one of Koh Samui's winning points. Just a ferry ride away from Koh Samui is Koh Phangan, the island best known for its full moon parties and Koh Tao, an extraordinary dive destination. If time is not a factor, combine your stay in Koh Samui with a few nights in Koh Phangan and Koh Tao because each island has their own unique offerings.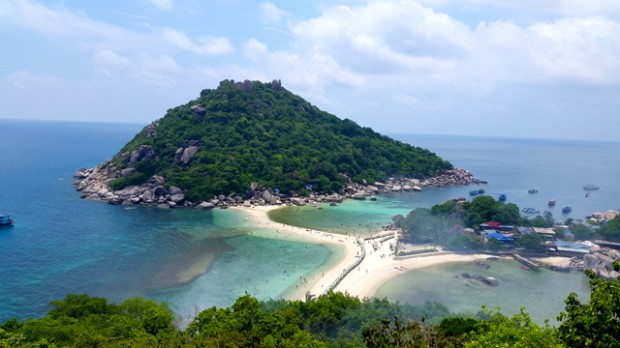 Only a short distance from Koh Tao is quite possibly the most gorgeous island in Thailand, Koh Nang Yuan. A 20 minute hike to the island's peak leads to a viewpoint that will give the astounding view pictured above. Hop on Ferry Samui to get to these islands or join a snorkelling tour on a catamaran if you're up for a laid-back day trip from Koh Samui.
5. Simply amazing Thai food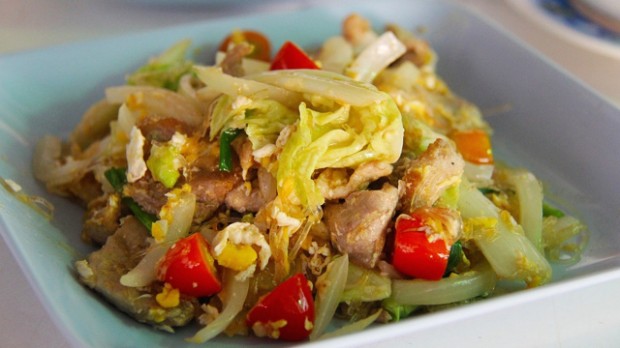 I love Thai food, and just the thought of pad thai, tom yum and mango sticky rice is enough to get me hungry. Koh Samui has a huge range of restaurants and going hungry in Koh Samui should be considered a crime. I highly recommend Jun Hom, a beachside restaurant in Maenam, for authentic Thai food that is to die for. Be sure to order their prawns in tamarind sauce! If you're up for a meal with the view of paddy fields, head to The Farmer Restaurant, also located in the district of Maenam.
Jun Hom: Bang Por Beach, 7/3 Moo 6, Mae Nam, Ko Samui
The Farmer Restaurant:  1/26 Moo 4, Tambon Mae Nam, Mae Nam, Ko Samui
6. Great nightlife
Insomniacs, rejoice! Koh Samui's nightlife is among the best in Thailand and the most happening nightlife scene is along Soi Green Mango and Soi Reggae. Night-time entertainment options include not just the usual line-up of clubs and bars, but also Muay Thai fights and Ladyboy Cabaret shows.
7. Exciting and unique attractions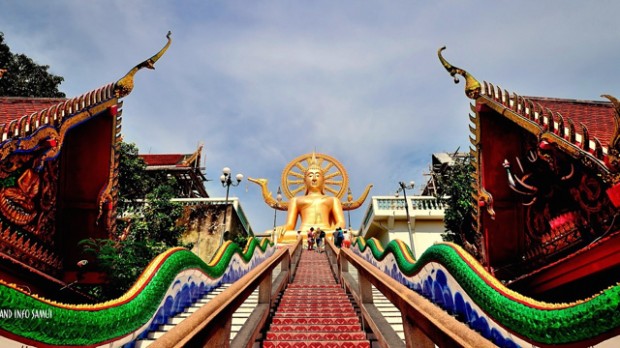 Of course, Koh Samui is not just about shopping, eating and partying. The paradise of Koh Samui has plenty of natural, cultural and historical attractions to be discovered too. Some places to visit in Koh Samui include the picturesque Na Muang Waterfalls and the Big Buddha, a magnificent 12 metre golden statue. You can also find your way to the Secret Buddha Garden tucked somewhere in the island's lush interior or visit the Samui Snake Farm.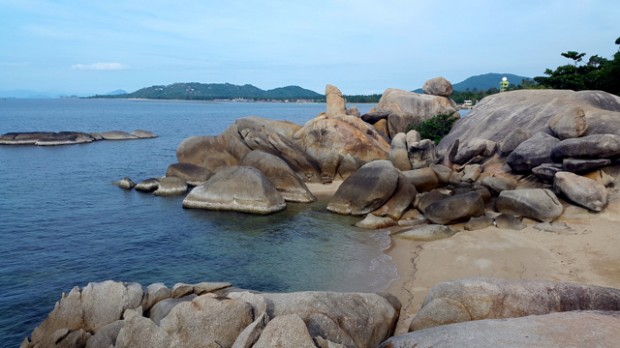 Also not to be missed is Hin Ta and Hin Yai (Grandfather and Grandmother rocks), which are natural formations that, to put it politely, resemble a penis and a butthole respectively.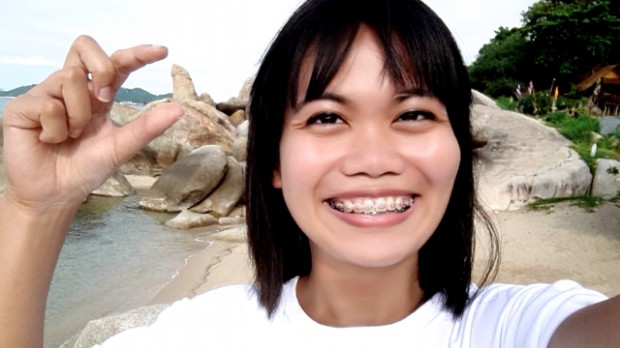 If you didn't manage to spot Hin Ta in the photo above, here it is again!
8. Direct flights from Singapore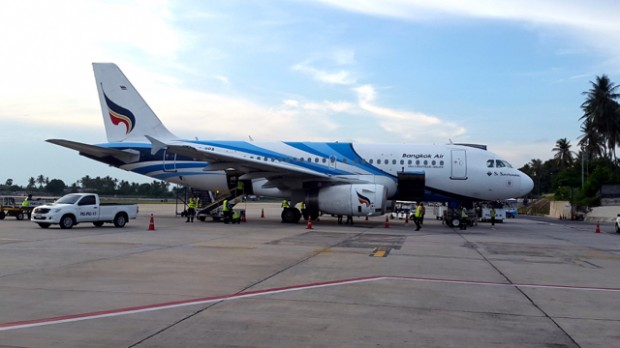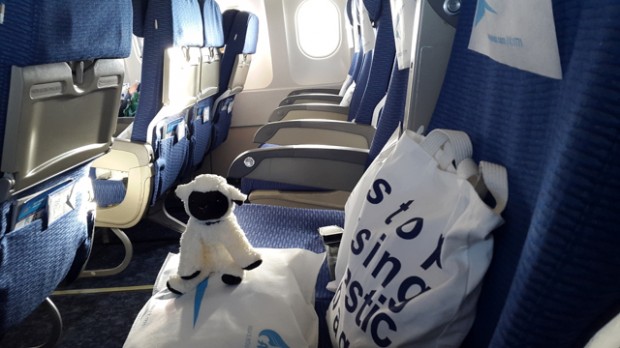 Here's the cream on the cake: a direct flight from Singapore will get you to Koh Samui in less than two hours. My airline of choice is Bangkok Airways, which fly up to twice daily between Singapore and Koh Samui. With affordable fares, comfy seats and great service, Bangkok Airways gives you little reason not to book that flight to Koh Samui already.
Oh, and just a fun fact: Samui International Airport, which is privately owned by Bangkok Airways, is one like no other. It hardly looks anything like an airport and clearing the immigration formalities felt like checking in to a resort. I'll leave it up to you to fly to Koh Samui to experience this for yourself.
9. There's something new to discover each trip
Koh Samui is one of the largest islands in Thailand and what this means for travellers is that there is always something new to discover each trip. You could stay in a nice resort in Chaweng – such as OZO Chaweng Samui – for easy access to restaurants, bars and shops on one trip, and then stay in the fishing village of Hua Thanon on your next adventure for a more rural atmosphere. This article only skims the surface of what this island has to offer; there are countless beaches to discover, sites and attractions to explore and activities to undertake in Koh Samui.
OZO Chaweng Samui: Chaweng Beach, Bophut, Koh Samui 84320
[RESORT DEAL] Stay 3/4Days in The Kala Samui Resort from just S$168! This resort is located in Chaweng Noi, a breathtaking bays in Samui. Stay in a Deluxe Room or Duplex Pool Villa, and enjoy daily breakfast, complimentary return airport transfers, and use of kayaking, snorkelling or fishing equipment. Valid till 31 October 2017.
10. Because I say so
Visit Koh Samui because I say so and my words carry a lot of weight. 🙂
But seriously, though, while Koh Samui is certainly not an off-the-beaten-track destination (you'll find yourself amidst a fair share of blonde-haired holidaymakers), it is definitely one that deserves more attention, particularly from my fellow friends in Singapore.
I've had a wonderful time in Koh Samui and it is only a matter of time before I return.
I extend my deepest thanks to Bangkok Airways and Tourism Authority of Thailand (Singapore Office) for giving me the opportunity to discover Koh Samui.