Spring brings with it a burst of floral scents and sights and many people travel far and wide just to capture the fleeting blooms.
The world-famous destination for viewing cherry blossoms is undoubtedly Japan, a country that is revered for these beautiful blooms and their symbolism. For those of us who'd like to go against the crowd and seek these floral displays elsewhere, here are eight other great locations to catch cherry blossoms.
Capture these beautiful sakura blooms and update your Instagram on the go with U Mobile's Unlimited HERO P139 Postpaid Plan – your ticket to roam the world!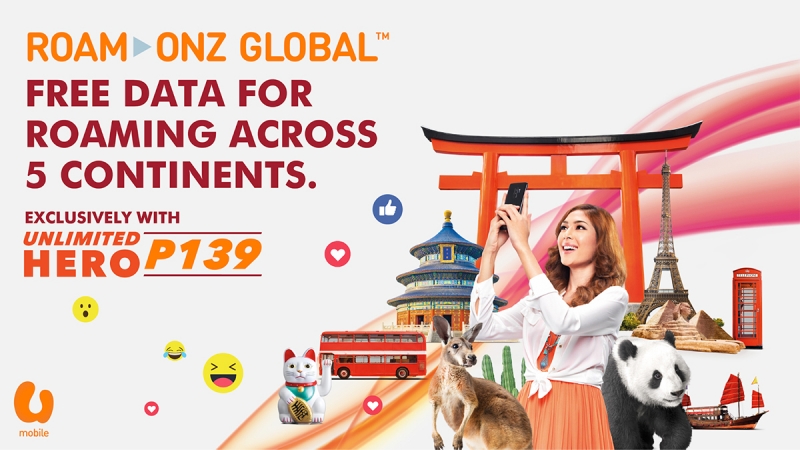 For only RM139/month, you can enjoy free Roam-Onz Global™, free 3GB data roaming in 36 destinations across 5 continents, including North America, Europe, Africa, Asia and Australia!
Stay connected locally in Malaysia wherever you go with unlimited high speed data and voice calls to all-networks. Enjoy unlimited HD streaming and you can even share your data with friends & family or even your second device with 50GB data available for mobile hotspots!
1. Vilnius, Lithuania
Blooming period: Late April to early May
Get a taste of the sakura season in the capital of Lithuania each spring at the Chiune Sugihara Sakura Park. This park is named after a Japanese diplomat who once served the Empire of Japan in Lithuania. He's highly respected for helping thousands of Jews to leave the country during World War II and on his 100th birthday in 2001, 200 sakura trees were planted in this park, honouring the life of the "Japanese Schindler".
2. Edinburgh, Scotland (UK)
 Blooming period: Late April to early May
Edinburgh's already a magnificent city all year round, but spring brings with it the heavenly scent of cherry blossoms in The Meadows. In this massive public park, the walkways are lined with cherry trees, creating a whimsical floral tunnel.
Other locations to view a flurry of pink petals are at St Andrew Square and along Princes Street.
3. Vancouver, Canada
Blooming period: Early March to late April
Vancouver transforms into a cherry blossom paradise as the rainy season makes way for springtime. With over 40,000 cherry trees across the city, visitors are treated to the sight of blossoming trees not only in gardens and parks but also in urban areas.
Some of the best cherry viewing spots include Queen Elizabeth Park, Stanley Park, Nitobe Memorial Garden and the Kitsilano neighbourhood. With different varieties of sakura trees peaking at different times, you're bound to get your chance to marvel at nature's wonders. Better yet, time your visit to coincide with the Vancouver Cherry Blossom Festival for endless activities under a sea of cherry blossoms.
4. Washington D.C., USA
Blooming period: Late March to early April
You know that Washington D.C. takes cherry blossoms seriously when they play host to a three-week-long National Cherry Blossom Festival. One of the highlights of this festival is the parade with helium balloons, marching bands and huge floats along Constitution Avenue.
During the peak bloom period, visitors flock to the Tidal Basin which is graced by an explosion of florals. You can also spot the pinky petals while sightseeing at the National Mall, the Lincoln Memorial or the Washington Monument.
5. Cowra, Australia
Blooming period: Late September to mid-October
Unlike in the Northern Hemisphere, the Australian springtime begins in September. During this period, there is perhaps no better place in the country to appreciate cherry blossoms than at the Japanese Garden in Cowra, a town in New South Wales.
In 2019, the 30th edition of the Sakura Matsuri will unfold in the Japanese Garden. This cherry blossom festival is complete with ritual tea ceremonies, ikebana displays, sumo wrestling, and taiko drummers.
6. Jinhae, South Korea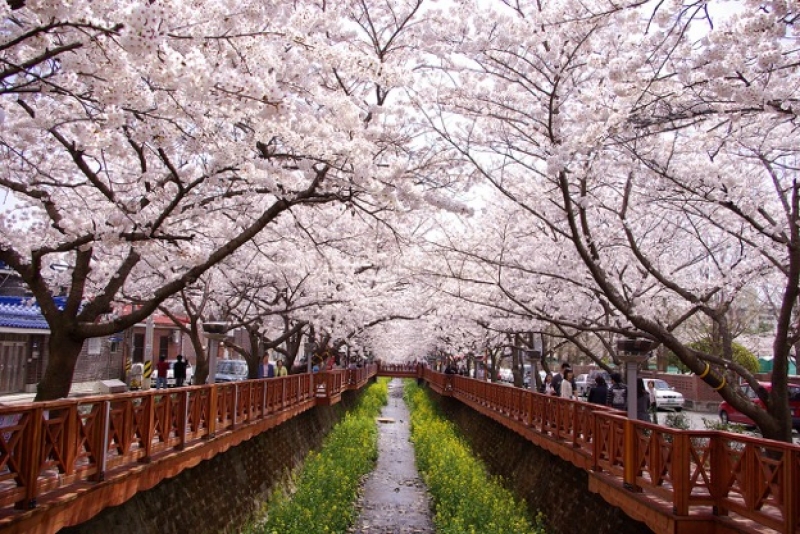 Blooming period: Late March to early April
This list wouldn't be complete without Japan's neighbour, South Korea. There are indeed many locations all over South Korea where you can view cherry blossoms, from Jeju Island to Seoul and Busan. However, the most remarkable place would arguably be Jinhae, host to the 10-day Jinhae Cherry Blossom Festival.
In spring, a whopping 300,000 cherry trees bloom here in unison. Walk along the Romance Bridge, where the Yeojwacheon Stream runs under a canopy of cherry blossoms, for a truly mesmerising experience. Apart from savouring the sights, visitors can tuck into unique festival delicacies like the petal-shaped and cherry-flavoured cherry blossom bread.
7. Taipei, Taiwan
Blooming period: Mid-February to mid-March
The best place for seeing cherry blossoms in Taipei is not within the city itself but in the nearby Yangmingshan National Park. Peppered with hot springs and sulphur lakes, this mountainous park that spans 114 square metres is best explored on foot along the meandering hiking trails.
In spring, visitors can bask in not only cherry blossoms but all sorts of flowers including calla lilies and rhododendrons. To celebrate this gift of nature, the annual Yangmingshan Flower Festival brings various events and food trucks to the venue.
[BONUS] Cairo, Egypt
While Egypt doesn't have cherry blossoms, the annual Orman Flower Festival is held in Cair every spring from March to May. Celebrating its 86th year in 2019, the Orman Flower Festival is one of the oldest spring flower festivals in the country.
Take a break from Egypt's deserts, pyramids and catacombs and be dazzled by an explosion of colours – from rare orchids to lemon trees, tulips and even bonsais!
Ready for your cherry blossom experience? With U Mobile's Unlimited HERO P139 Postpaid Plan for only RM139 per month, you can enjoy free 3GB data roaming in all these destinations and more!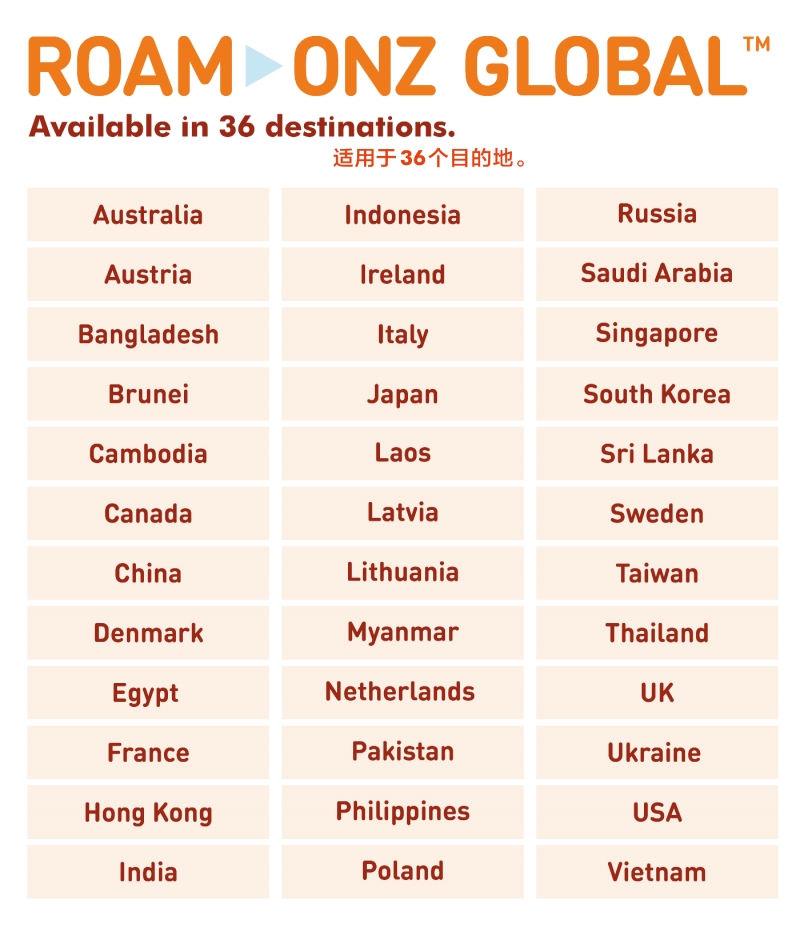 For only RM139 month, you can enjoy:
1) FREE 3GB Roam-Onz Global™ in 36 destinations across 5 continents
2) UNLIMITED High Speed Data & Calls
3) UNLIMITED HD Video Streaming
4) 50GB Mobile Hotspot Data
What are you waiting for? SIGN UP TODAY and enjoy 24 months free data roaming, only until 28 February 2019.

U Mobile has been aggressively upgrading their network and building more sites to widen their reach and enhance customer experience. They will spend over RM5 billion in the next few years to bring the #BARULAHBEST experience to all!
With #BARULAHBEST, customers will enjoy U Mobile's own 4G LTE network in MORE LOCATIONS across Malaysia, with connectivity that gets FASTER EVERY DAY as they constantly upgrade their sites with the latest and best technology. Together with innovative products and services, U Mobile is well positioned to bring UNLIMITED fun and value to their customers! Macam ni #BARULAHBEST!
---
Brought to you by U Mobile.