As good as the food may be, there's no duller meal than one in a restaurant that lacks style and ambience. Everyone wants a good view while they dine and bonus points if said view includes an exclusive sight (a tall pagoda among foliage, anyone?)
That said, whether you prefer bright lights and urban cityscapes or the fresh greenery of nature, here are ten restaurants in Thailand for you to enjoy stunning views as you dine. Gin Kao! (Let's eat!)
Earn points and bonus cashback when you dine at these amazing restaurants in Thailand!
Download the
UTU Rewards Thailand App
and sign up with your
DBS digibank
to start earning and accumulating UTU Points and cashback at more than 15,000 stores in Thailand. You will even be able to unlock attractive welcome promotions upon successful registration.
Plus, use your
DBS Points
or
POSB Daily$
and convert them to UTU points to offset your spend in Thailand!
1. NOMAD
Located in the heart of Bangkok and boasting a mix of modern charm and elegance is one of Sukhumvit's luxurious four-star boutique hotels, Galleria 10. Besides being conveniently located within the business, entertainment and shopping district, Galleria 10 also provides some of the best views of the city's skyline.
Head up to its rooftop bar, NOMAD, and indulge in a wide choice of international dishes as well as the restaurant's signature tapas specialities as you admire the stunning views. Whether you're chilling on the couches or taking a refreshing dip in the pool, NOMAD is one of Sukhumvit's coolest places to be.
Enjoy a 1-for-1 Promotional Drink when you successfully register your DBS/POSB card on the UTU App. Learn more.
2. TAPAS by NAN Charcoal Grill
Located along the Chao Phraya River, TAPAS by NAN Charcoal Grill is a homestyle Spanish restaurant that serves up a spread of authentic Spanish grill and tapas, while offering uninterrupted views of the river. What's special about this restaurant is that they cook their meat and seafood over hot charcoals and apple wood to further enhance the flavour.
Their most popular dishes? Probably the Octopus, Wagyu Sirloin and Pork Presa – all hot off the grill.
Enjoy Free Churros per table and 8 UTU Points for every 25 Baht spent when you successfully register your DBS/POSB card on the UTU App. Learn more.
3. Sanrio Hello Kitty House
At Bangkok's Sanrio Hello Kitty House, it's not just its surrounding scenery that's stunning – be awed by its mind-blowingly kawaii interiors!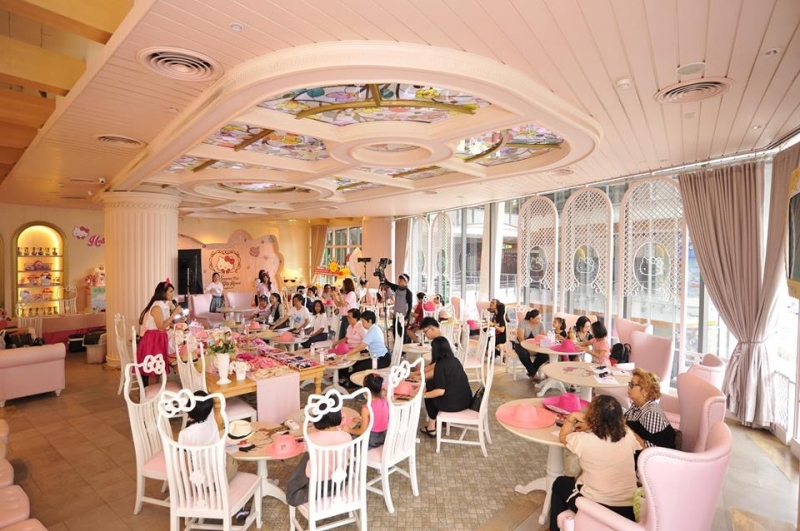 Everything in this place is Hello Kitty themed; from the decorations to the food, right up to the stained glass on the ceiling. The place also includes a merchandise shop for you to buy own Hello Kitty souvenirs and a Hello Kitty themed 'spa' to get your nails painted will you wait for your seat!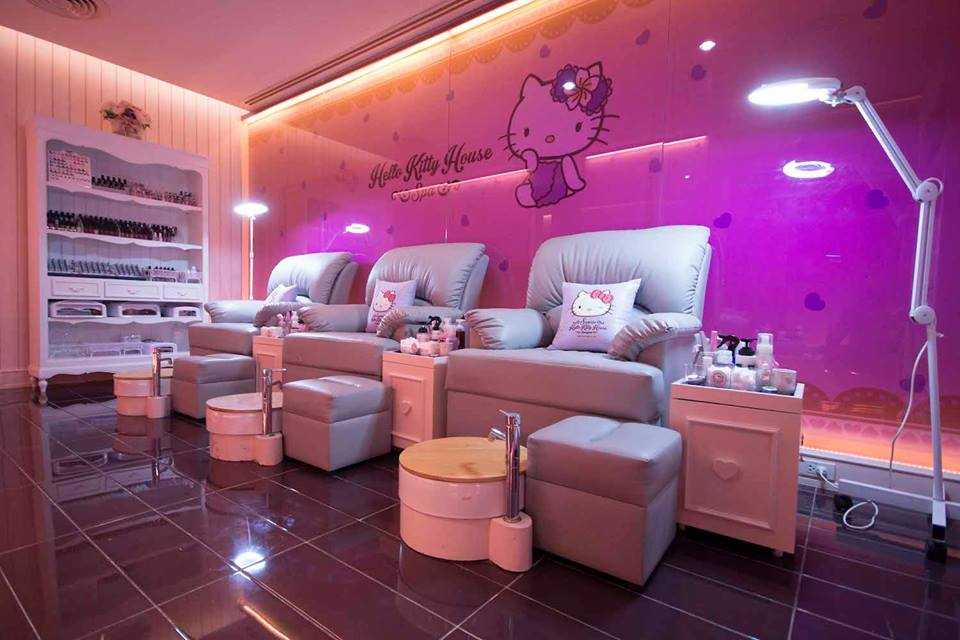 Earn 4 UTU Points for every 100 baht spent at Sanrio Hello Kitty House. Learn more here.
4. Attitude at Avani Hotel
On the 26th floor of Bangkok's Avani Hotel, the view at Attitude is hard to beat. Admire the dazzling city lights against the night sky, while you sip on their bold cocktails. Mingle around at the al fresco bar or enjoy the sophisticated interiors of the dining room while admiring the view through its floor-to-ceiling windows.
If you're here over the New Year, there's no place better to watch the New Year fireworks than at Attitude.
Redeem your UTU Points at Avani Hotel. Learn more here.
5. Zoom Skybar at Anantara Sathorn Bangkok Hotel
One of Bangkok's most popular rooftop bars is Zoom Skybar and Restaurant, located on the 40th floor of Anantara Sathorn. Taking up the entirety of the rooftop floor, you can enjoy panoramic views of the Bangkok skyline from all directions.
Whether you're lounging on the sofas, nursing a drink at the long bar or enjoying a decadent dinner, this open-air restaurant and bar is sure to provide you with one of the best views of Bangkok.
Not only does Zoom Bar have a range of signature and locally-inspired cocktails, but the restaurant also dishes up modern French meals with an Asian twist. Our favourites are the exquisitely plated Thai style tuna ceviche (tuna sashimi served with a citrus-garlic sauce and topped with coriander foam) and the duck served with mini samosas and ginger purée.
Of course, the fresh strawberry cheesecake served with a side of refreshing berry sorbet is a must-try for dessert!
What's more, there's also a live DJ spinning the best beats every night!
Redeem your UTU Points at Anantara Sathorn Bangkok Hotel. Learn more here.
6. The Sky Gallery Pattaya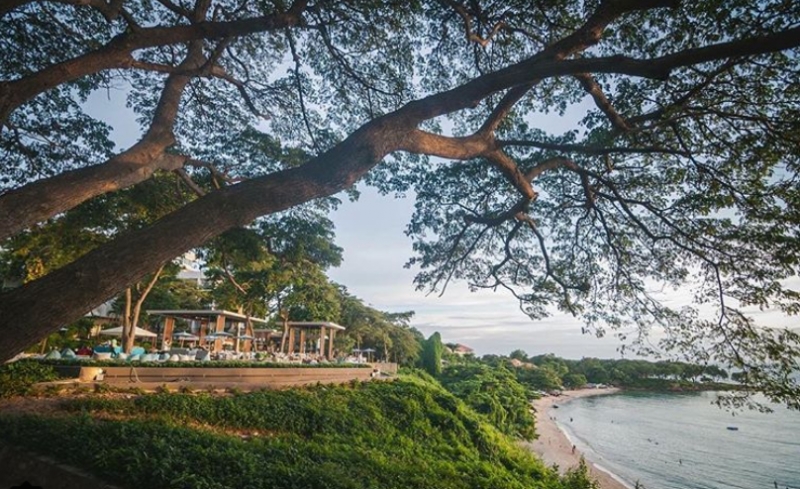 Nestled amongst lush greenery and facing the sparkling Pattaya Bay and Koh Larn islands is The Sky Gallery. Don't let the name fool you though, The Sky Gallery isn't a rooftop bar atop a skyscraper!
This family-owned restaurant sits on Pratamnak Hill and welcomes both locals and tourists for a time of relaxation and unwinding under the trees, enjoying the fresh breeze and island vibes, while tucking into authentic Thai food!
All the seafood used in their dishes are caught fresh from the local fisherman, supporting the local businesses and economy. With a great atmosphere, awesome food and even better views, there's no reason why you shouldn't visit The Sky Gallery Pattaya on your next trip to Thailand!
Redeem your UTU Points at The Sky Gallery. Learn more here.
7. Café de Tree
While tall skyscrapers and dazzling lights never fail to make for a good view, nothing quite beats the beauty of nature. Get out of the city and pop by Café de Tree – a charming café surrounded by lush greenery for you to embrace nature.
Enjoy the views from inside through the floor-to-ceiling windows or sit al fresco on the wooden patio to bask in surrounding nature. Dig in to the brunch-style food like sandwiches and pastries, while sipping on a refreshing smoothie – we can't imagine a better start to your day!
Redeem your UTU Points at Café de Tree. Learn more here.
8. Rak Thanam Restaurant
At Rak Thanam Restaurant in Chiang Mai along the Ping River, the polished teakwood building is reminiscent of the colonial times in Northern Thailand and provides a secluded and peaceful respite as you dine on traditional Thai dishes.
Enjoy exclusive Thai recipes featuring exotic ingredients such as pla tub tim (deep fried red tilapia fish with larb spices – a mix of lemongrass, kaffir lime, fish sauce and chilli), and pak shaengda pad khai (stir-fried Northern Thai herbs with eggs).
In addition, don't miss out on the hor mok talay ma-praow on – a savoury seafood curry served in a young coconut. Another must-try is the khang kua hed hob, which is a red curry puff packed with succulent mushrooms and aromatic Thai spices. Yum!
Redeem your UTU Points at Rak Thanam Restaurant. Learn more here.
9. Silhouette by Reverie Siam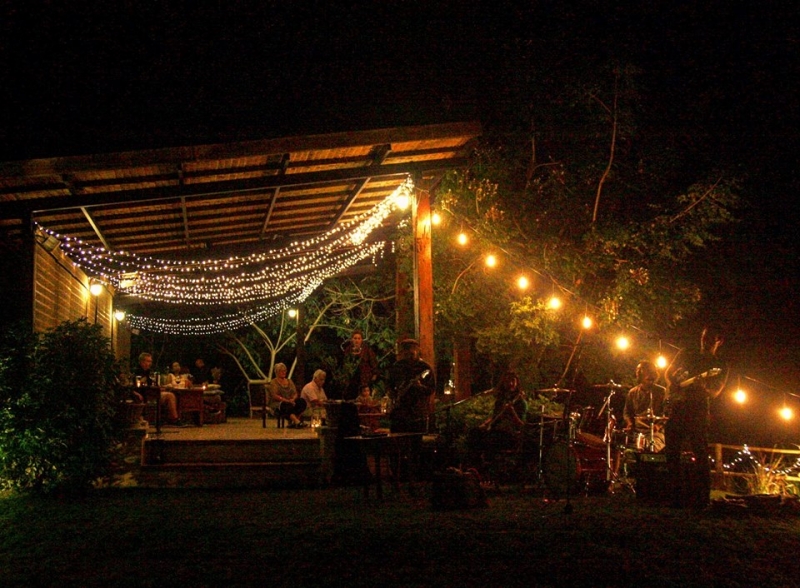 Imagine rooms full of antique chairs and wooden tables, with New Orleans jazz playing over the speakers. But you're not in America's 1920s; you're in Thailand's hip present! Silhouette by Reverie Siam is a pleasant blend of old and new, presenting a novel dining experience.
At Silhouette, the chefs visit the local markets daily to procure the freshest ingredients, including organic herbs and vegetables from the resident garden. Indulge in top quality Mediterranean cuisine and scrumptious tapas, all with a Thai twist!
Enjoy your meal at the private hotel gardens, the terrace, the library, or even facing the Pai Valley for panoramic views of the mountains carpeted in thick greenery.
Redeem your UTU Points at Silhouette Bar & Restaurant. Learn more here.
10. Zuma
Enough of skylines and night lights; enjoy an alternative view at Zuma in Bangkok's St. Regis. Watch your food as it is prepared in the huge open kitchen or dine outdoors at its landscaped terrace (don't worry it's air-conditioned)!
Putting a modern twist on authentic Japanese food, Zuma cultivates a glamorous spin on the Japanese izakaya style of informal dining – where people come together and unwind while enjoying after-work food and drinks.
So whether you prefer sushi by the bar, cocktails on the roof or authentic Thai dishes by the river, there's bound to be a place for you to quell your hunger while enjoying some of the most breathtaking views. Whet your appetite and head over to one of these restaurants for an unparalleled dining experience! After all, food always tastes better with a view.
Redeem your UTU Points at Zuma. Learn more here.
<Earn & Redeem Cashback with DBS & the UTU App>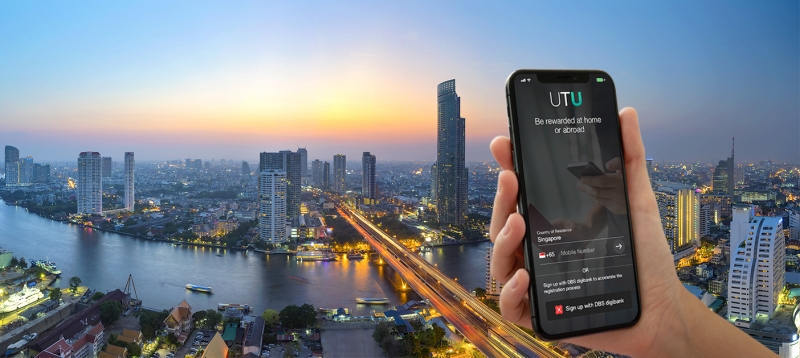 Get started in 3 simple steps:
1. Download the UTU Rewards Thailand App
Sign up with your DBS digibank and unlock attractive Welcome Promotions upon successful sign up.

2. Plan your trip with the UTU App
Browse Brands tab, earn UTU Points and enjoy travel offers at hotels, spas, shops and restaurants.

3. Start shopping to earn & redeem UTU Points
Shop and pay with DBS/POSB card. Accelerate cashback when you convert your DBS Points/POSB Daily$ to UTU Points.
[Limited time offer] From now till 31 May 2019, enjoy additional 30% UTU Points when you convert minimum 500 DBS Points/POSB Daily$5 to UTU Points successfully). That's 500 UTU Traveler Points, up from the usual 350 UTU Traveler Points!
---
Brought to you by DBS.