Unbeknownst to most, Tainan, Taiwan's oldest and fifth-largest city which was formerly its capital during the Qing Dynasty, is one of Taiwan's greatest hidden gems. If you think that visiting the famed Taipei 101 for a bird's eye view of the bustling city or eating your way through Liuhe Night Market in Kaohsiung is all there is to Taiwan… think again!
Prior to my recent trip to Taiwan, I had simply overlooked and dismissed Tainan as 'another ordinary city', thinking that Taipei contained all the fun and buzz. Boy, was I wrong! Not only was the city brimming with hipster enclaves and quaint cafes, its laidback charm and gentle pace made me fall in love with it. Be it the breathtaking sights and attractions, delectable delights or beautiful old-school streets, every corner of Tainan offers glimpses of Taiwan's historical past and is bound to leave you amazed.
Besides, it's extremely easy to get to from both Taipei and Kaohsiung, which AirAsia offers affordable flights to. With an all-in, one way fare from Kuala Lampur to Taipei (TPE) and Kaohsiung (KHH) only costing RM 269 (Premium Flatbed from RM 699) and RM 189 respectively; you won't even have to scrimp and save just for your trip. Simply book your flights here!
Furthermore, Taiwan's convenient transportation system offers numerous options to suit your budget, however low it is. Go on, take your pick!
Getting to Tainan
From Taipei:
By HSR: Take the Taiwan High Speed Rail (HSR) from Taipei Main Station to Tainan Station. (1h 45 min)
By Bus or Driving: Take Aloha Bus, United Bus (UBus) or Ho-Shin Bus from Taipei Bus Station to Tainan. (4-5 hours)
By Train: Take trains by Taiwan Railways from Taipei Main Station to Tainan Railway Station. (4-6 hours)
From Kaohsiung:
By HSR: Take the HSR from Zuoying Station to Tainan Station. (15 min)
By Bus or Driving: Travellers may take buses bound for Tainan at the bus stations on the opposite side of Kaohsiung Railway Station. (1 hour)
By Train: Take trains by Taiwan Railways from Kaohsiung Railway Station to Tainan Railway Station. (40-50 min)
P.S. Since most attractions were relatively near to each other, getting around Tainan was quite a breeze. The best way to get around is through using public buses, taxis or renting a scooter, if you don't drive. Not only is their transportation system clean and convenient, it's highly affordable as well.
Here are nine reasons why lesser-travelled Tainan is a definite must visit, especially for history (and Instagram) buffs.  

1. Its gorgeous old-school streets are thriving hipster enclaves filled with traditional charm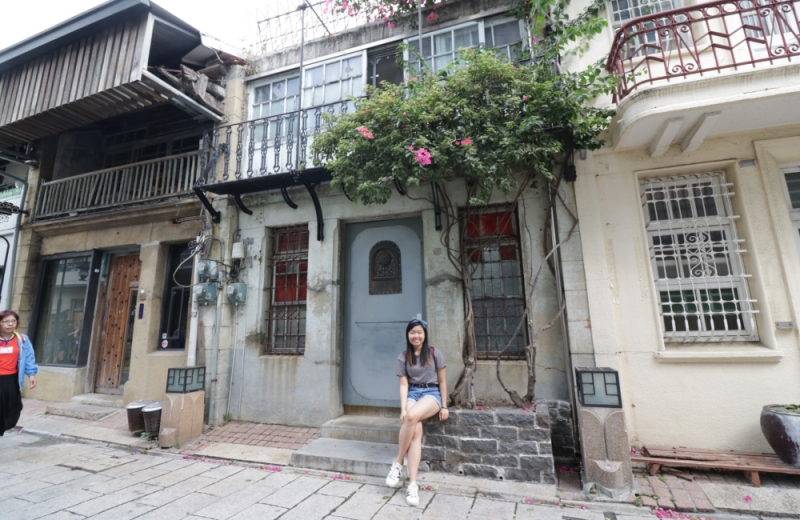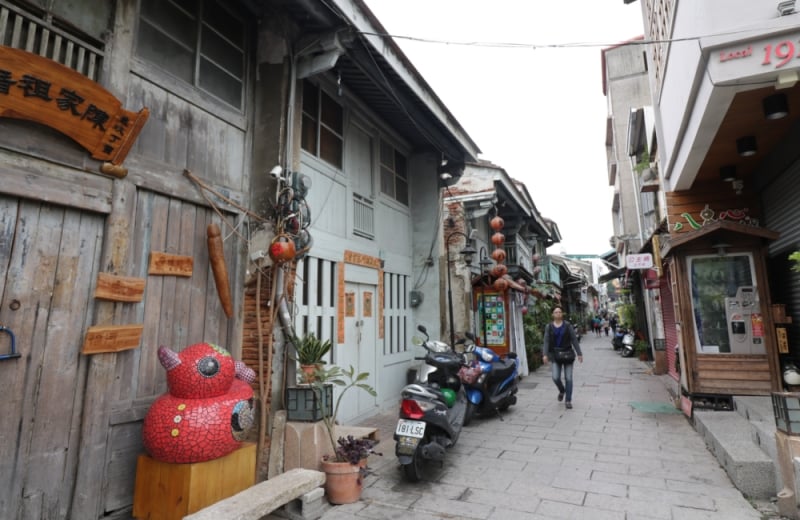 Simply stroll down Shennong, Zhengxing or Xinmei Street and you'll feel as if you've just stepped into the 1980s. Lined with old shophouses turned into quaint cafes, mini museums, art galleries, bakeries and confectionaries, these well-preserved streets are not only filled with historical charm and 'on-point aesthetics', but they retain remnants of Tainan's history in this very day and age. Do take a stroll down memory lane and admire the century-old shophouses, complete with traditional brick walls and peeling paint as well as the pretty lanterns hung around the area. Not to mention, THIS is the perfect location for a photoshoot! No matter which corner you turn, it's bound to be Instagram-worthy and stunning. What's more, it's usually rather quiet in the day, so you don't have to worry about heaps of tourists spoiling your photograph. For a more local experience, do pop by some shops and have a browse through their items and have a chat with the shop owners who will be more than happy to share some history with you.
2. Previously an abandoned sugar refinery, Ten Drum Cultural Village and its Taiko Drumming Shows will promise you a unique experience

An abandoned sugar refinery converted into a cultural park, Ten Drum Cultural Village provides visitors with an exquisite, fun and eye-opening experience which both the young and old will love. Unlike most tourist attractions which have been refined and revamped through renovation, Ten Drum Cultural Village retains the sugar mill's rustic and traditional exterior which will definitely intrigue kids who've never been to a traditional factory. Its huge site contains a plethora of attractions and family-friendly activities –  with its signature traditional Taiko Drumming Shows topping the list! Do remember to start queuing early in order to get good seats as the auditorium is usually packed. Besides the exciting drum performances, visitors can take a tour of the entire park and marvel at its well-preserved buildings and greenery, learn some basic drumming techniques, ride a mini-train, explore the beautiful bookstores and cafes on-site and of course, take numerous Instagrammable photographs! If you're hungry, there are also restaurants serving traditional Taiwanese cuisine and their famous sugar cane juice and tea eggs, so do pop by to tingle your tastebuds!
Another main highlight of the park is its incredibly fast and long slide spanning three-storeys high, which can be experienced in six seconds (no kidding). Visitors taking the ride are provided with protective gear which they have to wear and trust me, this IS way more thrilling than half the rides in theme parks. Make sure not to try this straight after lunch though!
Address: No.326, Section 2, Wenhua Road, Rende District, Tainan 71755, Taiwan
Opening Hours: 9.30am-9pm (Tuesday-Sunday), 9.30am-5pm (Monday)
Admission Fee: TWD 300 (adults), TWD 280 (students)
3. You will be momentarily transported to Europe at Chimei Museum, which showcases some of the world's most exquisite artworks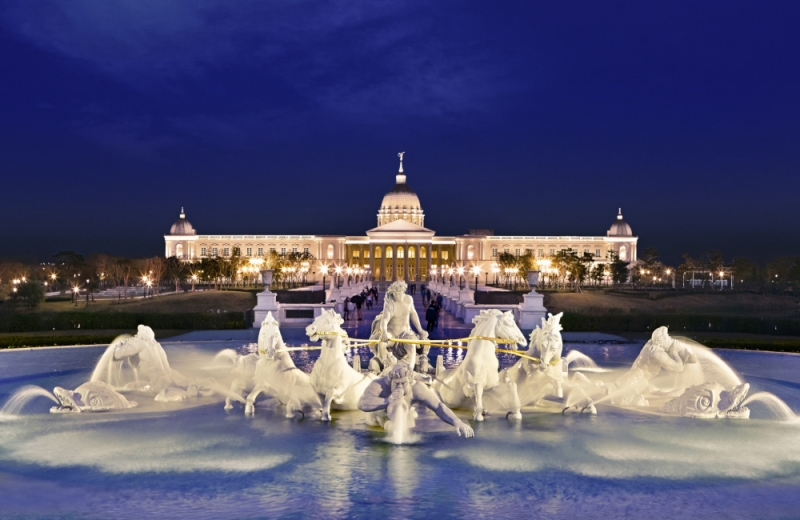 A comprehensive museum with wide collections of Western art, musical instruments, weaponry, natural history and more, Chimei Museum is truly a museum for all – young or old, history enthusiast or not. Boasting of stunning European-style architecture as well as a minimalistic, elegant-looking interior, you're bound to be mesmerised and momentarily transported to Europe the moment you step into its grounds. Its large compound comprises four exhibition rooms, one temporary exhibition gallery and a large sculpture hall in the main building with stunning works dating back from the Ancient Greco-Roman Period to the 20th century. There are exhibits showcasing the evolution of weaponry, masterpieces crafted by French sculptor Rodin, and early violins from various schools and more; no matter where your interest lies, you're bound to be captivated. Furthermore, kids will love the exhibit 'Life's Grandeur: A Journey of Evolution', which is a broad collection of real animal skins and specimens from all over the world, stuffed to recreate realistic animals from various continents. Not only are these exhibits eye-opening and awe-inspiring, some offer a hands-on experience, educational demonstration and live performances as well! Unlike some other non-interactive museums which offer you an overload of information, Chimei will keep you gawking in amazement and enjoying your afternoon there.  
Address: No. 66, Section 2, Wenhua Road, Rende District, Tainan City, Taiwan 71755
Opening Hours: 9.30am-5.30pm Daily except Wednesdays, Chinese New Year's Eve, Chinese New Year's Day.
Admission Fee: TWD 200 (adults), TWD 150 (students), Free for Tainan residents and specified groups.
4. It's paradise for the foodies
Calling all you foodies! What better way to explore Tainan than to go on a gastronomic adventure? Also dubbed 'the city of snacks' by locals, Tainan is known to be the culinary centre of Taiwan, attracting visitors from all over to have a taste of authentic Taiwanese cuisine. Forget the typical XL Chicken Cutlet and Bubble Tea which you'll find everywhere else in Taiwan and be sure to try a piping hot bowl of its signature Milk Fish Porridge (虱目魚粥) and beef soup which is not only rich and tasty but also nourishing. Other snacks to try include the famous Coffin Bread (棺材板) –  a snack made of fried toast shaped like a coffin and filled with chicken, vegetables and mushroom or curry sauce, as well as Fried Shrimp Rolls. The Taiwanese Braised Pork Rice Bowl (滷肉飯) is also not to be underestimated and is a must-try, especially in Tainan. Despite having simple ingredients and a humble appearance, its combination of flavourful shredded meat and gravy over fluffy white rice is extremely satisfying. Finally, if you have the time and enough stomach space, do try the Dan Zai noodles, Oyster Omelette, Sticky Rice in Bamboo Leaves and Pork Belly Sandwich.
5. Tainan Flower Night Market offers you the most authentic night market experience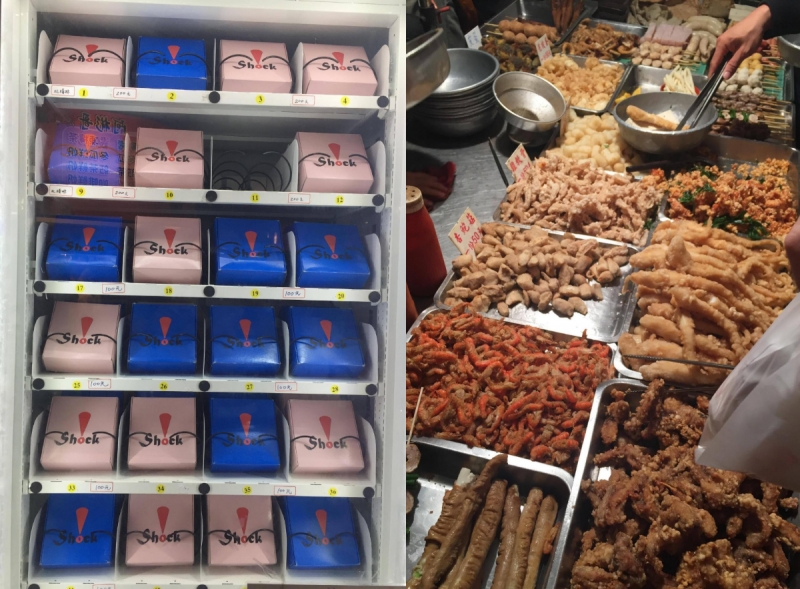 What's a trip to Taiwan without going night market hopping, filling your bellies with sinfully good food and enjoying the bustling atmosphere? Whilst some may find the famous Shilin Night Market in Taipei too commercialised and touristy, Tainan Flower Night Market which is located at HaiAn Road is certainly not! The moment you step in, you'll be greeted by the irresistible smell of Taiwanese goodies, all waiting for you to devour. The largest night market in Tainan, here you'll find numerous food stalls, game stalls and clothing stalls selling the latest fashion and accessories, all at extremely affordable prices! Besides embarking on a food marathon and trying popular street snacks such as Oyster Omelette, Fried Chicken Cutlet, Scallion Pancakes Papaya Milk and even Stinky Tofu if you're adventurous, do have a go at some old-school Taiwanese night market games which are certainly addictive. These range from aiming hoops at glass bottles and coins on a table, to shooting certain objects. Who knows, you might walk away with a huge stuffed toy before the night is over! You'll also find gift vending machines, where you'll get to win a surprise gift (or not) for only TWD 100! Whether you're one who loves food, games, shopping or all of the above, you're bound to have a whale of a time here.
Address: Sec. 3, Hai'an Rd., North Dist., Tainan City 704, Taiwan (R.O.C.)
Opening Hours: 6pm-1am (Thursday, Saturday, Sunday), Closed on every other day
Admission Fee: –
6. Fort Provintia and Fort Zeelandia retain traces of the Dutch colonisation of Taiwan
Want to know what The Netherlands looked like in the past, without actually having to head there? Simply head to Fort Provintia and Fort Zeelandia for a glimpse of Dutch influence which surrounded Taiwan in the 1600s. Fort Provintia, a historic fort built in 1653, was a strategic military base and political centre used to prevent uprisings. There, you'll find remnants of the castle, Wenchang Pavilion, Haishen Temple, stone tablets and more – all of which showcase its impressive architecture and design. As for Fort Zeelandia (also known as Anping Old Fort),  which was built in 1624 and the anchor point of early settlements in Tainan, it is currently a comprehensive museum exhibiting plaques on its grounds as well as an old-customs house and various exhibitions regarding its construction and purposes. At both forts, not only will visitors be able to snap numerous photographs and get a glimpse of Taiwan's history, they can relax in the large compounds which are peaceful and serene. Definitely family-friendly places and one which everyone will find interesting!
Fort Provintia
Address: No. 212, Section 2, Minzu Road, West Central District, Tainan City, Taiwan 700
Opening Hours: 8.30am-10 pm Daily
Admission Fee: TWD 50
Fort Zeelandia
Address: No.82, Guosheng Rd., Anping Dist., Tainan City 708, Taiwan (R.O.C.)
Opening Hours: 8.30am-5.30pm Daily
Admission Fee: TWD 50
7. You can find your inner Zen at one of Taiwan's oldest temples – Tainan's Confucian Temple
Boasting of more Buddhist and Taoist temples than any other city in Taiwan, Tainan is certainly a MUST visit for those interested in Chinese culture and religion. Completed in 1666, the Confucian Temple is one of the oldest and most historically important buildings in Tainan as it served as Taiwan's first official school. If you look closely, you'll find that the current architecture of the temple has hints of Japanese influence, as renovations were done during the Japanese era. Here, there is the main hall (Dacheng Hall), Hall of Edification, Minglun Hall, the main courtyard, Dacheng gate, two ceremonial gates and more. Besides feasting your eyes on the traditional architecture and saying your prayers, you can relax under the large Banyan trees where you'll find people doing tai chi and other park activities. During festive seasons, firecrackers will also be lit and celebrations will be held. Do remember to snap some photos as you soak up the culture and history of this magnificent temple!
Address: No. 2, Nanmen Road, West Central District, Tainan City, Taiwan 700
Opening Hours: 8.30am-5.30pm Daily
Admission Fee: TWD 50 for DaCheng Hall, free for the rest of the grounds.
8. You get to re-enact the scene of 'Into The Woods' at Anping Treehouse  
Step into the grounds of Anping Tree House and you'll feel as if you've just stumbled onto the set of the 2014 Disney Movie, Into The Woods. A cool fusion of nature and man-made structures intertwined with one another, the Anping Treehouse is a large Banyan Tree that has swallowed an old warehouse over the years! Previously used by Taiwan Salt Corporation in the 1940s, the warehouse was abandoned due to World War II and it has been slowly swallowed by the Banyan Tree since then. Here, you can take photos and gaze in wonder at how one tree could grow so wide and tall and have such immense power. There is also a Skywalk built above the treehouse, where visitors can get a bird's eye view of the tree. A quiet and serene environment, Anping Treehouse is the perfect place to chill, explore nature and take amazing selfies.
Address: No. 108, Gubao Street, Anping District, Tainan City, Taiwan 708
Opening Hours: 8.30am-5.30pm Daily
Admission Fee: TWD 50
9. You get to experience dining at a traditional restaurant built in 1976 with no menu

Looking for a traditional and uncommercialised dining experience? Head no further than Zhu Xin Ju Restaurant, located in the West Central District of Tainan. Built in 1976, its old structures and traditional interior remains well-preserved till date, allowing customers to enjoy its rustic charm. What truly captured my attention was the fact that unlike conventional restaurants, this restaurant had no menu, meaning that I was in for a surprise! We thoroughly enjoyed the mouth-watering traditional Taiwanese dishes that the chef had whipped up: Milk Fish in sauce, steamed prawns, herbal chicken soup, stewed pork belly and more – all of which was bursting with flavour and reminded me of my mother's own cooking – simple, yet heartfelt. For a heartwarming and memorable dining experience, this restaurant truly takes the cake.

After dinner, do head to the room upstairs to explore the antiques and traditional items ranging from a bicycle to traditional Chinese cutlery. Not only is this a great photo opportunity, it'll undoubtedly open your eyes to the intricacies of Chinese culture and traditions.
Address: No. 69, Xinyi St., West Central Dist, Tainan, Taiwan
Opening Hours: 11am- 10pm Daily
Admission Fee: –
Doesn't Tainan sound like the perfect 'off the beaten path' destination? For those looking to get a glimpse of Taiwan's history and culture, Tainan is definitely your best bet! Not only is it easy to access from both Taipei and Kaohsiung; its charming and rustic architecture, mouth-watering delights and relaxed pace of life will definitely leave you longing to return. Certainly the perfect place to catch a breather from hectic city life!
Inspired to travel to Taiwan? Get your trip planning started right here with AirAsia's amazing flight deals!
---
Special thanks to AirAsia for their hospitality and for letting me experience the finest of Taiwan!