Filipinos raring to explore the world again post-pandemic won't want to miss out on the GOverseas International Travel Fiesta, an online travel fair hosted by Southeast Asian Lifestyle super app Traveloka. This campaign, the first of its kind from the Traveloka platform, is set to run from 31 May to 6 Jun 2022.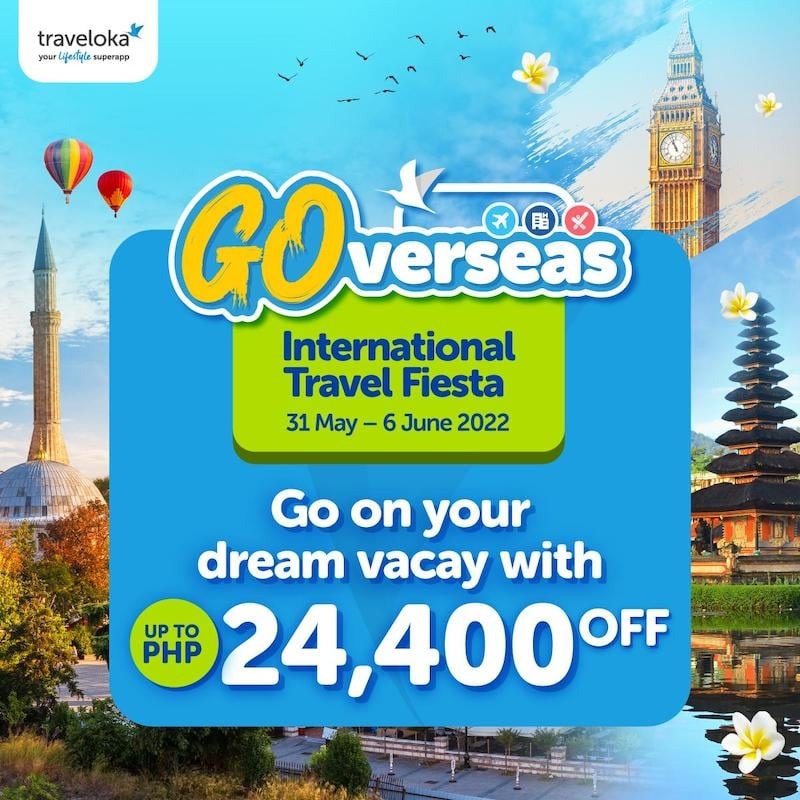 Throughout the fair period, participants will have lots of chances to land huge discounts on essential travel products such as flight tickets and hotel stays. Enterprising travellers stand to save as much as ₱24,400 on trips to spotlight destinations like Malaysia, South Korea, Thailand, and the Middle East. 
Event participants will especially want to watch out for Traveloka's daily flash sales, as each day of the fair will highlight all the best deals from a particular top international destination. 
Meanwhile, those who enjoy social media challenges can follow Traveloka's official social media accounts for the chance to win all sorts of exciting prizes. Beyond the fun and excitement these activities will offer, the savings customers stand to gain can help ensure that their next adventure is smooth and hassle-free.
On 4 Jun 2022, Traveloka will also be holding a livestream session hosted by famous visual storyteller Janina Manipol. She will be sharing her stories with her fans and giving them a chance to win some travel vouchers during the stream.
Now that global travel has begun to resume, Traveloka is just as committed as ever to being the best one-stop travel resource for customers from all over Southeast Asia. Flight tickets, accommodation, and other travel needs are easily bookable through the company's platform and well-supported by some of the world's most esteemed hotel and airline partners.
---
About Traveloka
Traveloka, Southeast Asia's lifestyle super app, provides users access to discover and purchase a wide range of travel, local services, and financial services products. Traveloka's comprehensive product portfolio includes transport booking services such as flight tickets, bus, trains, car rental, airport transfer, as well as access to the largest accommodation inventory in Southeast Asia, including hotels, apartments, guest houses, homestays, resorts, and villas, making Traveloka as a booking platform with widest selections of accommodation and packages.
Traveloka is also a key player in the local services category (currently specific to certain markets), offering reservations for a wide range of local attractions, activities, wellness and beauty clinics, culinary directories as well as food delivery. Traveloka also offers financing, payment, and insurance products to help Southeast Asian consumers fulfil their lifestyle aspirations. Traveloka provides 24/7 customer service in the local language as well as more than 40 different local payment methods. Traveloka lifestyle superapp has been downloaded more than 100 million times, making it the most popular travel and lifestyle booking application in the Southeast Asian region.
For more information on Traveloka's products and services or the GOverseas International Travel Fiesta, visit the Traveloka website or use the Traveloka app, available from the App Store and Google Play.