Why settle for ordinary, when you can start your revolutionary holiday? Don't worry about the daunting task of planning an amazing trip on your own – the Travel Revolution Fair 2018 will help you do just that.
The Singapore Outbound Travel Agents Association (SOTAA) has returned to organize the seventh edition of this massive travel fair, and they are back with a bang. This year, the fair is held from 23-25 March (Friday-Sunday) at Marina Bay Expo Hall E. With a plethora of travel agents, tourism boards, and a whole slew of activities for you to check out, there's no reason not to drop by this weekend.
It's easy to feel overwhelmed by the multitude of booths and hustle of the crowds, but just remember to stay calm and focused while you're here. To help you out, here are some of the must-do things at the Travel Revolution Fair – after this, you'll definitely be on the way to the most revolutionary holiday ever!
Check out all the themed booths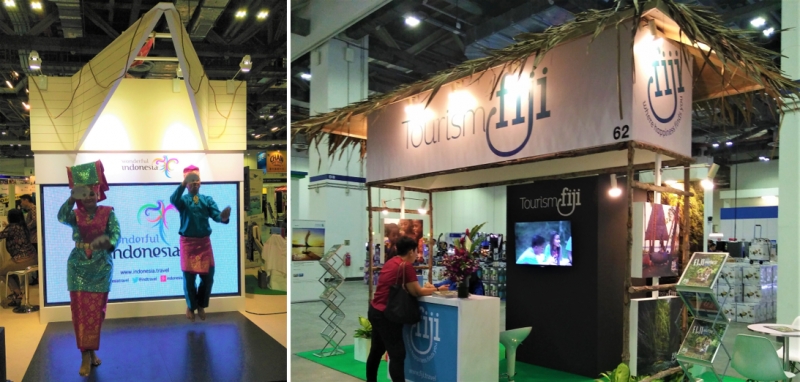 Momentarily immerse yourself in other cultures with the many themed booths available. Whether it's sipping a cup of tea by the 'river' in England, or clapping along to the traditional dances of Indonesia, you'll get the chance to be temporarily transported to a land far away. Even if you have no interest in travelling to these places, it will still be a great experience to learn more about other countries and their culture. Furthermore, who knows? You might even gain some travel inspiration from your visit!
Plan your trip with the informed travel agents

When it comes to planning an amazing holiday, you're probably going to need all the help you can get. The fair is chock-full of booths and friendly agents that are meant to help satisfy your every travel demand. Take a seat and consult a knowledgeable representative to find out more about the travel destination, tour packages, and anything else under the sun! By engaging in a proper discussion about your needs and wants, they can suggest the most suitable tour package, or even tailor-make one just for you. That's one step closer to the perfect holiday.
Learn some great tips at the i-Weekly Travel Discovery workshop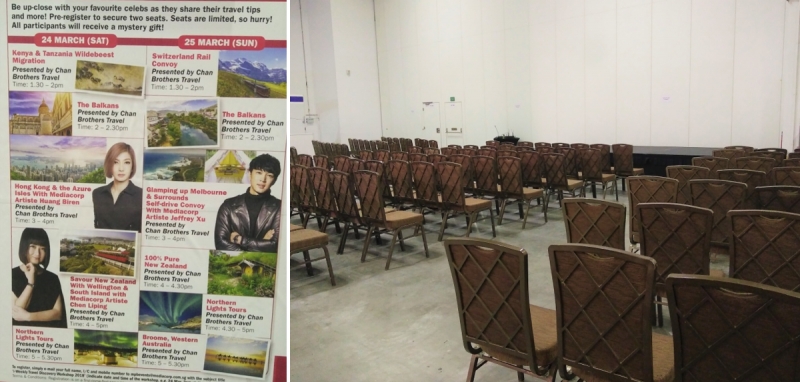 You don't have to go outdoors to see stars – all you need is the i-Weekly Travel Discovery workshop. Over the weekend, join local celebrities Chen Li Ping, Huang Bi Ren and Jeffrey Xu as they partner with Chan Brothers Travel to provide handy tips on trip planning. On Saturday (24 March), their focus will center on Kenya, Tanzania, Hong Kong, New Zealand and Northern Lights tours. The next day (25 March), they will pay more attention to the Switzerland rail convoy, glamping in Melbourne and exploring New Zealand and Western Australia. Pre-register in advance to secure seats, win a mystery gift and amazing magazine deals.
Stand to win attractive prizes

At the Travel Revolution Fair, there's a lot to gain. Not only do you get to plan for the best holiday yet, but you also have the chance to WIN an entire getaway. After booking your tour package, take part in the lucky draw and stand to win hotel stays, cruises to Thailand and Indonesia, or even air tickets to Europe, Japan and Australia!  In addition, purchases charged to any American Express credit card will double your chances of winning.
The more you spend, the more you save. When you pay with an eligible American Express card, head on over to the Gifts Redemption Counter to redeem a handy Samsonite Spinner luggage case, or an American Tourister 5-in-1 Travel Pouch (minimum spending required). You just might walk away with a free suitcase!
Pick up some electronics on the way

Take advantage of the collaboration between SOTAA and Courts, and swing by the electronics section of the convention hall. Although Courts is running their own Super Brands Show in the next hall, they have displayed an assortment of electronic products in Travel Revolution Fair as well. Customers from either fairs can enjoy cross promotions; for example, with a minimum spend at the Travel Revolution Fair, you get $400 discount coupons that are redeemable at the Courts Super Brands show (terms and conditions apply).
With the myriad of travel booths, assortment of tour packages and deals, there's so much in store for you at the Travel Revolution Fair 2018. Make full use of your time here and plan for the most revolutionary holiday yet. Still can't decide if you should head down? Here's a little preview of all the attractive deals you can snag for your next amazing trip to Asia or Europe. See you there!