Tired of the same old contemporary resorts or hotels? For your next staycation, how about staying in a treehouse nestled amidst the lush rainforests and serene landscapes of Malaysia instead? We've compiled a list of unique and stunning treehouse Airbnbs in different parts of Malaysia — whether you're seeking a relaxing vacation or an adventurous trip, these treehouses promise a one-of-a-kind travel experience! 
Also read: 15 Gorgeous Airbnbs & Vacation Rentals in Kuala Lumpur You'll Want to Live In
Gorgeous treehouse Airbnb rentals in Malaysia near Klang Valley
1. This majestic treehouse villa near Kuala Lumpur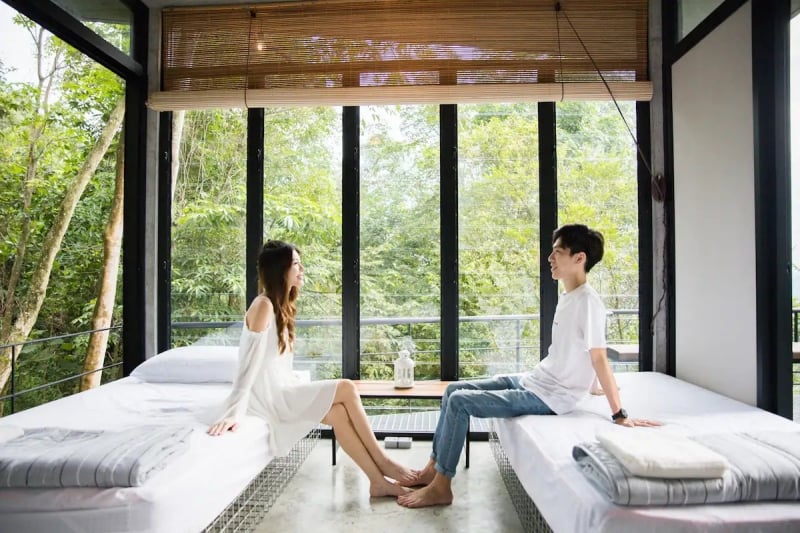 Listing name: The Senja @ Kuala Kubu Bharu Heights
Listing type: Entire villa
Max. no. of guests: 6
No. of bedrooms: 2
The Senja is the perfect retreat for you to escape city life. Nestled amidst private forest reserves and serene mountain ranges, this villa embodies a luxurious treehouse. Featuring a simple concrete and steel structure, it's a place where guests can be one with nature without having to step too far out of their comfort zone. 
According to the owner, all furniture and interior decor of this villa are hand-picked and customised. For instance, used fuel storage has been transformed into a BBQ pit. The open space also allows guests to enjoy the pinnacle view of Kuala Kubu Bharu Heights, aka KKB Heights in Selangor, any time of the day!
2. This vacation home with unique architecture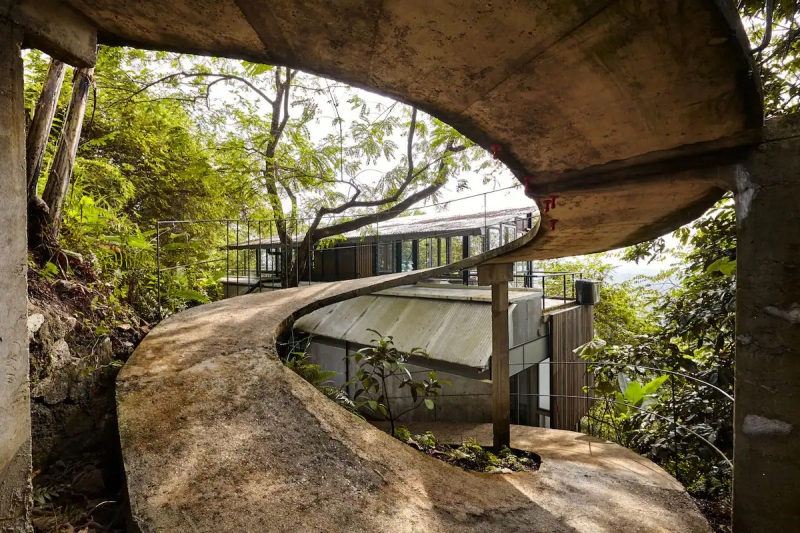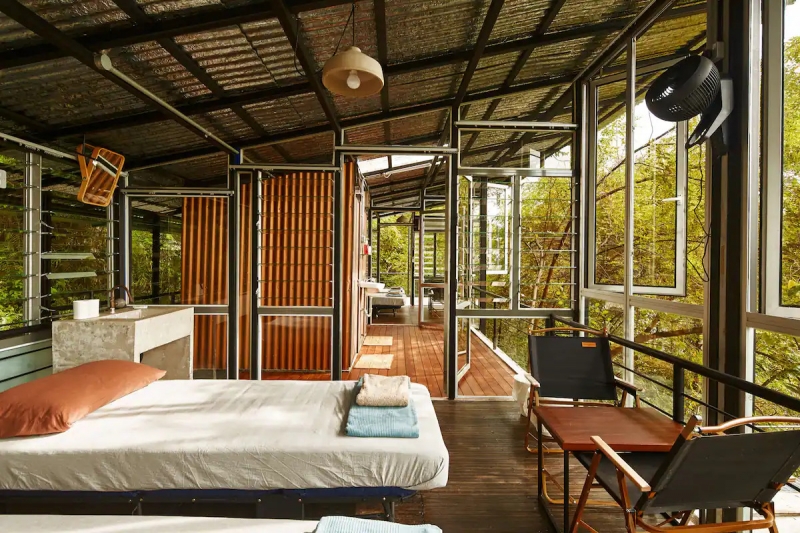 Listing name: Kool Haus @ KKB Heights
Listing type: Entire vacation home
Max. no. of guests: 10
No. of bedrooms: 5
Aiming to bring people a good start to the day by connecting with nature, this cool treehouse resort in Malaysia is really like its name, Kool Haus. Step inside the property by following a unique spiral walking path leading to the main entrance. Most walls of the treehouse have been removed and replaced with glass doors, allowing guests to enjoy a better view of the surroundings. 
Aside from the simple yet cosy interior, Kool Haus also has an upper level reachable via a ladder, where you can take a glimpse of the forest's canopy. Love sunsets and sunrises? Walk out to the exquisitely hand-crafted cantilever deck and sit down on the concrete bench for an unparalleled view of the sky!
3. This treehouse hotel in Malaysia perfect for big families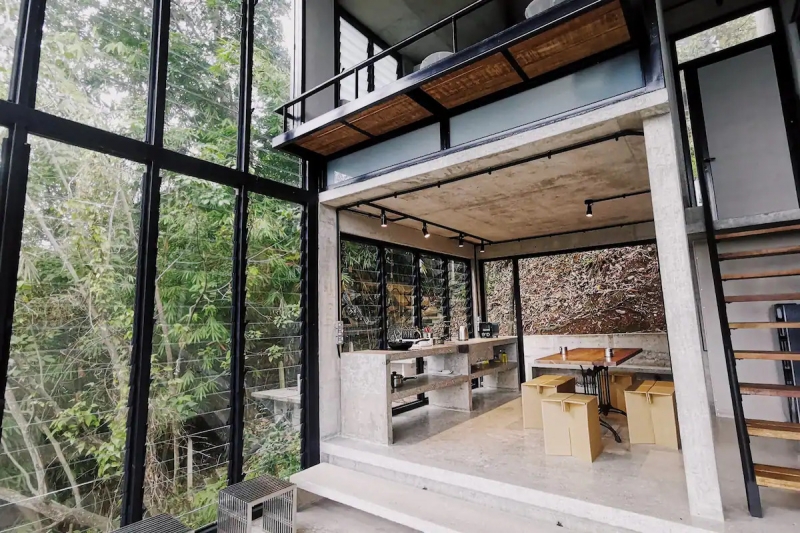 Listing name: Pulaithree retreat, Kuala Kubu Bharu Heights
Listing type: Entire cottage
Max. no. of guests: 7
No. of bedrooms: 2
Located less than an hour away from Kuala Lumpur city centre is Pulaithree Retreat, a modern treehouse that can accommodate up to seven people. Designed with an open-shed concept and minimalist interiors, the home seamlessly merges with nature, offering guests tranquillity and a breath of fresh air. Spend quality time eating and chit-chatting at the barbeque area, or enjoy swimming in the shared pool while basking under the sun!
4. This serene forest retreat in Selangor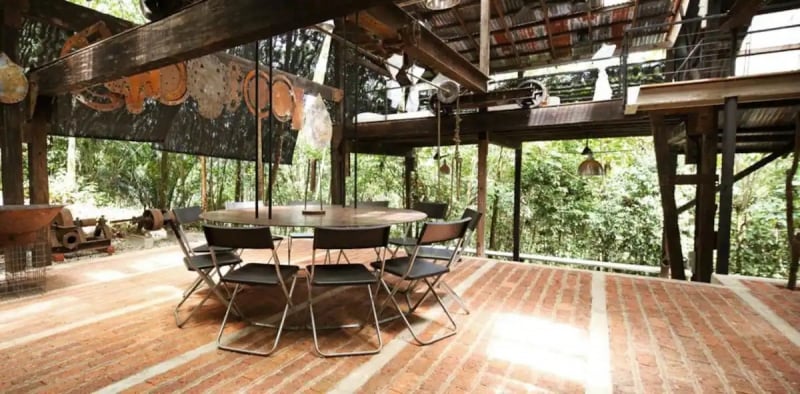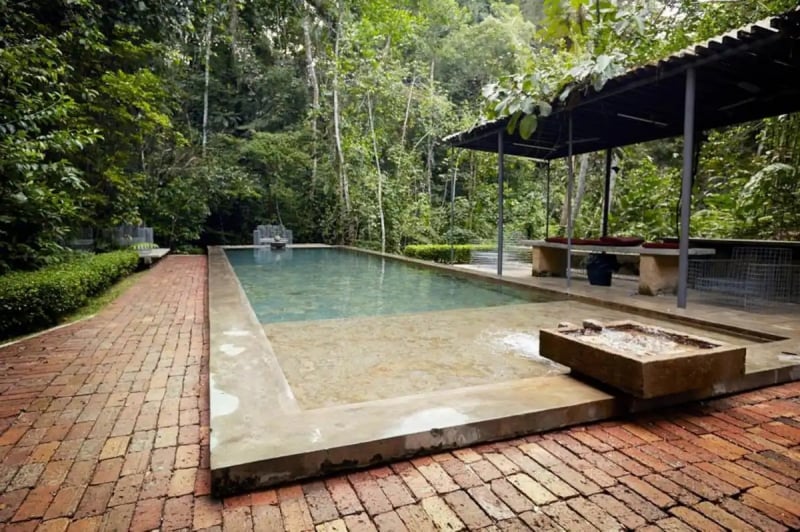 Listing name: warehouse 2 –unique private forest retreat
Listing type: Tiny home
Max. no. of guests: 14
No. of bedrooms: 2
Situated in Serendah town, this secluded forest house is purposely kept away from lavishness to embrace the beauty of nature around. With ample amenities and beds provided, it can fit up to 14 guests, perfect for big family gatherings or vacations with friends. There's a private pool, a large kitchen area with a stove, cutleries, and a BBQ pit. Due to the open-air concept, it can be very chilly here, especially during nighttime. 
5. This glasshouse surrounded by lush greenery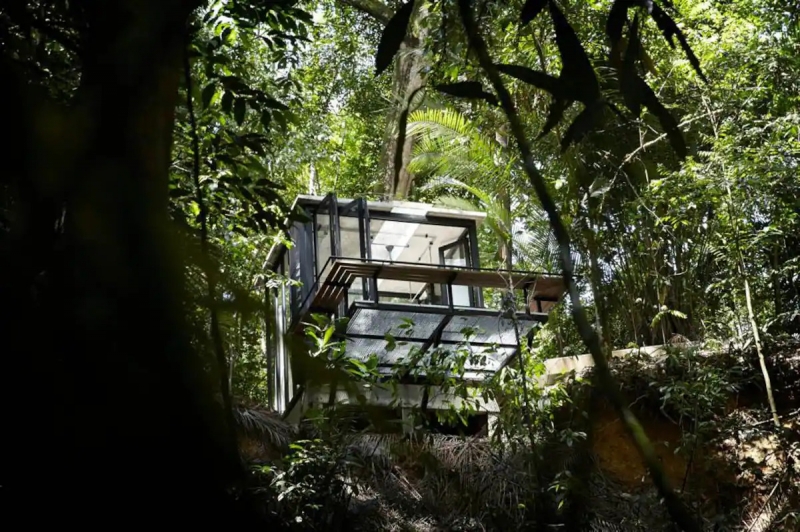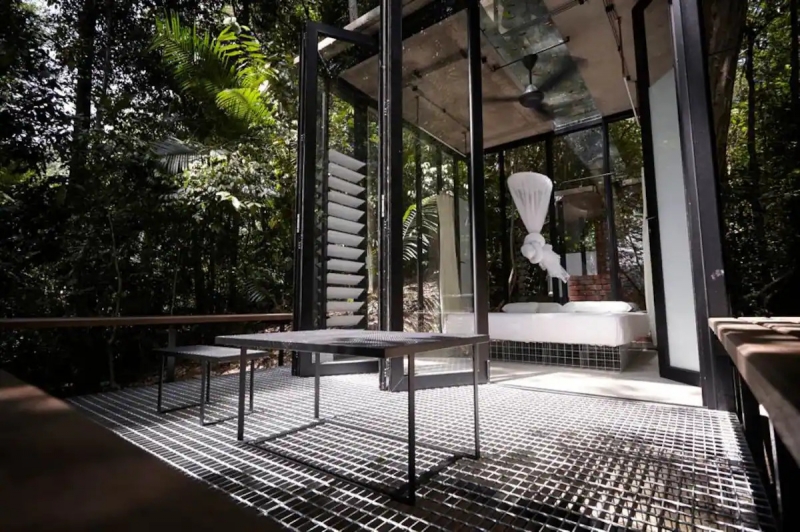 Listing name: GLASSBOX Serendah –unique private forest retreat
Listing type: Place to stay in a tiny home
Max. no. of guests: 2
No. of bedrooms: 1
Similar to the one above, this alluring treehouse lets you relax amidst nature. Built with floor-to-ceiling windows, it resembles a glasshouse, so guests can easily cherish the panoramic vista without stepping out. If you're looking for activities nearby, attractions like waterfalls, lakes, and the Orang Asli (indigenous people) villages are all just within a 10-minute drive away.
6. This quaint house near a river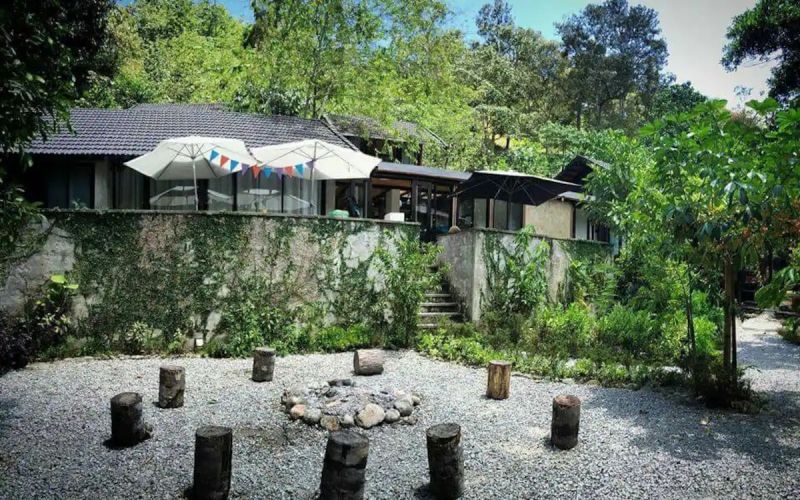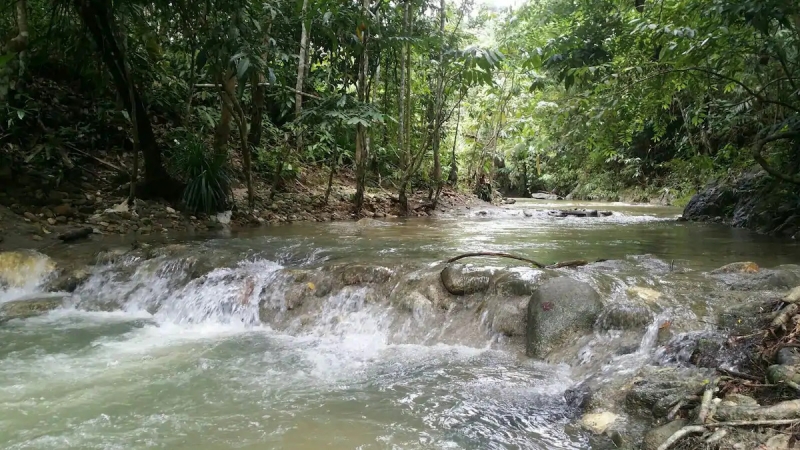 Listing name: HomesA ideal getaway
Listing type: Entire villa
Max. no. of guests: 16+
No. of bedrooms: 4
Located in Hulu Langat, Selangor, Rumah Kebun is an ideal accommodation for a short getaway. The furniture and interior are mostly made of wood, along with the sliding glass door, blending nicely with the lush hills encircling the quiet abode. Although there's no restaurant nearby, this treehouse Airbnb is supplied with a fully functional kitchen that has a gas stove, oven, microwave, a fridge, as well as common cooking ingredients.
Hulu Langat is well known for its hot springs. In this treehouse, you can indulge in a refreshing dip in the natural spring water pool, or opt for a fun time at the Semungkis River nearby. 
7. This cosy stay equipped with a massive pool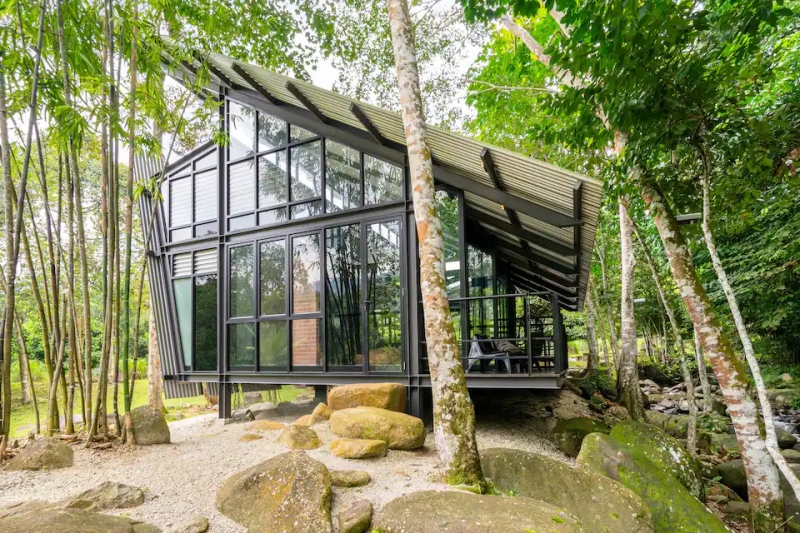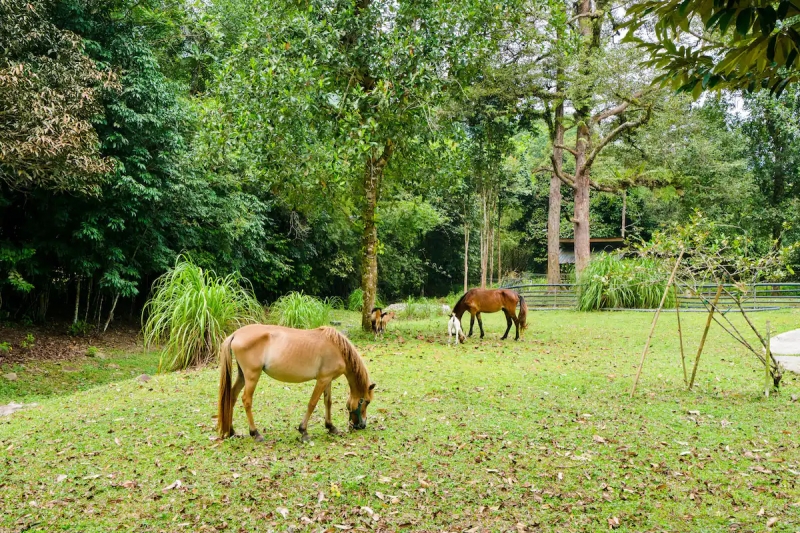 Listing name: Land of Larwina Retreat.
Listing type: Farm stay
Max. no. of guests: 8
No. of bedrooms: 4
Are you an animal lover? If the answer is yes, then this charming farm stay near KL is for you! Called the Land of Larwina Retreat, this place is situated on a three-acre farm and has won the Airbnb Green Stays Gold Award 2021. Say hi to animals like horses, ducks, and chickens that roam around freely, or form campfires and BBQs outdoors and create incredible memories!
Overlooking a stream and lush greenery, guests can also stay in and rest thoroughly. The house can fit up to 16 guests (on request, with extra charges), and the carefully selected decor such as a swing chair as well as black and white furniture make it look tidy and spacious.
Note: The kitchen only allows Halal cooking.
Dreamy treehouse stays in Penang, Malaysia
8. This treehouse resort with a vintage vibe
Listing name: Tropical Hill Melor Villa at Fig Tree Hill Resort
Listing type: Treehouse
Max. no. of guests: 6
No. of bedrooms: 2
How about something vintage? This huge treehouse in Penang looks like those traditional village houses in an old Chinese village with the embellishment of red lanterns. The fact that it's built in a circular shape and is elevated off the ground also makes it look similar to a classic Bidayuh house. The interior design, however, is of Balinese style. You can see elements like intricate wood carvings and ikat weaving carpets. 
Surrounded by plenty of trees, hills, and streams, staying here guarantees you a great escape from the city. Immerse yourself in activities such as a spa session, taking a bath in the built-in jacuzzi in your room, feeding koi fish, or swimming in the pool.
9. This tranquil treehouse built of wood and bamboo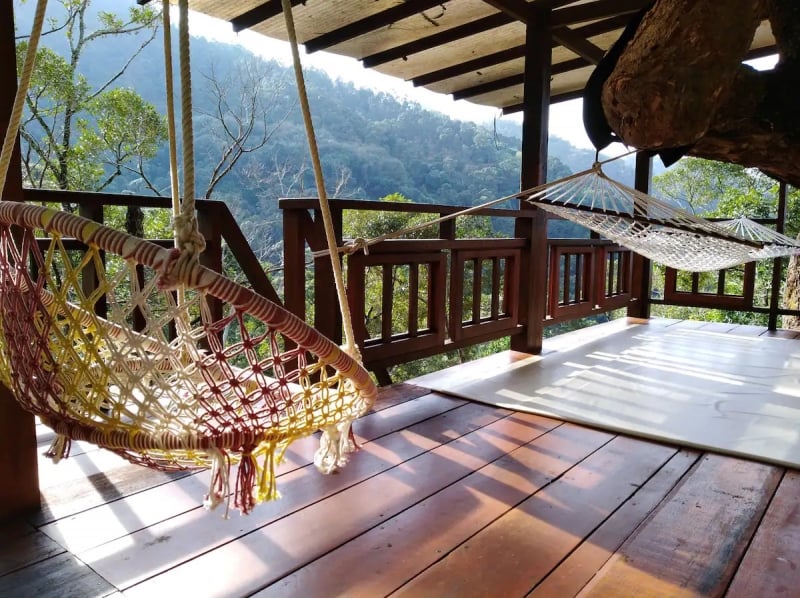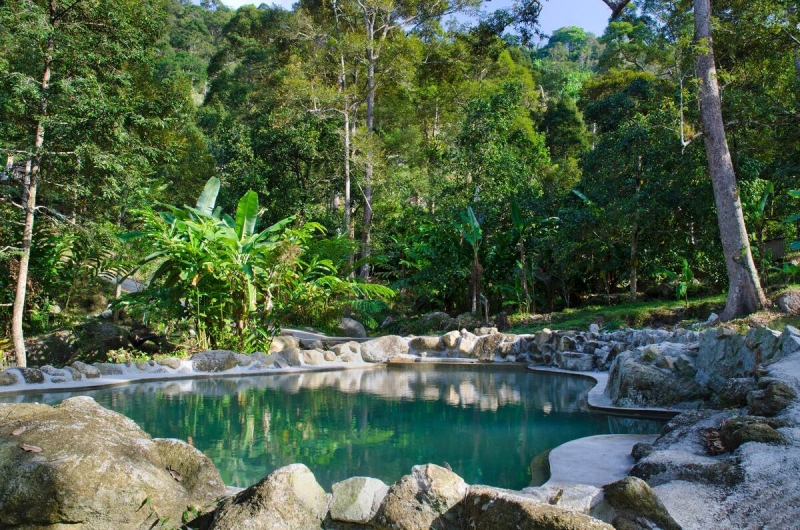 Listing name: Treehouse – Sleeping on a Durian tree
Listing type: Treehouse
Max. no. of guests: 2
No. of bedrooms: 1
A pleasant hideaway for two, this double-storey treehouse sits 300 metres above sea level, offering stunning views of the mountains. Built around an 80-year-old durian tree, it is hand-crafted with bamboo blinds instead of walls, allowing guests to seamlessly get in touch with nature. Aside from the comfy bedroom, there is also a hammock and a jute hanging chair on the upper deck. 
During your first two days of stay, breakfast is provided at the common hut. Dinner is also served during the first night of your stay. You may also join the owners on a farm tour. Here you can learn about their farming methods and traditional remedies, then pick and eat ripened fruits and wild herbs. 
Tip: If you love durian, come in June or July, as durian fruits are only available during these two months.
Other unique treehouses in Malaysia to book on Airbnb
10. This award-winning treehouse located on a farm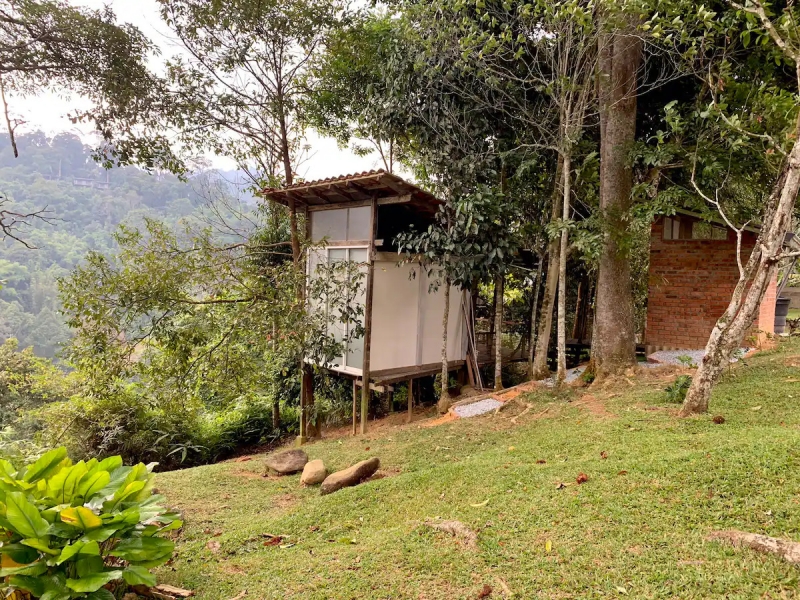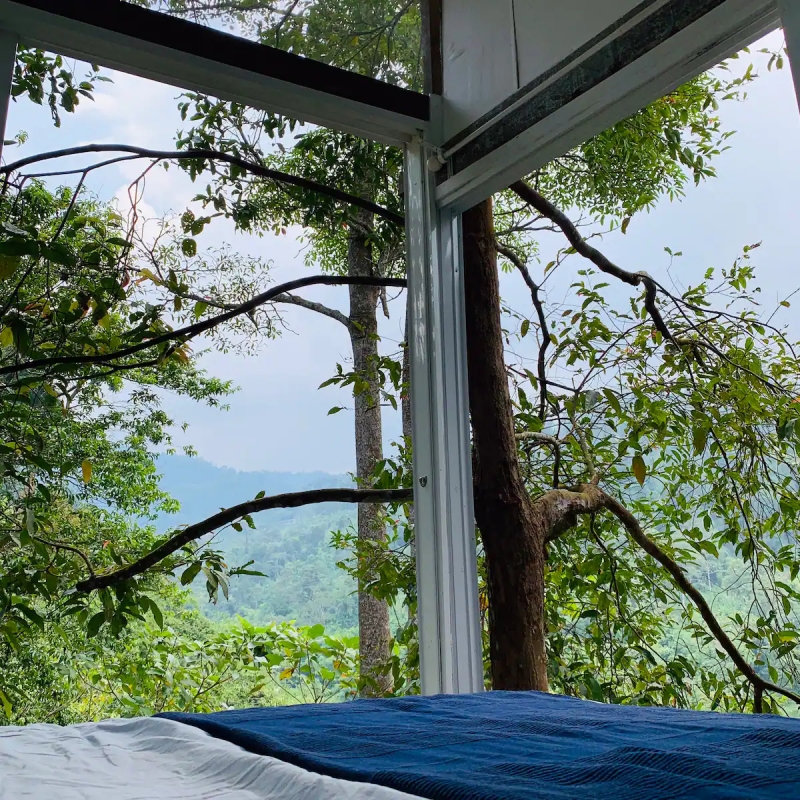 Listing name: Plateau Farm Sustainable Treehouse Camp@Janda Baik
Listing type: Treehouse
Max. no. of guests: 2
No. of bedrooms: 1
This beautiful treehouse is another one of the treehouses in Malaysia that makes an excellent sanctuary for couples. Located in Bentong, Pahang, it stands 500 metres above sea level. Plus, you'll love the bed weather — it's a lot cooler in this area than it is back in town. The stay consists of a small bedroom with a double bed, a kitchenette, a bathroom, a patio, and a shared backyard. Embracing a BYO (Bring Your Own) concept, guests are welcome to bring along their necessities for comfort, such as torchlight, food, insect repellant, or picnic essentials.
11. This elevated treehouse Airbnb in Langkawi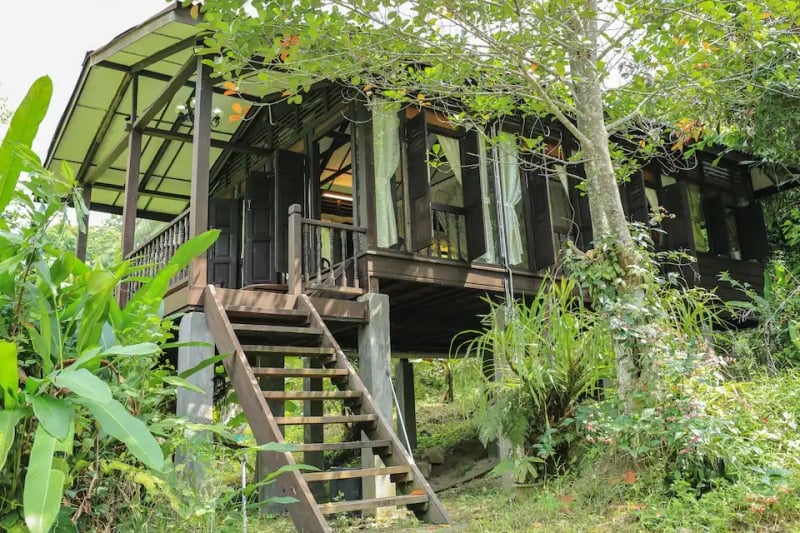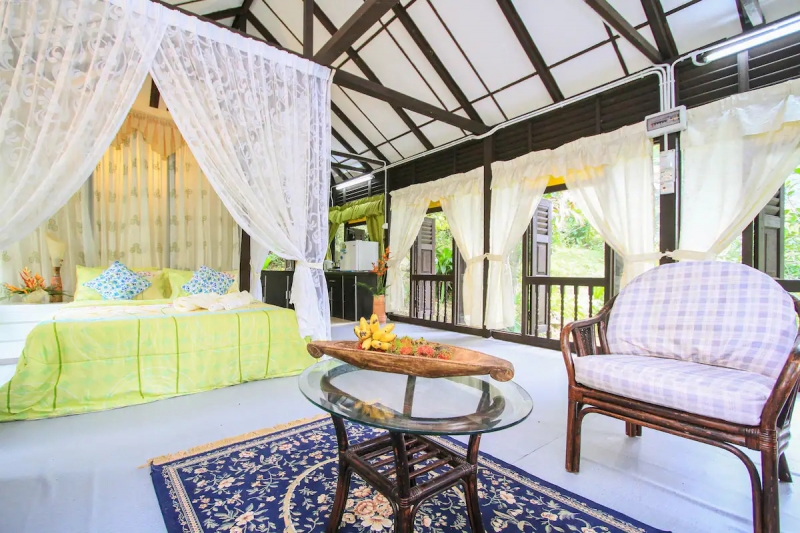 Listing name: Villa Sri Kampung
Listing type: Entire villa
Max. no. of guests: 3
No. of bedrooms: 1
Villa Sri Kampung is a gorgeous treehouse in Langkawi, Kedah, about half an hour's drive away from the Langkawi International Airport. If you're dreaming of a tranquil holiday away from the hustle and bustle of the city and love the Malay culture, then this place is perfect for you. Imagine seeing animals like birds, langurs, and squirrels right in front of your stay — how cute! Free airport and jetty transfers are available here, too.
Tucked in a forest with natural streams and wild plants, this villa boasts many open-air spaces and windows that frame a lovely view of nature. The house features the traditional Malay architectural style, with adornments like vibrant curtains, bedsheets, and sofas.
12. This rainforest treehouse in Kulai, Johor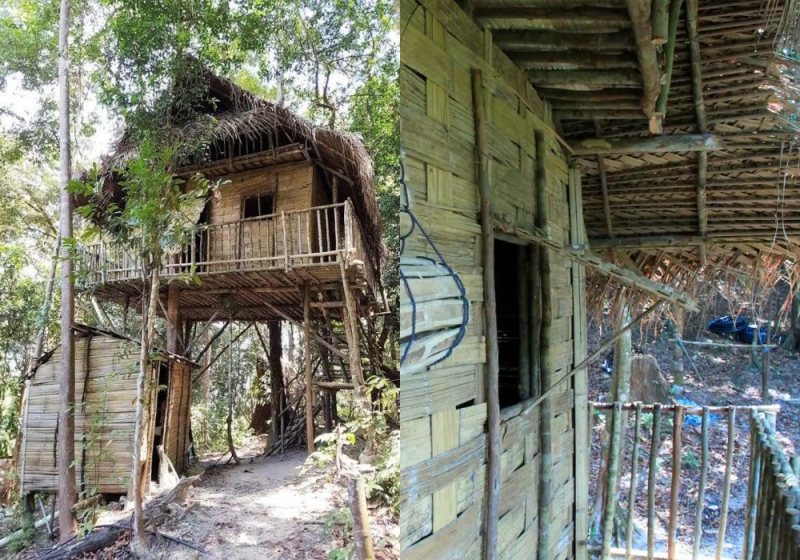 Listing name: Rainforest Tree House
Listing type: Place to stay in a treehouse
Max. no. of guests: 6
No. of bedrooms: 2
Without any additional refurbishments, this primitive treehouse near Johor Bahru lets you reconnect with nature. There is no present-day luxury, just very basic amenities like beds, a door lock, and a bathroom. During days one and two of your stay, the owner has also prepared a simple itinerary. You'll be guided to a waterfall nearby, watch the sunset at the library tower, go jungle trekking, and try out mouth-watering local food. It will definitely be a unique and unforgettable experience!
Also read: 15 Best Airbnbs in Johor for Your Next Weekend Getaway
Are you surprised that there are so many treehouse Airbnbs in Malaysia? Perfect for those who enjoy being one with nature, these treehouses in Malaysia will definitely be an ideal complement to your weekend getaway. 
Got a property you'd like TripZilla to feature? Inquire with us here.
---
This article contains affiliate links. When you book through these links, we may earn a small commission at no additional cost to you. All images courtesy of the respective property listings unless otherwise stated.