Whenever I think of the term AI, the only image that comes to mind is a belligerent Will Smith beating on robots (surprise, surprise). Humanity's come a long way since that movie, and today, artificial intelligence is in vogue. With that in mind, let's talk about ChatGPT, the AI platform that's currently the talk of the town.
ChatGPT is essentially an AI-driven natural language processing platform that lets you have remarkably human conversations with it. This is especially true when compared to the garden-variety chatbots we're used to. The company responsible for creating ChatGPT is OpenAI, and they launched it for free as a testing initiative on 30 Nov 2022.
As an AI-powered platform, ChatGPT can write emails, answer questions, write and debug code, write music, explain complex topics, and so much more. Initially, excitable students were using this platform as an easy way to get out of writing their college essays. ChatGPT has come a long way since then, and has recently proven itself to be a very useful tool in the travel industry.
Gone are the days when you need to scour the internet for travel content to piece together a decent vacation. But can ChatGPT really make travel planning easier? I decided to test the entire process for myself and find out. Read on to see how well it worked for me, and discover everything you need to know about ChatGPT travel planning — from the process to the pros and cons.
How to use ChatGPT as a travel planner
1. Find attractions
Once you've got a travel destination in mind, it's pretty easy to start your ChatGPT travel planning. You can use it to pick out must-see attractions, which is great for first-time visitors. I've always wanted to plan a trip to Rome, Italy. So, with that in mind, here's what I asked ChatGPT.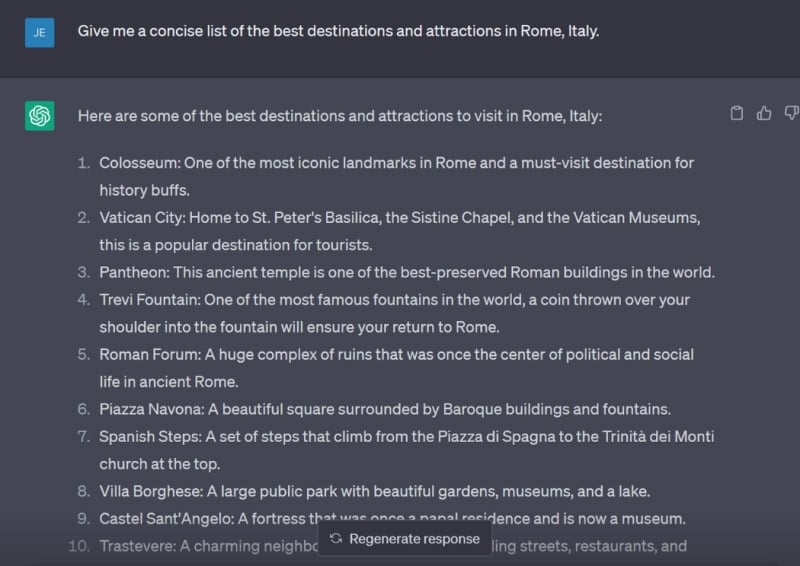 As you can see, it provided me with a concise list of the best attractions in Rome, along with a brief description of each. Some of these are immediately recognisable, like the Colosseum and Vatican City. However, it's important to remember that ChatGPT doesn't work like a search engine, where cross-checking is much easier.

For example, I've never heard of Villa Borghese before. If I run a search on Google, there'll be about ten different sites listing the same information about it. This method of cross-checking lets me know that Villa Borghese is a real attraction in Rome. This need for verification goes back to the fact that A.I., in general, does not always get things right.
Fortunately for me, all the results on this input were perfectly accurate. But, if you ever find yourself doubtful about any information given by ChatGPT during your travel planning, it never hurts to quickly verify it on a search engine.
There's a common gripe going around that ChatGPT is only capable of pointing out the generic, touristy attractions of a particular destination. This is not necessarily true. You just need to get a little more specific. 
To get the right blend of attractions for my hypothetical trip to Rome, I then asked ChatGPT to create a list of lesser-known attractions in Rome, excluding the ones it had already mentioned.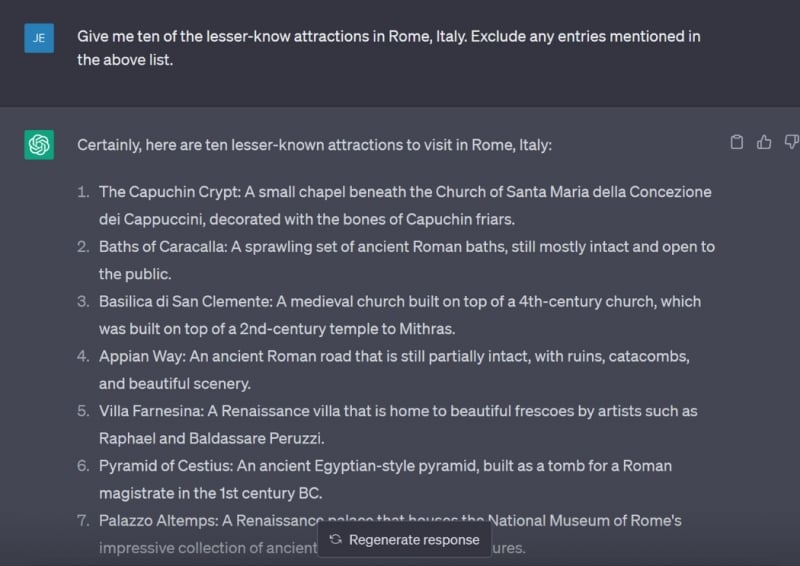 The results were pretty helpful, as I had no idea the Capuchin Crypt even existed. For someone like me that's a little into the macabre side of tourism, it was a perfect suggestion.
2. Plan a travel itinerary
Now, I'm not really the most organised person in the world when it comes to a vacation. Luckily, a little ChatGPT travel planning can help with that. You can use it to create a detailed, day-to-day itinerary. Once again, the key is to be as specific as you can. Here's the input that I tried, taking my previous questions into account.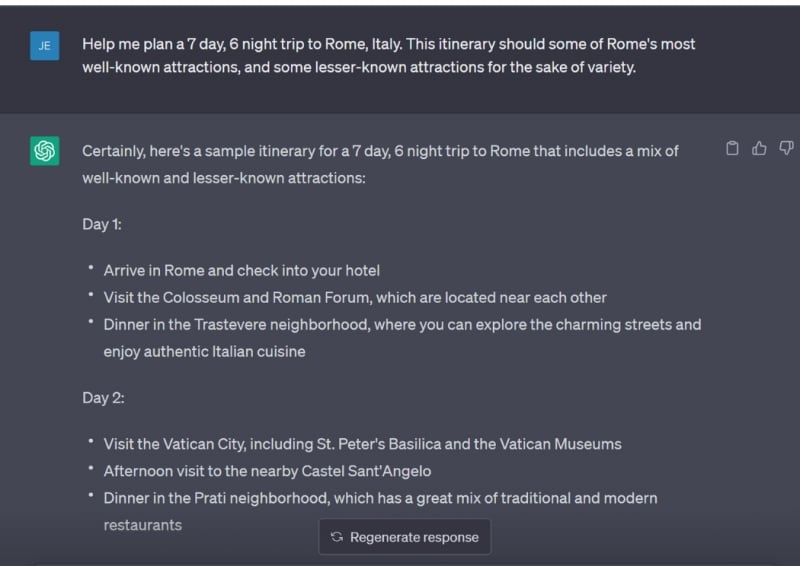 As you can see, I made sure to tell ChatGPT that I wanted to visit a combination of both famous and lesser-known attractions in Rome.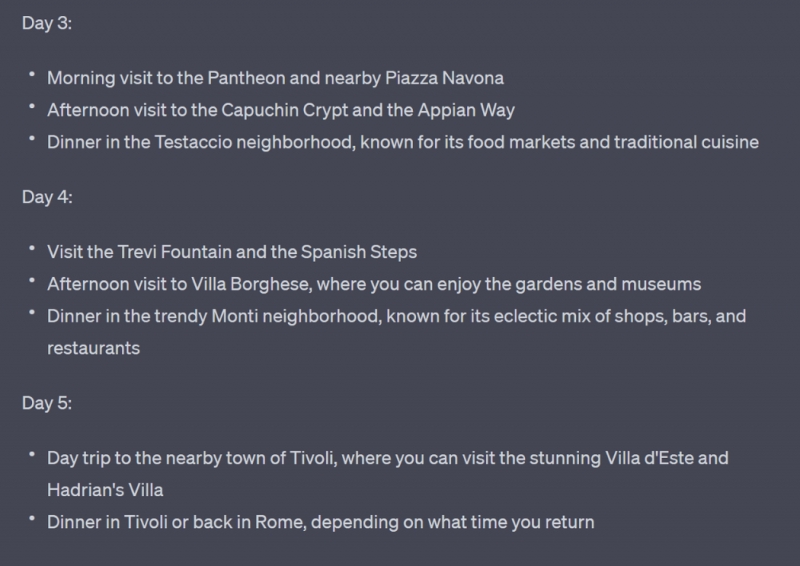 In addition to places that I could visit, ChatGPT also recommended locations in Rome where I could have dinner and enjoy some shopping.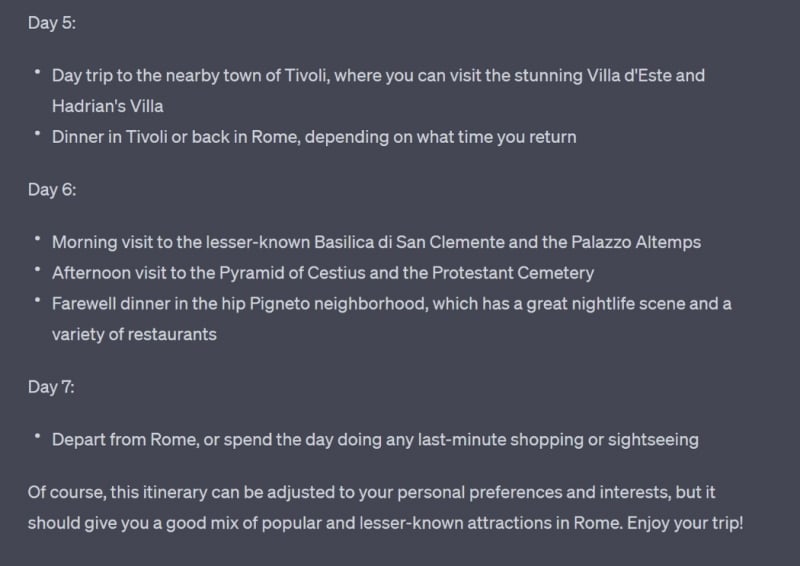 It's interesting to note that at the end of the itinerary, ChatGPT leaves a disclaimer of sorts. It tells you that the information provided can be further refined based on your preferences. In other words, you could treat your very first result as a base-level itinerary, and keep refining it with further input until you're satisfied.
3. Estimate your expenses
Besides planning an itinerary, you use ChatGPT travel planning to give you a rough estimate of your expenses. Remember, you're encouraged to add as many caveats in your input as you'd like. For myself, I requested a tighter budget on food, because I didn't want ChatGPT to include eating Michelin-starred restaurants in my expenses. Here's what it came up with.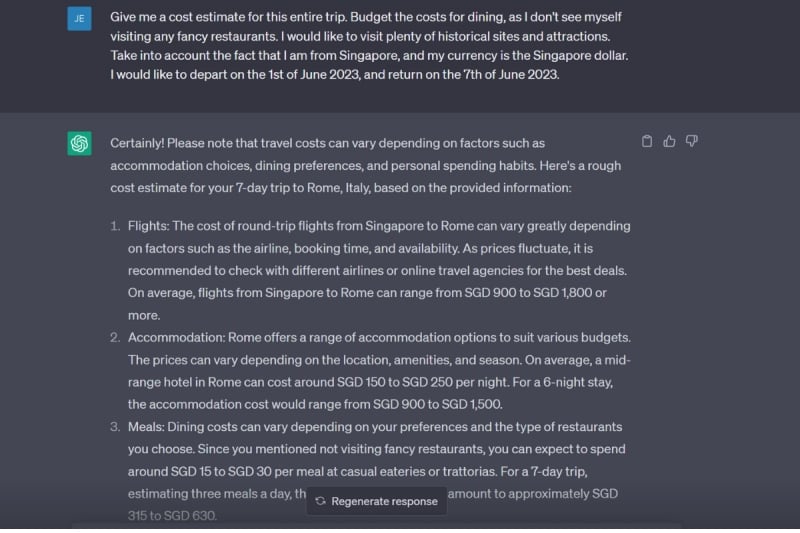 I also included my sightseeing preferences, country of origin, and the currency that my country uses. Of course, you should never forget the most important piece of information: your travel dates.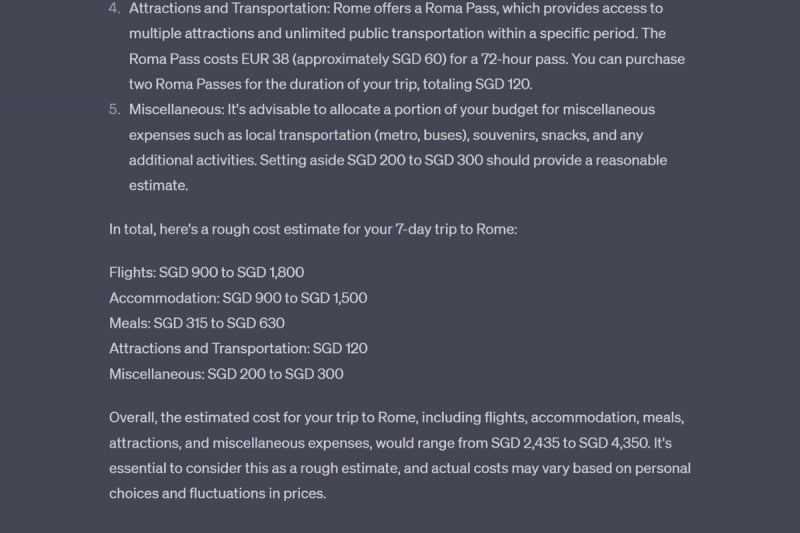 Without having to ask, I also got a rough idea about the transportation situation in Rome. It also gave a suggestion to purchase the Roma Pass. After a little digging, I found out that it's a city pass that gives you free rides on public transport and discounted entry fees to certain attractions.
ChatGPT travel planning estimates your budget based on flights, accommodation, food, attractions, and transportation. In short, my trip to Rome should cost between S$3,000 to S$ 4,500. (Can I afford this? Probably not, but a man can dream.)
4. Get recommended flights
Moving on, another perk of ChatGPT travel planning is that it can help you look for flight recommendations. It's important to remember that as an AI platform, ChatGPT cannot actually help you book flights. It even tells you this from the get-go. However, it can give some good options. This is how I structured my input.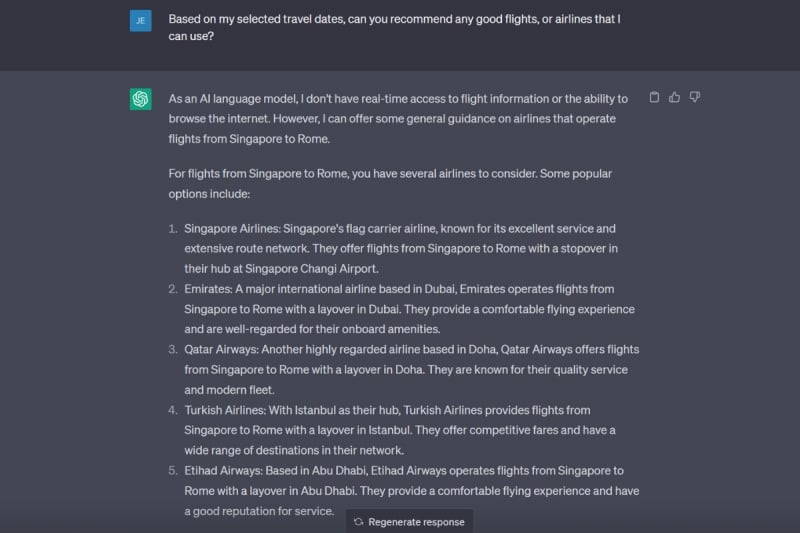 Of course, the first few ChatGPT options were a little expensive for my blood. So, I added a new input to reflect my need for budget-friendly airlines.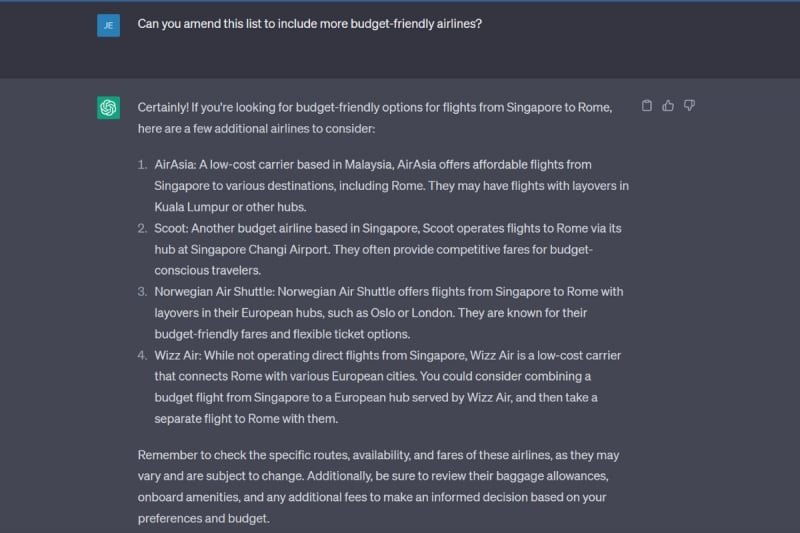 I was pleased to find out that all four suggestions for a budget airline were pretty much on-point. The recommendation from ChatGPT on how I could incorporate using Wizz Air for my trip was also much appreciated.
5. Search for accommodation
ChatGPT travel planning can also assist with accommodation. Again, you can't use it to actually book anything. But a quick prompt can save you a ton of time by filtering out great places to stay during a vacation. For my input, I made sure that ChatGPT included a mixture of hotels and Airbnbs. I also requested that all suggestions be budget-friendly.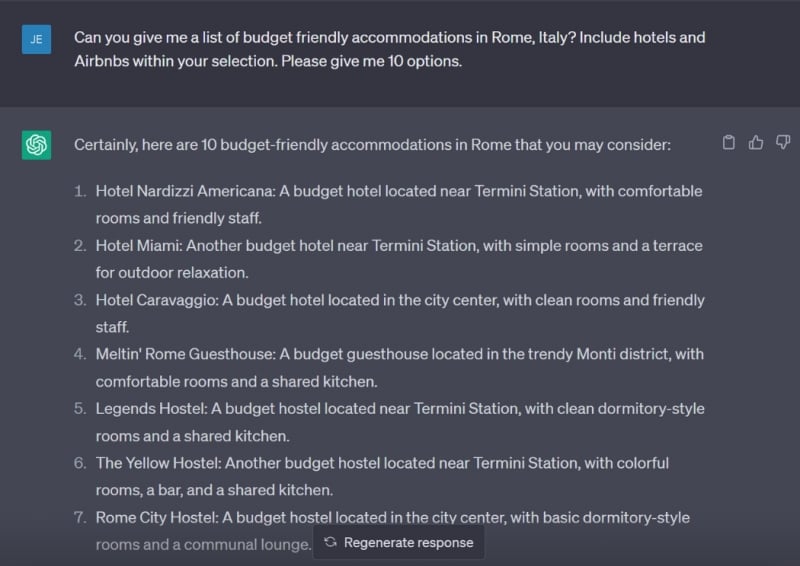 One thing to note here is that ChatGPT was not able to give me results that were immediately relevant to my request for Airbnbs. It also got some names wrong. For example, The Yellow Hostel is actually Yellowsquare, or simply The Yellow. It is indeed a shared, hostel-style accommodation. It's not exactly an Airbnb, although there are certain rooms within it that are listed on Airbnb.
As you can see, results given by ChatGPT can get a little murky sometimes. If you're hopping on the ChatGPT travel planner bandwagon, be sure to double-check the information given.
Also read: 10 Airbnbs in Rome for the Perfect Roman Holiday
6. Ask for handy travel tips
Last but not least, ChatGPT travel planning is great for exploring the culture of your destination. You might not think this is very important, but respecting local culture, tradition, and customs is a big part of being a responsible traveller. I've never been to Rome before, so for my hypothetical trip, I was curious to see if there was anything, in particular, I should pay attention to.
So here's what I asked ChatGPT.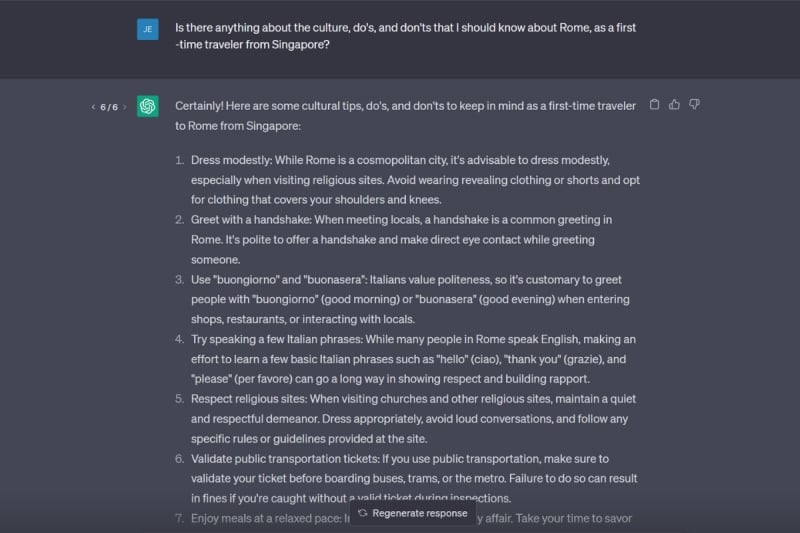 As you can see, I was instantly given tips about how to dress and respect local customs, and even a reminder about validating my public transport tickets. Further down the list, ChatGPT also gave me tips on being wary of pickpockets and a quick lesson on the tipping culture in Italy.
Also read: 9 Life-Saving Tips for Solo Female Travellers

And there you have it: a simple guide to planning your vacation with ChatGPT. Now that you've got your feet wet, let's have a quick overview of the areas where ChatGPT rises to the occasion and where it falls flat.
Pros and cons of ChatGPT
The pros
Quick and efficient responses
Detailed information
Makes planning easy
Provides useful additional tips outside of a given prompt
The cons
Unable to assist with booking or payments
Information can be inaccurate sometimes and requires cross-checking
Requires very specific prompts for the best responses
Unable to provide visually-based results, like images or videos
Also read: 12 Things You Should Never Wear on a Plane
All in all, I think the most important thing to remember about ChatGPT as a travel planner, is that it is just a tool. AI, as a whole, remains merely a tool. When properly used, it can be very helpful. However, humanity has not reached the point where we can rely on AI for everything.

With that in mind, if you're looking for help with travel planning, tips for your next vacation, or just a little inspiration to wander, we've got you covered!

The pros and cons of ChatGPT come together to make a strong case for why you should at least try to use it for planning. The best part is, you don't have to just take my word for all this. It's a free platform after all, so the next time you're planning a vacation, why not give it a go?
---
Featured image credit: hocus-focus via Canva Pro
Facebook image credit (left): photobyphotoboy via Canva Pro