Nothing beats the excitement you feel when you're at the airport. After all, within hours of stepping through the gates, you'll often be jetting off to your next big travel adventure! Of course, many airports these days offer more than just a transit point to get from point A to B. Plenty of these airports, like KLIA 2 in Malaysia also double up as attractions in their own right! 
However, perhaps none do it as well as Changi Airport in Singapore! Often considered one of the very best airports in the world, Changi Airport has no shortage of incredible sights and activities to keep travellers occupied until their flight. Some of these are so fun that even locals make it a day trip destination! 
Among all the wonderful experiences at Changi Airport, none are as awe-inspiring to me as its many wonderful natural attractions. If you love nature, here are seven natural attractions in Changi Airport you simply have to know about! 
1. Shiseido Forest Valley
Of course, when talking about the many wondrous natural attractions in Changi Airport, we simply MUST start with Shiseido Forest Valley! Located in Jewel Changi, this lush natural sanctuary is easily one of the most recognisable spots in Jewel Changi. It's also one of the country's most famous new attractions in recent years! 
Filled with ample verdant plant life from around the world, Forest Valley is truly a tranquil retreat filled with therapeutic sights at every corner. Whether you're waiting for your flight or you've just disembarked, taking a stroll along this beautiful indoor garden is a great way to rejuvenate your mind and body.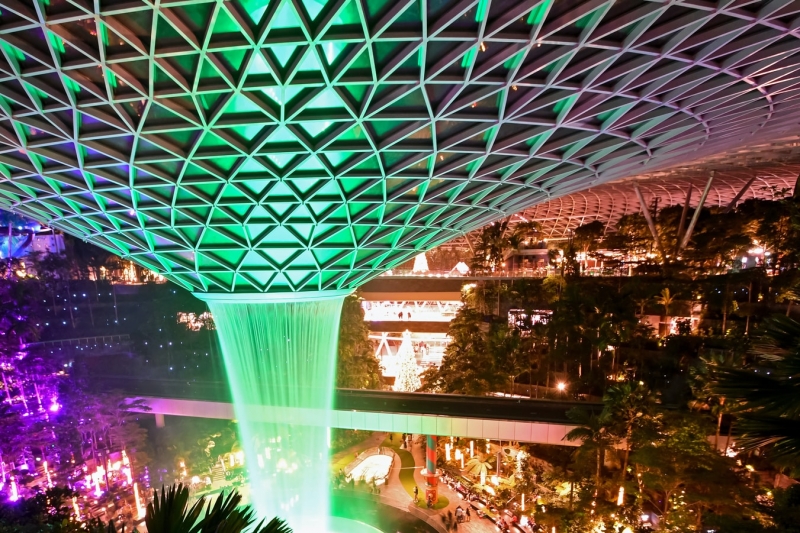 The main attraction of Forest Valley is undoubtedly the iconic Rain Vortex! Located in the very centre of the indoor garden, it is the world's tallest indoor waterfall! Pouring down over the glass roof overhead, the stunning waterfall cascades down 40 metres (about 7 storeys!) to the basement below. 
Naturally, this is one of the most Insta-worthy spots in the entire airport. Thanks to the natural sunlight during the day, there's plenty of good lighting for good photos. However, it is during the night when the Rain Vortex (and the area surrounding it) completely transforms into a truly whimsical sight! Thanks to the many light installations, the entire area feels like a scene out of a fairy tale. Super romantic! 
Also read: Plan Your Next "Glampcation" At Jewel Changi Airport
2. Canopy Park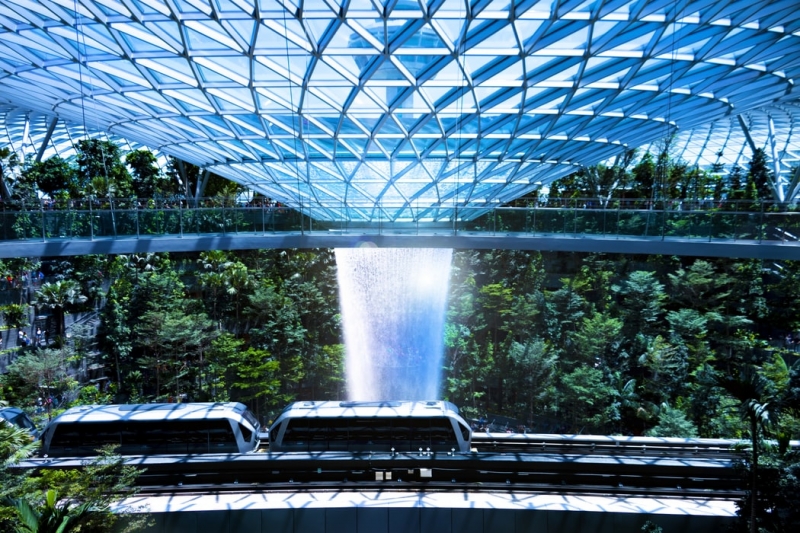 Moving on (literally because there's a pathway that connects both places) from Forest Valley, Canopy Park is another natural attraction at Changi Airport that will have you swooning. This awesome park is located at the topmost level of Jewel Changi. It features plenty of exciting attractions to explore and plenty of picturesque scenery.
The must-visit attraction of this recreational wonderland is Canopy Bridge. Featuring a glass bottom, the bridge is suspended 23 metres in the air and offers a truly breathtaking view of Canopy Park. The sides of the bridge also periodically emit mist, giving you the impression that you're truly walking among the clouds of a rainforest!
Other notable attractions at Canopy Park include the Hedge Maze, the largest of its kind in Singapore, the Mirror Maze, the Topiary Walk, and much more. In fact, let's talk about some of them right now! 
3. Manulife Sky Nets
As you might have guessed, the Manulife Sky Nets at Canopy Park is basically a giant net that is suspended across a void 25 metres above the ground. For those looking for a quick adrenaline pump, you can walk across the net or even bounce on it! At its highest, the net can catapult you eight metres above ground, allowing you to fully experience the sensation of being weightless in the air! 
Don't worry about safety though because the nets are super sturdy and there are necessary precautions too. However, if you're planning on trying out the nets, you're advised to wear appropriate clothing. That means covered shoes and preferably shorts or comfy pants. 
Also read: Canopy Garden and Changi Experience Studio Opens at Jewel Changi Airport
4. Petal Garden
If getting your heart racing isn't what you want to do at the airport, then Petal garden is where you should go. Also located in Canopy Park, this charming garden boasts plenty of colourful season blooms from around the world. As you look upon this mini ocean of kaleidoscopic colours, you'll feel as if your worries are slowly fading away. 
Needless to say, this is a great spot for photography. That being the case, it goes without saying that you should stay clear of the flower fields and not damage it! So, no, you can't roll on the flowers, however tempting that might sound! 
5. Butterfly Garden
Here's a fun fact for you: Did you know that planes aren't the only thing you'll see flying around Changi Airport? I'm referring to the 1000-odd tropical butterflies in the airport's butterfly garden of course! 
Filled with lush greenery, plenty of flowering plants, a large colony of butterflies, and even a waterfall, the butterfly garden in Changi Airport is the first ever butterfly garden in an airport! Apart from admiring the colourful creatures, you can also learn about their habitat and growth cycles too! A wholesome activity if I do say so myself! 
6. Orchid Garden
For those who may not have known this, the orchid is the national flower of Singapore. So is it really any surprise that there's a lovely orchid garden located inside Terminal 2 of Changi Airport? While it isn't the biggest indoor garden, you'll still find over 700 orchids boasting over 30 different varieties and colours.
What's even more impressive is that the orchids are painstakingly arranged by hand according to their shapes and colours. Supposedly, each colour represents one of the four elements of nature: Fire, water, earth, and air. Regardless of whether you're well-versed in the elements, the garden provides plenty of awesome photography backdrops and sights. 
7. Cactus Garden
Finally, if you'd prefer some fresh air, why not visit the rooftop Cactus Garden? Here, you'll be able to admire hundreds of different cacti species from around the world. As you stroll around the garden, you can also bask in the sun and enjoy a few drinks at the bar. However, if you're planning on taking some pictures, we do not recommend getting too close to the cacti! Otherwise, you might find yourself in a prickly situation! 
An airport that doubles up as a day trip! 
And there you have it, seven alluring natural attractions in Changi Airport that will make it hard to leave! It's truly incredible that you can do so much at an airport, isn't it? What's your favourite place to visit in Changi? Let us know!