Did you know that Istanbul is the only city in the world to span two continents? A glittering metropolis where East meets West, Istanbul brings together a dazzling conglomeration of cultures, tangled within a delightful labyrinth of awe-inspiring architecture, bustling bazaars, and tantalising aromas. Every trip to the city is an adventure in itself, with each visit usually warranting a minimum of three to four days. But what if you only have 24 hours in Istanbul?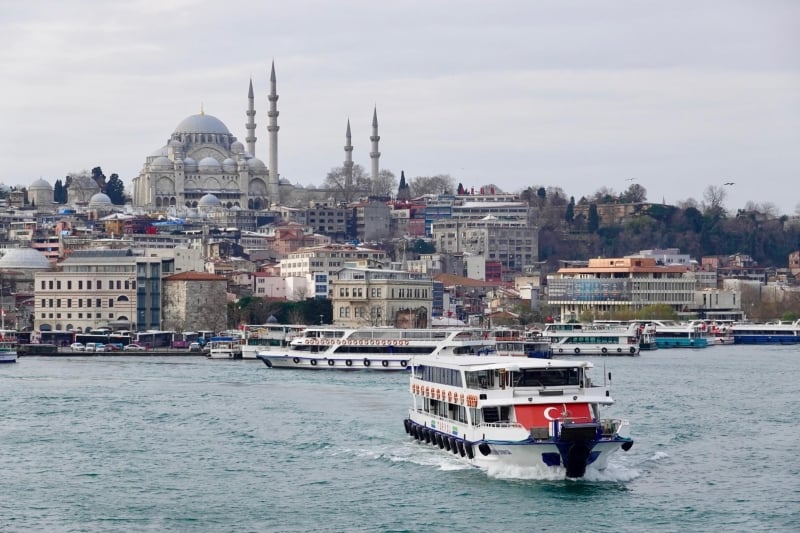 Fret not; being a major transportation hub, Istanbul commonly sees travellers passing through for just a day. The place may be a rather large city but all of its attractions are readily accessible, making a 24-hour stopover possible. Here's a quick itinerary if you're looking to spend just 24 hours in Istanbul.
Day 1:
Dig into a Turkish breakfast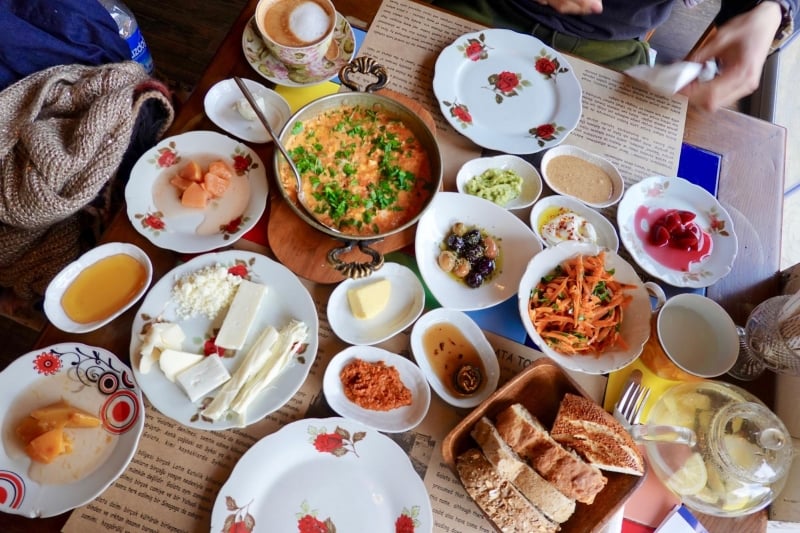 You only have 24 hours in Istanbul, so begin by fueling up for your Turkish adventure! Dig into a sumptuous Turkish breakfast known colloquially as "Kahvalti". It's a Turkish breakfast that features a lavish spread designed to impress and fill your stomach.
The meal is served meze-style, where food is dished out on an array of small plates. The diverse variety includes two to three kinds of homemade jam, butter, village cheese and olives, salad, eggs (either scrambled or fried), grilled Halloumi cheese, pancakes, honey and clotted cream as well as Gozleme (traditional Turkish flatbread).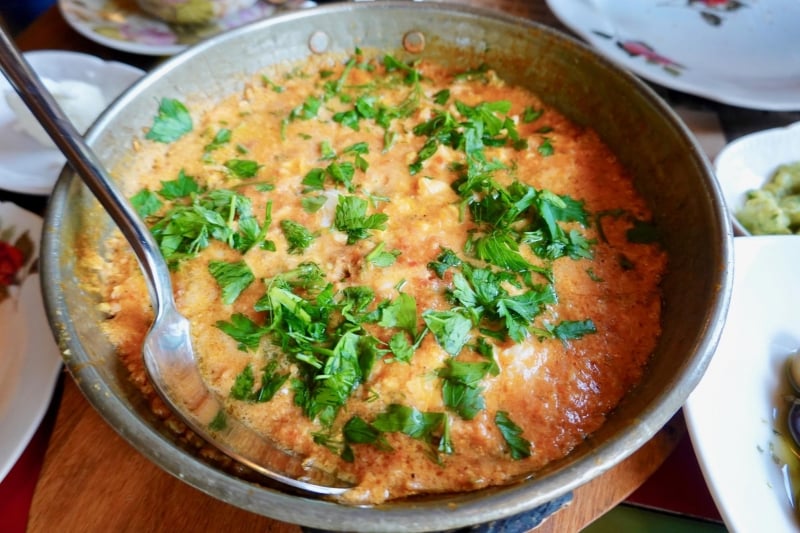 If you're a big eater, you may also choose to top up your breakfast with a plate of Menemen, a traditional Turkish dish consisting of eggs scrambled with tomatoes, green peppers, spices and/or cheese.
Many restaurants and cafés around the city have the Turkish Breakfast on the menu but we recommend heading to Privato Café, which is conveniently located near the Galata Tower (one of Istanbul's attractions)! In fact, on a clear day, you can even enjoy a view of the tower as you dine.
Privato Café
Address: Şahkulu Mahallesi, Tımarcı Sk. No:3, 34421 Beyoğlu/İstanbul, Turkey
Opening hours: 8.30am to 11pm, daily
Have a panoramic view from Galata tower
Standing at 63 metres tall, the Galata Tower is one of Istanbul's most prominent landmarks. Built in the 14th century, the tower offers visitors a sweeping and unobstructed panoramic view of the city. To get to the top, visitors can take an elevator followed by three flights of stairs to the viewing platform.
Fun fact: Galata Tower is a prominent feature in "Assassin's Creed: Revelations", a popular video game that takes place in sixteenth-century Istanbul.
Galata Tower
Address: Bereketzade Mahallesi, Galata Kulesi Sk., 34421 Beyoğlu/İstanbul, Turkey
Opening hours: 9am to 8.30pm, daily
Admission fee: TL25 (~SGD6)
The Galata area is actually located at the end of Istiklal Street, Istanbul's busiest pedestrian street. Shops here stay open till rather late, making it best to visit later in the day — especially if you only have 24 hours in Istanbul. Since you'll be in the area early, make your way to Sultanahmet instead. It's Istanbul's old historic quarter, where there's plenty to see and do in a limited amount of time.

Take a leisurely walk across Galata Bridge, which spans the Golden Horn, a major waterway of Istanbul. Connecting the Asian and European sides, the Galata Bridge is home to many eager fishermen and their fishing rods, complete with multiple seafood restaurants on the lower tier. Your walk should take you about 40 minutes;  you can choose to save time by taking the tram but a walk is highly recommended to soak in the sights and sounds along the way.
Discover Hagia Sophia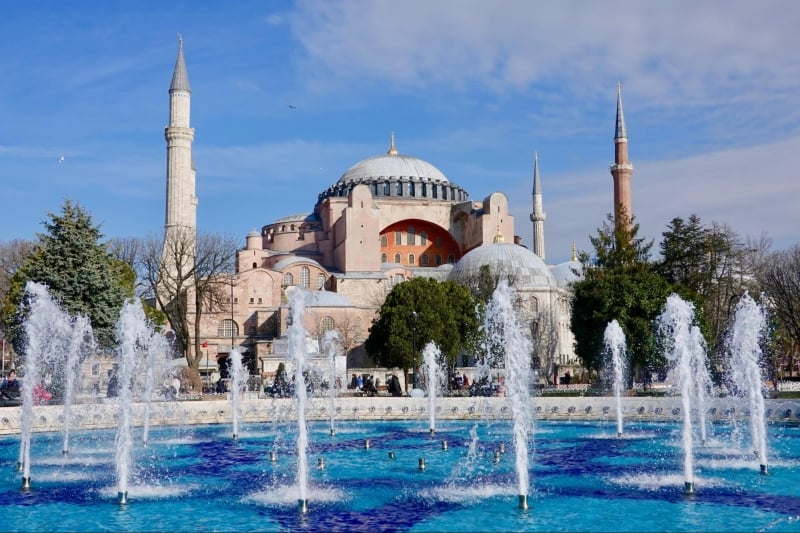 Think of Istanbul and images of Hagia Sophia automatically come to mind for some tourists. Reputed for its magnificent dusty-red dome, the UNESCO World Heritage site is adorned with intricate mosaics and glowing chandeliers. Nearly 1,500 years old, the Hagia Sophia has a rather intriguing past. It was initially built as a Byzantine church. but the building was then converted into a mosque during the Ottoman Empire.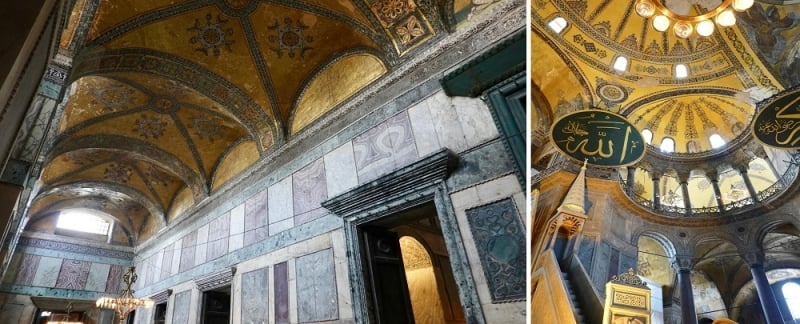 Now a museum, the Hagia Sophia draws tourists from all corners of the world to marvel at its structure. It's home to the Omphalos, which marks the spot where Byzantine emperors were chained as well as the Imperial Gate, which some say was made from the wood of Noah's Ark. If there's one thing you can't miss in Istanbul, this would probably be it.
Hagia Sophia
Address: Sultan Ahmet Mahallesi, Ayasofya Meydanı, 34122 Fatih/İstanbul, Turkey
Opening hours: 9am to 5pm, Tuesday-Sunday
Admission fee: TL60 (~SGD15)
Explore the Blue Mosque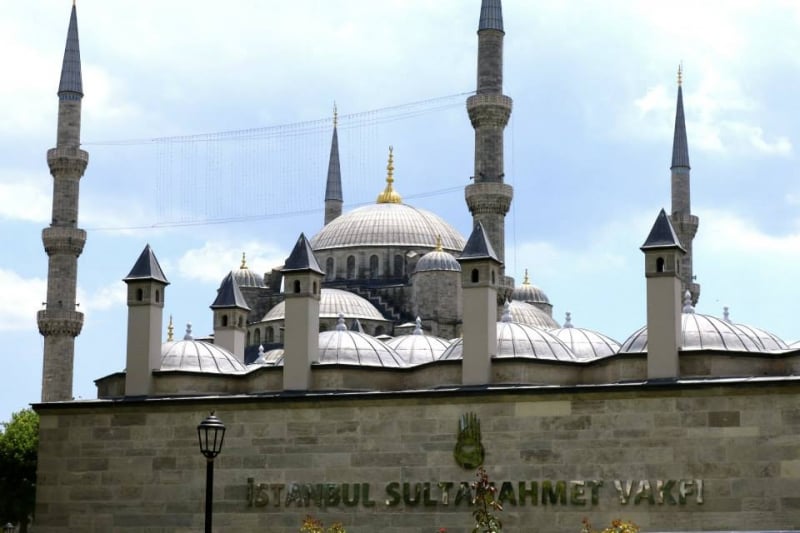 For a building called the Blue Mosque, its exterior is surprisingly not blue at all. Unbeknownst to many, its name was actually coined from the 20,000 blue tiles that line the interior. Built with six minarets instead of the usual four, the Blue Mosque is indeed a sight to behold. This was due to a mistake on the architect's part — a mistake that rendered the Blue Mosque to be one of the world's most unique.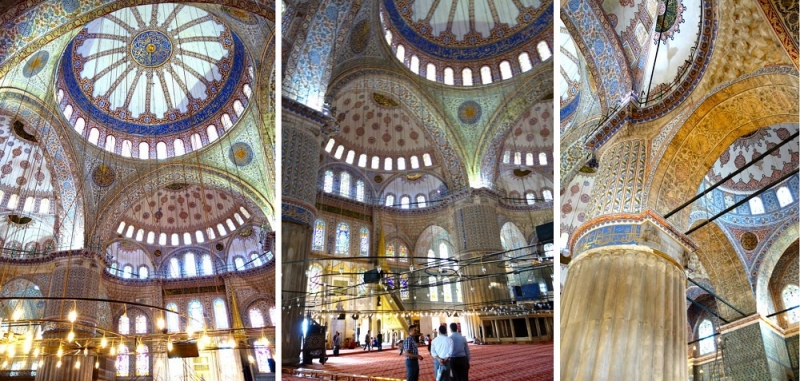 Do note that the Blue Mosque is functional; the building is hence closed to non-Muslims during times of prayer. During visiting hours, visitors must be clothed in long pants and skirts, with their shoulders covered. Shoes also have to be removed, so visitors are provided plastic bags to carry their shoes inside the mosque.
Blue Mosque
Address: Sultan Ahmet Mahallesi, Atmeydanı Cd. No:7, 34122 Fatih/İstanbul, Turkey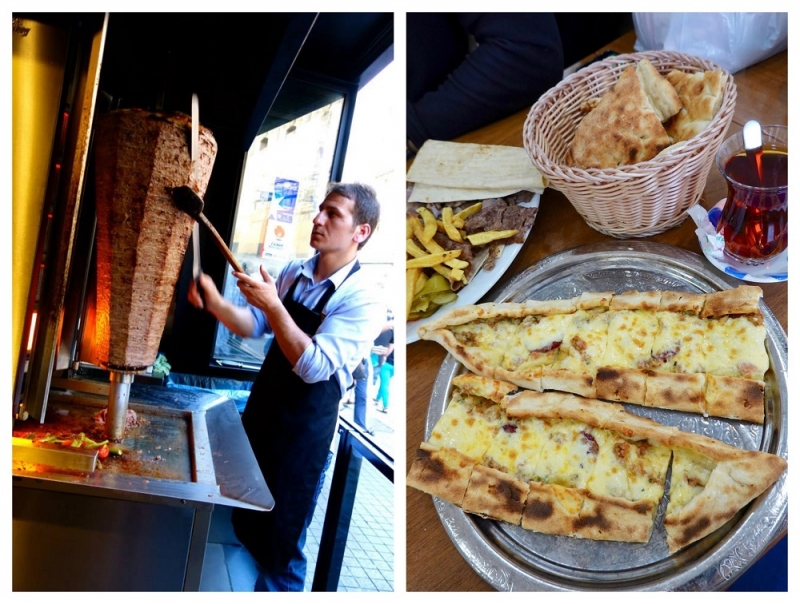 Take a pitstop for lunch — the Sultanahmet area is filled with multiple eateries. Indulge in a hearty Kebab or a slice of Pide (Turkish pizza) and top it off with a sweet piece of Baklava (layered pastry). Alternatively, grab a Simit (pretzel-like bread) from any of the roadside pushcarts if you prefer to have lunch on the go. No matter which you choose, do wash it all down with a cup of Turkish coffee and a piece of Turkish delight. These are two must-haves in Istanbul, no matter how long you stay!
Delve into the depths of the Basilica Cistern
Comprising the city's largest water cistern, the Basilica Cistern — also known as the 'Yerebata Cistern' — can hold up to 80,000 to 100,000 tonnes of water at full capacity. Once past its unassuming entrance, visitors have to descend 52 steps to reach a grand sunken palace. The temperature inside the cistern is significantly cooler than the outside, offering respite from the summer heat.
Built in 532 AD, the cistern has a high vaulted ceiling and contains 36 thick columns arranged in 12 rows. Wooden platforms hover above the water level, allowing visitors to explore every nook and cranny. Upon entering, visitors are greeted by a hushed silence, punctuated only with echoes of voices and the occasional drip of water. Lights illuminate the surface of the water, adding to the mysterious vibe that envelops the cistern. Movie buffs will recognise the location from 'Inferno', a Hollywood film adapted from a mystery novel written by Dan Brown.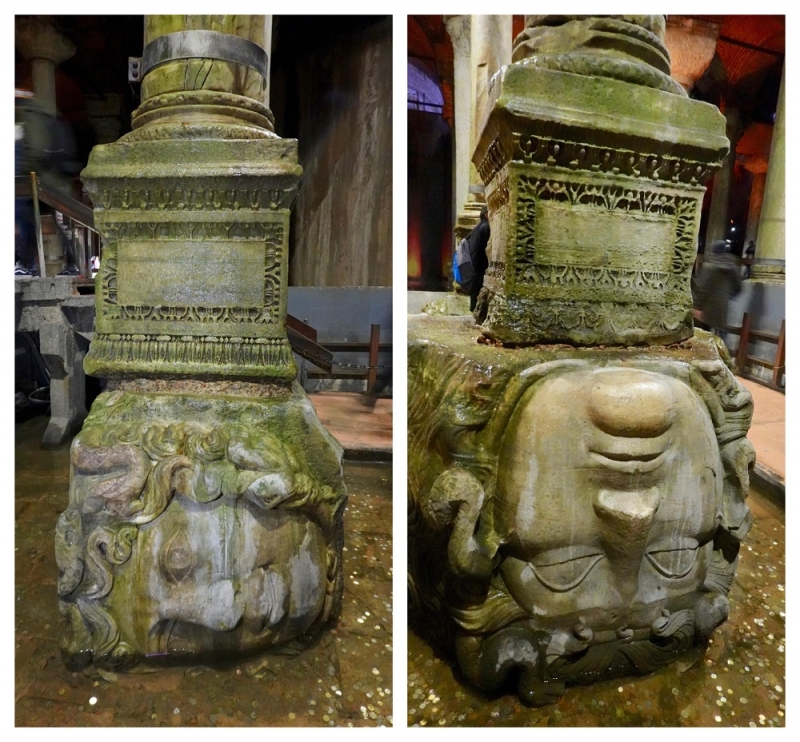 The cistern offers a few points of interest — first, the crying column, so named due to its wet appearance. Second, and perhaps most perplexing of all, the two inverted Medusa heads located at the Northwestern corner. Interestingly enough, one head is placed on its side while the other is inverted; but as luck will have it, gazing deep into the eyes of the statues will thankfully not turn anyone into stone.
Basilica Cistern
Address: Alemdar Mh., Yerebatan Cd. 1/3, 34410 Fatih/İstanbul, Turkey
Opening hours: 9am to 5.30pm, daily
Admission fee: TL20 (~SGD5)
Depending on time and interest, you can also choose to visit Topkapi Palace and the Istanbul Archaeological Museum as well as people-watch at the Hippodrome. With just 24 hours in Istanbul, this might be a challenge. But you can always come back and visit more sights next time.
While away the evening at Ortakoy
When evening falls, make your way to Ortakoy, one of Istanbul's nightlife and entertainment districts. Located near the Bosphorus Bridge, Ortakoy boasts a staggering variety of restaurants, cafés, pubs, shops and art galleries, as well as the beautiful Ortakoy Mosque. At night, the area comes to life, with musicians lining the streets and smoke from Shisha pipes filling the air.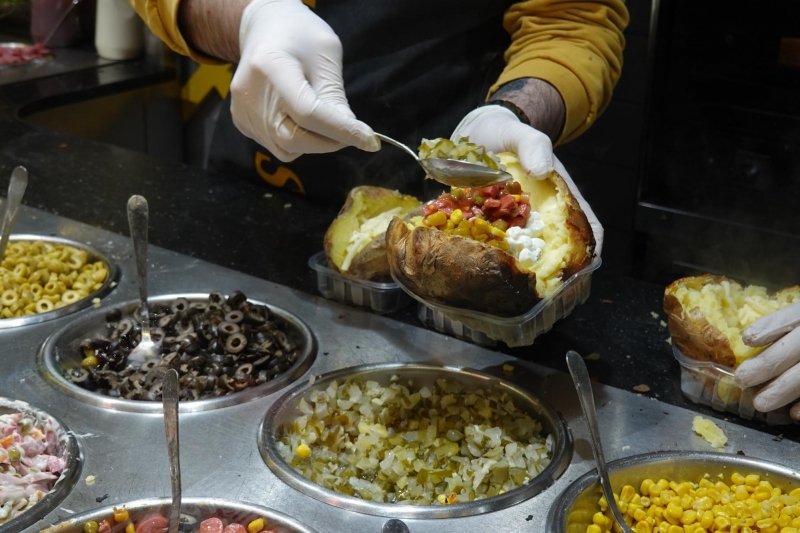 Pop into one of the eateries for a seafood meal; otherwise, head to one of the roadside stalls to try Kumpir. This consists of a baked jacket potato — butter is added to the inside of the potato and whipped till fluffy, with numerous toppings piled on top. An average of six to seven toppings are placed on each potato, with ingredients ranging from ground meat, tomatoes and cheese to olives, corn and sour cream.
Shop till you drop at Istiklal Street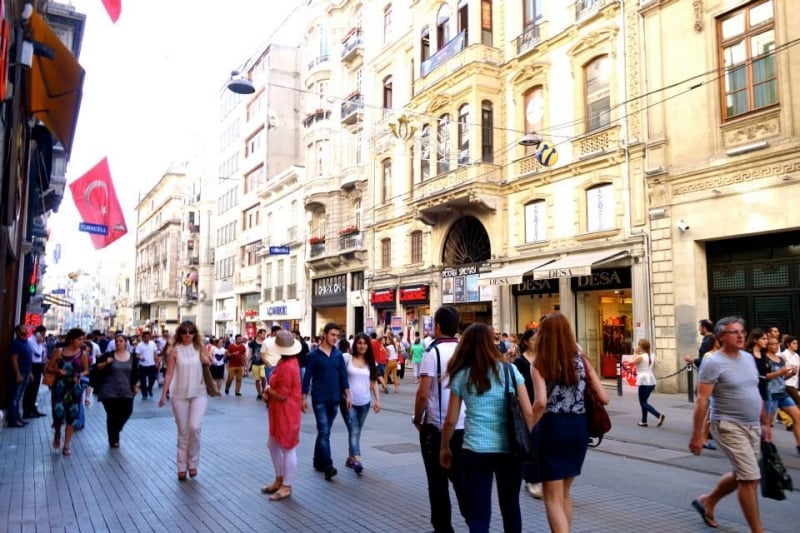 A 1.4km-long street, Istiklal Street is the thriving heart of Istanbul. The charming pedestrian street is lined with boutique shops, art galleries, book stores, music stores, theatres, countless cafés and eateries, nightclubs and patisseries. The street stretches all the way from the Galata neighbourhood to Taksim Square.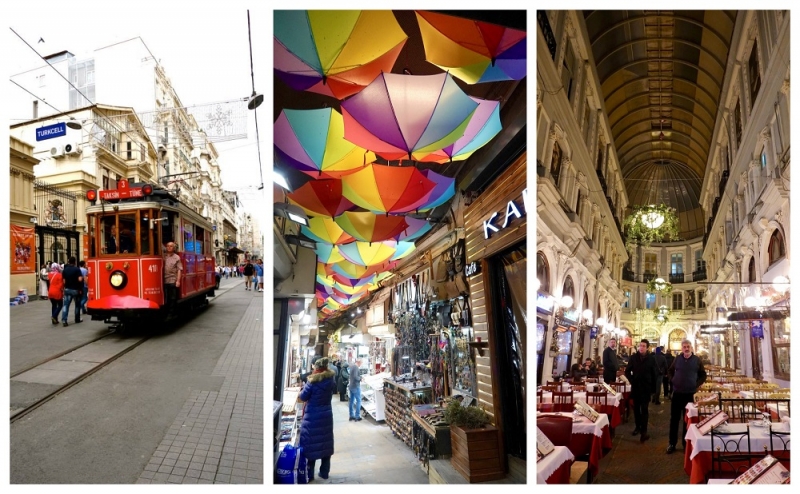 A historical tram trundles along the entire length of the street; one option is to ride the tram from one end to the other, before walking back in the same direction. As you stroll along the street, do dip into one of the shopping arcades (Pasaji). The most famous of these is Cicek Pasaji, a charming passageway lined with restaurants and bars. Most stores stay open till 11pm or even past midnight, making the street a great late-night shopping haunt. This place is perfect for making the most out of 24 hours in Istanbul!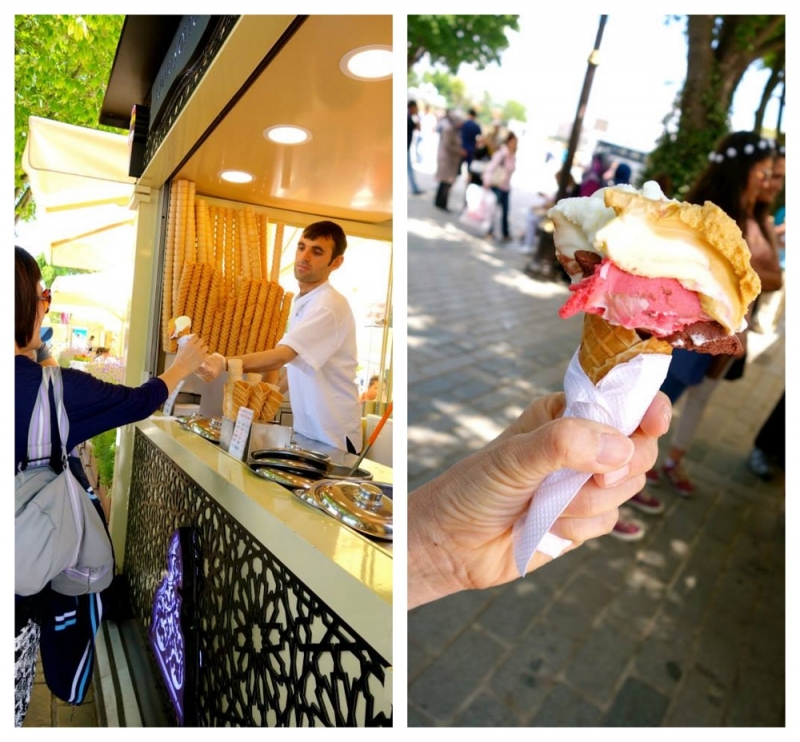 When you need a break, indulge in a cone of Turkish ice cream which, unlike the usual ice cream, is thick and chewy. The ice cream vendors are clad in traditional costumes and often tease their customers. Give this hilarious and unique experience a try!
If you wish, you can also head over to Taksim Square to check out the nightlife before heading back to your accommodation.
Alternatively, if shopping isn't your thing, you can choose to check out a belly dancing performance. Sultana's 1001 Nights Belly Dancing show offers some pretty solid entertainment alongside plenty of food. If you book your table online on their website, they'll also throw in free transfers to and from your hotel.
You can also choose to catch a Whirling Dervishes performance! The Galata Mevlevi Museum hosts such performances at 5pm on Sundays. Tickets are only sold on location; the hall can only hold 150 people so do buy your tickets early as they're often sold out. Tickets cost approximately TL50 (~SGD12) per person. Dating back over 700 years, the Whirling Dervishes performance comprises individuals continually spinning in circles — in somewhat of a trance-like fashion. It's a mesmerising sight like no other!
Sultana's 1001 Nights Belly Dancing show
Address: Kahan 40-D, Cumhuriyet Caddesi, Elmadağ, Istanbul, Türkiye
Galata Mevlevi Museum
Address: Şahkulu Mh., Galip Dede Cd. No:15, 34420 Beyoğlu/İstanbul, Turkey
Day 2:
Go on a Bosphorus Cruise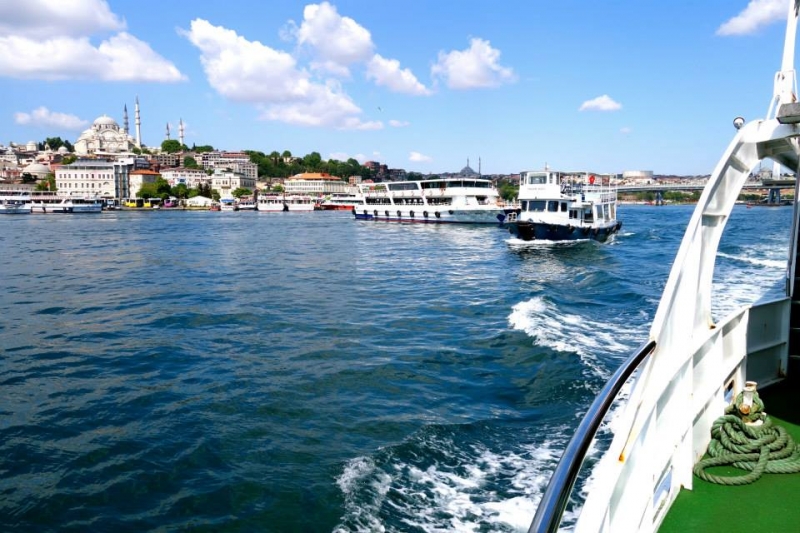 Depending on what time you slept the night before, you might want to sleep in a little. Start the morning slow by going on a Bosphorus Cruise! The duration of the cruise varies, with longer ones taking you all the way to the Black Sea. This might change with cruise company but most cruises offer digital guides that will offer information on the points of interest that you pass along the way. The usual price of such cruises can range anywhere from TL12-25 (~SGD3-6).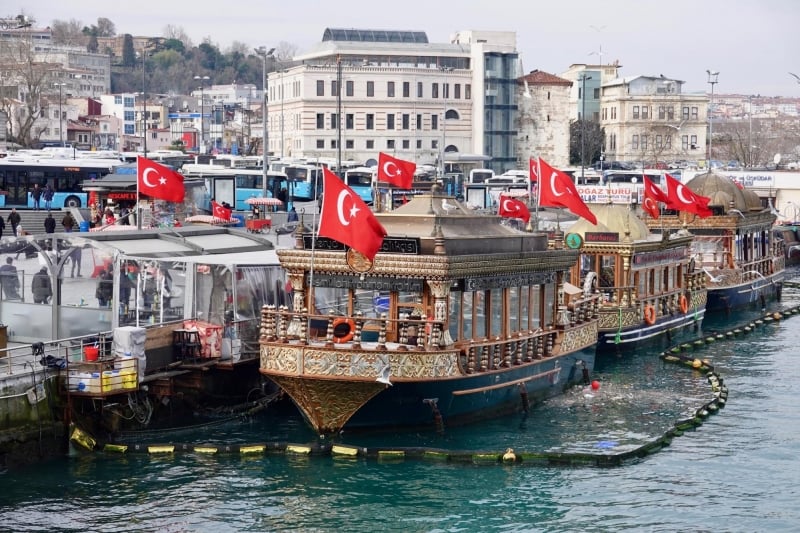 There are also sunset and night departures, which you can choose to do the day before. A recommended cruise company is Sehir Hatlari, which offers short and full cruises. Visit their website for timetables and more information.
Tantalise your senses at the Spice bazaar
A startling array of colours, with intriguing aromas wafting lazily in the air and a cacophony of frenzied shouts echoing off the walls. Sounds like chaos, but it's just any typical day at the Spice Bazaar. Touted as the Diagon Alley of Istanbul, the 350-year-old building contains a total of 85 shops peddling vibrant heaps of spices, a dazzling assortment of dried fruit and Turkish Delight, bottles and bottles of fragrant oils and more.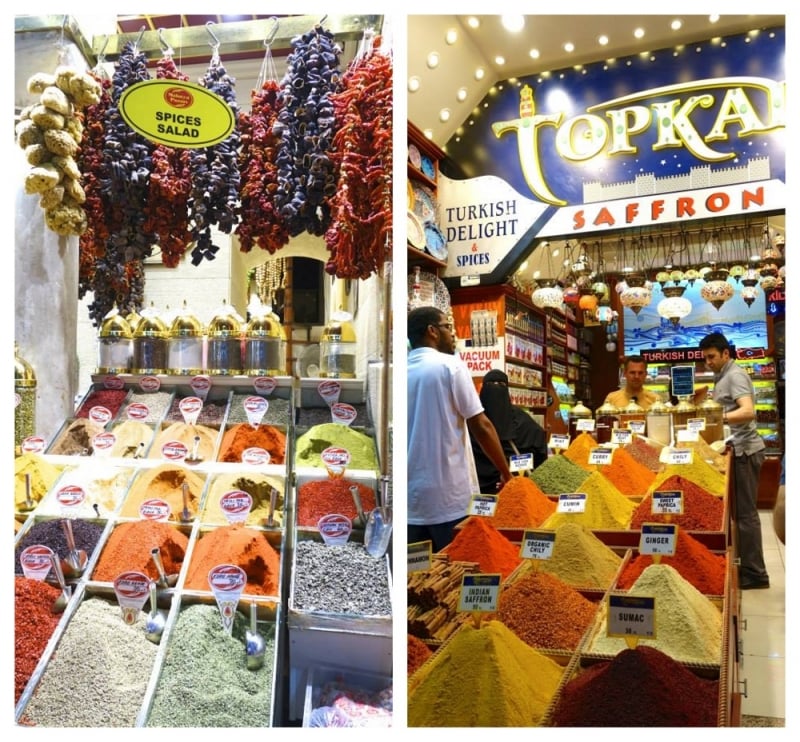 Venture deeper into the bazaar and you'll find bags of freshly ground coffee beans as well as mounds of cheese, nuts and olives. In the past, the Spice Bazaar was the final stop for caravans travelling from China and India via the Silk Route, making it what it is today — an enchanting melting pot of cultural sights and sounds. In fact, avid fans will recommend the area from 'Skyfall', a James Bond movie that had James Bond go on a motorcycle chase around the Spice Bazaar and through the Grand Bazaar (more on this in the next point!).
Spice Bazaar
Address: Rüstem Paşa Mahallesi, Erzak Ambarı Sok. No:92, 34116 Fatih/İstanbul, Turkey
Opening hours: 8am to 7pm, Monday to Friday; 8am to 7.30pm, Saturday; 9.30am to 7pm, Sunday
Get lost in the Grand Bazaar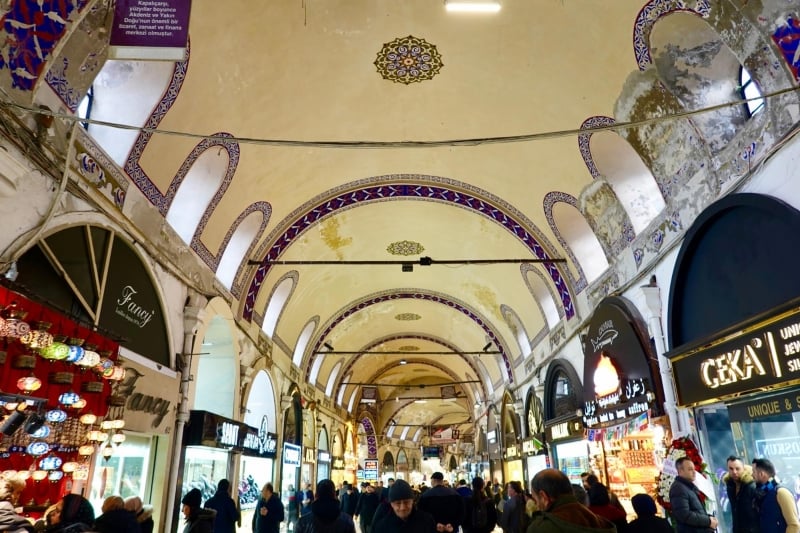 Boasting a whopping 5000 shops, the Grand Bazaar has a grand total of 18 entrances and 16 different "streets" to explore. Enter through any of these and be greeted by beautiful pale yellow ceilings, iridescent ornaments, intricate ceramics and the like.
It's said that the Grand Bazaar is somewhat of a tourist trap; however, our advice is just to keep our wits about you and keep your belongings within careful reach, and you'll be just fine!

Wander along countless carpet, jewellery, tea, pashmina, lamp and tea shops, or pop into one of the delicatessens to sample a few pieces of Turkish delights. It's easy to get overwhelmed in the Grand Bazaar but that's just part of the experience; take the chance to chat with some of the shop owners and watch as countless streams of people pass you by. It's rumoured that up to 400,000 people visit the Grand Bazaar on a daily basis — imagine that!
You can easily spend the whole afternoon trawling both bazaars, so do set aside the time (and the luggage space!) for doing so.
Also read: 17 Incredible Experiences to Have in Cappadocia, Turkey
Indulge in a Turkish Bath
Before you leave Istanbul, pamper yourself by going for a Turkish bath. You can choose to visit a traditional establishment or one in a hotel — we recommend the former for the full authentic experience. There are different options available: self-service where you bathe yourself or traditional, where someone will wash and massage you. You can also add on other options such as reflexology massages and facials.
Do note that the Turkish Bath is gender-segregated. For the traditional experience, you'll sweat it out in a "hot room" before being soaked, lathered, and massaged by one of the staff. Don't be alarmed if this is usually followed by a vigorous scrubbing and a final dousing with cold water — it's all part of the procedure! Some Turkish Baths provide beds, where visitors can take a short nap while basking in the post-bath glow. There are 60 traditional Hamams (Turkish Baths) all over Istanbul but two recommended establishments are Cemberlitas Hamam and Kilic Ali Pasa Hamam.
Kilic Ali Pasa Hamam
Address: Kemankeş Karamustafa Pasa Mahallesi, Hamam Sk. No:1, 34425 Beyoğlu/İstanbul, Turkey
Opening hours: 8.30am to 4pm, daily (women only); 4pm to 11.30pm, daily (men only)
Do note that reservation is required, with last reservations at 2.30pm (women) and 10.30pm (men)
Cemberlitas Hamam
Address: Vezirhan Cad. No: 8, 34440 Çemberlitaş / İstanbul
Opening hours: 6am to 12am, daily
If you still have time before your flight, you can choose to while away your time at a café with a Turkish coffee in hand or head back to Istiklal Street to do some last-minute shopping.
So there you have it, a whirlwind 24 hours in Istanbul. We bet it won't be too long before you return again!