Beautiful, humbling, authentic. Three seemingly unrelated words; yet together they sum up what an experience at Mostar, a sleepy fairytale town in Bosnia and Herzegovina, feels like. Tucked away in a corner of the world not yet swarmed by tourists, Mostar looks and feels like a secret just waiting to be discovered.
Home to less than 120, 000 inhabitants, Mostar is easy to discover on foot. For those looking to spend a day or night exploring the city, here are five things to do for any first-timer explorer. 
1. Enjoy an amazing view of Stari Most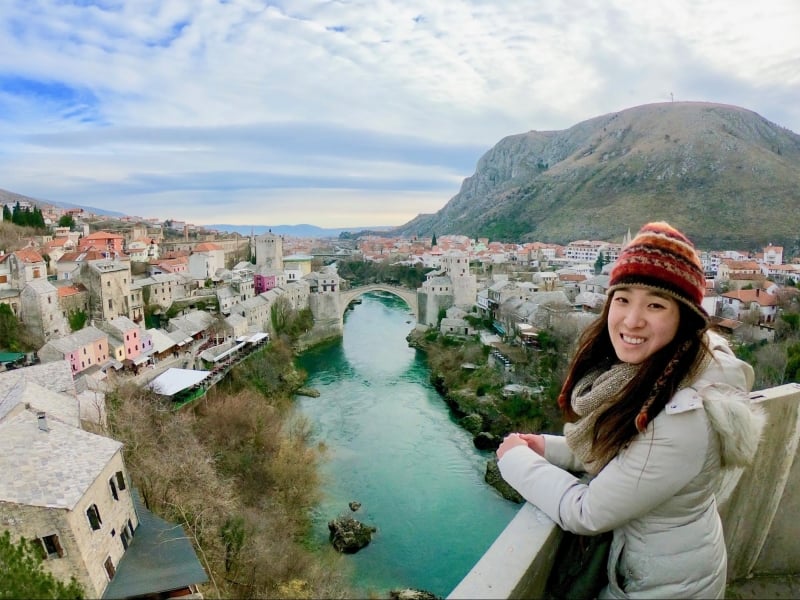 The beating heart of the city is Stari Most, a reconstructed medieval arched bridge. A UNESCO World Heritage site, Stari Most serves as the grand centrepiece of the city's historic Old Town.
Built by the Ottomans in the 16th century, the bridge stands sentinel over the Neretva River. It was destroyed during the Bosnian War in 1993 due to heavy bombings (more on this later!) and painstakingly rebuilt with the exact same technology and materials in 2004. Great care was taken to replicate the bridge as much as possible. It's easy to see why so much emphasis is placed on Stari Most; after all, the name 'Mostar' is derived from the word 'Mostari', which means 'bridge keepers' in the Slavic language.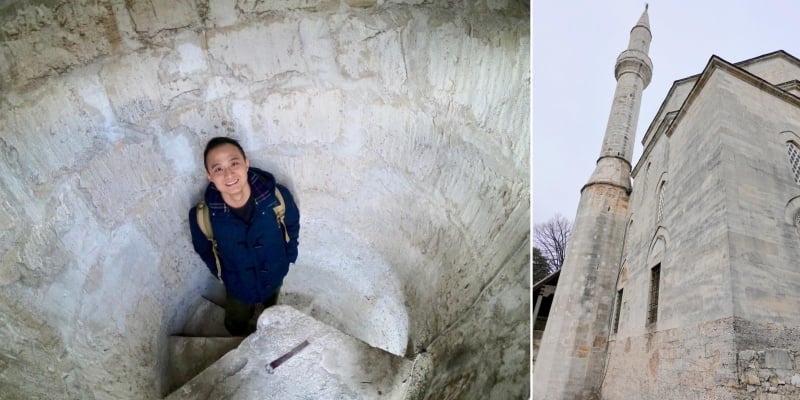 For the best view of Stari Most, make your way to Koski Mehmed-Pasha Mosque found along the streets of the Old Town. You can choose to pay a nominal fee of KM6 (~SGD4.70) to photograph Stari Most from the garden on the ground level or pay a higher fee of KM12 (~SGD9.50) to climb up to the minaret. Do be warned that the winding climb may not be suitable for the claustrophobic or elderly, as the steps are steep and narrow within a confined space.
2. Koski Mehmed-Pasha Mosque
Address: Mala Tepa 16, Mostar 80807, Bosnia and Herzegovina
Opening hours: 9am-8.30pm (April-September), 11am-5pm (October-March)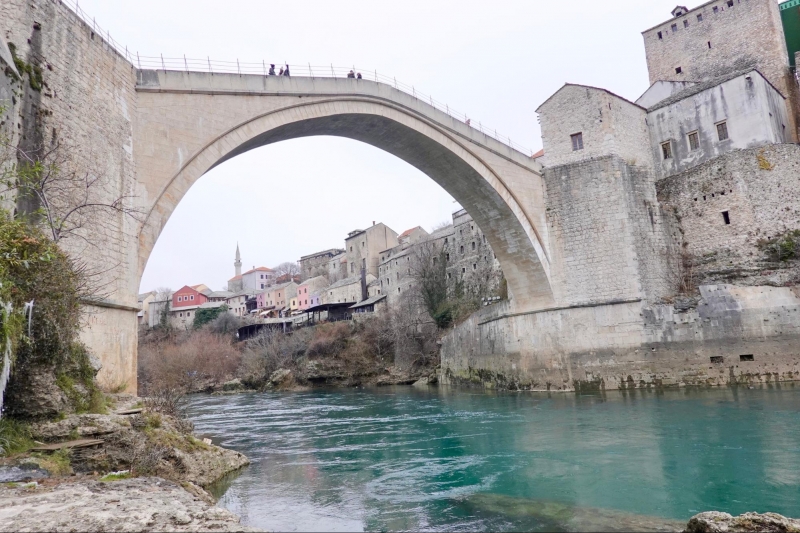 Alternatively, the bridge can be photographed from the bottom as well. In summer, it's not uncommon to see people picnicking on the stone beach or frolicking in the cool waters.
3. Watch a cliff-diving competition in summer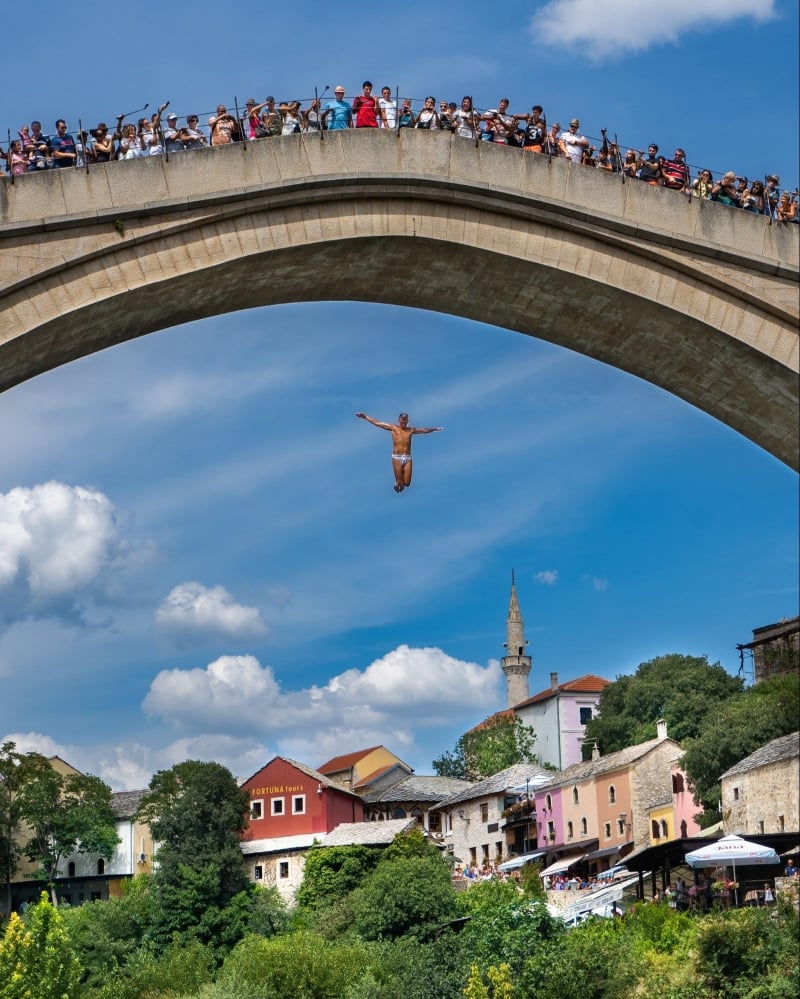 In Singapore, it's said that a boy becomes a man after completing two dutiful years of National Service. In Mostar, however, they do things a little differently. With diving traditions stretching back for more than 450 years, legend has it that young Bosnian sixteen-year-olds come of age when – wait for it  – they take the 24-metre high plunge off Stari Most into the river below. Imagine that!
Naturally, such a jump cannot – and shouldn't! – be attempted without the requisite training; any tourists hoping to take the leap of faith have to enrol in a course that'll set one back about EUR25 (~SGD38.50). This will give any aspiring jumper a couple of lessons with an instructor from one of the local diving clubs, a certificate upon completion and unlimited bragging rights. Under no circumstances should anyone make the jump on a whim – there has been a record of four deaths thus far. However, if plunging into chilly waters at about 80km/h after three seconds of freefall is something up your alley, this definitely sounds like something to spice up the bucket list with.
In fact, the activity is taken so seriously that the Red Bull Cliff Diving World Series makes a stop in Mostar every year. Watch the 2015 highlights above!
If you're unable to be in town during the competition, you'll still be able to catch a piece of the action during the peak of summer. During warmer weather, divers from the local diving clubs often line up along the bridge's edge, collecting "donations" from eager tourists anticipating a jump. Once a satisfactory amount has been collected, the divers will then take the plunge amidst much fanfare!
4. Explore the Old Bazaar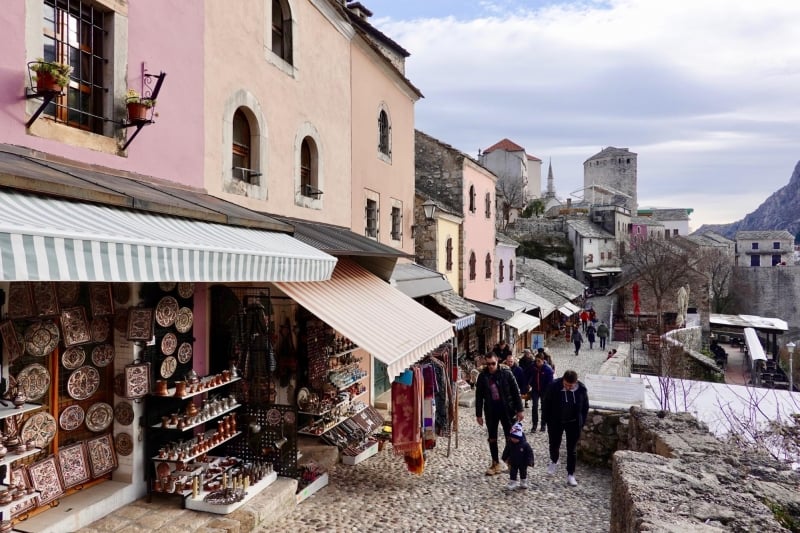 Comprising charming cobbled streets lined with little stalls, the Old Bazaar can be found lining both sides of the river. The Ottoman influence is evident in the architecture here, complete with stalls peddling iridescent Turkish lamps of every colour.

Meander through traditional restaurants and cafés, souvenir shops and carpet shops. Most of these shops open till 8-9pm at night, giving you plenty of time to pick up a trinket or two. We recommend taking your time to get lost in this area, before popping into one of the riverside al fresco cafés for a nice cup of Bosnian coffee, complete with a view.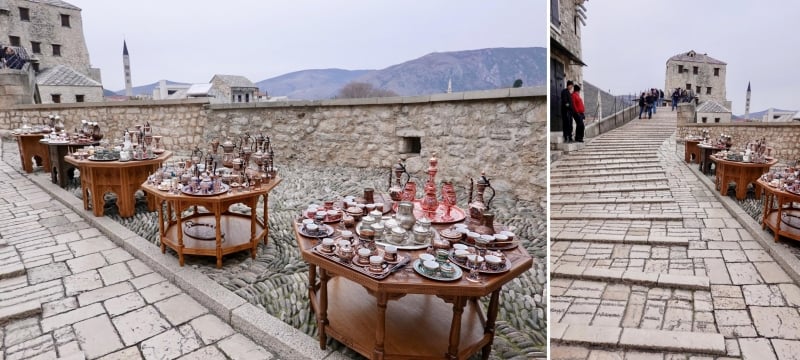 The region is also well known for its copper trade, with the city being home to many who practice the craft. The street leading up to Stari Most is lined with tables groaning under the weight of a large variety of such copperware; however, do take caution when crossing the bridge. The bridge's surface is smooth and slippery, making it easy for anyone to fall. The addition of raised concrete slabs does help a fair bit, but it's not advised to make the journey without proper footwear. Do be warned: flip flops just won't cut it.
5. Learn about the city's history
Besides its postcard exterior, Mostar actually has a sobering dark past. As a city that's still struggling to recover from a recent war, look closely and you'll notice walls riddled with bullet holes and buildings clearly bearing the marks of relentless bombings. This juxtaposes jarringly with the beauty of Stari Most and the surrounding Old Town; how can somewhere so beautiful bear the scars of so much pain?
The answer? The Balkans War of the 1990s – which occurred less than 30 years ago. After Bosnia and Herzegovina broke off, and declared independence, from Yugoslavia (formerly comprising the countries of  Croatia, Macedonia, Montenegro, Serbia, Slovenia as well as Bosnia and Herzegovina), Mostar came under heavy fire due to the drawing of ethnic lines between the Croats and Bosniaks. Even Stari Most wasn't spared; the bridge was heavily bombed and collapsed into the river in 1993. The war in Mostar raged from 1992 to 1995, with the city at the mercy of sniper nests nestled in the surrounding valleys.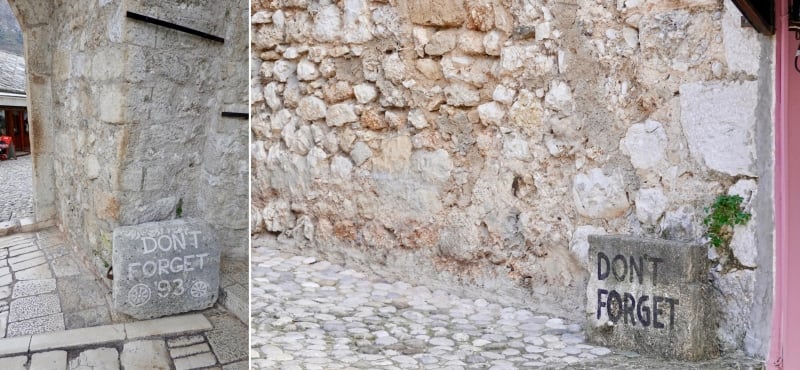 Around 2,000 people in Mostar lost their lives to the war. While the city is slowly but steadily recovering, it seems that the horrors of war are still etched in locals' minds. Stone tablets bearing the phrase "don't forget" can be found all around the city – offering grim reminders of the past and sombre examples of how important peace can be. For those interested to find out more, simply pay a visit to the War Photo Exhibition, home to arresting pictures taken by a war-journalist.
6. War Photo Exhibition
Address: Found in the Western tower guarding Stari Most
Opening hours: 9am-9pm (July-September), 10am-6pm (March-June & October)
Admission fee: KM6 (~SGD4.70)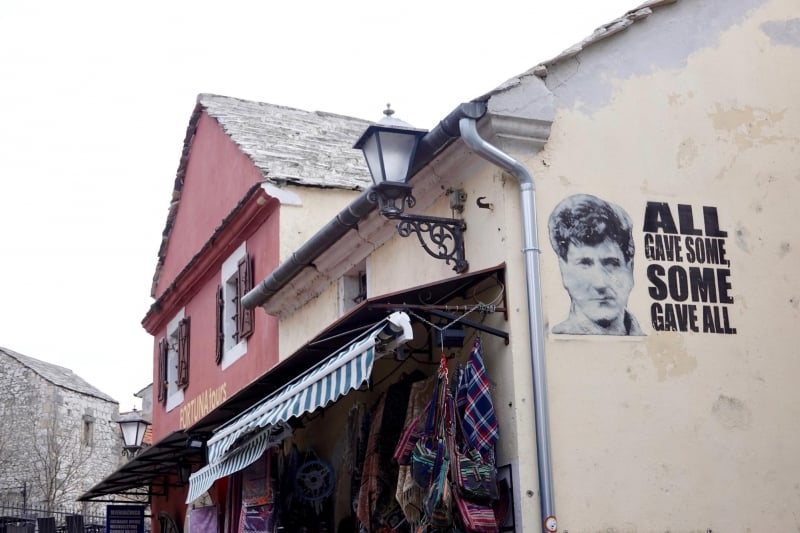 As this mural so aptly describes, all gave some but some gave all. And it's evident that this is something that the locals of Mostar will never forget.
7. Sample local delicacies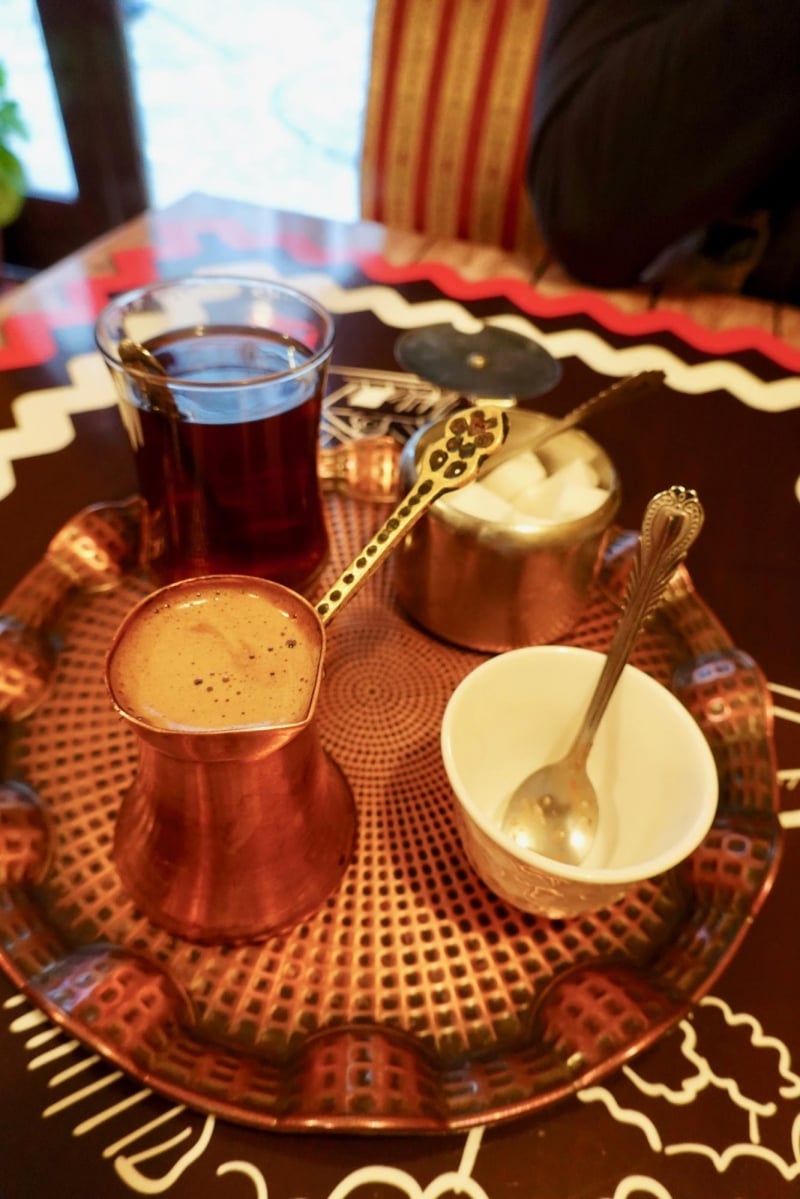 On a lighter note, no trip to Mostar is complete without having a cup of Bosnian coffee. Not to be confused with Turkish coffee – in fact, locals cry foul if you confuse the two – drinking Bosnian coffee is indeed an art to be mastered. Bosnian coffee is served in a džezva (small ceramic pot with a neck) on a tray, alongside an empty cup, a sugar bowl and a piece of Rahat Lokum (Bosnian candy).
Bosnian people are known to spend hours simply drinking coffee. Indeed, do wait some time for the coffee grounds to settle before taking the first sip. To drink the coffee, first, spoon out a layer of foam, pour some of the liquid into the cup before adding the foam on top. Unlike Turkish coffee, Bosnian coffee is served without sugar in the pot – sugar is provided on the side, with some preferring to add a sugar cube to their cup or biting off a piece to dissolve under the tongue as they take small measured sips.
Complete the experience with a piece of Kalburabasti, a pastry drenched with syrup, or Baklava, a sweet layered dessert pastry. For something more savoury, dig into a slice of Burek, a flaky pastry filled with potatoes, meat, cheese or spinach, or Cevapi, consisting of grilled meat served in a piece of flatbread. These can be found in the many traditional cafés dotting the streets of the Old town.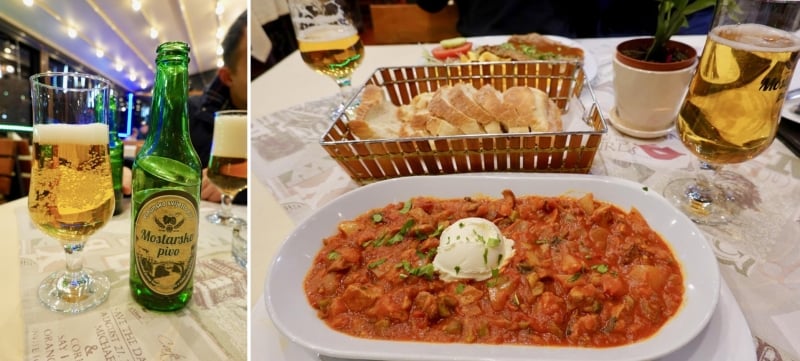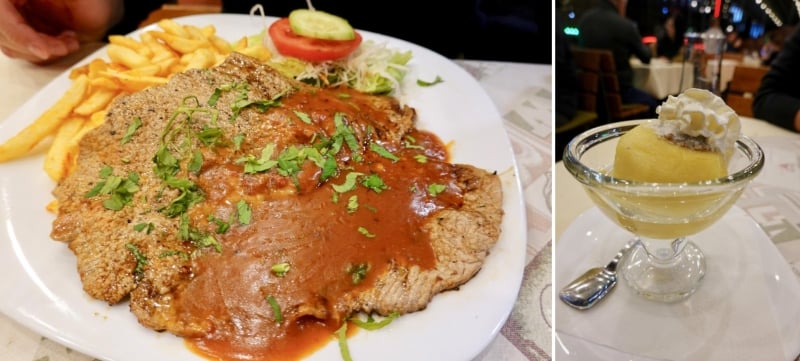 For lunch or dinner, dig into a hearty meat goulash or a good old steak. Wash it all down with a bottle of Mostarsko pivo, the local brew, or a serving of Tufahija, consisting of an apple stuffed with walnuts and stewed in sugar water. To sample these dishes, most people head to the popular Hindin Han or Šadrvan restaurants, both of which are located near Stari Most.
Hindin Han
Address: Jusovina, Mostar 88000, Bosnia and Herzegovina
Opening hours: 9am-12pm, daily
Šadrvan
Address: Jusovina 11, Mostar 88000, Bosnia and Herzegovina
Opening hours: 10am-12pm, daily
8. Wander the streets after dark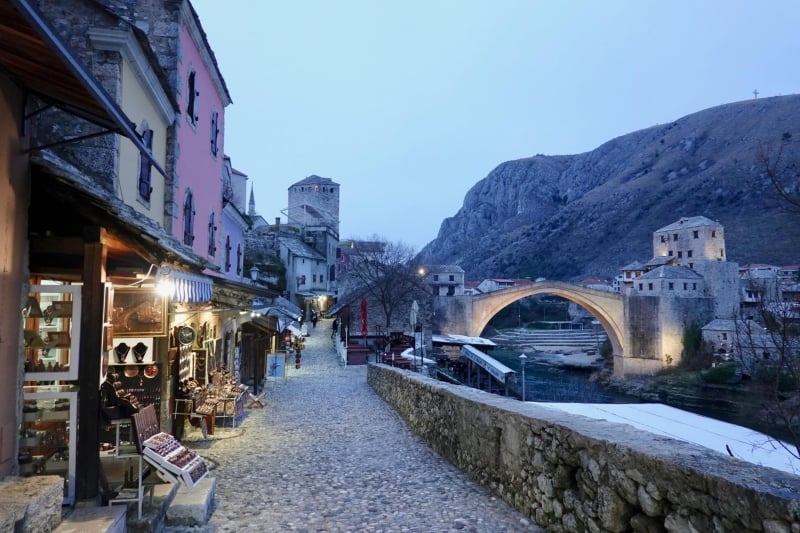 Most people choose to visit Mostar on a day trip but our advice to you is to take it slow and spend a night in the city. Once the streets empty out when dusk begins to fall, you'll be surrounded by a charming serenity that hangs over the place – the city will start to feel as if it belongs to you, and to you alone.

Take your time to wander around and watch as the buildings and bridges light up with a twinkling glow. Indeed, Mostar in the day and in the night feels like two entirely different places altogether.
9. Take day trips to the surrounding area
Due to its prime location, Mostar actually serves as a great base for those wanting to discover more of the region.
10. Sarajevo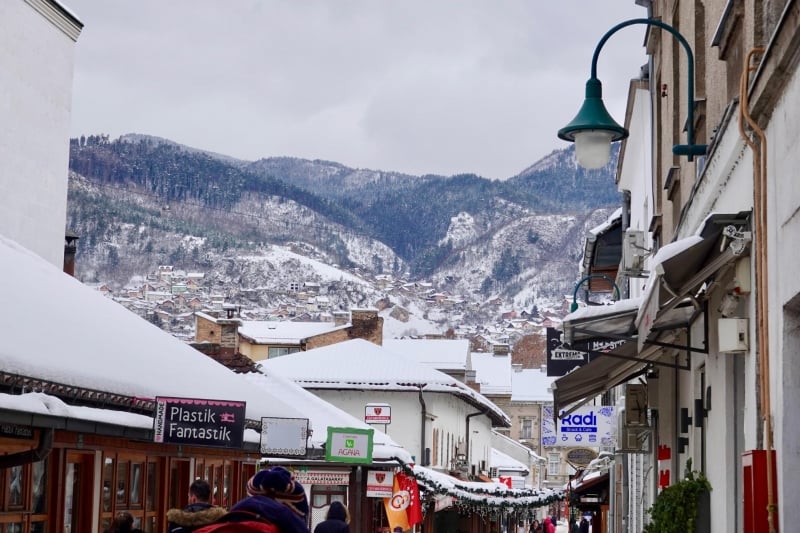 Sarajevo is a mere 2.5-hour train ride away, with the journey being hailed as one of the world's most scenic routes. There are only two trains departing Mostar for Sarajevo – the first at 7.06am and the second at 7.12pm. Do note that tickets cannot be bought online and can only be purchased at Mostar's train station, which can be reached in about twenty minutes on foot from the old town. The counter only accepts the local currency (KM, or Bosnian marks), with each ticket costing approximately KM12 (~SGD9.50).
When in Sarajevo, you can wander around the Baščaršija (Old Town), ride the cable car up Mount Trebević and walk along an abandoned Olympic bobsled track, climb up to the Yellow Fortress or even visit the spot that sparked off the start of World War I. Sarajevo is lovely to visit in all seasons but especially so in winter, where the streets transform into a glistening wonderland.
11. Kravice Waterfalls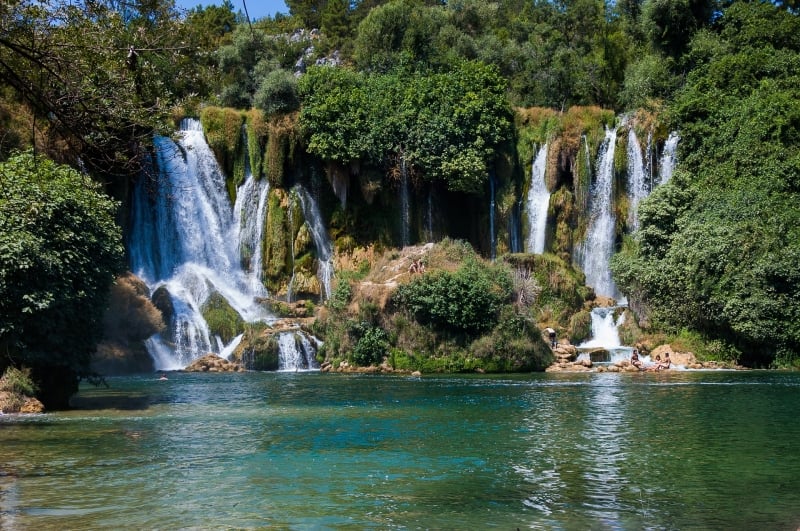 Located just 40km from Mostar, Kravice Waterfalls offers the perfect respite from the blistering summer heat. Comprising approximately 20 waterfalls that are 25 metres high, the inviting pool of water is a hot favourite among locals and tourists alike. The only downfall is that there isn't any public transport to the waterfalls; to get there, you'd have to either drive for about an hour, take a day tour or hop onto a taxi. There are restaurants and bars in the area that stay open till late at night, but it'll be lovely to bring your own picnic to dig into as you bask in the sun. Do note that the restaurants and bars usually only open in the summer.
There isn't any stipulated time for visiting the waterfalls; they stay accessible round the clock! However, any visits between the timings of 8am to 8pm is subjected to an entrance fee; any visits before or after this window is entirely free of charge. Entrance fees are KM6 (~SGD4.70) between October to May, KM8 (~SGD6.30) in June and September, or KM10 (~SGD7.90) in July and August.
12. Blagaj
Just a stone throw's away from Mostar lies Blagaj, a pristine sanctuary known for its Monastery. The Dervish Monastery is built into the cliff itself and is located right at the source of the River Buna. The river water is a startling blue, drawing many photographers looking to capture this idyllic sight. If you needed another reason to visit, the Dervish Monastery is nearly 600 years old and is situated only 12km (about a 10-15 minute drive) away from Mostar.
13. Pocitelj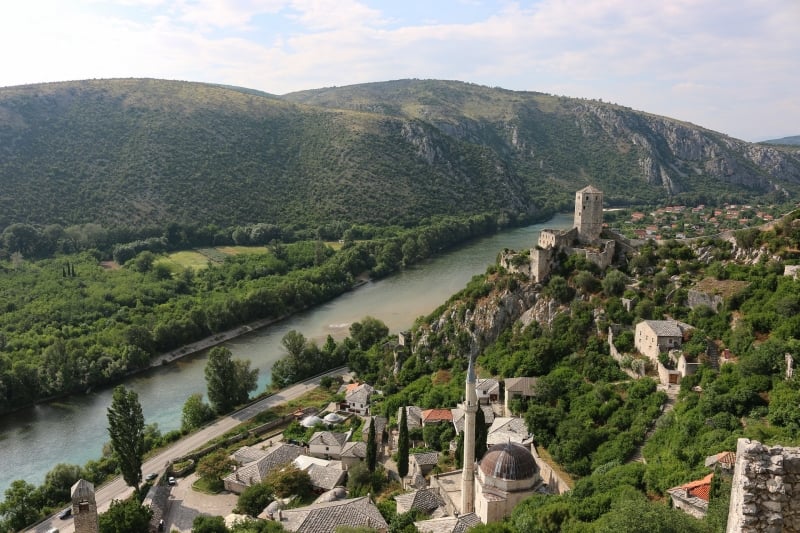 A lovely hillside medieval town, Pocitelj is a UNESCO World Heritage site that's absolutely worth a visit. The town is small, offering a mosque, a citadel and tower, as well as a few cafés surrounded by a city wall. While you're there, do make the climb up to the top of the citadel for a panoramic view of the town that runs adjacent to the Neretva River. Fun fact: less than 1000 people live in Pocitelj and it'll only take about 30 minutes to drive down from Mostar.
How to get to Mostar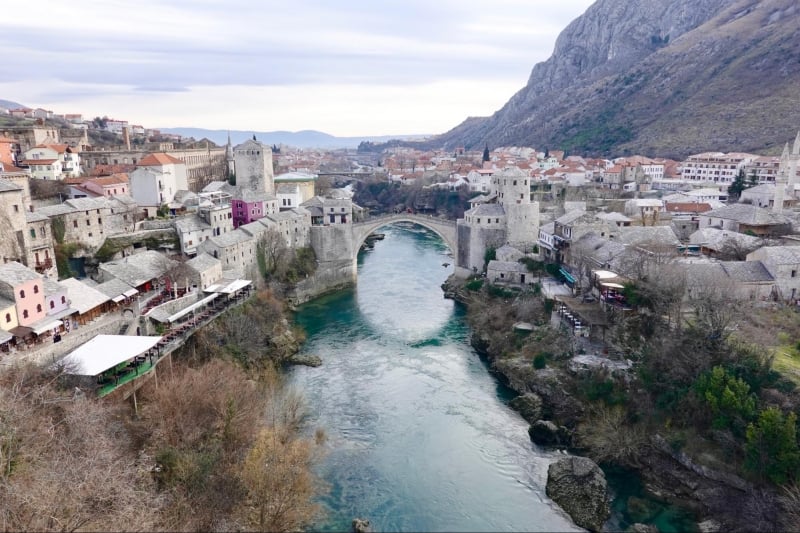 Mostar can be visited on a day trip from either Dubrovnik (Croatia) or Sarajevo, although we personally don't recommend the former. Touted as a 3-3.5 hour drive, you'll have to pass through multiple border crossings. Bosnia owns part of the coastline and thus to get from Croatia to Bosnia, you'll have to exit Croatia and enter Bosnia, before exiting Bosnia and entering Croatia once more, and finally exiting Croatia again to re-enter Bosnia. Granted that the buses are comfortable, but these border crossings can take a lot longer than disclosed. For example, we made the trip in January (winter season), and the whole duration took us 5 hours – it's said to take much longer in summer! However, we did take a public bus, which might have added to the total time taken due to a couple of scheduled stops. It might be faster with your own car or with a tour, so do feel free to give it a whirl if you wish!
The train from Sarajevo, on the other hand, takes a nifty 2.5 hours and usually arrives on time. However, as previously mentioned, we recommend not rushing the experience and staying a night to fully savour what the city has to offer.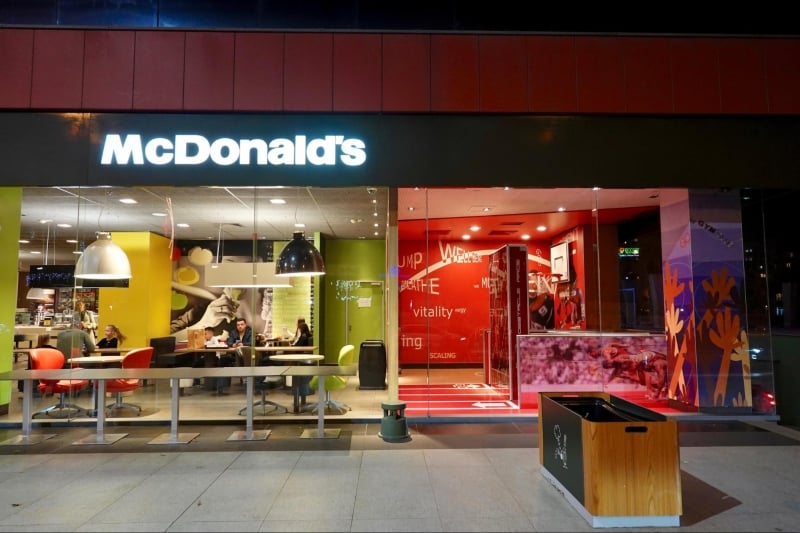 If you have the time, you can even take the chance to wander out of the historic area to explore the rest of the city. On our hunt for a money changer – pro tip: money changers are scarce in Mostar so change your money beforehand – we chanced upon a big shopping centre that offers a gym and basketball hoop within a McDonald's outlet.
Now, how's that for a city full of surprises?