Looking to book that dream European getaway? You're in luck because NATAS Travel Fair 2023 is back again this year from 11–13 Aug at the Singapore EXPO, featuring some of the top travel deals and packages!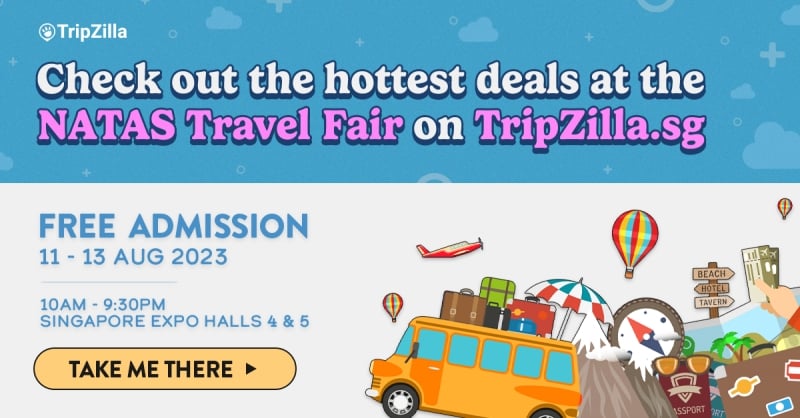 Whether it's chasing the Northern Lights in the Arctic Circle, exploring Switzerland by Rail, or discovering hidden gems in the Balkans, there's surely a package that suits your fancy. To give you a sneak peek into what to expect, we've curated some of our top picks for the deals not to be missed for Europe and Beyond!
Also read: NATAS Fair August 2023: Dates, Directions, and Details

Offered by: Nam Ho Travel
Departure period: 15 Nov 2023 to 31 Mar 2024
Price: From S$5,588 (early bird promotions)
Deal Highlights
✓ Chase the Northern Lights by bus
✓ Visit Santa Claus Village, a reindeer farm, and Levi Ski Town
✓ Hop on a reindeer sleigh ride and indulge in a king crab feast
✓ FREE upgrade to glass igloo accommodation
For those who dream of seeing the whimsical beauty of the Northern Lights, this 12D aurora-centric tour is gonna be your most memorable trip yet! Not only will you be able to chase the Northern Lights through Sweden, Finland, and Norway, but you'll also be able to visit some of the most rustic winter scenery in the Arctic Circle — think vast fields blanketed in snow, reindeer and husky farms, and Sanat Claus Village, among other natural and man-made wonders. 
Most importantly, the tour offers some of the most memorable Northern Lights experiences, such as staying in a glass igloo under the beautiful night sky. You'll also be able to feast on juicy king crabs, hop on a scenic cable car ride over majestic fjords, and more! Essentially, it's the perfect tour for those who've always wanted to experience Scandinavia in its full glory! 
Visit Nam Ho Travel at booth 5H08 during the NATAS Fair for the BEST travel deals, early bird promotions, exclusive gifts and more!
Offered by: Trafalgar
Departure period: Nov 2023 to Mar 2024
Price: From S$2,128
Deal Highlights
✓ Stay at classy accommodations throughout the trip that are near top attractions
✓ Enjoy a traditional Andalusian Be My Guest dinner experience with the charming company of the Morillo family
✓ Visit IG-worthy landmarks in popular cities like the Puerta del Sol and Plaza de España in Madrid, La Sagrada Família in Barcelona, plus Toledo, Granada and more
✓ Save up to 20% + additional S$388 Airfare Rebate + Sure-win attractive prizes 
On this 9 Day tour of Madrid, Seville, Granada and Barcelona, you'll get to fully indulge yourself in the colourful experiences that make Spain such a colourful destination to visit. Starting from Madrid and ending in Barcelona, the trip offers an authentic experience of the country, allowing you to soak in the historic charms and heritage of its popular cities.
Whether it be architectural wonders like La Sagrada Familia, postcard-worthy locations like Gran Via in Madrid, or restful oases like the Generalife in Granada, every city on this tour offers something a little different and will make you fall in love with Spain. 
For foodies, you can also look forward to experiencing the delight of authentic Spanish food culture, namely tapas. In addition, you'll also be able to enjoy cultural performances like the popular flamenco dances, and visit an olive oil plantation where you can sample some of Spain's finest olive oils! With so much to see and do, this tour is perhaps the best way to explore Spain to your heart's content! 

Offered by: EU Holidays
Departure period: 01 Nov 2023 to 31 Mar 2024

Price: From S$3,988 (60% off 2nd pax for new bookings)
Deal Highlights
✓ Explore Switzerland by rail on the famous Luzern-Interlaken Express, GoldenPass Express and Glacier Express
✓ Sledging on the Longest Sledge Run on Mount Bussalp
✓ Mountain excursions to Mount Rigi and Gornegrat
If you're looking to travel Switzerland by rail, as you see on all those wanderlust-inducing Instagram posts, then this 11D8N Grand Train Tour of Switzerland is the perfect getaway for you! After all, the main highlight of this tour is being able to explore the alpine beauty of Switzerland on some of its most famous panoramic trains — the Luzern-Interlaken Express, GoldenPass Express, and Glacier Express. 
Watch as the pristine beauty of Switzerland flashes through your window as you traverse between its most popular locations like Zurich, Lucerne, Zermatt, and more. On foot, you'll be able to visit popular destinations in Switzerland, such as Old Chapel Bridge in Lucerne, Chillon Castle in Montreux, and the Old Town of Chur. You'll also be hopping on a cogwheel train up to Gornegrat and enjoy a boat ride on Lake Lucerne. It's the ideal tour to help you tick Switzerland off your bucket list! 

Offered by: Chan Brothers Travel
Departure period: 06 Sept 2023 to 21 Mar 2024
Price: From S$2,788 (Up to $2,000 off per foursome)
Deal Highlights
✓Visit the most popular European cities, such as Zurich, Paris, Amsterdam, and more
✓ Admire the most beautiful natural scenery as well as architectural marvels throughout the trip
✓ Discover underrated travel experiences most travellers don't know about
Simply put, this 11D tour of Europe is the ideal travel package that highlights the most essential travel experiences in the continent, while also offering hidden gems for you to explore. Throughout this tour, you'll travel between Switzerland, Germany, France, The Netherlands, and Belgium, visiting both iconic locations and experiencing the best that each country has to offer. 
Your trip begins in beautiful Switzerland, where you travel to the Rhine Falls and Lake Lucerne before visiting the postcard-worthy Chapel Bridge the next day. As you cross over into Germany, you'll traverse the mystifying Black Forest before making your way to Amsterdam where you can look forward to a lovely canal cruise. Your spectacular trip ends in the romantic city of Paris where you can catch a glimpse of icon landmarks like the Eiffel Tower, Arc de Triomphe, and more. 
If this tour sounds like your cup of tea, then make sure to visit the Chan Brother booth (5H01) at the NATAS Fair to find our more plus enjoy plenty of great deals! 

Offered by: LGE Travel
Departure period: TBD
Price:
From S$2,099
Deal Highlights
✓ Visit the most beautiful cities in Croatia, Slovenia, and Bosnia & Herzegovina
✓ Experience a traditional Pletna boat to Bled Island
✓ Oyster farm boat excursion + oyster tasting 
✓ Free upgrade to five-star seaview hotel in Dubrovnik
A trip to the Balkans is one of the most memorable underrated travel experiences you'll ever have. This is why this 11D tour to Croatia, Slovenia, and Bosnia & Herzegovina is the perfect package for those seeking to explore newer and less-crowded travel gems. 
Some of the highlights you can look forward to include a visit to Lake Bled and Bled Castle, arguably the most popular tourist attractions in the region, especially in Slovenia, Postojna Cave, and Rijeka, the Croatian Jewel nestled along the Adriatic Sea, among many other scenic locations and ambient towns and cities. 
Sunset chasers will also be able to catch the sunset vista in Zadar, long known as the most beautiful sunset in the world, while Game of Thrones fans will absolutely enjoy their time in Dubrovnik, as well as an excursion to the coastal town of KOTOR, a UNESCO Heritage Site. Seafood lovers will also be excited by the oyster tasting in Ston! All in all, this package is an ideal all-rounder trip that offers a true taste of the Balkans!

Offered by: Webuy Travel
Departure period: TBD
Price: From S$5,888
Deal Highlights
✓ Visit iconic locations in Helsinki including Market Square and White Cathedral
✓ Travel through the snow on a snowmobile or reindeer sleigh ride
✓ Embark on an exciting kin crab safari and buffet
✓ Package includes return flights, accommodations and meals
This 10D tour of Finland and Norway allows travellers to fully experience the bewitching beauty of the Arctic Circle during winter. And rather than just admiring winter scenery from a distance, you'll get to truly dive into (sometimes literally) the snow-covered fields of Saariselka and Rovaniemi as you traverse the landscape by snowmobile! 
As you might expect of a trip to the arctic circle, you can look forward to chasing the Northern Lights and visiting dreamy locations like the Santa Claus Village and getting up close and personal with majestic reindeer. You'll also be able to embark on a King Crab safari and stay in a glass igloo as you admire the picturesque beauty of the aurora sky. 
Also read: NATAS Travel Fair Aug 2023: The Best Asia Travel Deals!
Excited to see more tours and packages to popular destinations around the world? Then be sure to head on down to Singapore Expo for the 2023 NATAS Travel Fair from 11–13 Aug! We know we'll be there, so come say hi if you spot us!