Boasting more than 60 Michelin-starred addresses, Hong Kong is no doubt one of Asia's culinary capitals, with a vibrant food scene complete with both traditional and modern influences. As you can already tell, the Hong Kongers take dining very seriously. What is even more impressive is the locals' love for Hong Kong desserts.
There are shops solely devoted to traditional desserts called Tong Shui and more recently, trendy cafes that offer new gastronomic experiences. While the country has produced plenty of local sweet delicacies, few have left as indelible a mark on the city as these 10 most popular desserts. Get ready to feast on these Hong Kong desserts!
1. Egg Waffles
This dessert-cum-snack is a quintessential comfort food of the locals and will always occupy a special place in their hearts. Suffice to say, egg waffles are one of Hong Kong's most iconic dishes and you'll easily find them in shops along the streets.
Made by pouring batter into a heated dimpled iron, this humble dish reminds one of an oversized bubble wrap. Bite through the crisp shell into the soft chewy middle and enjoy as the play of textures come together in the mouth.
The egg waffles come in flavours like kaya and chocolate, although the undisputed favourite is without a doubt, the unadorned original. For a modern twist, sample the egg waffles with ice-cream accompanied by a side of whipped cream and chocolate sauce. For more adventurous foodies, you can even try them with savoury toppings like fried chicken and egg.
We're partial to the egg waffles from Eat With Me, located at Shop D, G/F, Nga Chi Building, No. 12 Sze Pei Square, Tsuen Wan, New Territories.
2. Steamed Milk Pudding
The steamed milk pudding or Shuang Pi Nai is a fusion of milk, sugar and egg. While the ingredients are deceitfully simple, the preparation of this dish is actually laborious. After undergoing a special steaming process, the result is velvety smooth milk pudding with a hint of sweetness.
For those with a sweet tooth, adding a side of red bean with your milk pudding is worth a shot. With hot and cold options and flavours such as ginger available, the steamed milk pudding is perfect for all seasons.
For time-tested quality, try the steamed milk pudding from Yee Shun Milk Company, at various locations including G/F 506 Lockhart Road Causeway Bay, Hong Kong.
3. Mango Sago Pomelo
For serious mango lovers, this dessert is right up your alley! The mango sago pomelo is what some would describe as the poster child of Hong Kong desserts, especially in summer when it provides a delicious respite from the sweltering heat.
This dish features a generous portion of juicy mango cubes, sago pearls and pomelo segments in a rich, pulpy mango base. Just when you think it can't get any better, a dollop of mango ice-cream crowns the creation – definitely enough to make any mango crazy!
Hui Lau Shan, a popular dessert chain, is regarded by many to have one of the best mango sago pomelo around ; check out their website for the full list of locations.
4. Durian Pancake
At first glance, this looks nothing like the durian fruit or the good old-fashioned pancakes we know, but there's more than meets the eye. One bite into these heavenly durian pancakes and you'll find the sweet flesh of durian coupled with a creamy filling that reels you right in, compelling many more bites. And surprisingly, it's light and fluffy — just like a pancake!
If you're not a fan of durian, give it a try — it might just convert you.
Check out the version at Cong Sao Star dessert, available at various locations including G/F, 21-23 Tai Wong Street East, Wan Chai.
5. ATUM Desserant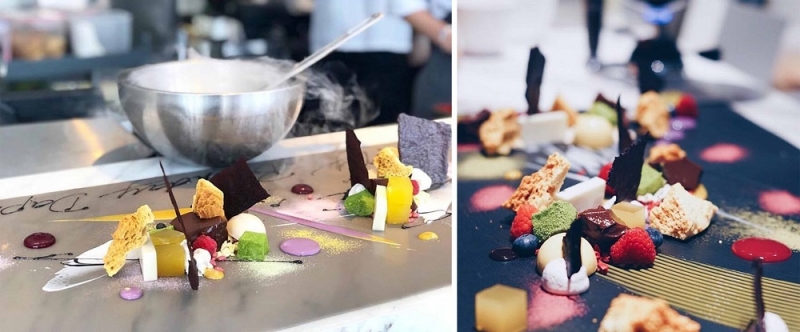 Ever wondered what art could possibly taste like? Well, now you can find out! In Hong Kong, the chef at ATUM Desserant doubles as an artist. Choose from a unique selection of flavours like Bamboo Charcoal and Elderflower; and for the undecided, there are even 'uncertain' or 'improvisation' options you can go for.
Watch as the artist chef transforms the empty canvas into a stunning work of art with ingredients such as cake, meringue and liquid nitrogen sorbet. Not only is this dessert aesthetically pleasing, it doesn't lose out in flavour and texture as well. Other than just satisfying your taste buds, the experience at ATUM Desserant also presents a gratifying (and Instagram-worthy) dining experience.  As the saying goes, cooking is truly an art.
ATUM desserant is located at 16F The L.Square O'brien Rd, 459-461 Lockhart Rd, Bowrington, Hong Kong.
6. Little Bao
Empty your mind (and stomach!) of whatever you know about ice-cream sandwiches because Little Bao's ice-cream bao will surpass all expectations. Sandwiched between two sweet crispy buns, you'll find a perfect concentric slab of ice-cream and thin streams of condensed milk for added sweetness. In other words, pure sugary brilliance.
Little Bao is located G/F 66 Staunton Street Central, Hong Kong.
7. Mango Cheong Fun (Mango Rice Rolls)
As if Hong Kong could not further profess their love for mangoes, creative pastry chefs have jazzed up the traditional Chee Cheong Fun with a mango twist, resulting in the Mango Cheong Fun. In place of rice rolls with meat stuffings, you have thin coconut jelly wrapped around sweet mango flesh. And to top it off, a light drizzle of mango syrup. This is definitely love at first taste for mango fans.
Hoi Kee Walnut Place, located at G/F, 38A Pak Tai Street, To Kwa Wan serves an amazing rendition of the Mango Cheong Fun.
8. Red Bean Soup
In a list of popular desserts, how can we forget the traditional delights? A longstanding household favourite, red bean soup is not only quick and easy to prepare, it is also highly nutritious. Red beans are a rich source of essential minerals and it's believed to rid the body of toxins amongst many other health benefits.
To provide a variety of textures, the creamy base is traditionally served with crunchy lotus seeds and gingko nuts. In recent times, innovative chefs have even paired red bean soup with grass jelly and its cousin, green bean soup. Take a trip down memory lane with one of the best Hong Kong desserts!
Many Hong Kongers swear by the red bean soup from Honeymoon Dessert, available at various locations including Shop 7, Siu Sai Wan Plaza, Siu Sai Wan, Hong Kong.
9. Black Sesame Paste
Before you raise your eyebrows and turn the page to browse other local delicacies, give this unusual looking bowl of inky black paste a chance and you'll never look away again. Black sesame paste has always been a local favourite due to its low caloric count and nourishing properties. It's even purported to prevent grey hairs! Now, that's a treat you can have after every meal.
Consisting of only black sesame seeds, rice and water, this dish has a strong taste of roasted sesame with deep earthy undertones in a viscous, sweet base.
10. Tang Yuan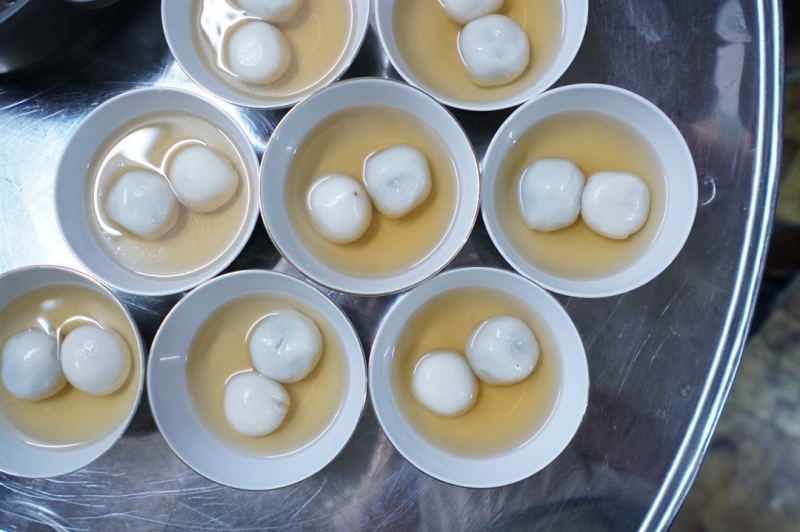 As its name suggests, glutinous rice balls also known as glutinous dumplings or tang yuan, are balls of glutinous rice flour mixed with water then stuffed with paste fillings such as ground sesame and crushed peanut. This dish is especially popular with children and it's no surprise why.
Sink your teeth into the translucent thin skin and experience the burst of flavour from the sweet paste that fills your entire mouth. Wash it down with some warm, ginger soup and you're as close to gourmet heaven as you can get. In Hong Kong, these rice balls are also toppings in some desserts — a sure way to know that it's good!
Address: Shop I-1, G/F, Lei Do Building, 7 Fuk Yuen Street North Point, Hong Kong.
Also read: Top 37 Souvenirs to Bring back from Hong Kong
And there you have it, the 10 most popular desserts in Hong Kong! These desserts are highly illustrious and have since gained a strong following, so it's no surprise that you'll find them in other countries. But heads-up, they're nowhere as good as the original.
So what are you waiting for? Get a taste of these Hong Kong desserts soon!