I'm pretty sure this scenario has plagued many a traveller countless of times before: on the last day of your trip, you begin to panic about the things you should bring home for the good folks at home. And in the end, you just grab the closest things you can find: fridge magnets, postcards, nooks and crannies that look cool but are ultimately generic and meaningless. The secret disappointment of your loved ones will be inevitable. 
But don't fret if you are indeed heading to Hong Kong in the near future because here's a list of the top 37 souvenirs to bring home from the shopping paradise of Asia. 
1. Hip apparel, imitation goods and badly translated placards
The best street markets in Hong Kong are all located on the Kowloon peninsula. They are the Temple Street and Ladies Street markets in the Yau Ma Tei and Mong Kong areas.
While you won't find much street food within the markets themselves (you can find them in the surrounding area though), the Hong Kong night markets are famous for selling amazingly hip t-shirts and imitation bags and even underwear! The goods are all usually of high quality and the bustling street simply adds to the atmosphere.
Apart from these knock-off fashion statements, you can also find cool leather bound notebooks, soft toys, power banks and wacky glasses. But my personal favourite definitely has to be the placards carrying (intentionally) badly translated Cantonese sayings. Hilarious with a touch of local cultural identity, these make for extremely fun gifts, especially if that person understands a little bit of Cantonese.
2. Makeup and cosmetics
The Tsim Sha Tsui area in Hong Kong has one cosmetic product store for every 10 humans. Okay, no, that was an exaggeration but cosmetics and beauty products are all the rage in Hong Kong. You will find many local and foreign cosmetic brands and the selection is enough to drive any makeup enthusiast insane.
Of all makeup brands, Korean and Japanese brands are the most popular and the most easily found throughout the city. If you're looking for more niche and upscale cosmetics like Bobbi Brown, take the MTR to Kowloon Tong and make your way to the 2nd floor of Festival Walk mall, where the entire west wing is dedicated to cosmetics and makeup!
As a guy who barely knows the difference between eyeliner and eyeshadow, I can't say much but I do know that if you're shopping for cosmetics as a souvenir, you would have to try extremely hard to not come away with something you or your friend/family will like.
3. Shoes…all dem shoes!
There's shoe shopping and then there's Hong Kong shoe shopping. Because when an entire street is dedicated to just sneakers and shoes, you know it's a serious business!
You'll find all the most recognisable brands on Fa Yuen Street in the Mongkok area: from Nike and Adidas to Reebok and Timberland, you'll be able to find the trendiest and latest designs here. If you're looking to buy a pair of new kicks for the people back at home, make sure to shop around, because you'll likely find that prices vary store by store.
And just because you don't find a particular design in one store, it doesn't mean you won't find it in the one next door, so make sure to take your time. I do recommend taking a look at New Balance sneakers while in Hong Kong. They are probably the most popular brand in the country and one of the best in terms of looks, price and comfort.
The prices are always competitively low and sales are a regular occurrence here. And don't worry – all merchandise sold, despite their lower than average prices, are genuine.
4. Electronics
Hong Kong is a tech-savvy city, no doubt about that. Electronics can be found in many of the flagship stores in Hong Kong. But if there's one go-to place for the latest tech gizmos and gadgets, it has to be Sham Shui Po.
More specifically, one should definitely check out the Golden Computer Centre, right outside the D2 exit of the Sham Shui Po MTR station. It sells a variety of electronics, from uber cool keyboards to the latest webcams. Any technophile would fall in love with this place and if I were to make a recommendation for a souvenir, perhaps a cool-looking power bank or USB stick would be great.
Or, if you or your friends are into gaming, the first floor (or second, depending on which metric system you're using) is a haven for computer games lovers, with many stalls selling the latest games, both new and secondhand editions for a real bargain. So if you're looking for an electronic souvenir, you can't go wrong at Sham Shui Po!
5. Anime merchandise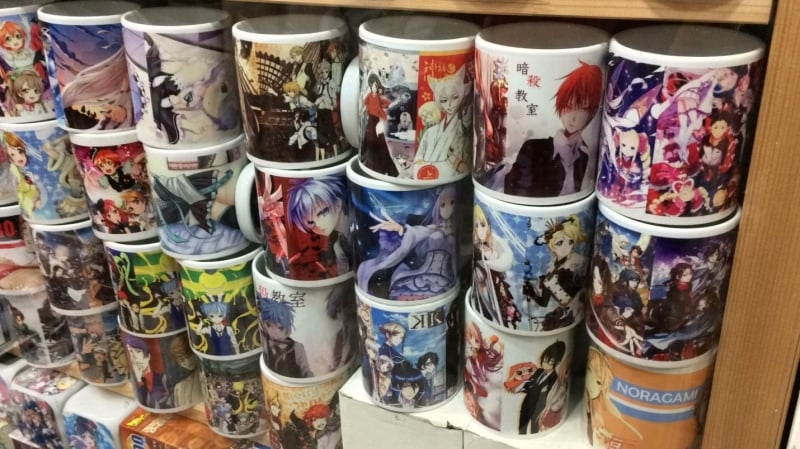 Truth be told, I'm not much of an otaku; I only know a handful of anime series, and they are probably from the late 2000s! But I do enjoy looking at anime figurines. After all, they're cute, cool, or unique, sometimes all three! And they make for great souvenirs for anime fans.
In's Point (Yau Ma Tei) and Apple Mall (Sham Shui Po) are two of the biggest anime merchandise retail outlets I know of in Hong Kong. They sell a great selection of anime merchandise including posters, figurines, mugs, manga…anything you can think of, basically. You can even occasionally come across some rare anime figurines which can't be found anywhere else.
I was once having a stroll at In's Point and I came across a Pikachu doll (that was when Pokemon Go was trending) dressed in a traditional Cantonese opera stage costume. It was super cool and absolutely amusing. So for all the otaku friends you might have, these are the places you'll want to get their souvenirs from.
Also read: How to Travel Hong Kong on a Budget
6. East Asian Pop Culture (read: K-Pop)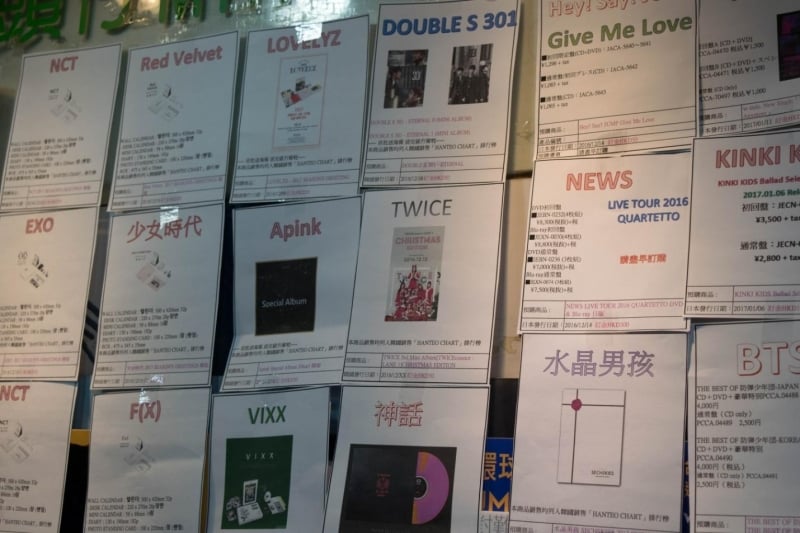 I may not be an otaku, but I certainly do know my K-Pop…and exactly where to get them. The Sino Centre in Mongkok is arguably THE hangout spot for East Asian pop culture fanatics. J-Pop, Canto/Mandopo, and K-Pop albums and related merchandise are all readily available here at affordable prices.
Apart from albums, you can also find magazine covers, coasters, bookmarks and even jigsaw puzzles featuring your favourite oppa or nuna (gender equality ftw!) or other East Asian celebrities. You can even pre-order albums though I suspect that you'll find yourself short on time unless you're in Hong Kong for an extended period.
That being said, the merchandise sold (especially albums) are all official merchandise imported straight from South Korea and of exceptionally high quality. So, if you know anyone who is a huge K-Pop/Mando/Canto/J-Pop fan, you know what to get them!
7. Jade ornaments
Y'know, jade has always been synonymous with positive energy and good health in Chinese traditions, so what better souvenir to get from Hong Kong then a nifty piece of jade ornament? However, given the high value of jade, it's not exactly ideal to break the bank just for a souvenir. So, I recommend heading to the Jade Market in Yau Ma Tei.
Housed in a flea market set up, the Jade Market offers far more choices in terms of design and type of ornament. You'll be able to find all sorts of jade-fashioned trinkets here: bracelets, necklaces, zodiac signs, and decorative pieces to name a few. While the quality of jade is not as pristine as the ones sold in jewellery stores, the stones still look exceptionally pretty and unless your friends or family are jade connoisseurs, that's all that matters.
With so many stalls right next to each other, you can expect competitive pricing (as in, affordable). Plus, the stall owners speak a fair amount of English, so communication is not something to fret about either.
8. Chinese antiques
Now, if jade is not exactly your thing but you'd still like to bring home something which is more closely related to the culture of Hong Kong, then definitely pay a visit to the many Chinese antique markets in Cat Street, around the central region of Hong Kong island. Here, you'll find plenty of trinkets that are modelled after Chinese antiques, from Ming dynasty-style furniture to calligraphy brushes and ink stones, and even to actual antique decorative statues!
A word of caution is necessary, though. Some merchants will attempt to convince you that their wares are legitimate treasures from the age of dinosaurs even though they were probably made in a factory 100 metres away. So, unless you have someone who knows how to appraise genuine artefacts from fakes, maybe stick to less expensive souvenirs just to be safe.
Then again, it's not exactly easy to transport a 500-year-old vase home anyway, so maybe a nice Chinese painting with poetry on bamboo would be more appropriate. I personally recommend an ink stone engraved with a meaningful character. Culture and a touch of sophistication, anyone would be impressed!
9. Souvenirs to munch on
But of course, when all else fails, just get an edible souvenir! There are multiple shops in Hong Kong that only sell packaged/boxed snacks. These range from locally baked pastries to international munchies like the infamous Korean Honey Butter products.
You'll often find these stores in most shopping malls or even on the streets of the Mongkok tourist hotspot. I can't really make a recommendation here because they all taste amazingly good! Heck, even some of the instant noodle packets are amazing, with real (I will assume it's real because otherwise, it becomes disturbing) pieces of meat in them!
So, as many would say, when all else fails, the key to happiness is through one's digestive tract. Or something like that. Bottomline: good food never fails, especially ones that come in nice packaging.
And there you have it! Nine souvenirs to bring back from Hong Kong that will excite and please your friends and family. So skip the fridge magnets and other disappointingly generic stuff the next time you're in Hong Kong and shop to impress!
10. Pineapple Shortcakes
Bite into these fun-sized pastries, which comes with a sweet pineapple filling tucked beneath the buttery and soft biscuit-like pastry – a great accompaniment to some hot Chinese Tea for an afternoon snack. Pineapple shortcakes were originally from Taiwan, but later became integrated into the culinary culture of Hong Kong, and is now a staple treat in Hong Kong. 
Although these delicious morsels can be found in almost any bakery, supermarket or convenience store in Hong Kong, the best pineapple shortcakes are said to be found in age-old and established bakeries like Kee Wah Bakery. There, you can choose from a wide variety of flavours, from the original pineapple shortcakes, to bolder and more creative renditions of the same snack – sometimes coming with a salted egg yolk or walnuts. 
There is really no reason why pineapple shortcakes are not at the top of your souvenir list when in Hong Kong!
12. Wife Biscuit (Lao Po Bing/
老婆餅)
Wife biscuits are an all-time tradition in Hong Kong and a must-try when you are there! This unassuming baked treat comes with a flaky outer pastry crust that complements the sweet winter melon paste enclosed within the pastry. 
Similar to the pineapple shortcakes, wife biscuits can also be bought in some of the most traditional bakeries and cake shops like Wing Wah, Kee Wah and Hang Heung Cake Shops, which fortunately have many franchise outlets around Hong Kong. 
Most of these pastries are freshly-made and thus have a short shelf-life. Nonetheless, they still make a great gift for anyone, especially if you have elderly relatives and friends who love some traditional Chinese pastries and biscuits!
13. Sachima/Ma Jai (Rice Krispies)
More affectionately referred to by the locals as Ma Jai, Sachima is a popular and traditional Chinese snack that closely resembles rice krispies. This pastry is made by combining light and fluffy strands of batter that are held together by sugar syrup, giving you a hearty crunch in every bite.
Sweet, crispy and delicious, Ma Jai is said to be highly addictive, making it a great souvenir from Hong Kong for your loved ones, especially if they have a sweet tooth!
14. Gifts from G.O.D. (Goods of Desire) 
Don't be fooled by its nondescript facade because Goods of Desire (G.O.D.) is actually an established and quintessential lifestyle brand in Hong Kong, commonly frequented by both locals and tourists alike. 
Besides selling lifestyle household items, G.O.D. also offers many creative and quirky souvenir gifts such as mahjong-themed silk scarves, pineapple bun butter memo pads and egg puff magnet boards, to name a few. Inspired by the common sights of Hong Kong and the lifestyle habits of Hong Kongers, G.O.D. has a wide offering of interesting and kitsch gift ideas that make it a great stop to get some of those local souvenirs!
They have a few outlets around Hong Kong and even one at the airport – so while you are waiting for your flight, why not check out what G.O.D. has to offer?
15. Personalised name seals
The origins of name seals can be traced back to as early as 1600 B.C. to the Shang Dynasty, where such seals were used to ink official court documents. 
Name seals make for a great and meaningful gift idea, especially because they are customised and personalised – a perfect gift for a close friend or relative from Hong Kong. 
Many of the name seal shops are found along Chop Alley and Antique Street. There, you can watch as the craftsman skillfully carves out your name of choice on a wooden block (or any block of your choice of material) to produce this very exquisite souvenir gift. Given the personal touch of this souvenir from Hong Kong, we are certain that the person receiving this gift will be very pleased!
16. Egg rolls
These fragrant and crispy paper-thin rolls are some of the best snacks you will find in Hong Kong. The egg roll batter is first poured onto a hot plate, which is sometimes heated over an open fire in more traditional shops, before it is rolled into what you see in the picture. 
Popular local bakeries and cake shops like Duck Shing Ho are famous for their homemade egg rolls and are known to have snaking lines forming in front of their shops as soon as the shop opens, attesting to how delicious these egg rolls are – so much so that people are even willing to settle for a bag of leftover crumbs for about S$1.75.  
Just one thing to note: you have to handle these delicate egg rolls with care because they are so thin, crispy and fragile that they might crumble in the tin even before it does in your mouth!
17. Shrimp Paste
Shrimp paste is a local speciality of Hong Kong and has been around for many decades, first sold by some of the most established businesses like Cheng Cheung Hing and Cheung Choi Kee. The final briny shrimp paste sauce is derived from batches of silver shrimps which have undergone the process of salting, fermentation and drying.
An essential condiment in Cantonese cuisine, shrimp paste is commonly used as a seasoning in stir-fry and curry dishes to give that umami kick. 
So if you are thinking of bringing home something to whip up some classic Cantonese cuisine, then you should probably get a bottle or two of these homemade shrimp paste!
18. Chinese Tea
Although Hong Kong is famous for their milk teas, traditional Chinese Tea is also an equally important and popular beverage because of the tea-drinking culture and lifestyle of many Hong Kongers. 
Known for its many health benefits such as its anti-aging and anti-inflammatory functions, Chinese Tea is one of the best souvenirs that you can get when you are in Hong Kong! With an assortment of different types of tea leaves and flavours such as white tea, black tea, oolong tea, green tea and pu'er tea (fermented tea), there is no better souvenir from Hong Kong than some Chinese tea leaves!
19. Chopsticks
Initially designed as a tool to detect poison in the early Chinese dynasties, chopsticks have evolved to become a common piece of cutlery in almost every Chinese household. 
Coming in a vibrant array of colours and different prints and designs, these chopsticks are sold at many of Hong Kong's shopping streets and markets, like the Ladies Market in Mongkok. Compact and inexpensive, chopsticks make for a useful souvenir for your friends and loved ones if you are visiting Hong Kong!
20. Po Sum On Healing Balm
Having been around for over a hundred years since 1907, Po Sum On has established itself as one of the most long-standing medicated ointment brands in Hong Kong. Solely manufactured in Hong Kong, Po Sum On's medicated oil is made from natural ingredients such as peppermint oil and liquorice, and is designed to help relieve abdominal, stomach and chest pains.
If you are looking for some of the most iconic and original medicated oil from Hong Kong, then you might just want to get yourself a bottle of Po Sum On Healing Balm!
21. Goji Berries
Also commonly referred to as wolfberries, goji berries are a kind of herbal supplement that is often sold in its dried form and added to tonic soups, herbal teas, porridge and even dessert. Bearing an uncanny resemblance to raisins in texture and shape, goji berries are believed to be able to help strengthen the immune system and improve sight. 
Found in herbal shops all over Hong Kong, goji berries make for an inexpensive souvenir from Hong Kong that you can use for your next tonic or dessert soup you make at home.
22. Dim Sum candles 
While it is not possible to bring home some of those delicious steaming-hot dimsum from Hong Kong, you can choose to take some of these cute dimsum candles back home instead! 
The brainchild of a local artisanal craft shop BeCandle, these miniature and adorable dimsum candles might not be able to light up your place fully in a blackout, but will probably still be able to light your eyes up! Coming in a variety of popular dim sum dishes such as har gao, siew mai, char siew bao and xiao long bao, these candles make for great cabinet display items, where you might just end up drooling at the sight of them.
23. Cookies from Jenny Bakery 
This local homegrown cookie brand has grown itself a reputation that has reached the shores of Singapore, China, Japan and South Korea for its delectable selection of butter cookies. 
These melt-in-your-mouth cookies have an airy-texture and an aromatic buttery flavour that hits your palate as soon as you place one of these delicious morsels in your mouth. It is no wonder that Jenny Bakery has become such a huge food sensation that leaves its customers wanting to come back for more! This is where you should probably jump on the bandwagon and get some of those irresistible butter cookies either as a souvenir for yourself, or a gift for someone else.
24. Jade
This gemstone is believed to symbolise purity and beauty in the Chinese culture. It is also popularly believed to be a mark of good luck, prosperity and fortune in fengshui (geomancy) and is thus a common part of accessories and ornaments in many Hong Kong and Chinese households. 
Coming in different shapes, forms and colour, jade is also typically made into personal accessories such as necklaces, bracelets, earrings, rings and other ornaments. However, given the popularity of the jade business in Hong Kong, there are some vendors who try to sell knock-off and fake jade products. You might therefore want to seek some professional advice and second opinion if you are going to get a real piece of jade, which might be slightly more pricey (and justifiably so).
25. Dragon's Beard Candy
Getting its name for its resemblance to a dragon's beard by an emperor during the Hans Dynasty, Dragon's Beard Candy is a handmade traditional candy that is enjoyed by many in Hong Kong. 
These fine hand-pulled white threads are made from stretching out the reduced form of maltose syrup, which are then powdered to prevent the dragon beards from coagulating and sticking to each other. It typically is wrapped with some peanuts which give the candy a good crunch in every bite. If you are thinking of getting this as a souvenir, just remember to consume it as soon as possible, as the humidity and heat could get to the candy before it gets to your stomach!
26. Porcelain ware 
Hong Kong is famous for its exquisite and fine porcelain ware and works that can be found in many antique shops and markets around Hong Kong. The price of the porcelain ware can vary quite widely, depending on the quality and intricacy of the craft work. 
One of the last few standing porcelain businesses that does hand-painted porcelain works, Yuet Tung China Works might be the place to visit if you are looking for some of the most intricate porcelain works! These porcelain ware typically include jars, dishes, vases, cups and cutlery that you can bring home to add an elegant and unique aesthetical element to your place – a perfect gift for anyone!
27. Shark's fin and abalone Pretz 
Pretz biscuit sticks are an all-time favourite – not just amongst kids but adults as well. 
These tasty snacks come in three different exclusive and unique flavours (Hong Kong Shark's Fin flavour, Hong Kong Seafood flavour and Abalone in Oyster Sauce flavour) that can be commonly found all around Hong Kong, even in convenience stores. Who says that you need to spend a fortune on abalone when you can have it for a few dollars in this crunchy biscuit snack!
28. Chinese antiques 
Hong Kong is a treasure trove of many ancient and historical Chinese antiques! 
Upper lascar row, otherwise known as Cat Street, is home to some of the many antique dealers and merchants that offer a wide assortment of their personal antique collections. 
From bold posters during the Cultural Revolution to historical artefacts from early Chinese dynasties, there are so many different antiques and souvenirs that you can buy back home! And the best part of this is that you can engage in a friendly haggle with the vendors so that you get a bang for your buck on your antique souvenir that has just found a new home.
29. Fortune Cat
A familiar sight in many Chinese households and businesses, the fortune cat is an iconic figure that is said to bring in good luck and fortune to its owners. These waving cats – or sometimes referred to as Maneki-Neko – are sold in many different markets and shopping streets around in Hong Kong for just a few dollars. 
In fact, there are now more modern and creative versions of the fortune cat, with one particular "angry fortune cat" that is sold in Hong Kong, which can be seen brandishing the vulgar one-finger salute (warning: not appropriate for children).
30. Dried seafood 
Dried seafood is a common ingredient used in many Cantonese and Chinese cuisine. From congee toppings to soups and even braised dishes, dried seafood is a great way to enhance and elevate the flavours of your dish with the taste of the sea. 
Des Voeux Road West, also known as Dried Seafood Street, is where you can find rows of dried seafood shops selling a variety of dried seafood and other products such as abalone, scallops, sea cucumbers, fish, mushrooms and even bird's nest. With about 200 different shops at Des Voeux Road, it is guaranteed that you will find some of the best dried seafood that is within your budget and liking!
31. Temple charms
Some of the most popular attractions in Hong Kong are its ancient temples, which feature the rich cultural heritage and deep history of the city. Highly popular with tourists and locals at these temples are the temple charms, which are believed to be able to ward off evil and bad luck.
A famous temple is the Che Kung Temple, which offers a unique variety of temple charms at highly affordable prices. These charms of good luck, fortune and prosperity make for a great souvenir idea that can be used to embellish your house. 
So if you are going to visit a temple in Hong Kong, why not buy a temple charm as a memento of your visit there and for good luck?
32. Traditional chinese clothing
If you are looking to stock your wardrobe with some of the most stylish and elegant traditional Chinese clothing, then Hong Kong is a great place to start! Markets like the Pedder Street Market are lined with rows of fashion boutiques and shops that sell the cheongsam – the Chinese traditional dress  – which comes in many different colours and designs. 
These figure-wrapping cheongsams and their male counterparts (changshan) are a great souvenir gift for yourself for special occasions like Chinese New Year, where you can put on these traditional outfits and flaunt your figure while being a walking cultural icon.
33. XO Sauce
Punching a strong umami taste, XO Sauce is a heritage spicy seafood sauce that originated from Hong Kong in the 1980s. Named after the XO Cognac for its relatively-equal status in terms of its complexity in taste, XO Sauce is derived from the combination of dried seafood, chilli and Chinese ham that gives it its flavourful profile.
Touted as one of the top few Hong Kong sauces, XO Sauce makes for a souvenir that you can use in your daily cooking, for your stir-fry or just as a table condiment. 
34. Chinese art
Spanning across many different dynasties and eras, Chinese artworks have continued to morph and evolve, bringing with them the unique and distinct influences from their respective time period. It is for this reason that there is a plethora of different chinese artworks and forms, that come in the form of paintings, sculptures and pottery, being sold all over Hong Kong at street markets, art galleries and flea markets.  
For those with a keen eye for Chinese art, this might just be the perfect souvenir to add to your collection of art pieces at home! 
35. Cheung Chau Lucky Buns
While these ordinary looking buns may not be the most delicious buns you will find in Hong Kong, they are eaten for their symbolic value as they are said to represent safety and peace. These buns are also an integral part of the Cheung Chau Bun Festival held every year during the fourth lunar month, on the island of Cheung Chau. 
As it may not be so practical to bring an actual lucky bun back home, you might want to consider getting the Cheung Chau Lucky bun-inspired souvenirs instead. While these cute keychain and magnet replicas of the lucky bun cannot be eaten, they probably still do work as good luck charms.
36. Mooncake
Mooncakes are traditional Chinese pastries eaten during Mid-Autumn festival every year. 
These calorie-packed sweet treats are typically made from a lotus filling that comes with a whole salted-egg yolk. More recent attempts to popularise and re-invent the pastry have been bolder and more creative, as pastry-makers vary the types of filling and even the mooncake skin itself, coming up with ice cream snowskin mooncakes as well as those that come with alcoholic truffles. 
However, if you are looking for some of the most authentic and original Cantonese mooncakes in Hong Kong, then you should head over to more established cake shops like Kee Wah, which have outlets all over Hong Kong and even at the airport. 
This promises to be a great gift for your family and colleagues as the mooncake can be shared, along with the calories! 
37. McMug Merchandise 
Created by Alice Mak and Brian Tse in 1988, McMug is an animated pig cartoon character from Hong Kong that first appeared in comic strips before making its debut in films and TV shows. The themes of these comics and shows often revolve around important social issues like poverty and single-parent families, while also drawing on popular local cultural references in Hong Kong.
A household name and an icon that resonates with many who grew up in Hong Kong, McMug also has a series of merchandise and souvenir gifts such as their plushies and stationeries that make them great gifts for anyone. Do also remember to share the significance of McMug with the person whom you are getting the gift for – we think it might make for a more meaningful gift that way! 
These are but just some of the many souvenir ideas that you can choose from if you are thinking of getting something for your colleagues, loved ones or just for yourself when you are visiting Hong Kong. Whatever it might be and whoever it might be for, we hope that this list has at least inspired you to bring some souvenirs back home from the shopping paradise of Hong Kong! Afterall, who doesn't like to receive gifts?