I'm pretty sure this scenario has plagued many a traveller countless of times before: on the last day of your trip, you begin to panic about the things you should bring home for the good folks at home. And in the end, you just grab the closest things you can find: fridge magnets, postcards, nooks and crannies that look cool but are ultimately generic and meaningless. The secret disappointment of your loved ones will be inevitable. 
But don't fret if you are indeed heading to Hong Kong in the near future because here's a list of the top nine souvenirs to bring home from the shopping paradise of Asia. 
1. Hip apparel, imitation goods and badly translated placards
The best street markets in Hong Kong are all located on the Kowloon peninsula. They are the Temple Street and Ladies Street markets in the Yau Ma Tei and Mong Kong areas.
While you won't find much street food within the markets themselves (you can find them in the surrounding area though), the Hong Kong night markets are famous for selling amazingly hip t-shirts and imitation bags and even underwear! The goods are all usually of high quality and the bustling street simply adds to the atmosphere.
Apart from these knock-off fashion statements, you can also find cool leather bound notebooks, soft toys, power banks and wacky glasses. But my personal favourite definitely has to be the placards carrying (intentionally) badly translated Cantonese sayings. Hilarious with a touch of local cultural identity, these make for extremely fun gifts, especially if that person understands a little bit of Cantonese.
2. Makeup and cosmetics
The Tsim Sha Tsui area in Hong Kong has one cosmetic product store for every 10 humans. Okay, no, that was an exaggeration but cosmetics and beauty products are all the rage in Hong Kong. You will find many local and foreign cosmetic brands and the selection is enough to drive any makeup enthusiast insane.
Of all makeup brands, Korean and Japanese brands are the most popular and the most easily found throughout the city. If you're looking for more niche and upscale cosmetics like Bobbi Brown, take the MTR to Kowloon Tong and make your way to the 2nd floor of Festival Walk mall, where the entire west wing is dedicated to cosmetics and makeup!
As a guy who barely knows the difference between eyeliner and eyeshadow, I can't say much but I do know that if you're shopping for cosmetics as a souvenir, you would have to try extremely hard to not come away with something you or your friend/family will like.
3. Shoes…all dem shoes!
There's shoe shopping and then there's Hong Kong shoe shopping. Because when an entire street is dedicated to just sneakers and shoes, you know it's a serious business!
You'll find all the most recognisable brands on Fa Yuen Street in the Mongkok area: from Nike and Adidas to Reebok and Timberland, you'll be able to find the trendiest and latest designs here. If you're looking to buy a pair of new kicks for the people back at home, make sure to shop around, because you'll likely find that prices vary store by store.
And just because you don't find a particular design in one store, it doesn't mean you won't find it in the one next door, so make sure to take your time. I do recommend taking a look at New Balance sneakers while in Hong Kong. They are probably the most popular brand in the country and one of the best in terms of looks, price and comfort.
The prices are always competitively low and sales are a regular occurrence here. And don't worry – all merchandise sold, despite their lower than average prices, are genuine.
4. Electronics
Hong Kong is a tech-savvy city, no doubt about that. Electronics can be found in many of the flagship stores in Hong Kong. But if there's one go-to place for the latest tech gizmos and gadgets, it has to be Sham Shui Po.
More specifically, one should definitely check out the Golden Computer Centre, right outside the D2 exit of the Sham Shui Po MTR station. It sells a variety of electronics, from uber cool keyboards to the latest webcams. Any technophile would fall in love with this place and if I were to make a recommendation for a souvenir, perhaps a cool-looking power bank or USB stick would be great.
Or, if you or your friends are into gaming, the first floor (or second, depending on which metric system you're using) is a haven for computer games lovers, with many stalls selling the latest games, both new and secondhand editions for a real bargain. So if you're looking for an electronic souvenir, you can't go wrong at Sham Shui Po!
5. Anime merchandise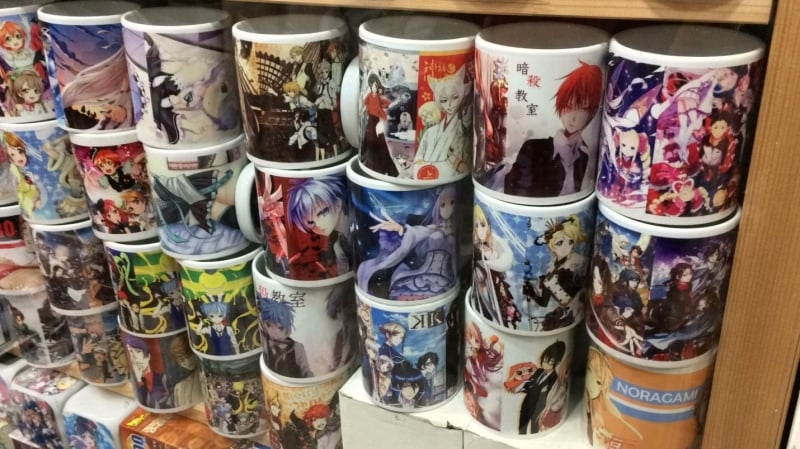 Truth be told, I'm not much of an otaku; I only know a handful of anime series, and they are probably from the late 2000s! But I do enjoy looking at anime figurines. After all, they're cute, cool, or unique, sometimes all three! And they make for great souvenirs for anime fans.
In's Point (Yau Ma Tei) and Apple Mall (Sham Shui Po) are two of the biggest anime merchandise retail outlets I know of in Hong Kong. They sell a great selection of anime merchandise including posters, figurines, mugs, manga…anything you can think of, basically. You can even occasionally come across some rare anime figurines which can't be found anywhere else.
I was once having a stroll at In's Point and I came across a Pikachu doll (that was when Pokemon Go was trending) dressed in a traditional Cantonese opera stage costume. It was super cool and absolutely amusing. So for all the otaku friends you might have, these are the places you'll want to get their souvenirs from.
Also read: How to Travel Hong Kong on a Budget
6. East Asian Pop Culture (read: K-Pop)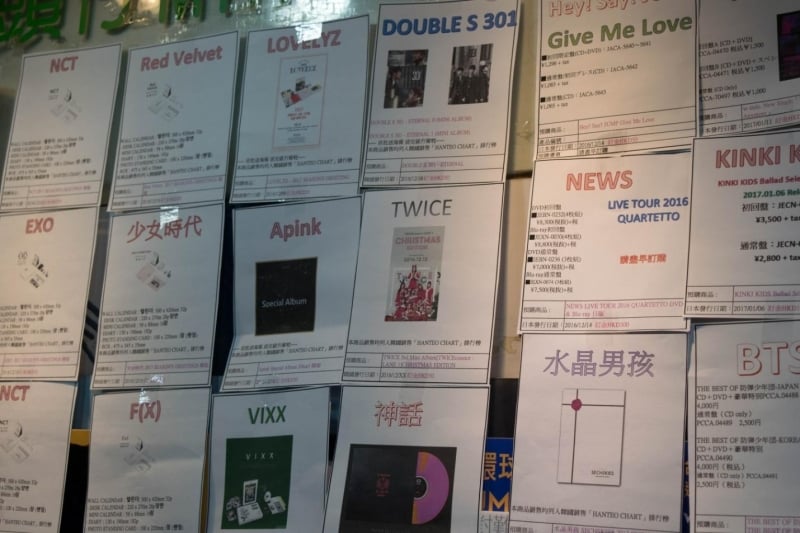 I may not be an otaku, but I certainly do know my K-Pop…and exactly where to get them. The Sino Centre in Mongkok is arguably THE hangout spot for East Asian pop culture fanatics. J-Pop, Canto/Mandopo, and K-Pop albums and related merchandise are all readily available here at affordable prices.
Apart from albums, you can also find magazine covers, coasters, bookmarks and even jigsaw puzzles featuring your favourite oppa or nuna (gender equality ftw!) or other East Asian celebrities. You can even pre-order albums though I suspect that you'll find yourself short on time unless you're in Hong Kong for an extended period.
That being said, the merchandise sold (especially albums) are all official merchandise imported straight from South Korea and of exceptionally high quality. So, if you know anyone who is a huge K-Pop/Mando/Canto/J-Pop fan, you know what to get them!
7. Jade ornaments
Y'know, jade has always been synonymous with positive energy and good health in Chinese traditions, so what better souvenir to get from Hong Kong then a nifty piece of jade ornament? However, given the high value of jade, it's not exactly ideal to break the bank just for a souvenir. So, I recommend heading to the Jade Market in Yau Ma Tei.
Housed in a flea market set up, the Jade Market offers far more choices in terms of design and type of ornament. You'll be able to find all sorts of jade-fashioned trinkets here: bracelets, necklaces, zodiac signs, and decorative pieces to name a few. While the quality of jade is not as pristine as the ones sold in jewellery stores, the stones still look exceptionally pretty and unless your friends or family are jade connoisseurs, that's all that matters.
With so many stalls right next to each other, you can expect competitive pricing (as in, affordable). Plus, the stall owners speak a fair amount of English, so communication is not something to fret about either.
8. Chinese antiques
Now, if jade is not exactly your thing but you'd still like to bring home something which is more closely related to the culture of Hong Kong, then definitely pay a visit to the many Chinese antique markets in Cat Street, around the central region of Hong Kong island. Here, you'll find plenty of trinkets that are modelled after Chinese antiques, from Ming dynasty-style furniture, to calligraphy brushes and ink stones, and even to actual antique decorative statues!
A word of caution is necessary, though. Some merchants will attempt to convince you that their wares are legitimate treasures from the age of dinosaurs even though they were probably made in a factory 100 metres away. So, unless you have someone who knows how to appraise genuine artefacts from fakes, maybe stick to less expensive souvenirs just to be safe.
Then again, it's not exactly easy to transport a 500-year-old vase home anyway, so maybe a nice Chinese painting with poetry on bamboo would be more appropriate. I personally recommend an ink stone engraved with a meaningful character. Culture and a touch of sophistication, anyone would be impressed!
9. Souvenirs to munch on
But of course, when all else fails, just get an edible souvenir! There are multiple shops in Hong Kong that only sell packaged/boxed snacks. These range from locally baked pastries to international munchies like the infamous Korean Honey Butter products.
You'll often find these stores in most shopping malls or even on the streets of the Mongkok tourist hotspot. I can't really make a recommendation here because they all taste amazingly good! Heck, even some of the instant noodle packets are amazing, with real (I will assume it's real because otherwise, it becomes disturbing) pieces of meat in them!
So, as many would say, when all else fails, the key to happiness is through one's digestive tract. Or something like that. Bottomline: good food never fails, especially ones that come in nice packaging.
And there you have it! Nine souvenirs to bring back from Hong Kong that will excite and please your friends and family. So skip the fridge magnets and other disappointingly generic stuff the next time you're in Hong Kong and shop to impress!