The Northernmost of Japan's four main islands, Hokkaido is framed by three seas: the Japan Sea, the Pacific Ocean, and the Okhotsk Sea. However, beyond its beautiful coastline and deeper inland, Hokkaido offers breathtaking nature, with quaint towns and cool festivals to boot.
Hokkaido is often not the prime choice for travellers deciding on their first travel destination in Japan. Most travellers coming to Hokkaido have already trawled the streets of Tokyo, visited numerous temples in Kyoto, and feasted on the famous okonomiyaki in Osaka. What they are looking for next is a different experience in Japan – and that is exactly what they can get in Hokkaido.
My trip to Hokkaido wasn't a long one, but nonetheless, it offered me an immersive experience that revealed Hokkaido's best characteristics. At the end of my trip, I could confidently attest to the many reasons why everyone should visit Hokkaido. These top reasons quickly made me a Hokkaido convert, and they may easily make you one as well:
1. The changing sights and activities each season
Perhaps you've heard of the Sapporo Snow Festival, a one-week event held each February that draws visitors from Japan and beyond in the millions – yes, 2.6 million in 2017, to be exact. During this festival, massive pieces of artwork sculpted from snow and ice are scattered across the winter wonderland and illuminated at night. This festival is so famous that it is almost synonymous with Hokkaido. While its popularity often steals the limelight from other attractions on Hokkaido island, it remains a compelling reason to plan a visit.
Beyond winter though, after the hype of the Sapporo Snow Festival dies down, a host of incredible sights unravel. In spring, the 3,000 cherry trees along the seven-kilometre Nijukken Road in Shinhidaka start blooming, forming a pathway of pastel pink. It culminates with the Shizunai Cherry Blossom Festival where visitors come to marvel at nature. In summer, the lavender fields turn a deep purple flanked by stretches of summer flowers in yellow, orange, and red. This stunning scene can be viewed in the town of Furano.
In autumn, as colourful leaves adorn the trees, salmons migrate upstream by the masses, swimming from the ocean to their birth rivers in order to spawn. I viewed this phenomenon along the Tokachi River, and other viewing points include Chitose River and Toyohira River.
To put it simply, Hokkaido is a year-round destination, and it's easy to be compelled to come and experience every single season in Hokkaido. Four trips in a year? Count me in.
2. The volcanoes and hot springs
Twenty volcanoes on just one island – that's Hokkaido. And where there is substantial volcanic activity, there are also hot springs! Take your pick from a huge spectrum of hot springs, from outdoor baths in the mountains to rooftop pools in hotels.
The most famous onsen in Hokkaido is the Noboribetsu Onsen, which offers a selection of nine types of thermal water – a "hot spring department store," indeed! Each has its unique healing effect with its combination of rich minerals such as sulphur, salt, and iron. To complete the experience, don the yukata before stripping bare and soaking for hours.
Personally, I had the great opportunity to stay in the Tokachigawa Onsen Daiichi Hotel, located in the suburbs of Obihiro. It has two levels of onsens within the property, with both indoor and outdoor pools, and its amber-coloured hot spring waters are commended to have moisturising qualities. To top it off, I had my own private semi-outdoor onsen which faces the Tokachi River attached to my room!
If that isn't enough onsen-dipping for someone, located near the hotel is the Garden Spa Tokachigawa Onsen, a hot spring facility which is complete with restaurants, a bakery, and a grocery shop. Entry to the spa costs ¥1,500 (S$18), with free bath towel and bathing wear rental, which is quite affordable for what can be a half- or full-day activity!
3. The beautiful lakes and gardens
If I have to pick one reason to come back to Hokkaido, its scenic landscape would be top on my list.
My first encounter with the stunning lakes in Hokkaido was with the one just opposite my hotel in Akan. From the window of my room in New Akan Hotel, Lake Akan beckoned with its endless stretch of stunning blue. This is a lake which holds mystical secrets in the form of marimo, which are mysteriously huge and spherical moss balls – a phenomenon seen nowhere else in the world.
More picturesque lakes dot the island, but none caught my heart as much as Lake Toyoni, a heart-shaped natural lake in the untouched wilderness near Erimo Town. Helicopter tours* are available every autumn and the flight will manoeuvre you around the lake for a panoramic sightseeing tour. I took the ride in early October, as the reddish-orange autumn tinge started to crawl upon the trees. The picture above says it all. *Helicopter tours are TBD next year. 
On top of beautiful lakes, Hokkaido also has gorgeous and ever-changing gardens. There's even a 250-kilometre Garden Path which connects Daisetsu, Furano, and Tokachi. I visited two of the eight gardens along this tour route: Shichiku Garden and Tokachi Hills.
The former was founded in 1989 by the then 63-year-old Akiyo Shichiku who wanted to beautify Hokkaido with the bloom of wildflowers. True to her vision, Shichiku Garden is host to a mind-boggling variety of flowers (2,500 kinds of them), and each step through the garden will treat you to a mesmerising floral bonanza. The views in Tokachi Hills are similarly astounding, with fountains and ponds, a rose garden, a blueberry farm, and buckwheat fields. For lunch, stop by the Farm Restaurant Viz which serves up Hungarian-fusion dishes, as well as steaks, beans, and salads.
4. The dairy products and confectionary
Here's what you'll realise soon after arriving in Hokkaido: the confectionery is divine! I don't even know where to begin – the melt-in-your-mouth Shiroi Koibito biscuits, the crunchy Jaga Pokkuru made from locally grown potatoes, the Marusei Butter Sandwich slapped on with white chocolate and raisin – the list goes on. Many famous national confectionery makers are based on the island because of the high-quality dairy found in Hokkaido. Other than sweets, Hokkaido's cheeses, yoghurts, and ice creams are pretty much guaranteed to be delicious, too.
5. The seafood, beef, and deer meat
Fresh seafood is in abundance in Hokkaido. Think beyond sushi and sashimi, and take your pick of sea urchins, crabs, scallops, tuna, salmon, and oysters cooked to perfection. The menu changes depending on the season, and you can indulge in seafood prepared in a variety of ways. When in Sapporo, head to the restaurants near the Nijo Fish Market or Sapporo Curb Market to find all your seafood meal options.
Aside from seafood, look for the famous Hokkaido brand Wagyu which is tender and juicy, with perfect texture and firmness. You can enjoy it as a steak, chargrilled, barbequed, with curry, or hot-pot style with sukiyaki.
As for me, instead of trying the typical Wagyu beef shabu-shabu, I sampled deer meat shabu-shabu in Amaya, a restaurant in the city of Shinhidaka. Deer meat is common in Hokkaido and as compared to beef and other meats, it is low in fat and high in nutritional value and iron content. It's delicious, too, so do try it.  
6. The Ainu culture
The indigenous people in Northern Japan are known as Ainu and most of the descendants are found in Hokkaido. The history and culture of the Ainu are intriguing – this is a group that is deeply spiritual and lives harmoniously with nature.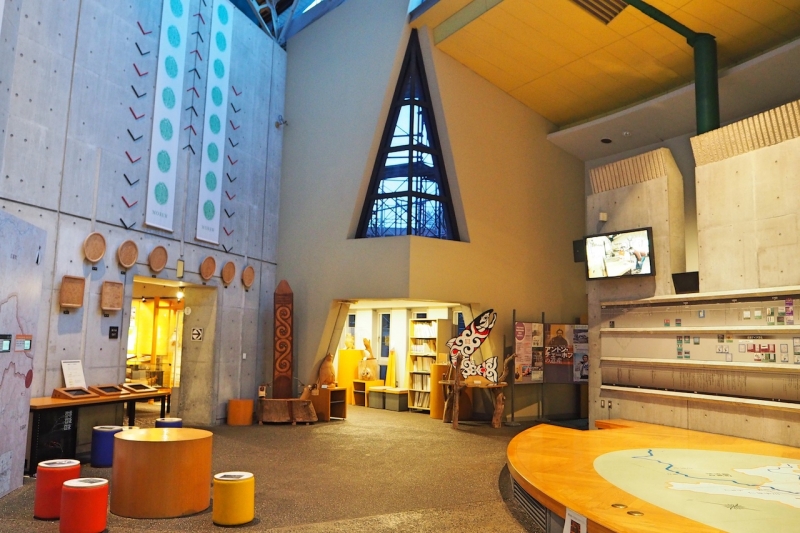 During the Meiji Era, Japan imposed an assimilation policy which caused much of the language and tradition of the Ainu people to be lost, but in recent years there has been expanding efforts to gather and preserve the remnants of this centuries-old culture. One such place which educates visitors on the Ainu Culture is the Nibutani Ainu Culture Museum in Biratori. This museum showcases a collection of over 10,000 items related to everyday life, spiritual life, agriculture, hunting, and transport.
Other than Biratori, you can also experience a glimpse of Ainu culture in Akan. Be sure to catch the mesmerising Ainu Traditional Dance, a form of folk cultural asset, in the Lake Akan Ainu Theater Ikor. Other than dance performances and puppet plays, in the Ainu Kotan area you'll find the site of the Iomante Fire Festival and Ainu cultural programs.
7. The Hokkaido horses
Spectacularly fast, strong and elegant racehorses have been born and bred in Hokkaido. This prefecture is known as a famous horse producing location due to its ideal climatic conditions.
The best area in Hokkaido to get up close to horses would be the Hidaka Subprefecture, the hometown of racehorses with almost 900 ranches. For the full experience, stay in the Urakawa Yushun Village AERU which is located right next to the JRA Hidaka Training Farm. The hotel property offers instructor-led horse riding and trekking, and those who stay there can join an exclusive tour of the horse-training facility to witness first-hand the methods employed to rear a world-class racehorse.
In the nearby Tokachi Subprefecture, the one-of-a-kind Ban'ei horserace held at the Obihiro Racecourse will show spectators the sheer strength and endurance of the draft horses that Hokkaido is capable of producing. Along the 200-metre racetrack, the horses pull sledges with a jockey and weight slabs on it which add up to hundreds of kilograms. This is a slow race, but one that is still fuelled by adrenaline, especially if you decide to put a bet on the horses!
See you in Hokkaido!
That rounds up seven of my top points for visiting Hokkaido. Aside from Hokkaido's infamous white season, when you can look forward to skiing, snowmobiling, walking on drift ice, and riding an icebreaker ships, the green season offers its fair share of equally enthralling activities. These include bird-watching, hot air balloon rides, canoeing, fruit-picking, and more.
If you're not already checking flight prices to Hokkaido, I don't know what you're waiting for.
---
Special thanks to Asatsu-DK Singapore and Hokkaido Tourism Organization for giving me the opportunity to experience Hokkaido on a media trip!