Ah, Bangkok, the City of Angels!
Bangkok is where you'll find modern, air-conditioned malls sitting alongside traditional village homes, and busy streets lined with streetside hawkers overlooked by ritzy sky-high rooftop bars. Indeed, aside from being a bustling city full of peacefully coexisting contradictions, Bangkok is a place where you'll find everything you need and more.
When you're in town, Pratunam is THE place to be! It is one of Bangkok's most vibrant and colourful areas – well-known for its wholesale shopping spots, street markets, and popular local food places. You're probably overwhelmed by the sheer number of travel articles on this popular backpackers' destination, or maybe still clueless about what to expect. Fret not, here's the one-stop guide on where to shop, where to eat and what to do in the district that never sleeps!
Where to Shop?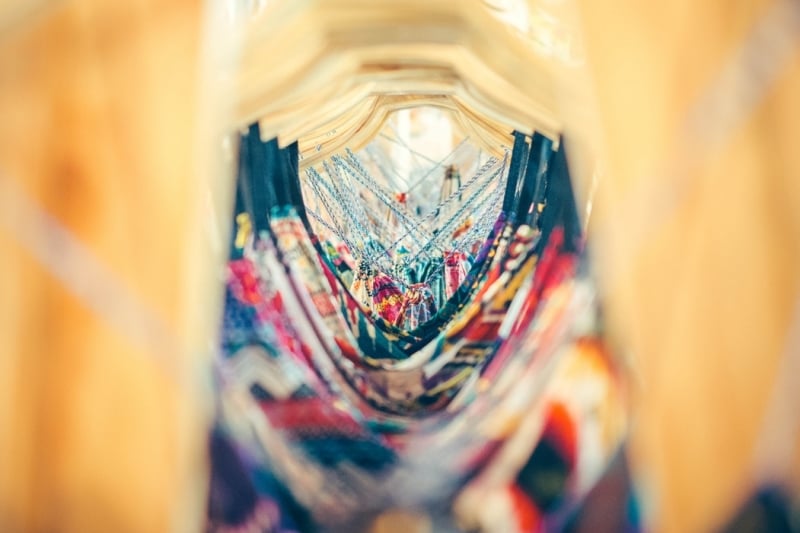 Bangkok is a true shoppers' paradise! Ranging from the things you need to the latest must-haves, you can spend days at Pratunam's best shopping spots and still not be done.  Pack really light when heading to Bangkok – you're gonna need all the luggage space to lug your loot home!
Especially for ladies, this is THE place to be if you are in serious need of a total wardrobe revamp. Here are 7 specially curated spots in Pratunam to get that much needed retail therapy!
1. Platinum Fashion Mall
As the name suggests, this shopping mall is THE fashion capital of Pratunam, perfect for those looking to deck themselves from top to bottom in the latest fashion trends. If you plan to do some intense shopping, a day will not be enough to cover even a fraction of the mall's 2000 shops! From Korean-inspired fashion to oversized-fit clothing and pretty chiffon dresses, you need not worry about finding a style that suits you.
Fun Fact: Each floor is named after well-known shopping districts around the world such as Orchard, Oxford, and Ginza! Unlike Chatuchak or Pratunam Markets, the shops in this mall are more organised and you can shop in air-conditioned bliss.
Also, since it is a wholesale shopping mall, be assured that prices here are low and affordable. Bad advice for your wallets but don't hesitate when you see something you like. Chances are you will be confused amidst the dizzying array of shops and might not find the item again (true problems of those who've been there).
Note: You would probably not be allowed to try clothes in many stores so have your measurements ready in order to best gauge your size. A tip to get the most bang out of your baht? Buy three pieces or more! Most shops will offer you a discount if you buy more and they may also allow you to mix various types of items from tops to bottoms and bags.
Address: Petchburi Road, Thanon Phetchaburi, Ratchthevi, Bangkok (10-minute walk from either Ratchathewi or Chidlom BTS Skytrain)
Opening Hours: Daily, 10am to 10pm
2. Pratunam Market
What's Pratunam without Pratunam Market itself? It is truly a cultural immersion into the local way of life. From stall vendors pushing their carts swiftly up and down the narrow alleyways, to tailors working speedily on their sewing machines, the experience will surely perk your mind and senses.

Pratunam Market subtly maintains the traditional feels of what shopping used to be like before the influx of air-conditioned malls. It has a certain charm that comes about due to one thing – that it is not well-known among tourists. Although most would prefer the modern malls, Pratunam market is a hidden gem waiting to be discovered.
Amble along the small streets and get lost in an intricate maze of shops. From bags and shoes to evening dresses and T-shirts screaming "I <3 Bangkok", you will definitely find items that you fancy. There is undoubtedly enough apparel here to clothe an entire army (or two)!
Address: Intersection of Ratchaprarop and Petchburi roads to Ratchaprarop Soi 3
Opening Hours: Daily, 10am to 9pm
3. Talad Neon Downtown Night Market
If there's one thing to look forward to during a trip to Bangkok, it would be to bask in the bustling atmosphere of the night markets. After its opening in December 2016, Talad Neon is the latest hipster night market haunt right in the heart of Bangkok (more reasons to stay in Pratunam!). Operated by the same group behind the successful Platinum Fashion Mall, this market has been swiftly making its rounds on social media.
Talad Neon is headed by a young generation of Thai entrepreneurs who sure know how to please today's millennials! It is a buzzing hub of vendors hawking unique wares, varying from kitschy kitchen items to retro and hypebeast-worthy fashion to novel food items. Eclectic neon lights and live performances add on to the festive vibe at Talad Neon, distinguishing it from other veteran nights markets such as Chatuchak and Talad Rod Fai.
A couple of unique foods to try include lip-smacking cheese fries from Friend Cheese, coloured jello drinks (to which you can add a shot of vodka!) and the Joke Ribs (pork ribs coated in special secret seasoning). After a long day of shopping, pamper your weary little feet with a much-needed foot massage at the double-storey massage parlour within the premises!
Address: 1087 Khwaeng Makkasan, Khet Ratchathewi, Krung Thep Maha Nakhon 10400, Thailand (Opposite Berkeley Hotel, 15-minute walk from Platinum Mall, or take a free tuk-tuk service between Platinum Mall and Talad Neon)
Opening Hours: Thursday to Sunday, 5pm to 12mn
4. The Palladium World Shopping
Located at the corner of Phetchaburi Road and Ratchaprarop, Palladium World is a newly renovated shopping mall home to many stores selling clothing for 100 baht or less! It follows a bazaar type of layout, but its walkways are wider and shops more spacious. However, don't expect the most trendy of fashion styles – this mall is known for basics like T-shirts, shoes and beach wear.
Strewn throughout the mall are numerous massage parlours hawking quick traditional Thai massages for you to recharge after a whole afternoon of shopping. If you're looking for special novelty items like jewelry, be sure to visit The Grand Silver Jewelry, which is known as one of the best jewellers in Bangkok.
As night approaches, the area in front of Palladium World comes alive with a mini night market. You can find several street vendors selling cute trinkets and scrumptious snacks and occasionally, activities such as fashion shows and dance competitions to keep you entertained!  
Address: Petchburi Road, Pratunam, Ratchathewi
Opening Hours: Daily, 9am to 8pm, Night market from 7pm onwards
5. Big C Supercentre
Calling all food-lovers, this shopping spot in the Pratunam neighbourhood is just for you! Patrons who visit this hypermarket usually load up on Thai-inspired snacks, tidbits and even cooking pastes. It is also very easy to buy items in bulk here as they have ready-packed boxes on their shelves.
Craving for authentic Thai Milk Tea to get your Cha Yen fix? Don't despair, stock up on Nestea's 3-in-1 Cha Yen sachets from Big C! Salivating as you think about the scrumptious Pad Thai you had at the street markets? How about trying your hand at making your own! You'll be able to find many various types of Thai cooking pastes and Pad Thai spice pastes that will transport you back to Thailand in the comfort of your own kitchen.
Take your time to browse the aisles of the massive supercentre, and load your shopping cart with unique made-in-Thailand Pretz snacks and Thai instant noodles. You can also get pretty much everything else here, including clothes, accessories and toiletries. Remember your limited luggage space though!
Address: Ratchadamri Road (opposite Central World, nearest BTS station is Chidlom)
Opening Hours: Daily, 10am to 11pm
6. Shibuya 19 Shopping Mall
Enter the new kid on the Pratunam Block! Shibuya 19 Shopping Mall got its inspiration from the world-renowned Shibuya 109 Mall in Tokyo. Each floor in the mall is named after a popular district in Tokyo, equipped with loudspeakers blasting J-pop music as you enter. Almost similar in style to Platinum Fashion Mall across the road, Shibuya 19, however, is less chaotic and offers a more relaxed shopping experience.
Here you can find many stores selling fabric, rainbow prints, funky T-shirts, cute handbags and chiffon dresses and a plethora of accessories at unbelievably low prices! Bargaining is de rigueur but you usually have to buy multiple pieces to receive a discount. The Pratunam district is indeed a shopping haven for those seeking a great deal, and Shibuya 19 just adds on to the list of reasons why you should visit Bangkok!
Address: Phetchaburi 19, Pratunam (Opposite Platinum Fashion Mall, 10-minute walk from Ratchatewi or Chit Lom BTS Station)
Opening Hours: Daily, 10am to 6pm
7. Baiyoke Tower II
Compared to Pratunam Market, Baiyoke Tower II offers a wider plethora of indie clothing choices for men! The second basement level houses many stores selling printed T-shirts – think cartoon characters, football club logos and rock band emblems. Bags, beaded necklaces, hats, and belts can be found on the fourth floor.
Address: 222 Ratchaprarop Road, Bangkok
Opening Hours: Daily, 10am to 10pm
Where to Eat?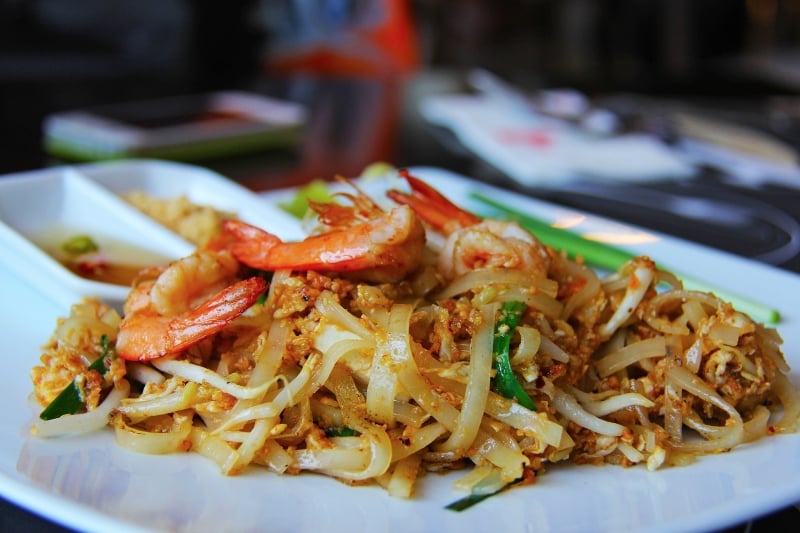 These are common sights in the world's street food capital: stinging lashes of red chilli, waves of aromatic spices, hot woks, and raging flames. The best Thai restaurants and eateries found in Pratunam might not be the best in all of Bangkok, but they promise you flavours that are uniquely Thai.
From fancy rooftop restaurants to budget-friendly street food and snacks, there is an incredible array of food to keep your tummy satisfied. Be sure to discover some of the best eats in the pulsing heart of Bangkok right after your shopping sprees!
1. Platinum Mall Food Court
Platinum Fashion Mall's food court has some of the city's highly raved about dishes within its premises on the 6th floor! Some of the city's famous hawkers were actually invited to set up stalls here. Clean and air-conditioned, the foodcourt is patronised by locals and tourists alike due to its reasonably low prices.
Some recommended dishes that you should try are the Stewed Beef Claypot Noodle (from Stall No. P17) and the Fried Omelette (Stall No. P13). The former features a flavoursome broth, with a perfect balance of spiciness and herbal goodness. The beef is absolutely tender that it literally disintegrates when you take that first bite. The omelette is cooked until crispy and golden brown with a choice of prawns, mussels, oysters or even a mix of all three. Be sure to add their special sweet sauce for the additional kick!
Address: 222 (Pratunam) Petchaburi Road, Ratchathevee, Bangkok, Thailand
Opening Hours: Daily, 10am to 10pm
2. Lung Pratunam Boat Noodles
Aren't Boat Noodles the perfect post-clubbing food? Well, get your fix of authentic Boat Noodles with a can of Thai beer in Pratunam at this humble eatery. Lung Pratunam serves delicious noodles and is located right beside the canal at Phetchaburi Road.
You will notice that the place is constantly filled with hungry foodies slurping down bowl after bowl. The secret behind the broth's intricate flavour depth is pig's blood! Don't forget to top your noodles off with some crispy fried lard and pig's skin.
Address: 942 Phetchaburi Rd, Khwaeng Makkasan, Khet Ratchathewi, Krung Thep Maha Nakhon 10400, Thailand
Opening Hours: Daily, 8am to 5pm
3. Kuang Heng Kaiton Pratunam
Let's be real, Bangkok's Chicken Rice will never be comparable to Singapore's Hainanese Chicken Rice. But if you are in Bangkok and craving for a plate of comfort food, Kuang Heng Kaiton's khao man gai (chicken rice) will do the trick!
This eatery is a classic favourite in Bangkok for both locals and tourists. Their dish features fresh, succulent and glistening strips of chicken, set atop fragrant rice with hints of garlic and cucumber garnish.
However, this open-fronted shophouse does not have air conditioning, so be prepared to feel a little stuffy as you dine along the roadside. The shop is usually abuzz with loud chopping and ordering, but don't let that overwhelm you!
Address: Corner of Petchburi Soi 30, Bangkok
Opening hours: Daily, 5.30am to 3pm and 5pm to 3am
4. Chili Hip Bangkok Restaurant & Walk Bar
Feeling a little fancy? With a chic rooftop location, elegant decor, laid-back vibes and excellent views of the city, Chili Hip Bangkok Restaurant is the place to go! Located on the 20th floor of Centara Watergate Pavillion Hotel Bangkok, this famed restaurant is known for its value-for-money food and drinks. Frankly speaking, this can arguably be the cheapest rooftop dinner experience that you can get in the prime location of Pratunam.
Enjoy a night dining alfresco, and bask in the soft buzz of the city below as the sun sets over Bangkok. The bright lights of the city all around you will surely make your dining experience a memorable and mesmerizing one!
Be sure to try some of their signature dishes and desserts, such as tom kha ghai soup, duck-stuffed ravioli as well as the raved about Chili Dome chocolate mousse. Don't miss their fusion cocktails from Walk Bar that feature unique flavours. Their Red Chili Mojitos and Tom Kha Martinis are sure to give you that extra, unexpected kick! Chili Hip also has its own events calendar with DJs performing on Friday and Saturday nights. Get grooving with that martini in hand!
Address: 487/26 Phetchaburi Road, Pratunam
Opening Hours: Daily, 5pm to 11pm
What to see and do?
1. Baiyoke Tower Observation Deck
Opened in the late 1990s, the mighty Baiyoke Tower is almost synonymous with the Pratunam Area. At a towering 340m high, you surely cannot miss this landmark which dominates the Bangkok skyline.
Need a short respite from the chaotic streets of Bangkok? Head up and get spectacular birds' eye views of the lively city from the skywalk on the 77th floor, or the revolving observation deck on the 84th. Although the tower might not be ritzy and glamourous from initial impressions, the views will nevertheless make up for it.
The skywalk features large display windows all around, offering you uninterrupted sights of the city. Coin-operated viewing scopes are also available for you to spot other famous landmarks and the major highways sprawling below.
Address: Ratchaprarob Soi 3, Pratunam
Opening Hours: Daily, 10am to 10.30pm
2. Suan Pakkad Palace
Translate Suan Pakkad, and you'd probably get the result "cabbage patch". The land, that the Palace now sits on, was formerly one. Today, it is a beautifully landscaped garden with tranquil ponds nestled among eight traditional Thai houses. Each of these houses contains a wide array of fine artworks and antiques belonging to Prince and Princess Chumbhot of Nakhon Sawan. Some prominent oddities include the Gong Wong Yai, a percussion instrument with 16 metal discs as well as a Portrait of King Rama V.
The Lacquer Pavilion sitting at the back of the Suan Pakkad Complex dates back to the Ayutthaya period and features intricate gold-leaf Ramayana murals as well as scenes of daily life in the kingdom. Be sure to spend some time wandering the premises of this often overlooked treasure in Pratunam.
Address: 352-354 Sri Ayudhya Road
Opening Hours: Daily, 9am to 4pm
With this one-stop essential guide to Pratunam, you're all ready to experience the best of this lively district. Shopping remains the most popular mainstay activity in Pratunam, so don't be surprised if you find yourself being one of those visitors lugging multiple bags of purchases back!