Greece is one of those places that is hard not to love. From the friendly locals to the delicious food – they can't get it wrong. The Greeks are the gods of cooking and the amount of pride and passion they put into their food is like no other culture.
I have always been a lover of Greek cuisine, and after visiting this beautiful country and tasting some of the most divine dishes, I can rest easy knowing it lives up to all expectations and more! It's a foodies' heaven for all food lovers!
Also read: 5 Reasons Now is The Time to Travel to Greece
Souvlaki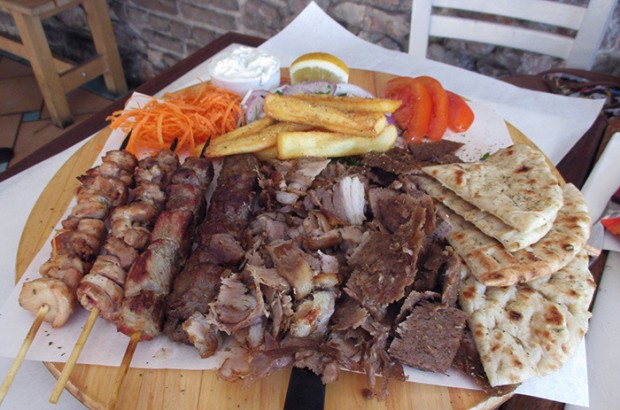 This was a tasting plate I shared in Athens!
This is probably one of the most popular and favourite (fresh) fast food options that can be found throughout Greece – and it's sold everywhere! Greeks are the masters of grilled and spit-roasted meats. Made fresh and wrapped in warm homemade pita breads with the choice of gyros and skewered meat versions with onion, tomato and lettuce and lashings of tzatziki dressing.
It's a perfect travel fix to fill you up for all the walking and sightseeing you will be doing. Oh, and its ridiculously cheap too!
Moussaka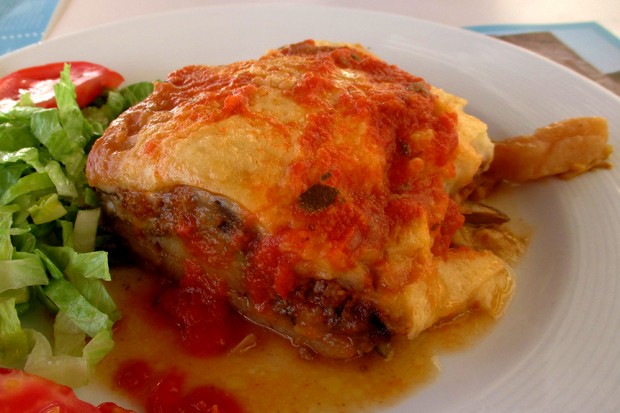 One of the more classical and recognised Greek dishes, Moussaka, is an oven baked casserole with layers of eggplant, cheese, potato, meat filling (usually lamb) and topped with béchamel sauce. Many restaurants will do different variations of it but all in all, it's a beautifully warm and homely dish that you can never get sick of – well I certainly didn't!
Baklava
The baklava picture above was a mini one I bought from a bakery in Mykonos with pistachio nuts.
No one does Baklava like the Greeks! If sweet desserts are your thing, this dessert is one you should try– some of the local bakeries sell an interesting selection (think pistachios, cherries and almonds throughout the filling).
Dolmades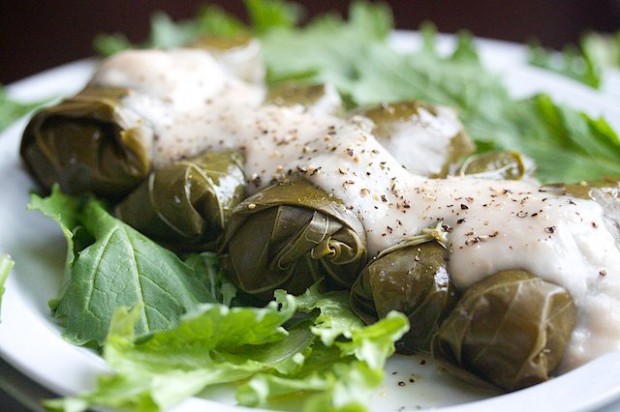 Image credit: myinspiration.tv
Dolmades are small vine leaf wrapped rice parcels. Eaten as a finger food or entrée, and are stuffed with long grain rice, toasted pine nuts, fresh herbs and seasonings.
Spanakopita (Spinach Pie)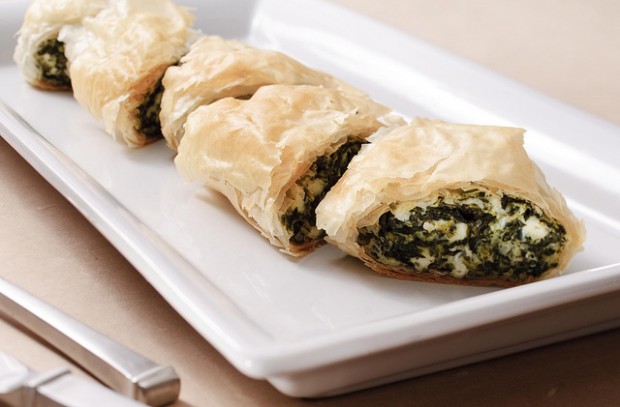 Image Credit: Sodexo USA
I found Spanakopita in many, many bakeries and local cafes, so I knew I had to give it a go.  It's basically pastry sheets with lots of spinach and feta cheese filling and you can buy it as a pie or in individual triangle or square pieces. I definitely have a fond memory of eating of these outside a café in Athens!
Tzatziki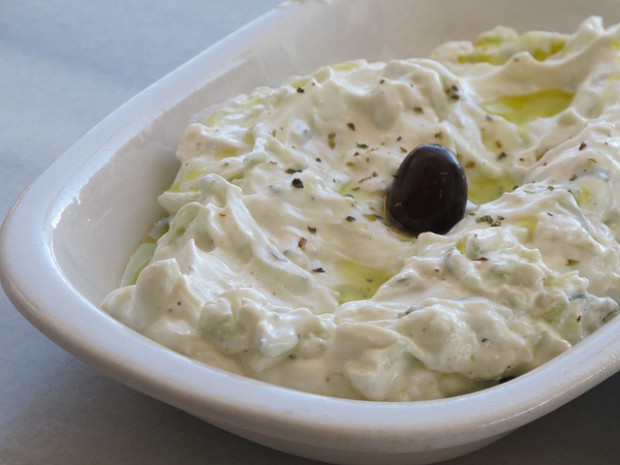 Image Credit: Wendy
A tangy and delicious cucumber, yoghurt, mint and garlic dip that is accompanied with grilled meats, vegetables and served alongside warm pita breads for dipping and also used in souvlaki. You won't go to Greece without coming across tzatziki in some way or another.
Greek Salad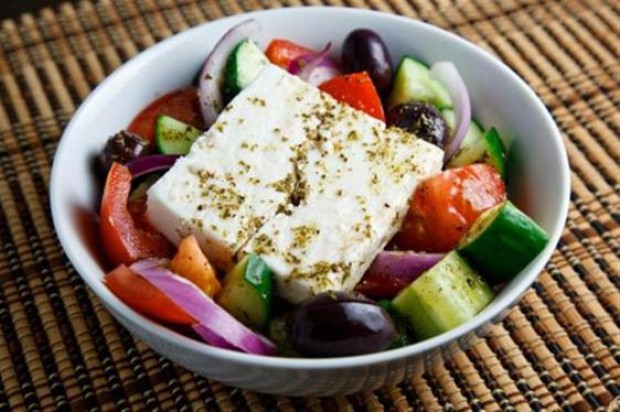 Image credit: Fruit and Cake
I love how Greek salads are done here, with a massive slab of feta cheese placed over the top of the salad. It is a super light, fresh and tasty meal and of course vegetarian.
Kleftiko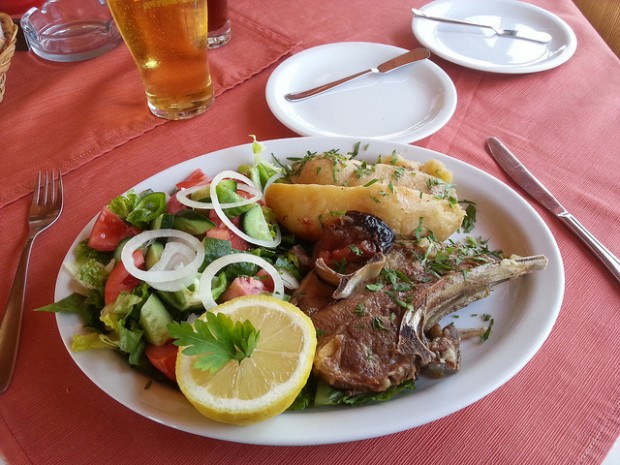 Image credit: Michael
A popular dish on the Greek Islands, Kleftiko is lamb on the bone, slow baked with vegetables. It would be hard to come across a restaurant that doesn't have this on their menu.
Courgette (Zucchini)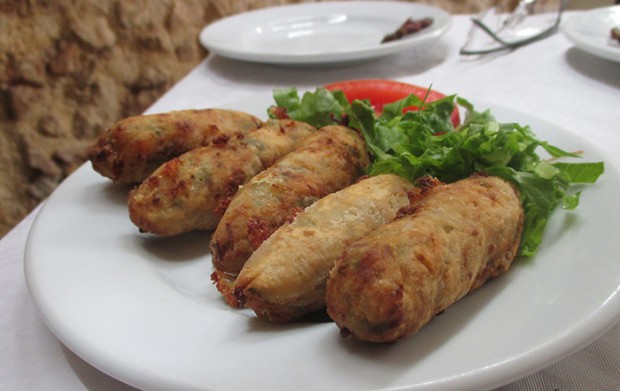 Zucchini in the form of chips or stuffed zucchini…is gonna be delicious and you must try! I had a few varieties of stuffed Courgette which was DELICIOUS! The one pictured below was lightly fried on the outside but made of grated or pureed zucchini, dill, mint and cheese – perfect for a starter/entrée meal.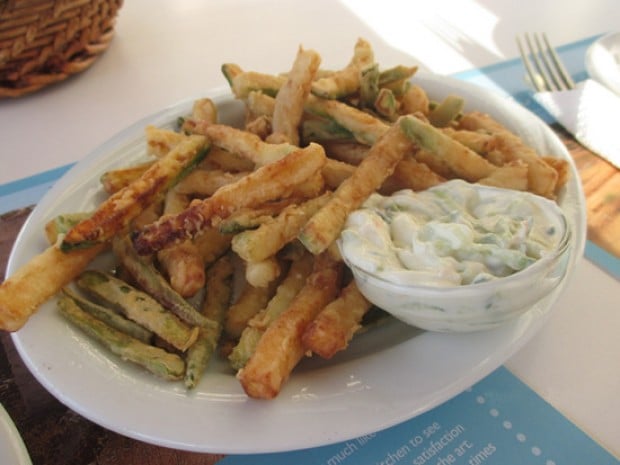 And of course, Zuchini chips dipped in Tzatziki!
Greek sweet and savoury pretzels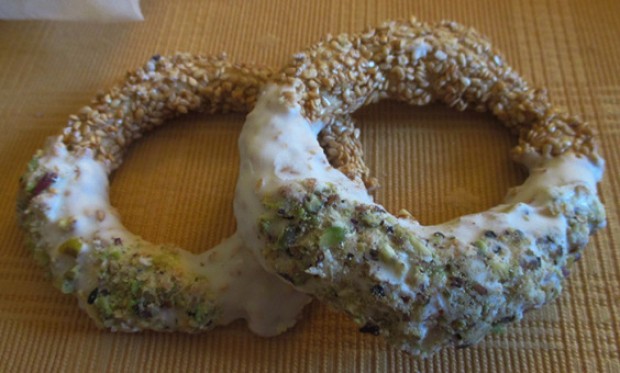 I LOVE browsing through all the Greek bakeries I found and drooling over all the treats on display. There is seriously so many things to look at! I bought these little pretzels in Athens for only a few Euro and they were without doubt some of the most tasty pretzels I have ever eaten. The ones pictured below were coated in yoghurt, seeds and nuts, however there are also savoury ones (that I did try also) with a soft cheese filling!
Stuffed Aubergine
Aubergine (eggplant) is a very popular ingredient and is a stable in many Greek dishes, in fact you will see it written on menus dozens of times. Stuffed Aubergine is kind of like Moussaka with similar ingredients only different presentation.
Keftedes (Tomato Meatballs)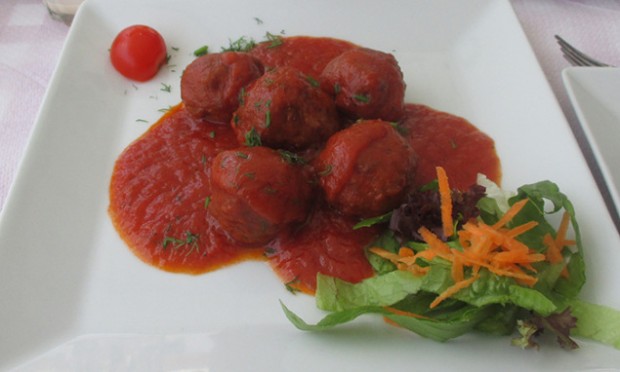 Also known as Keftedes, these are no ordinary meatballs – they are Greek style meatballs. Full of flavour, herbs and spices accompanied with homemade tomato sauce garnished over the top. It's astounding how much flavour they can get into small meatballs!
Local cheeses, fresh olives and pitas
Feta cheese originated here so it almost seems mandatory to have a taste of their creamy feta cheeses, plus other types that are locally produced. Many restaurants will serve a trio of dips and spreads, pitas, olives and a cheese board as an appetizer; otherwise supermarkets are cheap to buy your own ingredients.
Also read: 10 Underrated Islands in Greece that Looks Like Paradise
Salantourmasi (Stuffed Onion)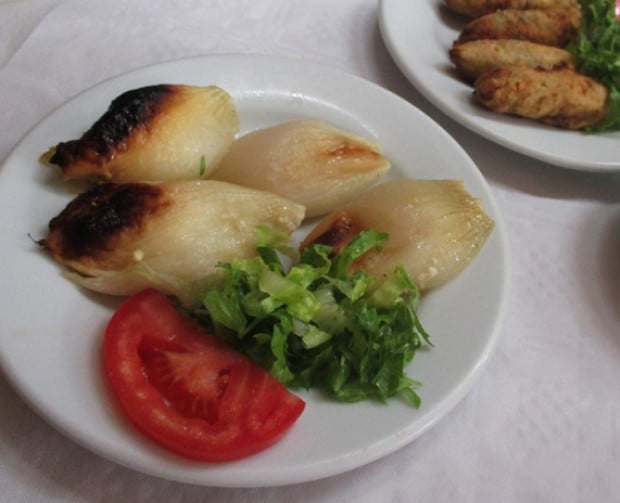 Interesting little entrée dish I had in Chania, Krete. Never before I have ever eaten stuffed onion! They were baked until soft and filled with three cheeses and herbs.
Stifado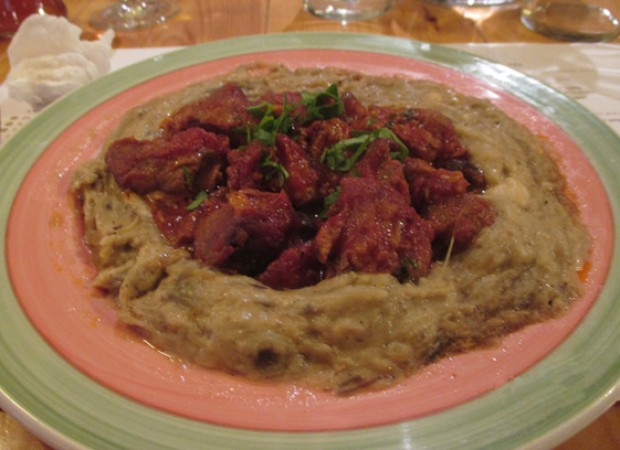 While I was in Crete, I noticed slow cooked meats and hearty soups were popular items on menus there. Although not overly appetising, the image pictured was tender cubes of veal, slowly cooked in a red wine sauce and on an eggplant puree – yum! I was even guilty of ordering it two nights in a row (which doesn't happen often).
And if you're strapped for time…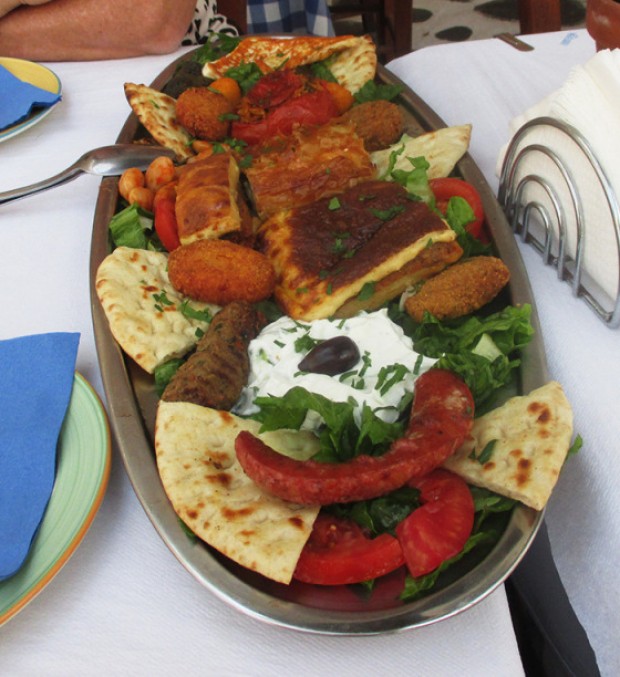 If you ABSOLUTELY want to try as much of Greece as you can and are feeling strapped for time or it's even an idea instead of ordering main meals, get a large taster plate to share with two or more people. The plate usually includes a big spread of popular Greek dishes in mini forms, which is a great way to taste test each different element all in one go!
Contributed by Pocketfullofme