Often, when we think of Vietnam, we think of colourful cultural heritage, beautiful historical sites, and a warm, tropical climate. After all, these are things we've come to be accustomed to at popular tourist destinations in the country like Hanoi, Ho Chi Minh, and Halong Bay. 
But what if I told you, contrary to popular belief, Vietnam also has its own winter wonderland? Located in the Hoang Lien Son Mountains of northwestern Vietnam, Sa Pa is an oft-overlooked travel gem that more than deserves a chance to shine. This is especially the case during the winter, when temperatures can drop to as low as single digits. Sometimes, during peak winter season (around late December), you may even see snow! 
Wondering what it's like to visit Vietnam's winter wonderland? Here are some of the things to do in Sa Pa during winter!
Also read: Hanoi or Ho Chi Minh: Which City in Vietnam is Perfect for You?
Hike up Mount Fansipan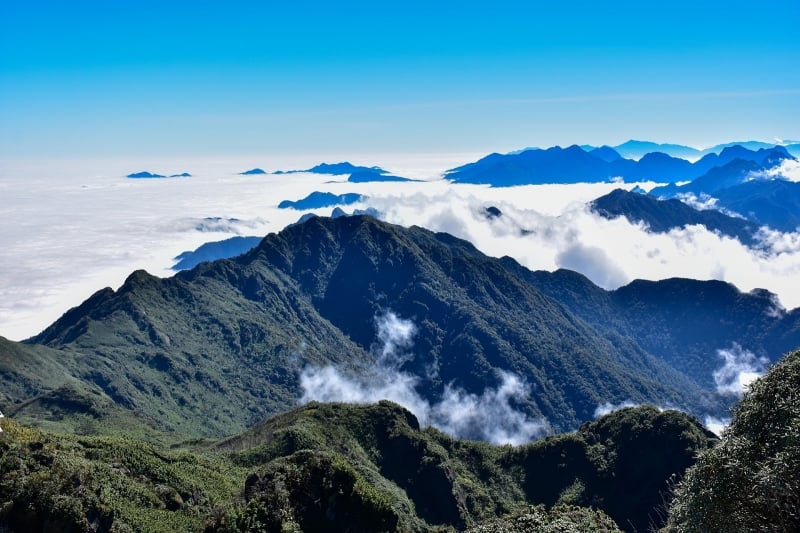 Obviously, the first location that you have to visit in Sa Pa is the unofficial "Vietnamese Alps". With its summit towering at a height of 3,143m above sea level, Mount Fansipan is often referred to as the roof of Indochina. Offering spectacular views for those who would brave the hike, it is easily one of the most impressive mountains in the region! 
Even though conventional wisdom says it's best to go hiking during summer, the best time to trek to the peak of Fansipan is actually between November and March. That's because the winter climate in Sa Pa brings with it dry air, less rain and comfortable trekking weather. 
There are multiple routes that are suitable for hikers of all levels of fitness and experience. In fact, the easiest paths often take less than one day to complete! But even if you're not embarking on an epic multi-day hike, you'll still be able to treat yourself to some magnificent scenery, punctuated by whimsical forests, alluring valleys and a plethora of flora and fauna. 
However, if you don't wish to brave the elements but would still like to experience the beauty of Fansipan, you can simply hop aboard a cable car ride to the top! In fact, you could even say it's one of the must-dos in Fansipan. After all, the cable car, known as the Fansipan Legend, is the highest and longest cable car system in the world! So if you're not up for an adventurous hike, then opt for this magical ride! 
Admire the rice terraces of Muong Hoa Valley
Apart from the majestic peaks of Sa Pa's mountains, another popular tourist attraction is the iconic rice terraces of Muong Hoa Valley. Even though the terraces are at their most stunning during the harvest season (late September), visiting during the winter season also offers plenty of picturesque views, especially after a snow storm. 
After all, the highland terraced rice fields that stretch as far as the eyes can see, coupled with forests blanketed in snow and lovely streams, provide a truly magnificent backdrop for awesome #POTDs! What's more, when you visit, you'll also be able to meet some of the ethnic tribes living in the area and learn about their traditional ways of cultivating rice. 
Enjoy a stunning view from the top of Ham Rong Mountain
Standing at 1,800m above sea level, Ham Rong Mountain is only a little over half as tall as Mount Fansipan. Despite lacking in height, those who are willing to hike to the very top of this dragon jaw-shaped mountain will be able to enjoy a truly mesmerising view: a panorama of the town of Sa Pa and the aforementioned Muong Hoa Valley. 
As you might expect, the hike to the top of Ham Rong Mountain is much easier and can be done in half the time. Along the way, you'll also come across areas which have been converted into flower gardens that house plenty of orchids and other beautiful blooms. While they may not be as stunning in winter as they would be in spring, you'll still be able to savour the cool winter air and treat your eyes to the stunning view at the top. 
Be awed by the beauty of the Silver Waterfall – Thac Bac
About 15km away from the town of Sa Pa and surrounded by pine forests is the ever popular Silver Waterfall, known in the local language as Thac Bac Waterfall. It's called the Silver Waterfall because of the way the water seems to shimmer like silver when it cascades down the jagged rocks. 
Of course, to get the best view of Thac Bac Waterfall, visitors will need to be prepared to work for it. Don't worry, it's not that arduous a journey. However, you will have to climb up a 30-metre flight of stone steps to reach the best viewing spot. It's more than worth it if you ask me. After all, Thac Bac Waterfall is often considered one of the most beautiful waterfalls in Vietnam! What's more, during the winter season, the area around Thac Bac Waterfall is known to regularly see snowfall! 
Explore the Central Town of Sapa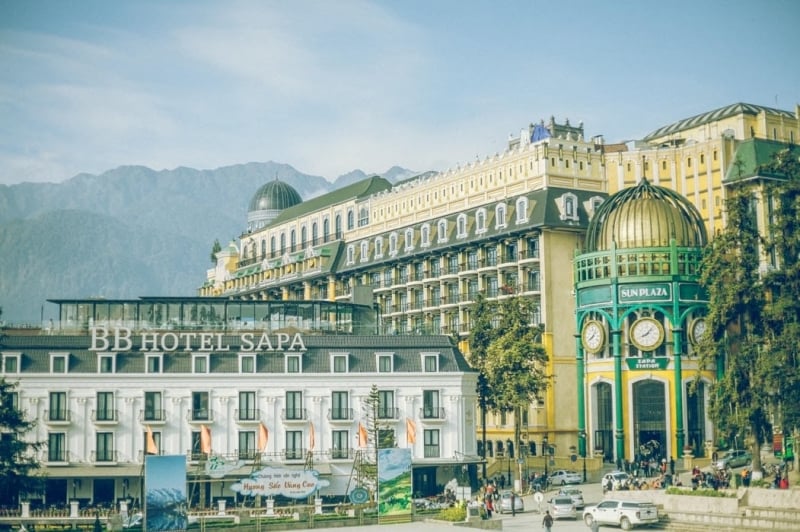 As much as we love exploring the wondrous natural beauty of Sa Pa, we mustn't forget about the charming town centre either! While it isn't as stunning as some of its whimsical natural sights, the ambient town of Sa Pa brings with it its own romantic atmosphere, especially in winter when it is covered by a thin layer of mist. 
Apart from being a nice place for some photos, there are also plenty of lovely locations to visit in the town itself. One such location that you certainly MUST visit is Sa Pa Market. It is here where you can shop for the most unique souvenirs and brush shoulders with the ethnic locals who call the town home. Shop for anything from medicinal herbs and forestry products to even local delicacies. 
However, a word of caution, some of the food sold here is prepared using game meat. So if you're not comfortable with consuming meat like horses, you might want to do a double take before indulging. 
Experience the Culture of Sa Pa's Hill Tribe Villages
Speaking of ethnic tribes in Sa Pa, while you're visiting the area during winter, do take some time for an excursion to some of these authentic tribal villages. Most of them are located in verdant hills outside the main town. They offer visitors not just a chance to discover what life is like for the indigenious tribes, but also a welcome escape into idyllic landscapes.
Cat Cat Village is arguably the most popular ethnic village that visitors often flock to. Belonging to the Hmong people, the village is where you can check out well-preserved traditional houses and yet more stunning terraced rice fields. Other ethnic tribal villages you can discover are Ta Van Village and Sin Chai Village.
Plan a day trip to O Quy Ho Pass
Even though O Quy Ho Pass is some ways away from the central town of Sa Pa (about 18km), it is, in my opinion, a destination that warrants a visit during the winter season. After all, much like Thac Bac Waterfall, this is one of the areas in Sa Pa where it's possible to catch some snow!
Located between the provinces of Lao Cai and Lai Chau, O Quy Ho Pass stretches and snakes around the hills in the area. The path is winding and perilous, but visitors who embark on this journey (usually by motorbike) often come home with nothing but praise for the scenic sights throughout the journey. In fact, many locals even say that during sunset, O Quy Ho Pass looks like an actual painting come to life! 
Also read: The Ultimate Vietnam Travel Guide for a Relaxing Post Covid-19 Getaway!
Exploring Vietnam's winter wonderland!
And there you have it, some of the must-try winter activities in Sa Pa, Vietnam. Before you start planning your trip though, take note that while snowfall isn't something that's completely unheard of in Sa Pa, it is still quite rare to experience a full-blown snowstorm. Regardless, the chilly winter air and the awesome scenery more than make up for that! The only thing left to do now is to start planning out your detailed itinerary!