There is nothing that screams "awesome getaway" better than slurping down a mouthwatering bowl of hot beef noodles in Hanoi to warm you up. Not a foodie? Why not head over to Sapa to trek breathtaking mountains in cool weather?
This might come as a surprise to some, but certain parts of Vietnam, specifically Northern Vietnam, goes through four seasons a year: winter, spring, summer and autumn. Winter in Vietnam usually starts around mid-December, stretching until late March. If you seek a respite from the heat and humidity in Southeast Asia during this period, look no further than destinations like Hanoi, Sapa and Ninh Binh.
With the fun facts out of the way, here's a list of activities to conquer during winter in Northern Vietnam:
1. Visit Hoàn Kiem Lake in Hanoi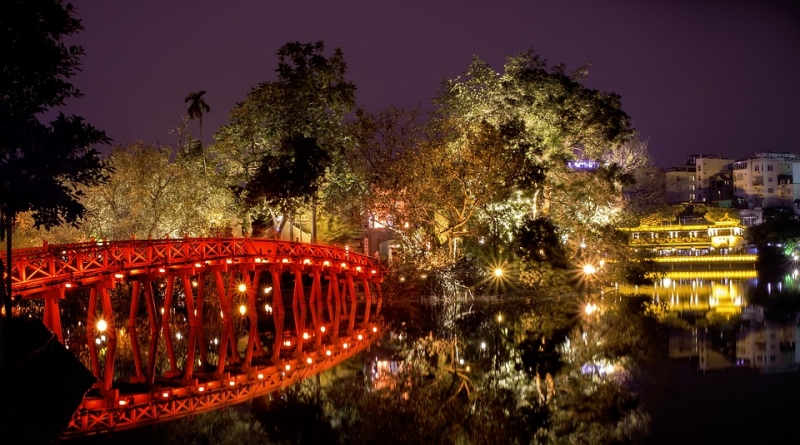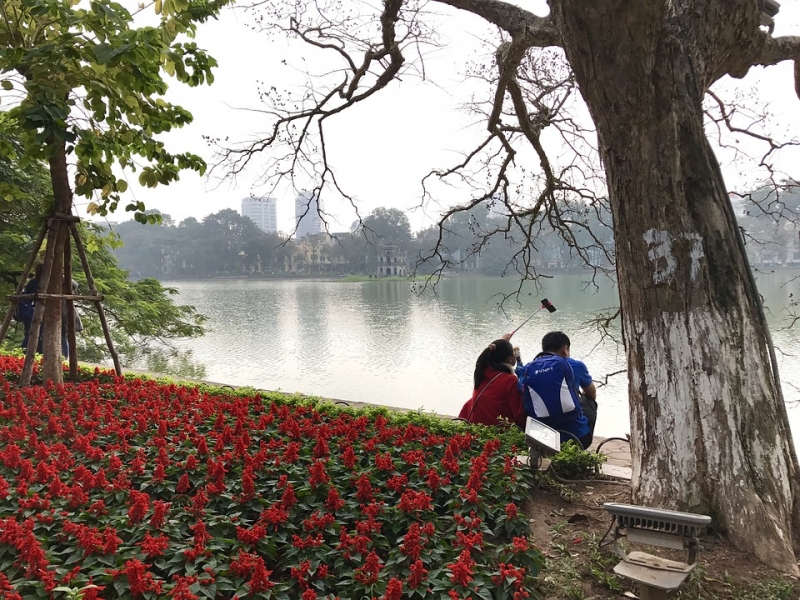 At the heart of Hanoi lies a magnificent lake known as Hoan Kiem Lake. The lake has an instantaneous visual appeal because of its peaceful beauty which is in stark contrast to the chaotic traffic and crowded streets surrounding it.
This is one of the most famous attractions in Hanoi for tourists, and the locals never seem to tire of it too. In the early winter mornings, locals are commonly seen exercising and taking in the cool air. During New Year's Eve, the locals often gather to view fireworks and exchange well wishes. It is also a popular backdrop for wedding photos.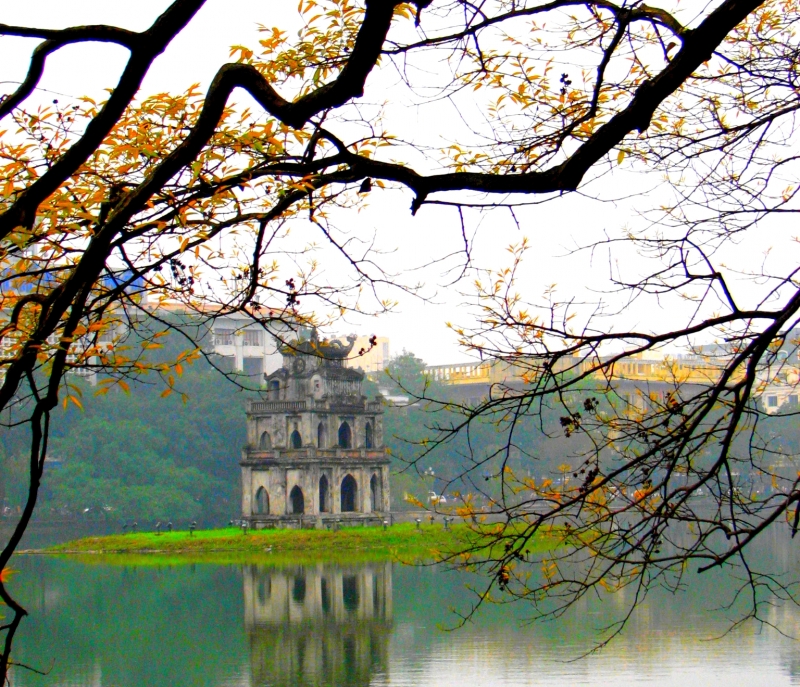 If you take a walk around the lake, you can see French architecture in the form of a small ancient scarred tower in the centre of the lake known as Turtle Tower. This structure holds special significance to many Vietnamese locals; it was erected to commemorate a famous Vietnamese warrior named Le Loi who led the movement to independence in the 1400s.
Whether you're there to enjoy the cold Vietnam air or to take pictures, you can be sure you will take home some picturesque memories!
Must try in winter: Swan Paddle Boats!
Head on over a few streets north-west of Hoan Kiem Lake and you will find yourself at West Lake, one of the largest lakes in the capital. There, you will find these cute little swan paddle-boats that you can rent for around VND 80,000 per hour!
Locals and tourists alike usually avoid the boats in other seasons because it is quite uncomfortable to paddle in the heat. In winter, you can paddle away with the cool wind in your face, and escape the hustle and bustle of the Old Quarter with your new feathered friend!
2. Take an overnight train to Sapa
The best way to get to Sapa from Hanoi is undoubtedly on an overnight train! On top of enjoying a unique experience during the 8-9 hours' ride, you'll save on a night's worth of accommodation cost too.
Get your adventure started by choosing between the many different trains from Hanoi to Sapa. Popular choices include the newly established Sapaly and Fanxipan trains at 42 USD for a one-way trip. Travellers with more flexibility in their budget can opt for the Victoria Express which goes for about USD 110 for a one-way trip.
Now for the train amenities, you not will find yourself short of anything. The trains are equipped with toilets, comfortable beds, pillows and blankets. However, do manage your expectations as the ride itself is quite a journey! Be prepared for a series of mini earthquakes from the uneven train tracks as the train chugs along. The train often passes perilously close to residences beside the railway track, so earplugs are advised if you are a light sleeper.  
Bookings can be done at the many websites online with ease. Alternatively, you can choose to book your tickets via your hotel reception.
A note for first-time travellers: The train does not go directly to Sapa; it drops you off in a small town called Lao Cai where you will need to arrange additional transport to Sapa, which is about an hour's drive away.
Now, surviving this exciting overnight adventure brings us to the next activity!
3. Experience snow in Sapa
If you think there isn't snow in Southeast Asia, think again!
Sapa is well known for its verdant rice terraces, terrific hiking trails and ancient village tribes in the mountains. It's also known to snow during winter! For the highest chance of having your dream snowball fight, plan your trip between late December to late January when temperatures can go as low minus 3 deg. C.
Must try in winter: Summit Fansipan Mountain by foot or cable car
Fansipan Mountain is a must-see if you are in Sapa. Floating above the clouds, the summit (where the picture above was taken) is 3,143 metres above sea level! That makes it the highest mountain in Indochina!
Before you fly off to Vietnam with your trusty ol' hiking boots, wait up! Trekking Mt Fansipan takes a minimum of three days to get to the peak and back. It will require planning and preparation, and the readiness to tackle terrain that is rugged, wet and often cold. Climbing from October to April is preferable to climbing in the summer months of June and August which sees heavy rainfall.
If trudging through mud and steep terrain is not for you, fret not!
A cable car system was introduced in 2016 so that everyone can experience the jaw-dropping scenery at Mount Fansipan from high above. The journey takes 15-20 minutes and costs USD 33. There'll be plenty of photo opportunities both in the cable car and at the summit so bring your DSLRs and your GoPros!
4. Explore caves in Ninh Binh
Step aside, Ha Long Bay! An amazingly scenic yet low-key place, Ninh Binh is a newly discovered tourist destination in Northern Vietnam, located just below Hanoi. Celebrated for its rich green padi fields and tremendous limestone cliffs that scatter across the rice fields, it's no wonder that the region has received its nickname of "Ha Long Bay on Land".
You know the place you're at is a legitimately awesome place when you see that the majority of the tourists there are locals. That's right! Laid-back and serene, Ninh Binh is a place that Vietnamese locals commonly visit during their holidays to have a short getaway from the hustle and bustle of their hometowns.
If the picture above looks familiar to you, that's because the blockbuster movie Kong: Skull Island and the Korean variety show Running Man were both filmed here!
To get around, it's recommended to rent a bicycle. Most hotel owners would be happy to oblige and even lend you one for free if you're lucky! However, if you have a license, you should definitely go with the scooter! Just be wary that Ninh Binh is still rather new to tourism, so bring your trusty Google Maps but expect bumpy roads and wrong turns along the way!
Try this during winter: Take a boat ride along Trang An
Ninh Binh goes up to 40 deg. C during summer but during winter, the temperature hovers around a comfortable 20 deg. C. Take advantage of the cool weather to enjoy a boat ride along the river with one of the Vietnamese boat paddlers. Usually, a lady rower will row the boat for you… using her feet!
Along the way, you will find gorgeous monumental temples, dozens of grand-looking valleys and as many as 50 different caves! Being paddled along the river on a tiny boat while surrounded by huge mountains on every side is truly an experience that you cannot miss.
On top of that, this exciting two-hour adventure only costs about VND 150,000! Be warned though, the rowers often expect tips of up to VND 200,000 so do come prepared!
5. Rent a scooter!

No trip to Vietnam is complete without riding a scooter! Practically every Vietnamese owns at least one scooter as that is their main mode of transport. There's nothing like cruising along the streets of Vietnam with the cold winter wind in your hair!
You might be surprised at the volume of scooters in Vietnam if it's your first trip there; you might be even more surprised at what can be carried on scooters. From goldfish and dangerously stacked crates of beer to grandfather clocks, Vietnam never ceases to amaze!
Tip: Riding a scooter in Hanoi is very different from riding one anywhere else in the world. There is a lack of traffic rules here so do be wary if you choose to ride in Hanoi! You should only ride a scooter in Hanoi if you are very confident of your ability to weave in and out of traffic.
Must try in winter: Vietnamese Coffee
With your new trusty Vespa scooter in hand, scoot on down to the many Vietnamese cafes to try this cup of goodness.
Many say you aren't a true coffee connoisseur until you've tried Vietnamese coffee. Served just about anywhere in the country, Vietnamese coffee can be indulged hot or cold. In a country that takes its coffee VERY seriously, your first sip of joe will make your soul sing throughout the winter!
Since most non-touristy cafes and eateries don't have English menus, it'll come in handy if you learn to identify what coffee to order. Here are some basics:
Cà phê sữa đá: Iced coffee with sweetened condensed milk
Cà phê đen đá: Iced black coffee
Cà phê sữa nóng: Hot coffee with sweetened condensed milk
Cà phê đen nóng: Hot black coffee
A note of caution for readers who enjoy their coffee black: Most places in Vietnam serve black coffee with several teaspoons of sugar, unless otherwise stated.
If you thoroughly enjoyed the coffee, we have some good news for you! Many cafes have a massive stock of Vietnamese coffee and they will gladly sell it to customers. So if you like the coffee, be sure to bring it back home!
6. Indulge in (all) the street food
You don't have to throw that diet away when you're travelling in Vietnam. Vietnamese cuisine is considered one of the healthiest cuisines in the world. Order any meal on the street and you will see fresh ingredients, minimal use of dairy and oil, and a selective array of fragrant herbs and meats.
If you're a baguette lover, rejoice! One of the Vietnamese specialities is a dish known as Bánh mì (or banh mi), a crispy baguette sandwich stuffed with layers of meat, parsley and aromatic herbs topped with some creamy mayonnaise. You will find dozens of pushcarts selling Bánh mì all over Vietnam, so you'll definitely have a chance to try it.
Try this during winter: Piping hot rice noodles
One word: Phở
During winter, you simply must try Vietnam's next greatest speciality. Phở (or pho) is an enticing rich blend of soft noodles in a simply delicious piping hot soup broth. You can choose for it to be served either with chicken or beef and it comes with an intoxicating mix of fresh mint, bean sprouts, sliced lime and chilli peppers. This flavourful dish is particularly sought after during winter because of the soulful warmth it provides during cold days. In fact, you will be able to find this at nearly every restaurant in Vietnam.
Now that you've seen all these wonderful activities that can be done in Vietnam during winter, what are you waiting for? Pack your winter wear, bring an empty stomach and head on over!