Nestled prettily on the east coast of Vietnam is Da Nang, the best city that showcases the blend of modern and historic Vietnam. We're talking extensive sandy shores with breaking waves, lush hillsides with spectacular vistas, and well-preserved remains of a French colonial port. Whether you're coming here to surf the famous My Khe Beach or simply want to cross the iconic Ba Na Hills bridge, there's always something for everyone in this coastal city. 
Planning to come here soon and not sure where to stay in Da Nang? We've got you covered! Read on to learn more about these top Airbnb stays in Da Nang with the best views and within close proximity to the city's top attractions.
Also read: 12 Fun Things to Do in Da Nang, Vietnam for First-Time Visitors
Best Da Nang Airbnb homes to bookmark for your next trip
1. This gorgeous abode blessed with natural light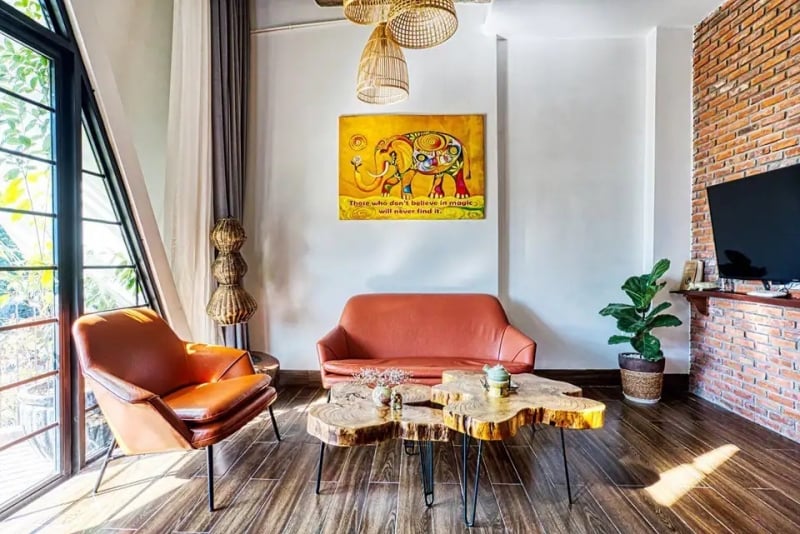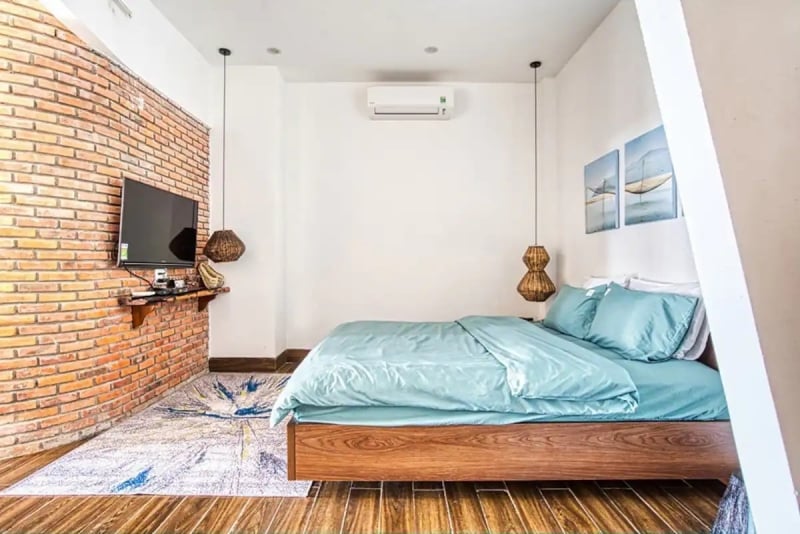 Listing name: ChacaHouseA2 -Balcony- Bathtub -300m to the BEACH
Listing type: Entire rental unit
Max. no. of guests: 2
No. of bedrooms: 1
This stylish Da Nang Airbnb welcomes you with a vibrant interior with a rustic and Indochine blend. The exposed brick walls exude a feeling of warmth to the space; meanwhile, the natural light creates a lively ambience inside. You can enjoy a good morning coffee with your partner on the balcony with a view before soaking in some blue on the nearby beach. 
Feeling hungry? Indulge in the best meals in Phuoc Thai Seafood Restaurant nearby. When you're reading to explore, Marble Mountain, Dragon Bridge, and Han Market are less than 15 minutes drive from this place. After a long day of exploring, come home to a comfy queen bed that calls for a good night's sleep. So, worry not about where to stay in Da Nang when you book this convenient home in Son Tra!
2. This charming Da Nang Airbnb for two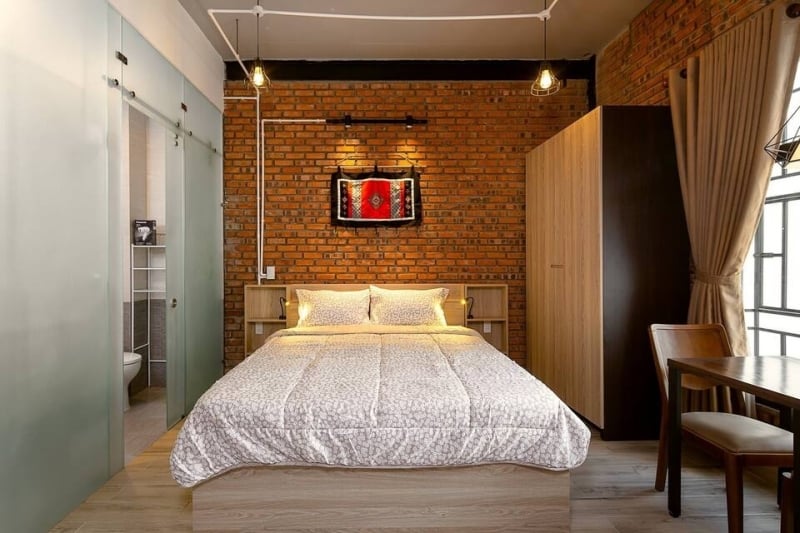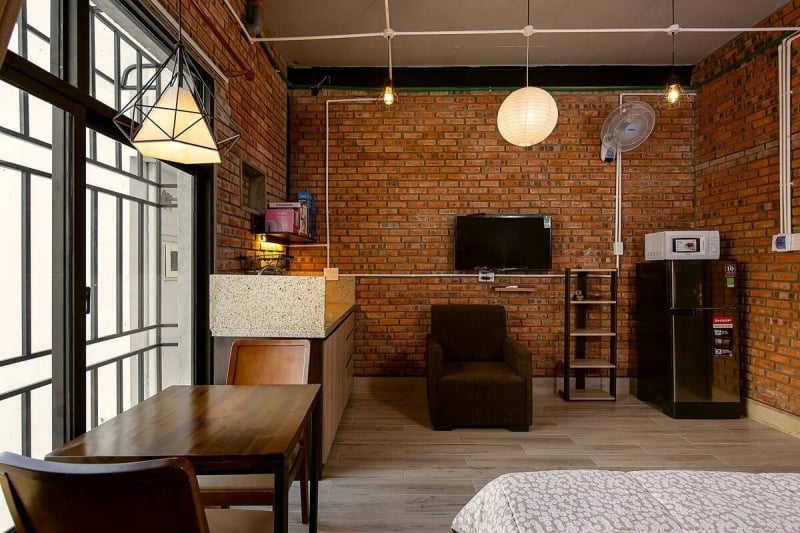 Listing name: SH32❤️NYstyle private room very close to the beach✅
Listing type: Entire place to stay in a serviced apartment
Max. no. of guests: 2
No. of bedrooms: 1
If you're on a romantic getaway with your partner, this spacious room will be the perfect choice for both of you! The well-lit ambience adds a welcoming vibe to the interior's darker colour scheme, bringing a sophisticated yet cosy atmosphere to the space. 
Have fun playing card games by the window or binge-watch your favourite shows on the LED TV with your partner all you want. Run out of indoorsy things to do? Rent a motorbike from the Host and go on a fun cafe-hopping adventure within the area. Afterwards, watch the magnificent sunset by the beautiful beach, a stone's throw away from this stay. Psst, the lush Marble Mountain is also easily accessible by bus!
3. This nature-themed dwelling near the Han River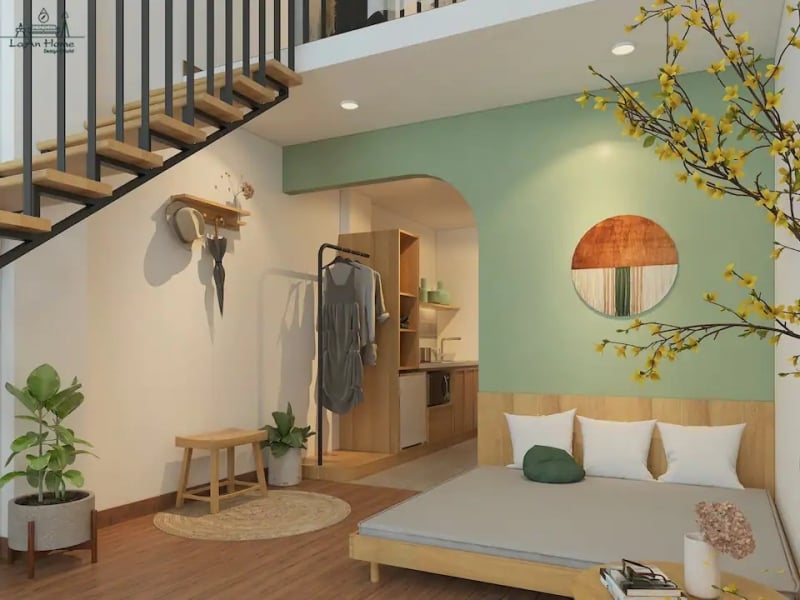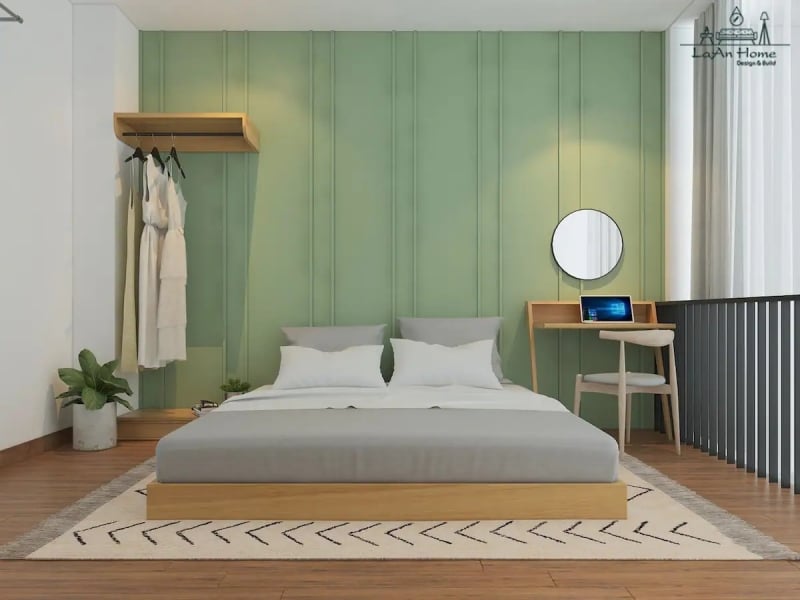 Listing name: 4.2 Banana Flower, near Han river, 2 queen beds
Listing type: Entire rental unit
Max. no. of guests: 4
No. of bedrooms: 2
Looking for a peaceful escape with your small family? This mint-green apartment offers just that! The natural wood furnishings paired with the soft shades of green give off a rejuvenating vibe to the space, creating a calming atmosphere as soon as you walk in. Equipped with two queen beds and perfectly running air conditioning, you might find it hard to get out of bed after all.
Whatever it is, be sure to spare some time strolling along the scenic Han River outside! And if you're feeling adventurous, rent a car from the Host and take your loved ones to Monkey Mountain in Son Tra. Or, better yet, head further to explore the Ba Na Hills and the ancient town of Hoi An, both within less than an hour's drive from the stay. Talk about a Da Nang Airbnb that prioritises comfort and convenience!
4. This modern residence with the best city views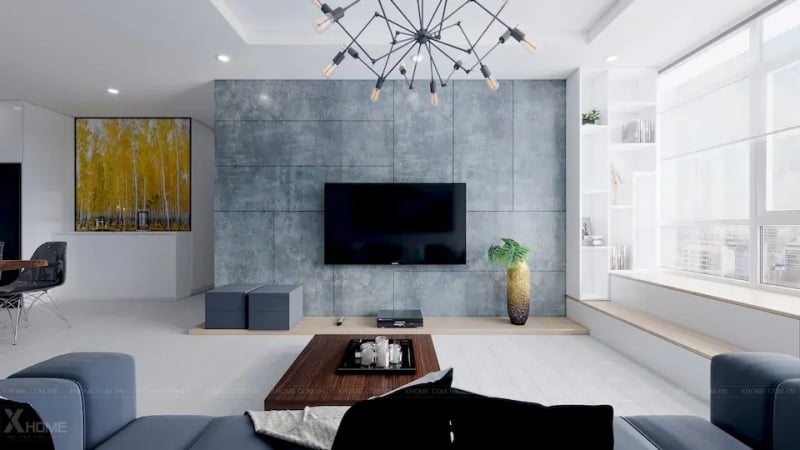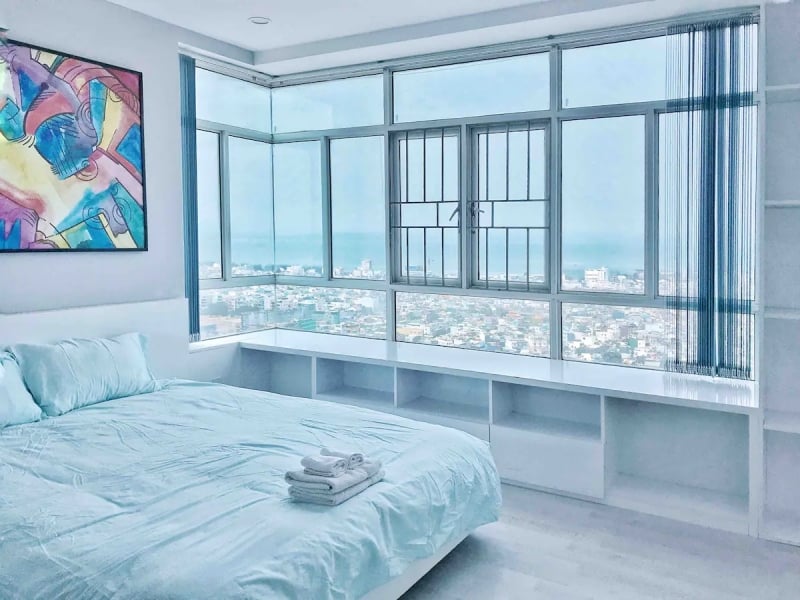 Listing name: 20% OFF August* ZORO2*City-View Deluxe Apart 120m2
Listing type: Entire condo
Max. no. of guests: 9
No. of bedrooms: 3
This minimalist Da Nang Airbnb with a mix of modern Swedish interiors will be the perfect escape for your next group vacation! You don't have to worry about snatching the best bed for yourself as the vacation rental provides four queen-size beds, enough to accommodate eight people. 
Have a fun movie night watching the latest trending films from Netflix on their 55-inch smart TV before you take a zen dip in their hot water-filled bathtub. On top of all, you'll get to sleep to the beautiful city lights just outside your window and wake up to a sunny sky filled with skylines, ocean views, and mountain vistas all at once! 
Did we mention Da Nang Airport and My Khe Beach are just an eight-minute drive from this stay? Yup, and the Host even offers a free airport pickup service for those staying for three nights and more! Definitely the best Airbnb in Da Nang near My Khe Beach you should check out!
Also read: 11 Best Beaches in Vietnam You Must Know About 
5. This luxurious Danang Airbnb with beautiful studio lights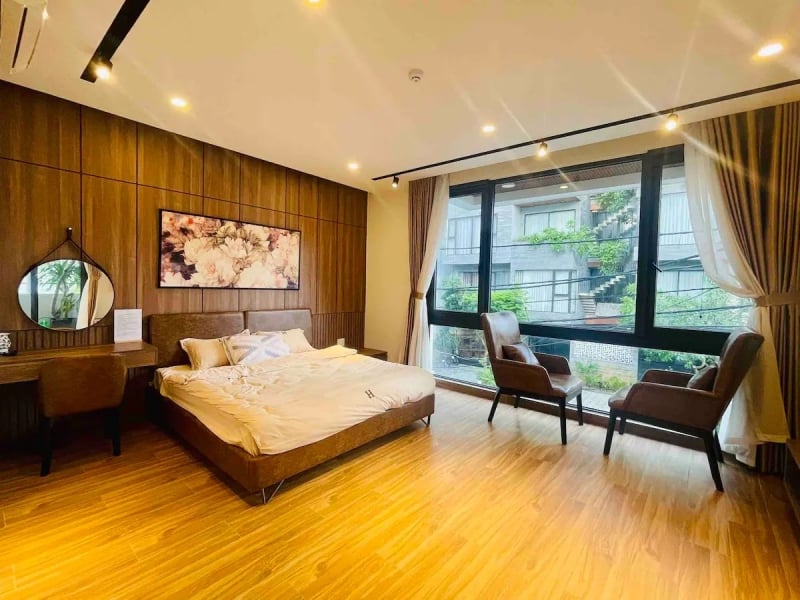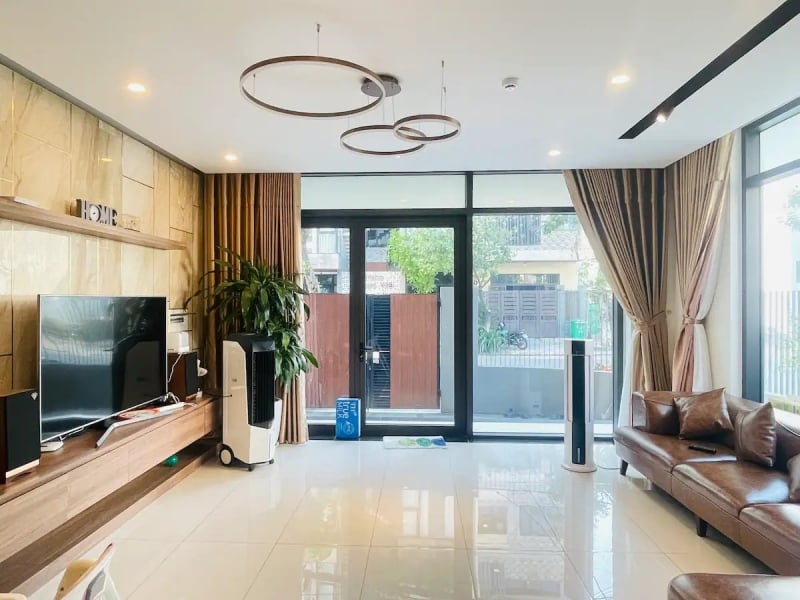 Listing name: Near Beach/Centrall/gym & rooftop
Listing type: Entire place to stay in a home
Max. no. of guests: 2
No. of bedrooms: 1
This elegant lodge is the answer to travel buddies in search of where to stay in Da Nang. Spend quality time prepping for breakfast in the well-equipped kitchen, and enjoy your meals as you watch a show or two on the TV. If that's not enough, explore the many cafes and restaurants within the area with a rented car provided by the Host. 
Don't stop there; head out for some adventure to the nearby Pham Van Dong Beach, within a three-minute walking distance of your stay. And make sure to visit the nearby Lin Ung Pagoda and Ba Na Hill every chance you get. Psst, a money exchange service is also provided upon request!
6. This biophilic home with a saltwater swimming pool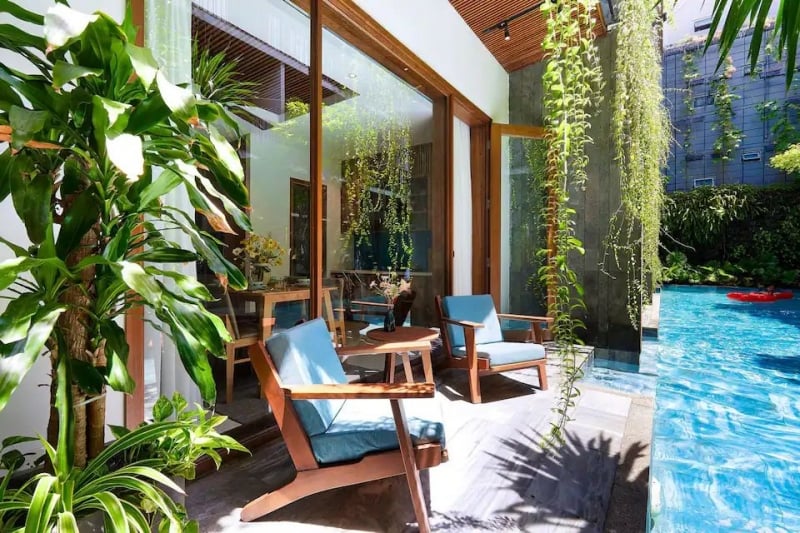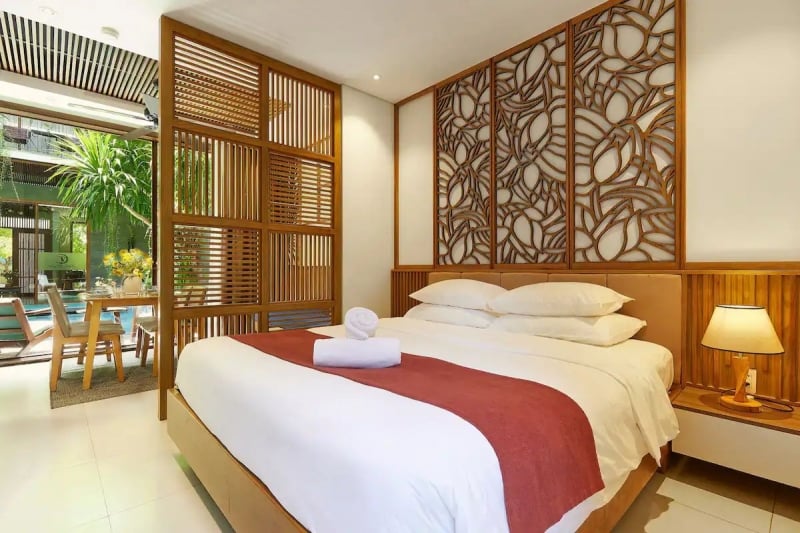 Listing name: Tâm House Villa Hotel – Pool View Room – 1st floor
Listing type: Boutique hotel
Max. no. of guests: 2
No. of bedrooms: 1
Every nature lover would appreciate staying in this grand hotel room decorated with intricate nature-inspired wooden frames. Spots of greenery can easily be seen at every nook and corner, lending a refreshing atmosphere to the space. The saltwater pool is just a few steps away from your comfy king-size bed, so feel free to plunge into either one during your free time. 
Be sure to check out the iconic Dragon Bridge, less than a five-minute drive from your stay. At night, rent a bicycle from the Host and explore the nearby night market for souvenir shopping. Hands down the best Airbnb in Da Nang, Vietnam, that lets you stay close to nature and the city's best attractions! 
7. This splurge-worthy mansion with a modish design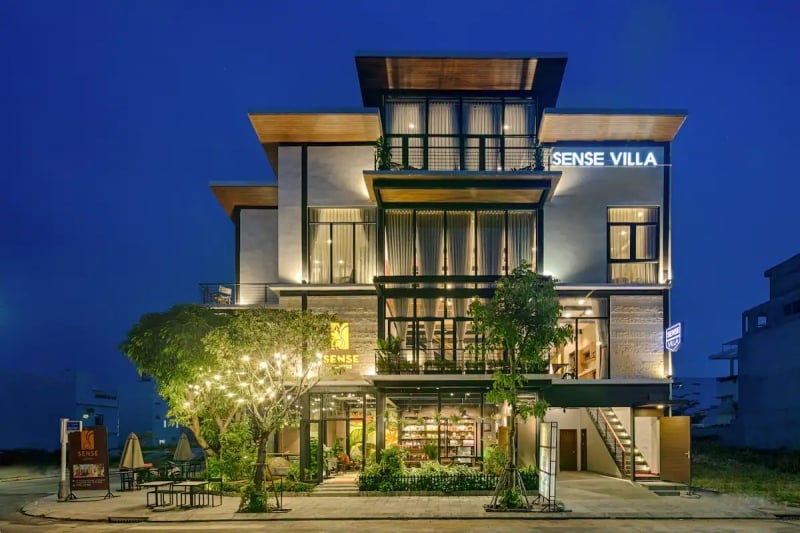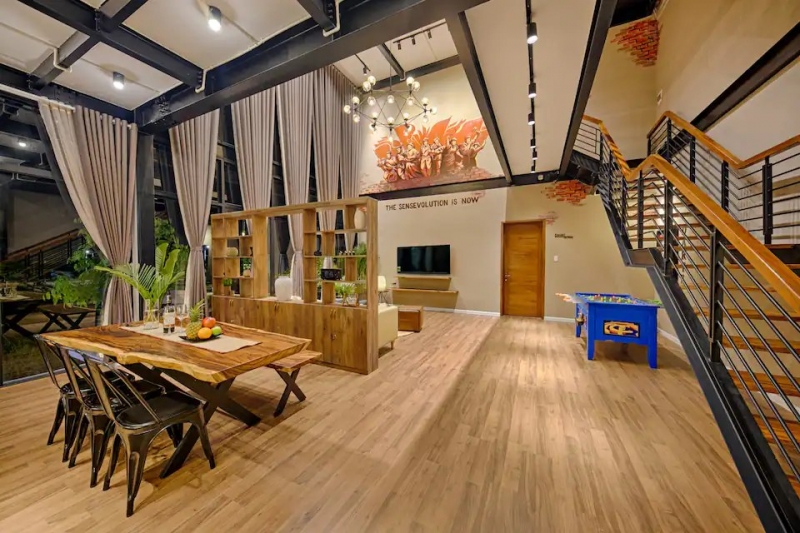 Listing name: Modern 4-BDR Villa | Foosball & 300m to Beach
Listing type: Entire villa
Max. no. of guests: 10
No. of bedrooms: 4
Your next getaway with your homeboys calls for this modern, refined home fit for ten. Get on a fun horror movie night on the 65-inch smart TV, or battle your buddies over foosball and dart! Not sure what else to do? Grill some meat and "roast" your friends (not literally) in a fun BBQ session in the fully-equipped kitchen. 
For some fresh air, sit on the open-air balcony that also welcomes you with the chirping of birds in the morning. If you're craving local cuisines, find yourself banh canh, my Quang, or com ga at the nearby restaurants. We assure you this lavish Da Nang Airbnb will be worth every mile and penny.
Also read: 10 Best Vietnamese Food That You Have to Try 
8. This sunny pool villa perfect for a bridal shower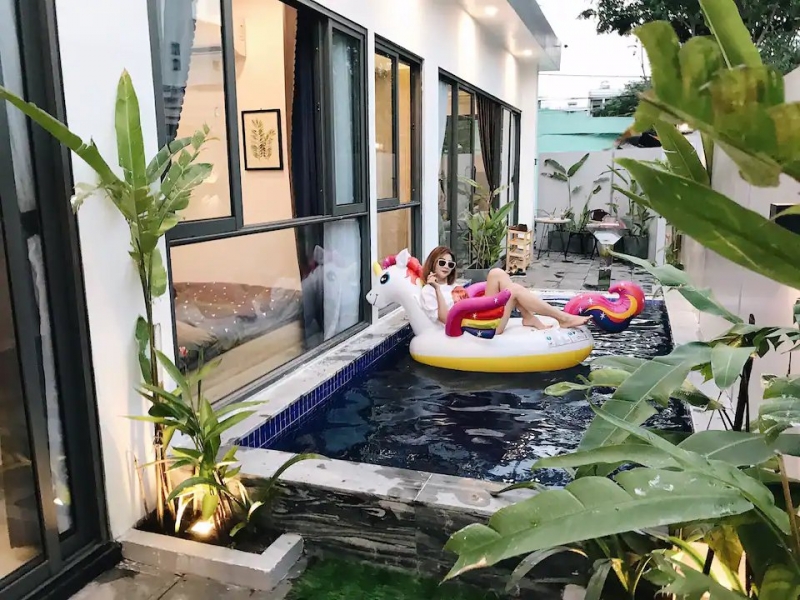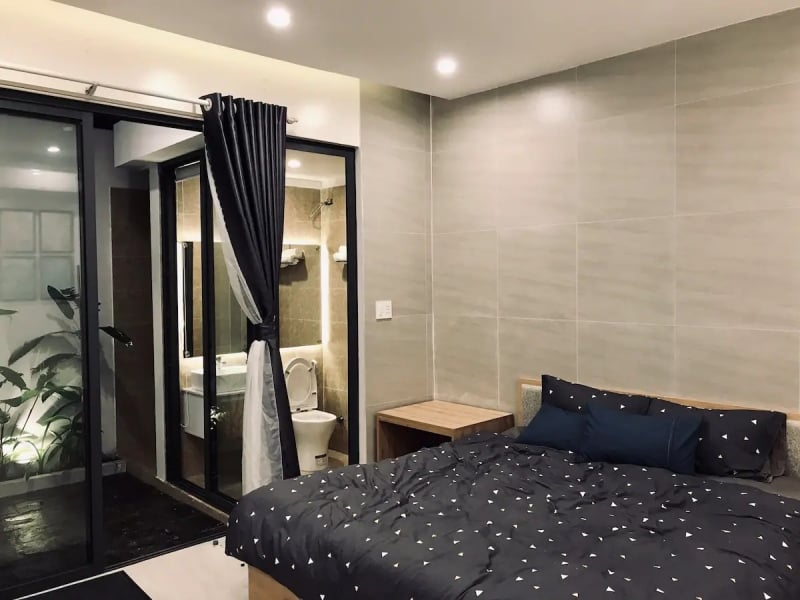 Listing name: AT-sale30% Private Pool-10′ to MyKhe beach
Listing type: Entire villa
Max. no. of guests: 6
No. of bedrooms: 2
Searching where to stay in Da Nang with your favourite girlfriends? This fabulous lodge will put a full stop to your never-ending hunt. The living room is spacious enough for board or card games with your friends, and just outside is a private pool equipped with a tarpaulin for a mini pool party to spice up the night. 
But don't just stay inside! Have an unforgettable girls' day out exploring the famous My Khe Beach and Han River, easily accessible on foot. Afterwards, visit the nearby My Son Sanctuary, an hour's drive from your beautiful abode. Undoubtedly the best Airbnb Danang puts forth for a group of six looking for an exciting vacation.
9. This pristine Airbnb in Da Nang with a welcoming vibe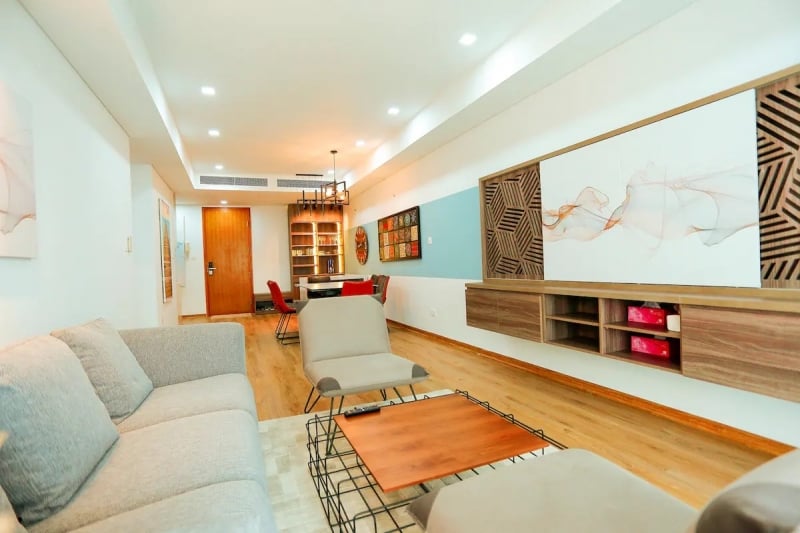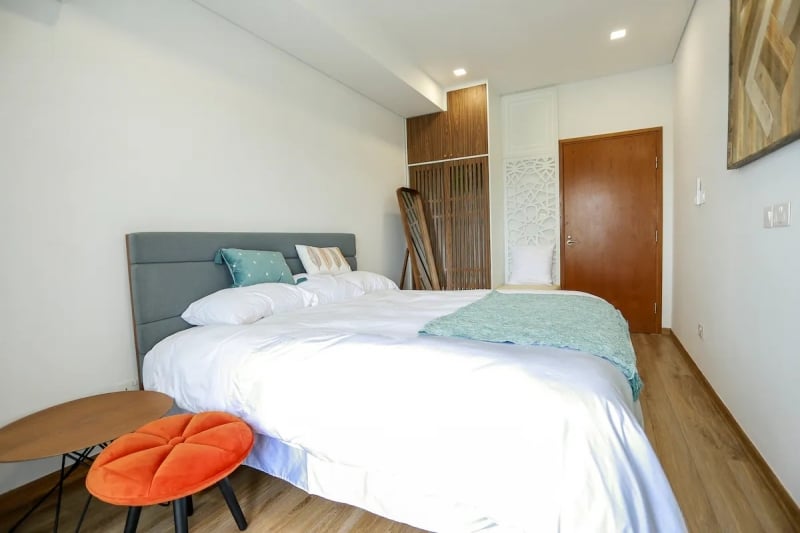 Listing name: Han Riverside Apartment★Happy Home★Danang Center
Listing type: Entire rental unit
Max. no. of guests: 5
No. of bedrooms: 2
Your mom and dad will love this stunning apartment for five people. The lively ambience from the neutral colour choice with pops of red and orange furniture adds an energetic aura to the space. While you're there, be sure to take your parents on a fun-filled visit to Han Bridge and Han Market within a five-minute distance of your stay. 
After a long day of exploring Da Nang, come home to a relaxing dip in the swimming pool and enjoy a movie or two on the 48-inch internet TV. The only thing left to do now is to plunge into your comfy bed that comes with a hotel-quality mattress and linens before you sleep the night away. 
10. This spotless homestead near spa and massage places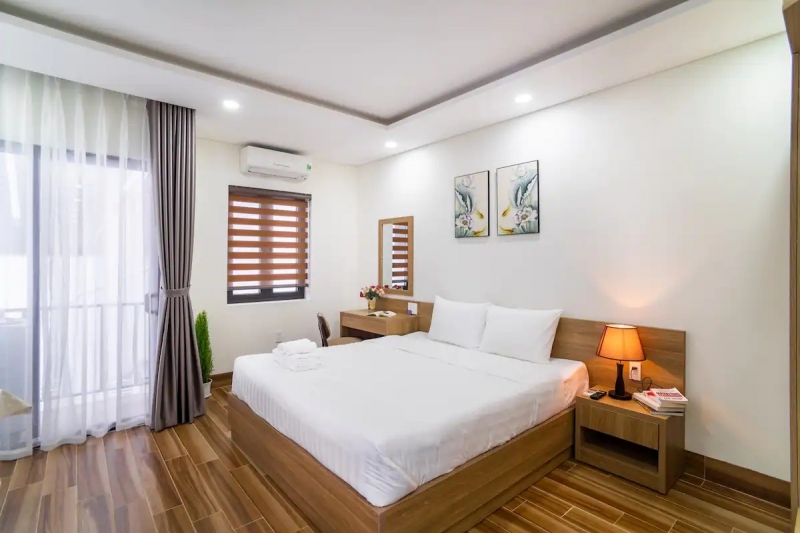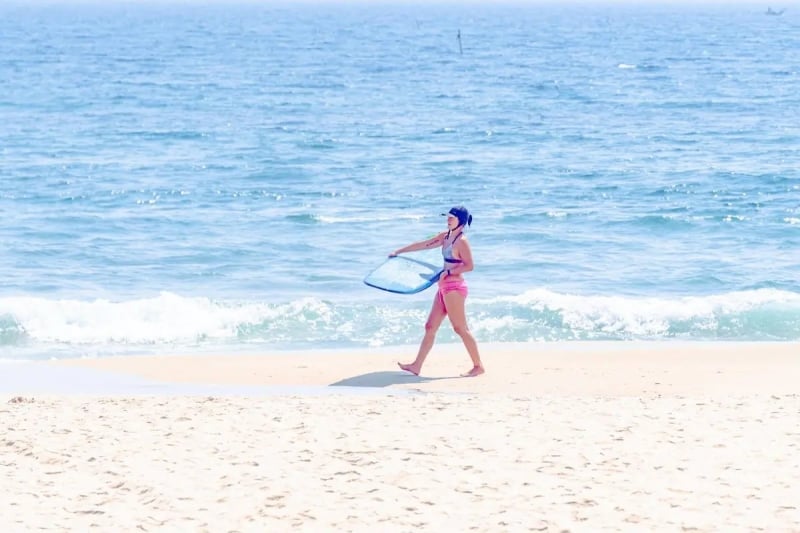 Listing name: ModernLuxury Studio 1mins to Beach
Listing type: Entire rental unit
Max. no. of guests: 2
No. of bedrooms: 1
Put a stop to your Da Nang vacation rental search with this homely loft that lets you walk to My Khe Beach in under three minutes and Pink Church in under eight minutes. Prepare your favourite meal in the fully furnished kitchen, and enjoy all the perks that come with this space: unlimited high-speed WiFi and a free-to-use washing machine! 
Unlike the other gorgeous stays, this lodge is perfectly located near famous spas and massage places. So do try it and experience a relaxing holiday in Vietnam like never before. Definitely a worthy Airbnb in Da Nang near My Khe Beach you should bookmark for your next trip!
Also read: Hanoi or Ho Chi Minh: Which City in Vietnam Should You See First?
So, what are you waiting for? Pick the comfiest Da Nang Airbnb of your choice then book your next Vietnam trip today! And if you're off to other cities in the country, check out our Airbnb picks in Ho Chi Minh City and Hanoi, too. 
Got a property you'd like TripZilla to feature? Inquire with us here.
---
This article contains affiliate links. When you book through these links, we may earn a small commission at no additional cost to you. All images courtesy of the respective property listings.