Kep is a small but cute Cambodian coastal town with a long history. It's a nice place to spend a few days relaxing on quiet beaches, exploring the countryside, dining on tasty seafood, and slowing down the pace of life. There's a good selection of places to stay, ranging from luxurious hotels to cheap backpacker beds.
A former bustling beach resort, well-loved by the French during the colonial era and then popular with Cambodians after the nation became independent, Kep's glory was shattered by the Khmer Rouge. Bullet holes can still be seen in some of the town's old buildings.
Kep is now starting to make a comeback. Although nowhere near as lively as it was in the past, it's still a great place to add to your Cambodian travel list. Here are some of the best things to see and do in Kep:
1. Laze on the sandy beach
The golden sands of Kep beach may well entice you to bask in the sunshine for longer than you intended. Take a dip in the ocean and catch some rays as you unwind in a peaceful atmosphere. The beach here may be fairly small but it's rarely crowded, especially during the week. It makes a pleasant change to the hectic pace at the popular beaches at Sihanoukville.
2. Take a trip to Rabbit Island
Rabbit Island is just a 20-minute boat ride from Kep. The beach is longer than that on the mainland and the views are beautiful. Tranquil and serene, hop in a hammock and enjoy beachside bliss. There are several places to eat and drink on the island, so no need to worry about getting hungry.
3. Snap a picture of the large statues
Standing just out in the waves is a large statue of a crab with its pincers outstretched, in an almost friendly greeting. A sign underneath welcomes visitors to Kep. It makes for a great picture! There's a large white statue of a mermaid-like lady looking out over the ocean, and you'll also find a statue of monkeys climbing branches on dry land.
4. Experience the Crab Market and dig into delicious seafood
I don't actually eat fish or seafood, but my travel buddy assured me that the local seafood in Kep is delicious! While a variety of seafood is available in Kep, the town is famous for its crab. There is a large crab market, which I did visit, where you can see people wading in and out of the waters to empty their crab pots, bringing the crustaceans back to their stalls. There are numerous markets close to the market, which benefit from having the freshest local produce on their menus. Choose your own crab and have it cooked in a variety of ways to suit your tastes. Even if you don't want to try the crab, the bustling market is still a fantastic place to see a little of the local way of life.  
5. Relax in a swaying hammock
Kep is very small and there's a small square close to the beach surrounded by hotels and restaurants. You really can't miss it! At the heart of the square are a handful of restaurants that mainly serve seafood dishes. Whether you want to eat or simply chill out with a drink and a good book, this is a top place to come; there are plentiful hammocks string from the beams where guests can chill out to their heart's content.
6. Spot historic villas from the colonial period
While some of Kep's old colonial summer homes have been restored and renovated, many of Kep's once-grand villas are in a sad state of disrepair. Stroll around and imagine how lovely (and busy!) Kep would have been in its heyday. Some of the elegant buildings are very photogenic, even in a state of abandon. Indeed, some are made even more evocative by their overgrown surroundings and slightly crumbling walls.
7. Visit a local pepper farm
The areas around Kep and the neighbouring town of Kampot are famous for their hot and spicy pepper. Although the pepper is called Kampot pepper the farms can be reached on a day trip from Kep too. The pepper farms are located around Phnom Voar Mountain. Learn more about how pepper is grown and processed, see pepper in its different stages, and taste some of the hot local pride. You can also purchase the famous pepper to make your meals at home more interesting and flavourful. There are several farms in the vicinity, but Sothy's Pepper Farm is one of the most visited.
8. Enjoy outdoor adventures in Kep National Park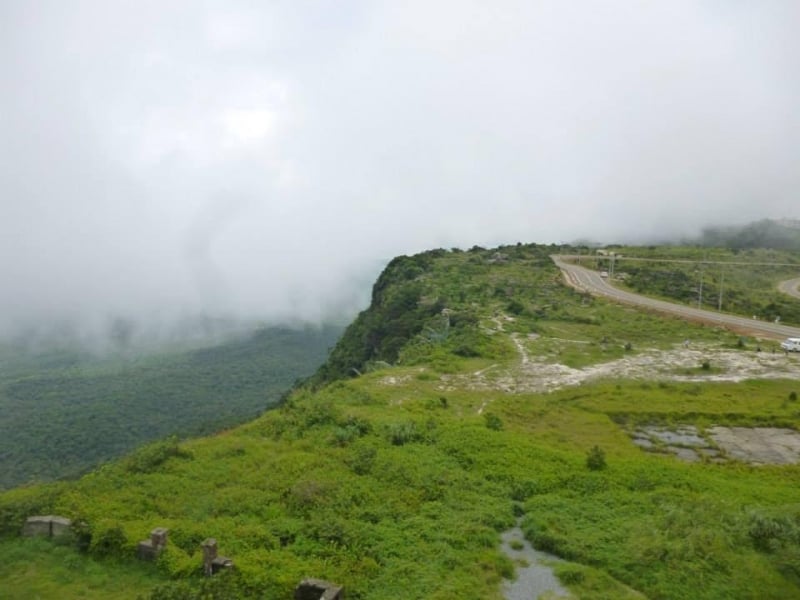 A fairly small national park, Kep National Park is just a short drive from the town centre. Head up into the hills and enjoy hiking, photography, and nature spotting. The lush jungle is home to a diverse array of birds and insects, as well as lizards, monkeys, butterflies, and others. A well-marked lopped trail takes a couple of hours to complete on foot.
9. Explore Bokor Hill Station
Within easy reach of Kep, Bokor Hill Station is filled with history. Now abandoned and disused, with the buildings shadows of their former selves, this was once a thriving hotspot for holidaymakers. Explore the decaying structures, learn more about the area's sad past, and enjoy sweeping views of the countryside.
I didn't visit any, but there are three large caves close to Kep that are said to be well worth exploring. One even has a swimming hole inside. Nearby, there's also Kep Plantation, a horse ranch. For relaxation, there are massage services in town. There's certainly enough to keep you more than busy in charming Kep for a few days, and you can make your trip as active or as low key as you like.