Just a short boat ride from Singapore, Batam — in Indonesia's Riau archipelago — boasts a plethora of things to do making it a popular weekend destination. Apart from its close proximity to Singapore, this small island is frequented by visitors because of its wonderful beaches, elegant resorts, big shopping malls, and vibrant nightlife.
If you have been to Batam several times and thought that you have experienced everything it has to offer, you might be wrong. Here, I've compiled a list of more awesome things you can (and should) do in Batam to see a different side of the bustling city.
Also read: Singapore In Talks to Open Travel Corridor with Batam & Bintan
Exciting things to do in Batam for a fun-filled trip
1. 

Shop till you drop at Nagoya Hill Shopping Mall

 Nagoya Hill Shopping Mall is every shopper's paradise. At this largest shopping mall in Batam, you can get your hands on multifarious goods at a bang for your buck. Think of the likes of funky souvenirs, clothes, electronics, and perfumes! There is also a variety of restaurants dotting the sprawling area in case you need to refuel. Plus, it is located within a sniffing distance from Harbour Bay Ferry Terminal. That means you can make your way to the famous shopping precinct as soon as you step foot in the city.

Alternatively, you can spend (or splurge) an afternoon away at Batam City Square (BSC) Mall. This easily accessible mall houses an extensive range of stores selling clothes, accessories, shoes, and cosmetics at wallet-friendly prices. In fact, it is the go-to place for cheap clothing.

Also ladies, if you're looking for a grooming session that won't break the bank, you'll like what's in store for you at BSC. Treat yourself to a manicure and pedicure treatment as one of the many nail salons there. Not only are the services top-notch, but you can also even choose from eye-catching designs to beautify your nails.
2. Conquer some exciting outdoor adventures
If shopping is not your cup of tea, this thing to do in Batam might pique your interest. Indulge in a range of thrilling outdoor activities instead to be at one with nature while having a whale of a time. From flying fox to jet-skiing and windsurfing to parasailing, Batam has your interests covered, whether it is on sea or high up in the air.
3. Speed on a go-kart
Amongst all the things to do in Batam, this one is surely the most exciting! At Marina Waterfront — Batam's first and original go-kart circuit — you can hit the tarmac and step into the shoes of Lewis Hamilton. Nothing spells more fun than going on full gear at maximum speed, making sharp turns to avoid banging into car tyres and having puddles of water splashed onto your shirts. You really have to experience this first-hand!
4. Sail in a kayak
Kayaking is a relaxing endeavour to take on with your loved ones. You can soak up the sun and let the quietness of nature surround you as you float on the water bank. Good news, most of the resorts in Batam offer this leisurely water sport at a very affordable price. So, next time you're in Batam, don't miss out on this unique thing to do.
5. Keep calm and visit temples
Not an adventurous person? Pay a visit to the serene temples such as Tua Pek Kong Temple and Maha Vihara Duta Maitreya Temple to restore some inner peace. Here, you can offer incense for good health and luck. Also, you can easily spot Buddha statues and interesting features of the twelve zodiac animals directly opposite the temple.
6. Capture sunsets at Barelang Bridge
In San Francisco, there is Golden Gate Bridge. In Batam, there is Barelang Bridge — a chain of six different types of bridges connecting the islands of Batam, Rempang, and Galang. Enjoy the picturesque seascape and catch sight of the stunning sunset while you're here. It makes for a scenic backdrop for Insta-worthy photos.
7. Have a splashing good time at Sea Forest Adventure Park
Looking to beat the heat? Aqua Adventure Track at Sea Forest Adventure Park offers you a fun way to stay cool during the summer. With an inflatable 'playground' floating in the sea, you can seek respite from the sun while indulging in some fun Wipeout-style. Expect nothing but thrills and spills for the whole fam at the designated recreational area.
8. Perfect your golf swing
With a handful of golf courses, one thing you need to do in Batam is to perfect your swing. As a matter of fact, Batam is popular amongst avid golfers for its perfect sites enshrouded by lush greenery and ocean views. One of such is the Batam Hills Golf Resort where you can put your skills to the test at its championship course. There is an array of hole designs for experienced and novice golfers to challenge themselves.
9. Soothe your muscles
After a day of fun-filled activities, what your body really needs is nothing but a few solid hours of therapeutic massage. Make your way to one of the many massage parlours in Batam and select a treatment that fits into your budget. All that's left for you to do is to leave it to the nimble fingers of the therapists to work out those knots in your body as you slip into a restful slumber.
My favourite part of all the massages I had in Batam: When the therapist placed a hot towel at the nape of my neck towards the end of the session. So warm and cosy, it melted my worries into thin air.
10. Indulge in sinful seafood
By the time you walk out of the massage parlour (hopefully in one piece), it is probably dinner time. Did I just hear your stomach growl? Wait till you drool over the sweet and spicy mussels, black pepper crabs, steamed fish in Teochew style, fried golden calamari, huge tasty prawns and delicious oysters.
You can find tuck into wholesome and fresh seafood at KTM Resort (20 minutes car ride from the Sekupang Ferry Terminal). Spend a lovely and undisturbed night at one of the romantic wooden huts away from the hustle and bustle of the city as you enjoy a sumptuous repast. Don't worry about a lack of after-dinner plans, for a pool table, karaoke rooms, and board games are just some of the many wonderful amenities to keep you occupied.
11. Enjoy a morning stroll at KTM Resort
Wake up bright and early to feast your eyes upon the glorious sunrise as you enjoy a stroll along KTM Resort. With broad walks that stretch out to the sea, you can take the time to appreciate the beauty of the surroundings. Standing there as you catch sight of the first light while paying attention to the gentle waves lapping up against the shore will surely invigorate your senses.
12. Do souvenir shopping early in the morning
A list of things to do in Batam isn't complete without the mention of souvenir shopping. And, the best place to do so is as the wet markets — thronging with locals and tourists alike haggling with street vendors to enjoy a slew of great deals. When you are in Batam, you have to buy the quintessential kueh lapis to take back home. Made with the finest ingredients, they are meticulously prepared to impart a not too overwhelmingly sweet taste to delights fans of the traditional snack.
BONUS: Stay at Allium Batam Hotel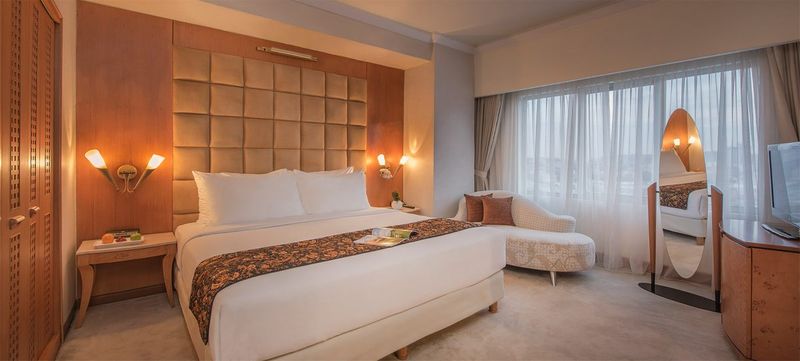 Don't know where to stay when in Batam? Allium Batam Hotel is your best bet! An elegant and stylish hotel at the heart of Batam's business and shopping district, its central location in Nagoya means that you're surrounded by shopping centres and restaurants right at your doorstep! On top of that, it is a Muslim-friendly hotel that serves halal food in the restaurant and lounge. In fact, the in-house restaurant at Allium Batam Hotel, Paris-Lyon, is the only place in Batam that offers black wood-fired pizzas!
[Unlock this Exclusive Offer and get 25% Off]
Save 25% from Best Available Rates when you stay with Allium Batam until 28 December 2018.
Inclusions:
Free pick up service from Harbour Bay Ferry Terminal
Free shuttle service to Nagoya Hill Mall (fixed time)
Buffet Breakfast (06:00 am-10:00 am) or Signature EMAB (Early Self-service Morning Allium Breakfast (available from 04:30 – 06:00 am)
Welcome drink upon arrival
Complimentary WiFi in room & public area
Complimentary use of outdoor swimming pool and fitness facilities
Click HERE to start booking and kickstart your Batam holiday!
Take advantage of this "Exclusive Offer", where you'll get 25% off when you book directly on their website. Plus, this rate includes buffet breakfast for two, Internet access and pick-up service from Harbour Bay Ferry Terminal. It's just so convenient for a short getaway!
Also read: A 2D1N and 3D2N Batam Itinerary for the Lazy Planners
There you have it: A list of things to do in Batam. Which of these activities will you try out first once you can visit the city again?