Sitting in the South China Sea is the serene island of Bintan, one of the jewels that make up the Indonesian archipelago. This is the island paradise that's poised to be the next Bali equivalent, partly thanks to the fantastic resorts sprinkled across the glittering coastline and the assortment of activities ranging from watersports to spa and golf. To top it off, Bintan is just a 45-minute ferry ride away from Singapore, making it perfect for a weekend escape!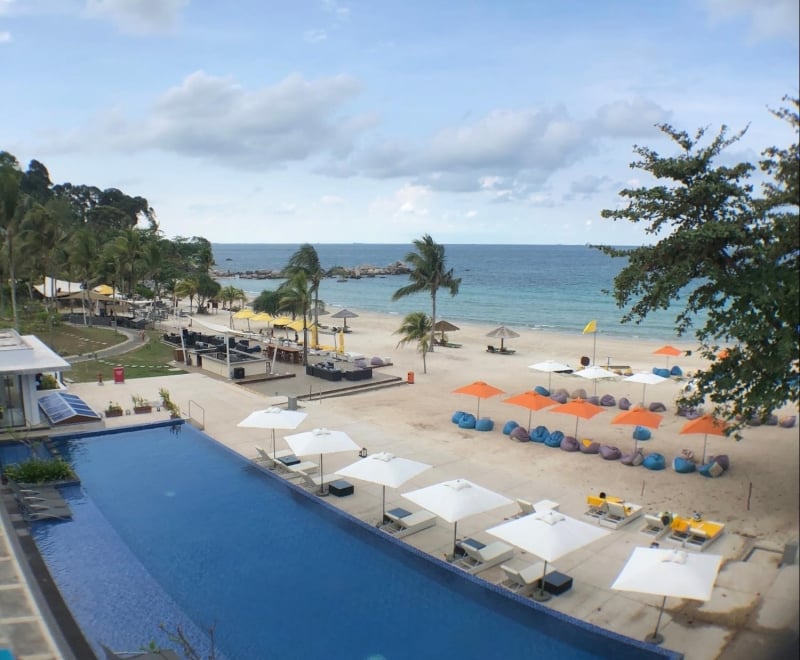 Recently, the folks at Cassia Bintan invited us to spend a 3D2N weekend with them. A blend between a hotel and an apartment, Cassia Bintan is the latest addition to the Laguna Bintan Integrated Resort. We were lucky enough to be the first few to stay in their indulgent beachfront apartments which were unveiled just last month!
Upon setting foot into Cassia, we felt the cosiness of home right away. We then filled our weekend by discovering the myriad of facilities and attractions in and around Cassia. Here are some of our top picks with regards to the things to do in Cassia Bintan. Warning: You might want to take an extra day of leave to extend your stay here!
1. Chill out at the trendy spaces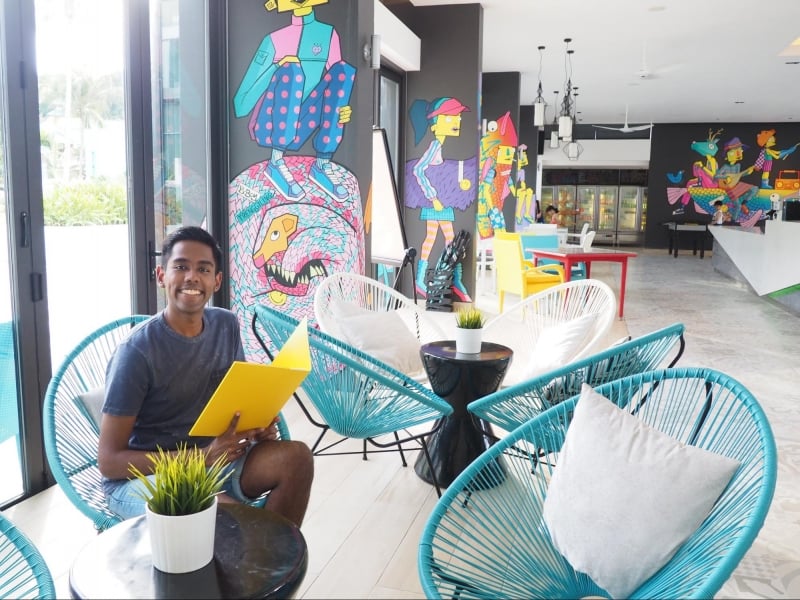 Cassia Bintan is filled with Insta-worthy spots around every corner. The talent behind the quirky art and eclectic designs that are infused with a hint of traditional Indonesian elements is none other than Adi Dharma, a famous local artist. Be it in the rooms or out in the chic open spaces, the presence of vibrant colours gives Cassia Bintan an instant boost of vitality.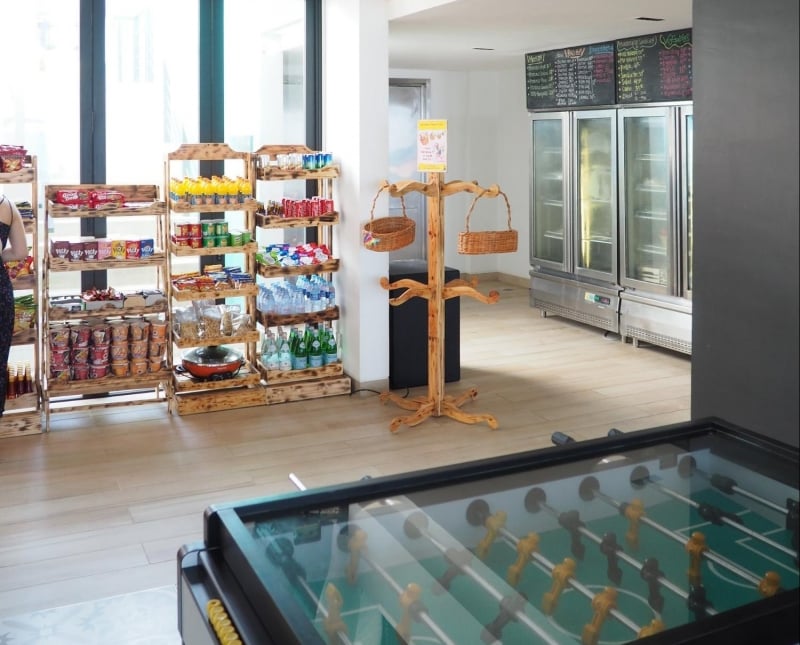 Chill with your BFFs or mingle with other like-minded travellers at the trendy reception area. You can play a game of UNO or Jenga with fellow guests, or challenge the friendly staff (also known as Cassia Friends) to an intense game of foosball. Tucked in the corner of the common area is Market 23, a well-stocked mini mart where you can get a quick bite or an ice-cold can of Bintang Beer.
2. Bask in the comfort of your own apartment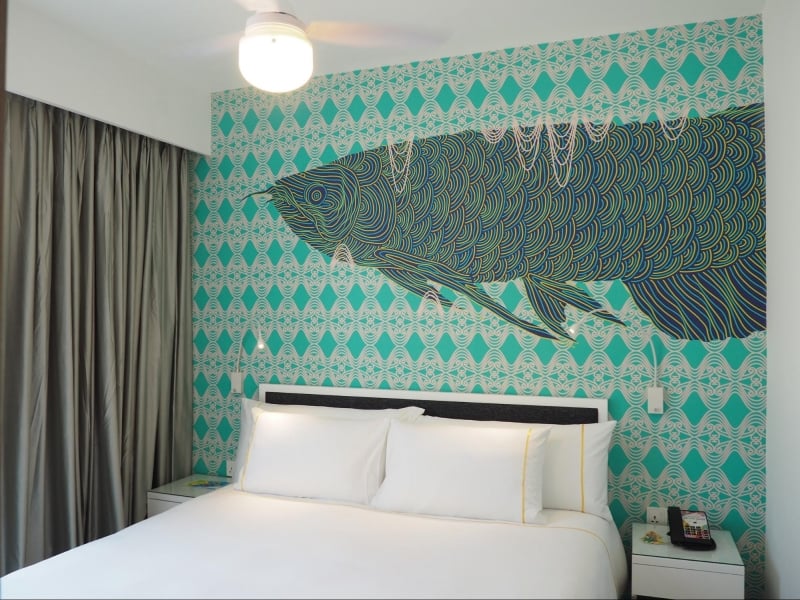 There are several room options available to suit the budget and preferences of guests. You can choose between the one- or two-bedroom apartment depending on your party size. Some of them come with a lush garden view or a panoramic ocean view – we recommend the latter for sure. We stayed in the one-bedroom ocean view apartment which we loved to bits! The apartment was simply so inviting that we had to resist spending the whole weekend just lounging in the cosy, swanky pads.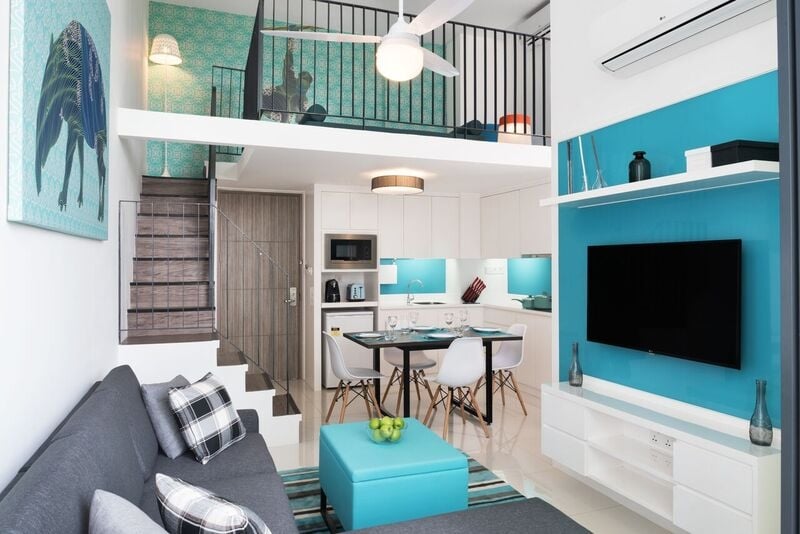 And here's a special feature: loft-style units. Gorgeous loft apartments are available for both the one- and two-bedroom options, and they feature a mezzanine level perfect for games night! What's more, ground floor units come with a private garden area where you can have a barbeque or walk directly to the beach!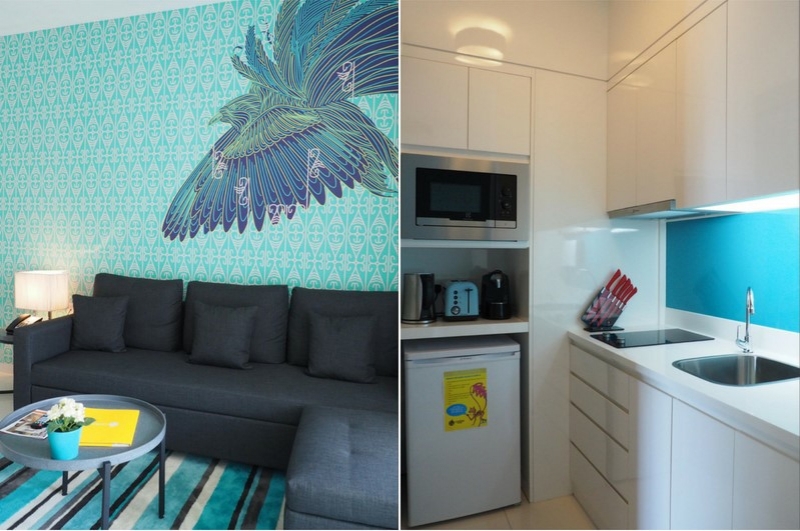 Each apartment has a simple yet stylish living area and a kitchenette complete with appliances, cooking utensils, and cutlery. One of the perks of staying in an apartment rather than a typical hotel room is the ability for guests to cook their own meals as they would at home – and this is the sole reason why Cassia Bintan does not provide room service. Guests can buy fresh ingredients at Market 23 and have a cooking session in their home away from home.
3. Have a sunrise yoga session by the beach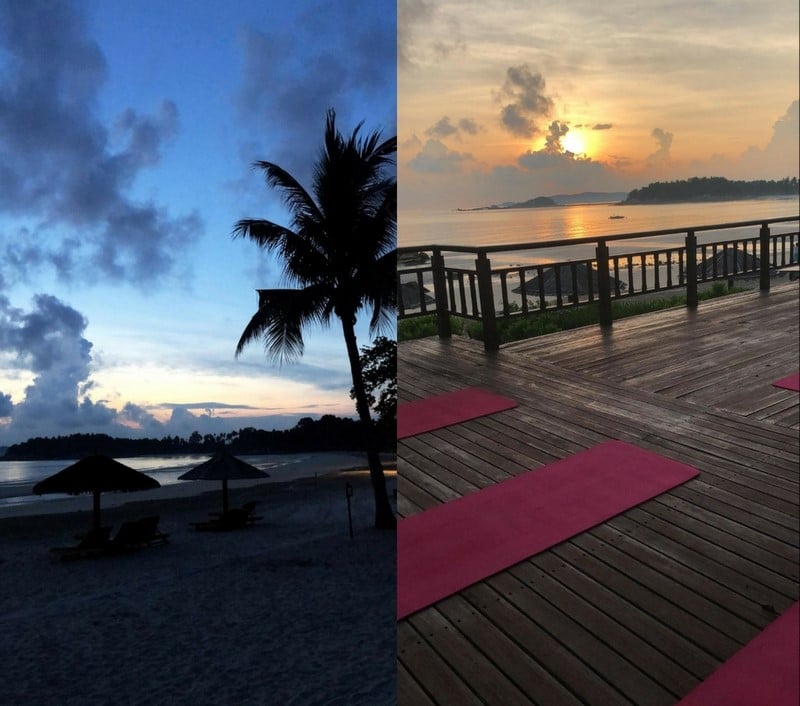 During your stay at Cassia Bintan, there is one activity that is totally worth waking up early for: yoga. Cassia Bintan offers guests a complimentary yoga session at Santai Deck, which is a five-minute walk from the apartment clusters. It starts at 5.30am sharp against the backdrop of the sunrise and amid the melody of the morning birdsong. Perfect for beginners, the yoga session features simple yoga poses and deep breathing techniques to calm one's soul.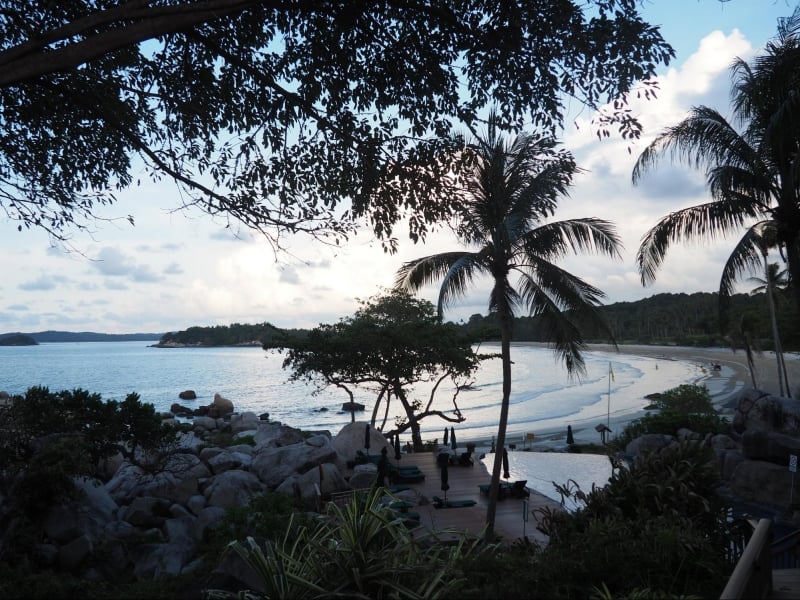 After an invigorating yoga session, continue your morning snooze by the beachside. Nothing screams exclusivity more than having your own private beach! Stake out a spot on an empty stretch, lay a towel and you'll have the perfect set-up for a morning nap. Hear the soft waves lap at the beachfront and drift off to your paradisiacal la-la land.
4. Tuck into scrumptious Indonesian fare
Don't ever worry about going hungry at Cassia Bintan. Aside from cooking in the apartment, guests can also head out to the premises of Banyan Tree to enjoy delectable Indonesian fare. As we've tried it ourselves, we can promise that the food will enthrall your taste buds! As for how to get there, the staff at Cassia will happily arrange a buggy ride for you.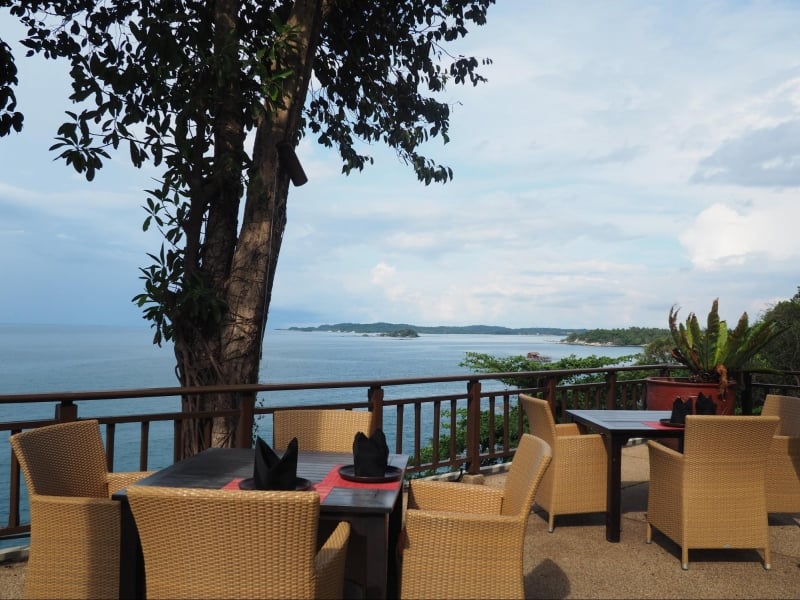 One of the places to dine at is the Treetops Restaurant which has an al-fresco dining area where you can enjoy a romantic dinner with the stunning ocean panorama and cooling sea breeze. Their new-and-improved menu allows you to experience authentic Indonesian flavours at its finest.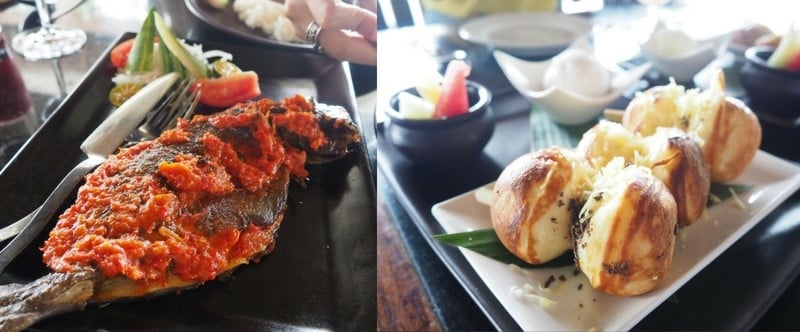 Some of the dishes that we personally sampled and liked were the Mie Goreng (Fried noodles), Ikan Bakar Rica Rica (Grilled White Rabbit Fish), Ayam Goreng Kalasan (Javanese Fried Chicken) and Rendang (slow-cooked beef). For those with a sweet tooth, be sure to try Godok Pisang (mashed banana fritters served with ice cream) and Terang Bulan (sweet fluffy pancake balls served with a refreshing scoop of coconut lychee ice cream)!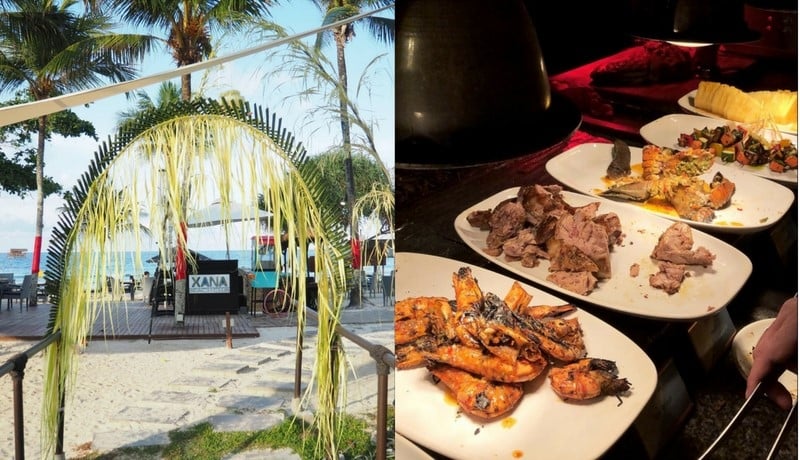 The XANA Beach Club also offers an affordable beachside dining experience with an international spread of grilled seafood, meats and many more! Get the most bang for your buck at their dinner buffet held every Saturday and stuff yourself silly while enjoying great music.
5. Party away at XANA Beach Club
Besides offering mouth-watering delights, XANA Beach Club is a great place to unwind for the rest of the evening. As the sun sets, watch the beachfront come alive and transform into a party venue with groovy tunes spun by the resident DJs. Put on that flowy bohemian dress, grab a refreshing cocktail and party the night away – it's time to dial up the energy and show off those slick moves!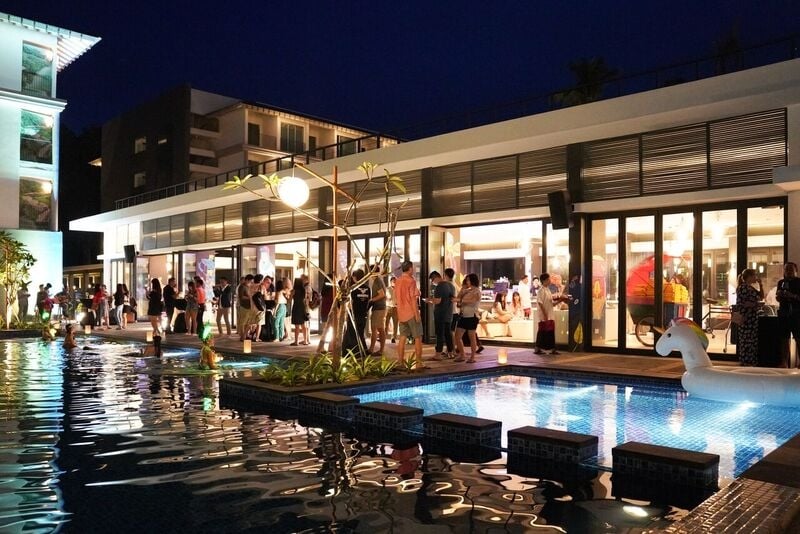 In line with the launch of their exclusive beachfront apartments, Cassia Bintan is also organising a series of uniquely-themed, monthly pool parties called Get Wet at Cassia at the XANA Beach Club. They held their inaugural foam party just last month and it was a blast! Do check out their website or Facebook to find out the dates of these parties so that you won't miss them!
6. Release turtles into the sea
Would you like to play a small part in saving the lives of sea turtles on your vacation? Well, it's possible at Cassia Bintan! One of the most popular (and free) activities among guests is the turtle protection activity where you get to release newly hatched turtles into the sea.
The establishment works with local fishermen and villagers to locate turtle nests and they collect the eggs to ensure protection against predators and other locals who eat these eggs for unfounded health benefits. The peak hatching and release periods are from mid-May to end-June, and from early August to end-September each year. Even if you miss your chance to take part in this activity, you can visit the Lagoi Turtle Hatchery to learn more about the turtle conservation efforts.
7. Get active with golf, volleyball, and watersports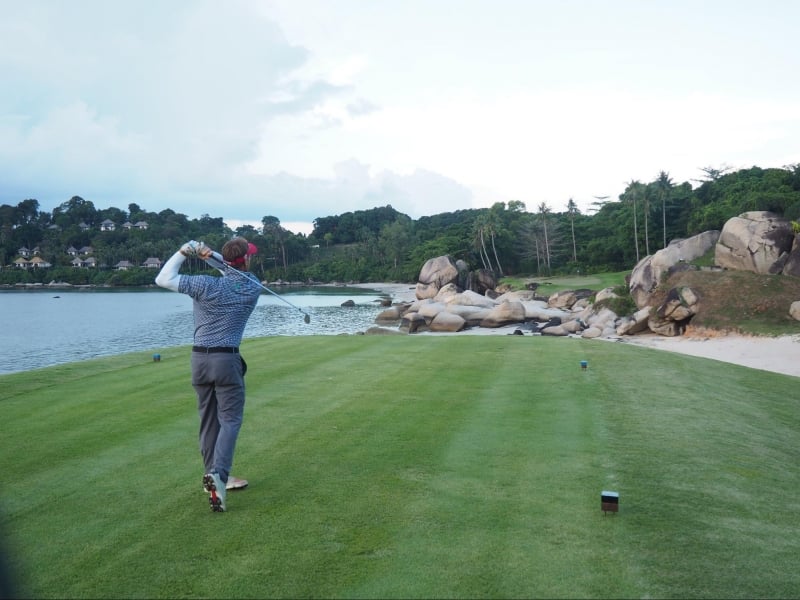 Try your hands at a game of golf at the Laguna Bintan Golf Club, an 18-hole golf course. The sprawling golf course spans over 60 hectares, and provides pure inspiration for beginners as well as seasoned golfers alike. With terrains of forestlands, natural wetlands, and beachfront coconut groves, it is truly an exciting golf course for avid golfers!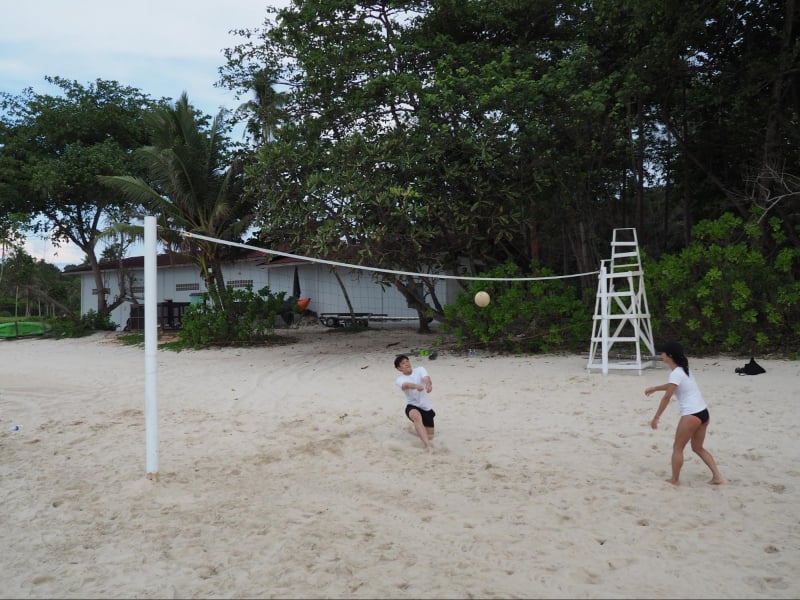 If golf isn't really your thing, how about a casual game of volleyball by the beach? Friendly Cassia staff are on hand to set up the net for you, and you can even challenge them to a game! There are also other water sport activities such as snorkelling and jet skiing that are available upon request.
8. Take a dip in the dazzling beachfront pool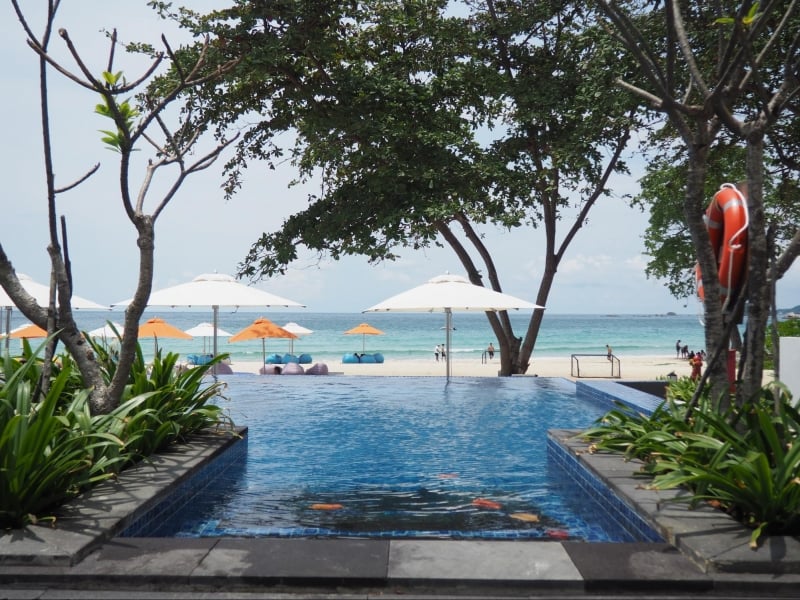 The mark of every good resort is a stunning, azure pool, and Cassia Bintan has got just that! The pool literally glistens under the hot sun. With deck chairs in the pool itself, you can chill the afternoon away reading a book or listening to the specially curated summer playlist featuring the latest chart toppers. So hurry, lather on some sunscreen and have a splashing good time!

After a dip in the pool, saunter over to the bean bags and outdoor sofas near the pool to chill out at the beachfront. Don't forget to take advantage of the happy hour specials and order a cocktail or two. Cassia's experienced mixologists are all ready to shake up some interesting cocktails (think lemongrass-flavoured ones) for you to try!
9. Indulge in a sensual spa experience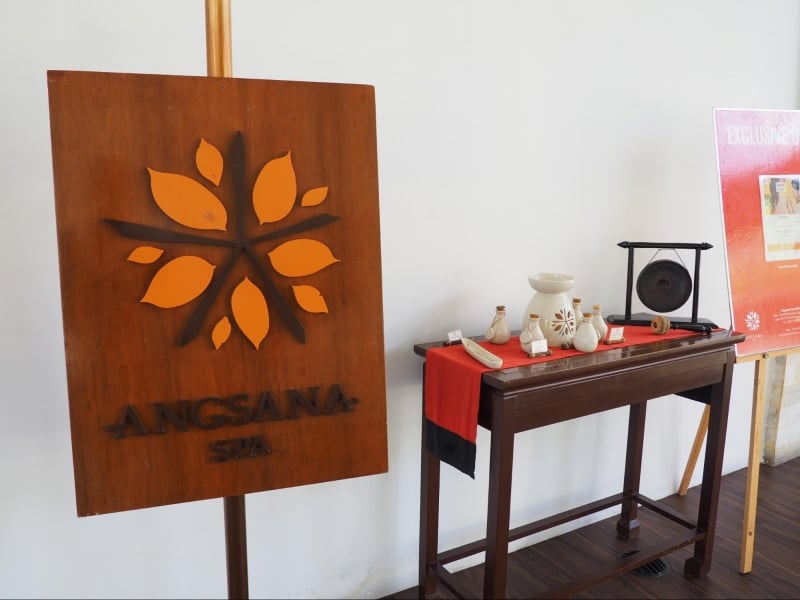 Located just a five-minute walk away from Cassia's Meeting Point, Angsana Spa offers a wide selection of Indonesian-inspired massages and therapies which prioritise the use of natural ingredients. Shed the cares of the world and recharge your senses with a soothing and revitalising body massage!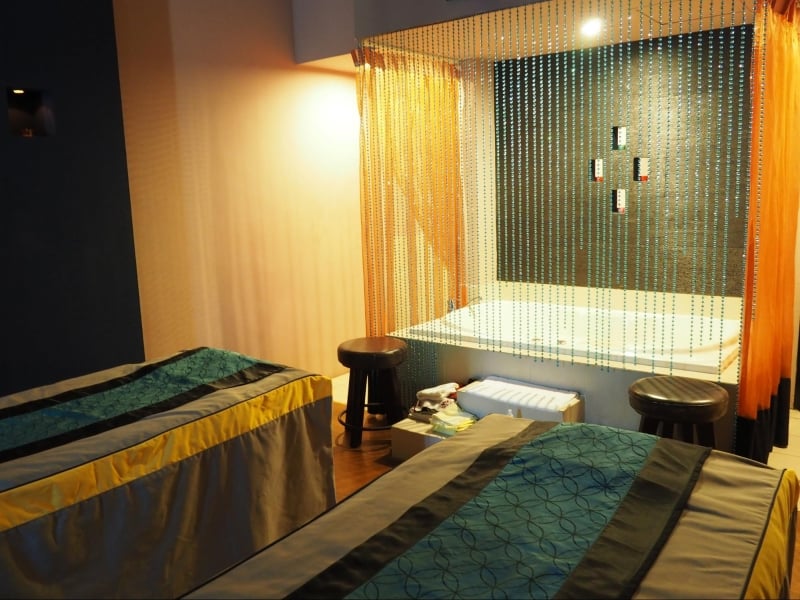 Choose from five different types of treatments, each with their own speciality and focus. We tried the traditional Javanese massage, which consists of a deep tissue massage that aims to relieve body tension and promote better sleep patterns. Honestly, it was exactly what sleep-deprived workaholics like us needed.
10. Explore Bintan's nature and wildlife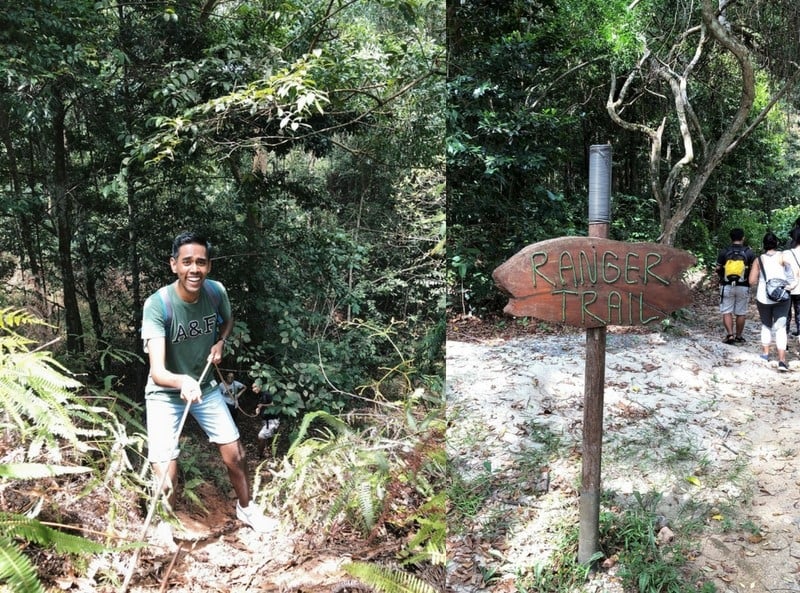 If you're a nature lover who's in the mood for some outdoorsy fun, just let the friendly staff at Cassia know and they'll be more than willing to bring you on a private hour-long hike. During the hike, you can also rappel down a steep six-metre slope! As an added bonus, the staff are knowledgeable about the types of edible fruits and medicinal plants found in the forests. The guide that brought us shared stories about his friends who used to harvest tongkat ali (a herbal supplement known to improve male health) from the forest and how he made tea with it every day! Cheeky!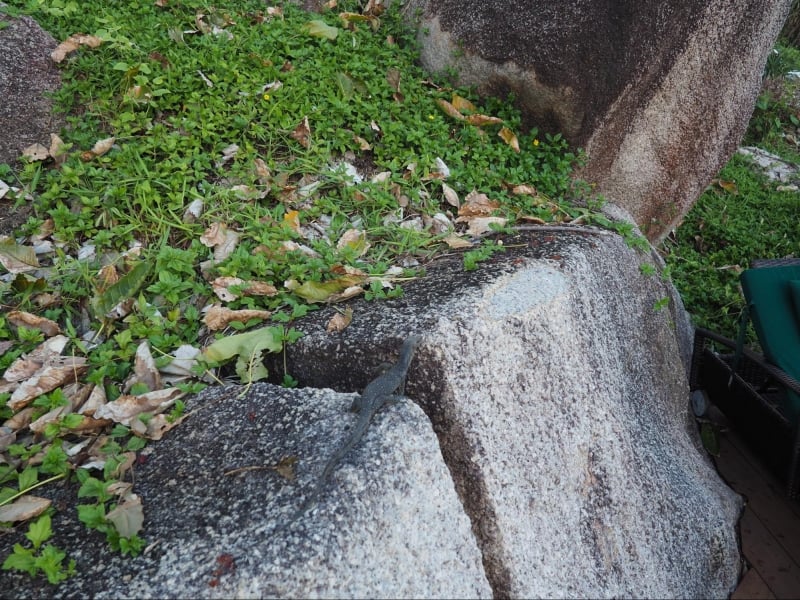 Bintan's forests are teeming with wildlife. While you're trekking, keep your eyes peeled for the adorable monkeys and macaques, and be careful where you step – if you're 'lucky', you might spot a snake! The wildlife rangers at Cassia can also organise a bird watching hike for you upon request. Bring your binoculars and try to spot the Mynah and Bulbul bird!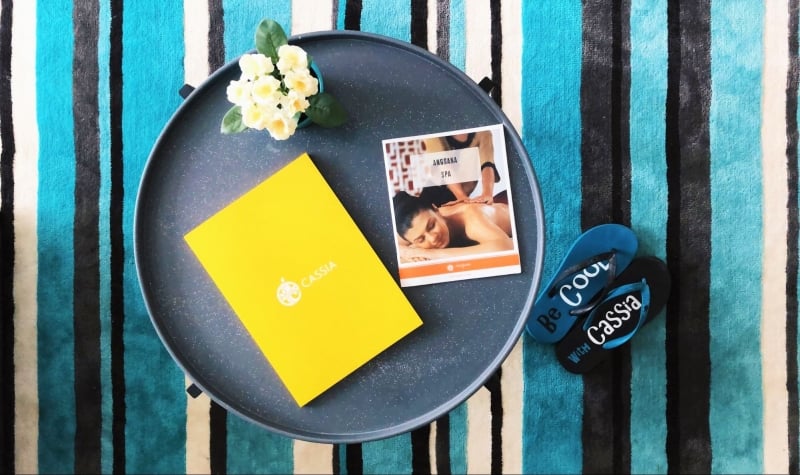 So what are you waiting for? With a myriad of activities to keep you occupied, Cassia Bintan is definitely THE place to head to for your next weekend break! Imagine waking up to your own private slice of paradise, framed against stunning ocean views and lush emerald landscapes – pure bliss!
Address: Jalan Teluk Berembang Laguna Bintan Resorts, Kepulauan Riau 29155, Indonesia
Phone: +62 770 693111
Email: [email protected]