Essaouira is a charming city with a long history along the Atlantic coast. Historical sites, souks, and beaches are the area's main appeal, but you'll also find plenty of quirky and bohemian art galleries and stores; the city has become something of a hub for creative souls.
Tourism is rapidly on the rise in Essaouira, partly due to the city having shot to fame when it featured in the popular Game of Thrones. There's a good choice of places to stay, ranging from riads and apartments to guest houses and hotels. While Essaouira can be enjoyed on a day trip from places like Marrakech, it's highly recommended to spend at least a couple of days here to fully appreciate its charms.
These are some of the best things to see and do in Essaouira:
1. Explore the Sqala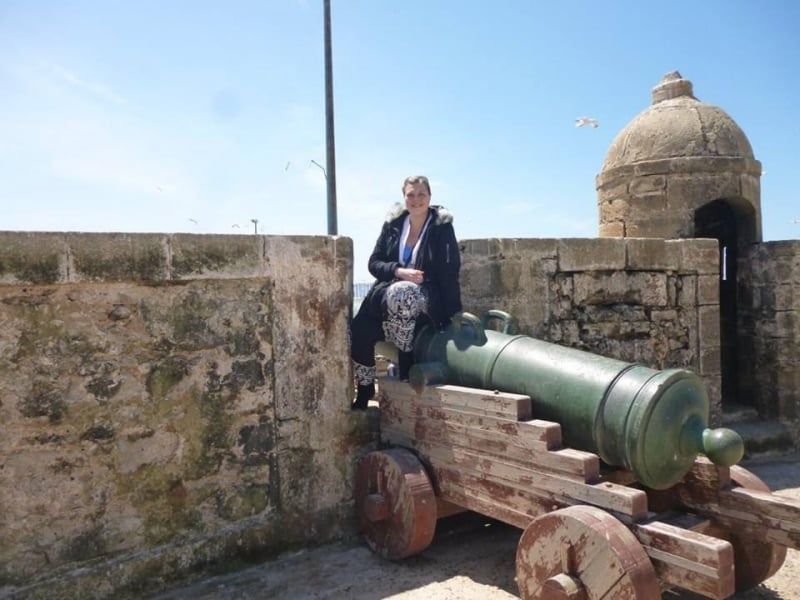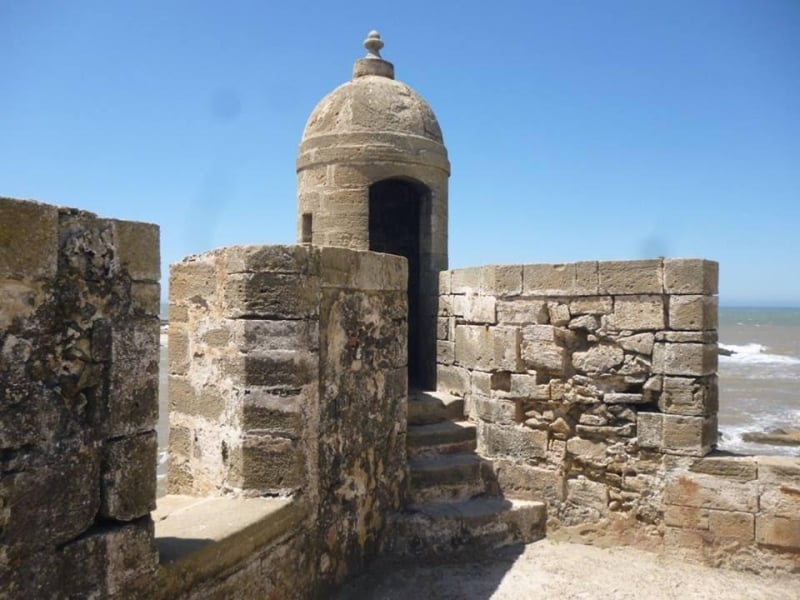 An old fortress in the kasbah, the Sqala has the chilly and choppy waters of the Atlantic Ocean on three sides. A fortress has stood at this spot since the 1500s, constructed by the Portuguese to protect the city from invasions. The earlier fortress was destroyed but then rebuilt with high stone walls and sturdy stone. Step back in time with a walk along the ramparts and admire the views over the ocean. You'll see the historic island of Mogador in the distance too, along with small fishing vessels bobbing on the waves and seagulls soaring through the skies. Old cannons still point out to sea, ready to defend the city, and you can clamber on top for a cool picture.     
2. Walk around the port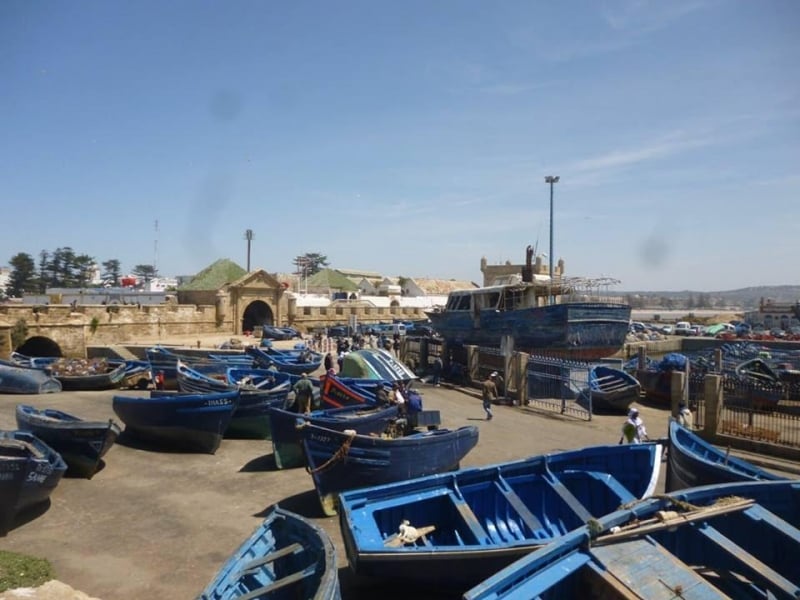 Essaouira was once home to one of Morocco's main fishing ports. The port is still active today, with fishermen setting sail on the ocean hoping to return with a bountiful catch. Workers scurry through the port, helping to haul nets and offload seafood on the boats' return. Strong ropes lie across the paths as people repair huge nets and patch up boats. Big and small boats sit in the port and there are, naturally, more boats moored up in the evenings after the fishermen have returned from sea.  
3. Eat fresh seafood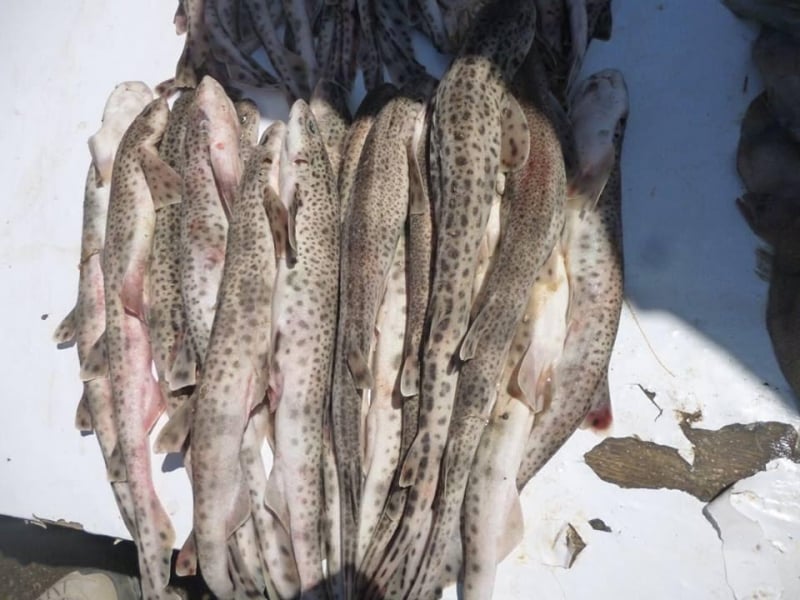 Essaouira has plenty of seafood restaurants where you can sink your teeth into the freshest catches. There are also vendors close to the port selling seafood snacks, and the fish market is ideal for people who want to source ingredients to prepare their own dishes. From seafood tagine to grilled fish, many local dishes make use of the local fishing industry. Sardines are particularly abundant, and you'll also find sea urchins, squid, mussels, prawns, eel, and a variety of other ocean fish.  
4. Shop in the souks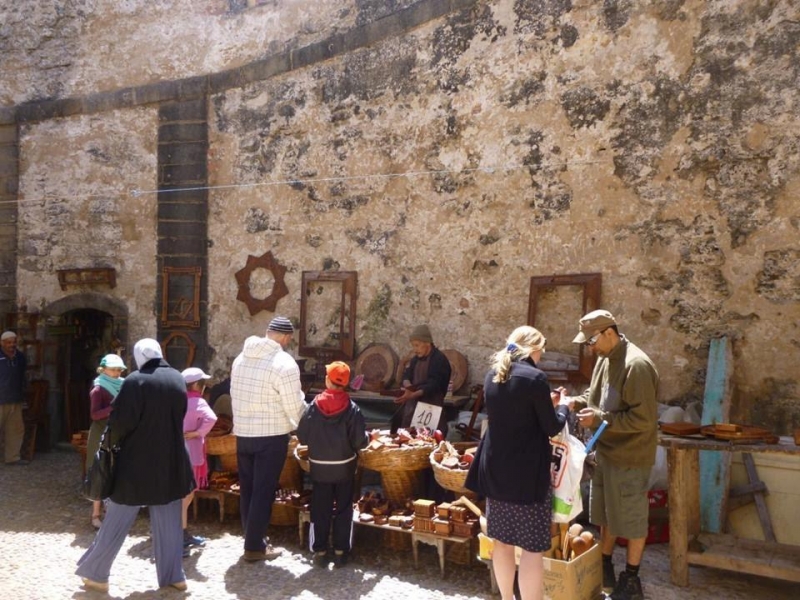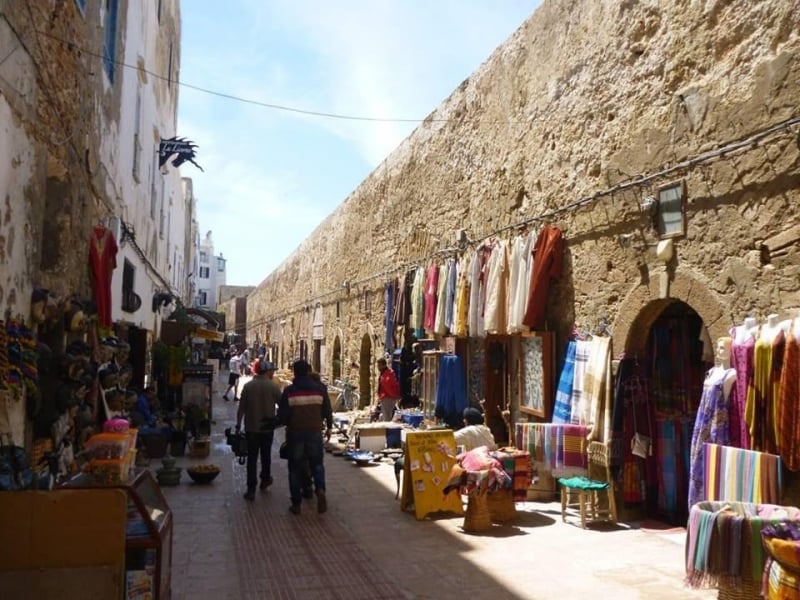 The traditional souks of Essaouira spread through the old medina, with small stores and stalls found down narrow alleyways, in larger squares, and along wider walkways. The atmosphere is much more laid back than in the souks of Marrakech, Fez, Tangier, and other larger cities, though you will still need to negotiate to get the best prices on items. Arts and crafts, created by local artists, are among the more unique items to take home, and local products include carved wood and lacquer goods. Pottery, clothing, household wares, toys, carpets, and spices are also common items in the souks, and ornate lamps and tea sets can make for great gifts for anyone who loves Morocco's spirit. Due to Essaouira's prime location close to the country's argan-growing area, argan oil products, including shampoos, soaps, and moisturisers, are abundant. Peek into small workshops throughout the souks and you'll see artisans hard at work.
5. Stroll through the Medina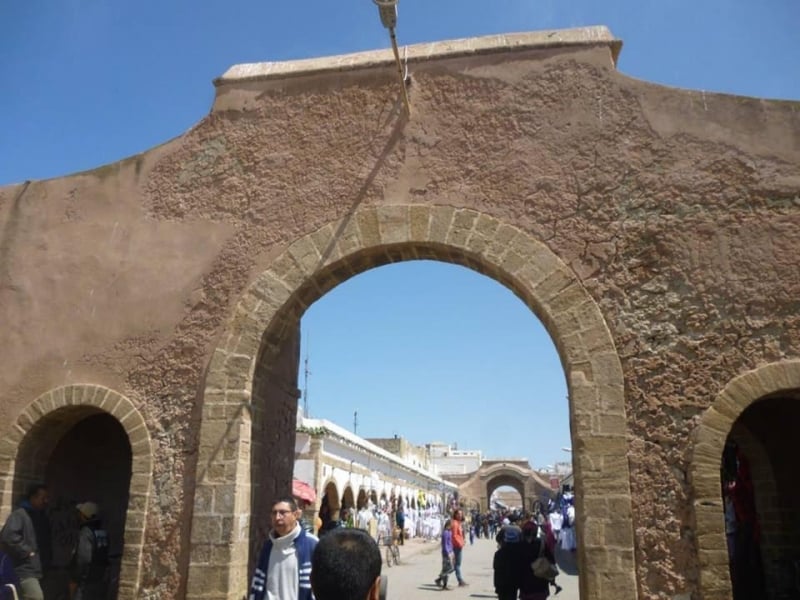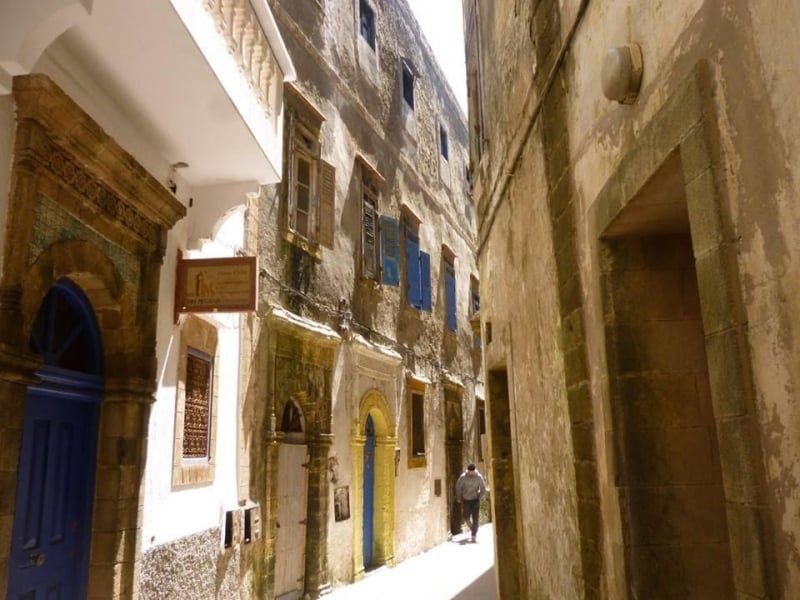 The old medina of Essaouira is today a UNESCO-listed World Heritage Site. See how people have lived for many years, with decorative doorways providing an entry into tall windowless riads, narrow streets and passageways, arches, and small stores. The medina is pedestrianised, although that doesn't mean that you won't spot the odd motorbike, bicycles, and donkey with cart traversing the streets.
6. See the Mellah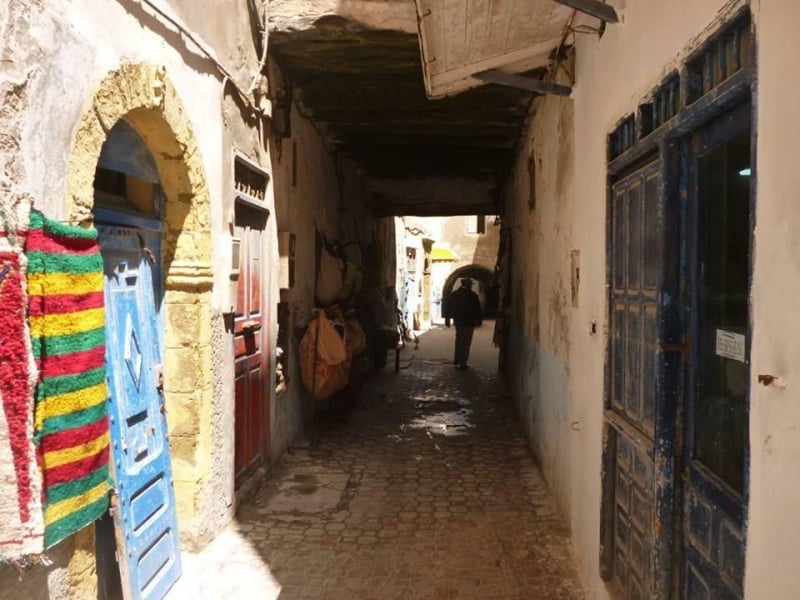 The Mellah is the old Jewish quarter of Essaouira's medina. The vast majority of Jews have now left, with many having moved to Israel on its creation in the 1950s, leaving crumbling graffiti-covered buildings and decaying streets as a forlorn reminder of their time in the city. Interestingly, in times gone by, Essaouira was home to a large Jewish population, with Jews and Muslims coexisting harmoniously side by side. Indeed, almost half of the local community was once Jewish. It's eerie and rather sad to see first-hand the signs of age and observe what happens to an area when it is abandoned. Stray cats now prowl the streets, hungrily yarling for scraps, and local prostitutes invite men into dingy and dirt-filled rooms for some far-from-romantic brief encounters.
7. Wander along the beach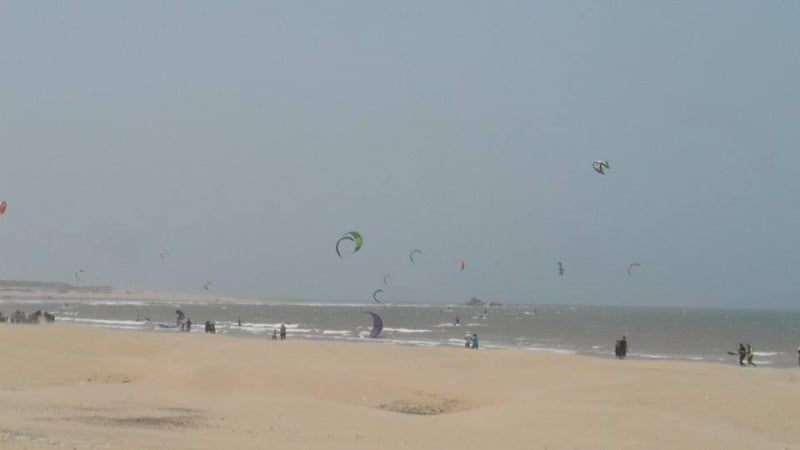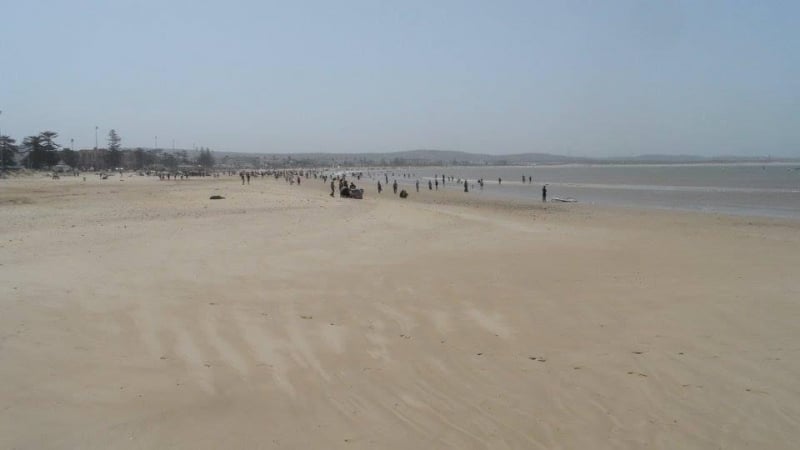 Essaouira has a long and wide sandy beach, providing a perfect spot to admire the views and walk along the sands. A strong wind blows through the area for most of the year, making sunbathing and swimming impossible for all but the most stubborn! The winds do, however, help to create the ideal conditions for surfing, kitesurfing, and windsurfing. Camels often provide rides along the sands too.
8. Visit argan cooperatives
There are many argan cooperatives around Essaouira, where women work tirelessly to extract the precious argan oil from the nuts. Although mainly aimed at tourists, it's interesting to see the labour-intensive process and learn more about argan.  
9. See goats in trees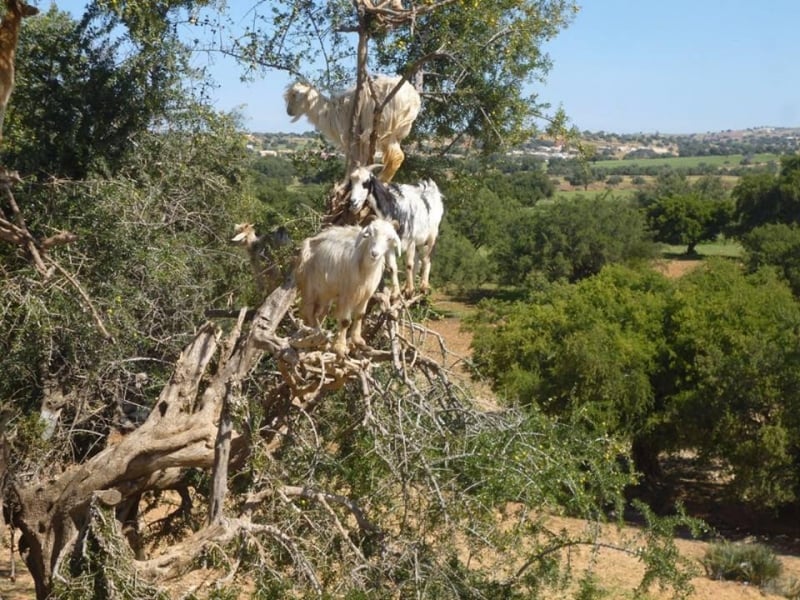 A really unusual and unique sight, if you venture into the argan-growing area you may chance across goats climbing trees to feast on the fruit. The vast majority of farmers now protect the trees from the nibbling goats, only allowing them to climb and dine if it serves a beneficial purpose to them. Often, this purpose is to dazzle tourists. Sadly, this means that goats are often hauled into trees in the hot sunshine to stand on small platforms while people snap photos. If you're on a trip, you will likely stop at such a spot. If you explore the area independently, you may see goats naturally climbing up through the trees.  
10. Enjoy cute cafes and galleries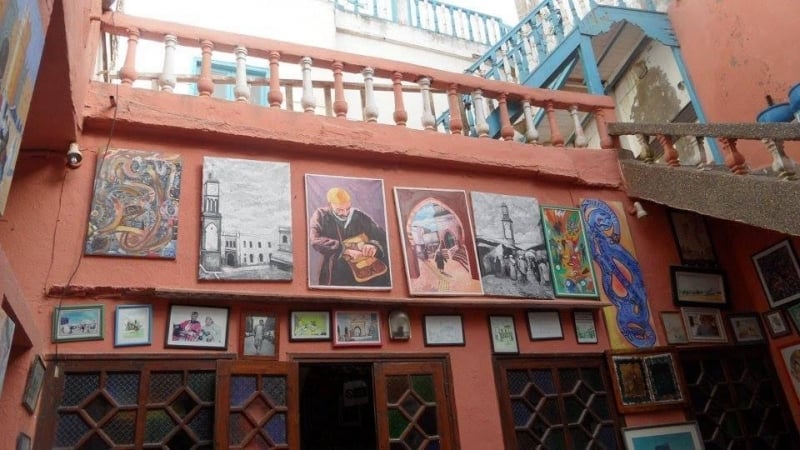 As well as varied restaurants and bars, Essaouira boasts a number of delightful cafes that double as art galleries. Sip mint tea or a refreshing fruit juice or other cold drink and savour sweet pastries as you admire the colourful artwork on the walls. Many pieces have a local or cultural connection.  
11. Visit Diabat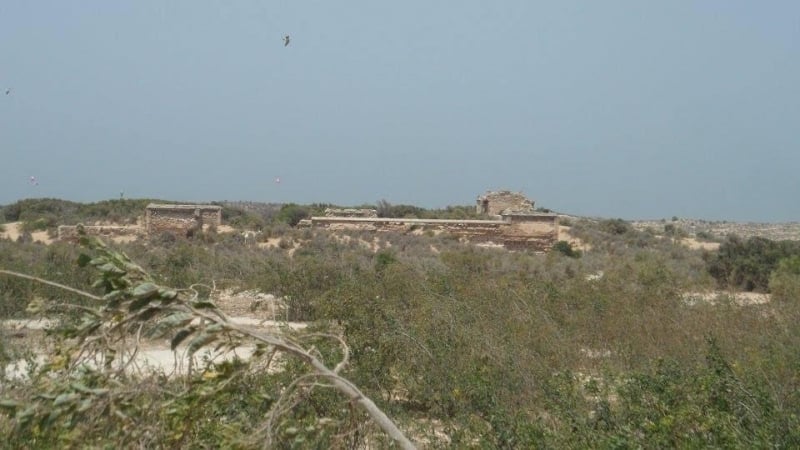 Diabat, a small Berber village, is largely deserted today but it has a tenuous claim to fame. Some people say that the coastal village was once a popular haunt of Jimi Hendrix… though there are also suggestions that the legendary guitarist never even set foot in the area. Regardless, locals cling onto the idea and there is a small café in Hendrix's honour, complete with paintings of the musical icon and guitars. Perhaps more interesting for fans of history, the area also has a scrub-surrounded abandoned ruin next to the sea.
12. Experience the annual Gnaoua World Music Festival
The Gnaoua World Music Festival is one of Morocco's largest musical events, taking place each summer. Most events are free and it attracts musicians and bands from all around the world. While the focus is on Berber culture and the hypnotic sounds of Gnaoua music, you'll also hear jazz, rock, punk, indie, and various other genres of music too. I didn't get to attend this festival, but if I visit again I will definitely try and time my trip better!