ZUJI x TripZilla: Presenting to you, our nifty 'ZUJI Keeps It Real' series!
Straight up, no fluff: arm yourself with candid travel cheat sheets that contain authentic stories, real life experiences and insider tips for fellow travellers. We've been inspired and we hope you will be too!
---
Tokyo, I daresay, is my FAVOURITE travel destination. There's just something extraordinary about the place that makes it like no other place in the world! Tokyo itself has plenty to offer, but I've also found the city to be a great place from which to kickstart any exploration of Japan:
Every adventure starts with the exhilaration of scoring a flight deal, and boy do we have a good one for you this time round. From 1-5 May 2017,
fly to Tokyo from just S$430 with ZUJI
!
What's more, book your flights with your Maybank Card to enjoy:
Up to 6% flight/package rebate

12% hotel coupon code

FREE pair of Adventure Cove Waterpark™ tickets*
*With min. S$1,500 spend in a single booking & limited to the first 50 redemptions.
NOTE: THIS FLASH SALE HAS EXPIRED, BUT DON'T MISS THE NEXT ONE! FOR INSIDER INFORMATION ABOUT THE NEXT FLASH DEAL, JUST:
Whether for nature lovers, culture vultures, unconventional travellers or for those who are pure kids at heart – Tokyo has something for everyone. Arm yourself with these itineraries and get set to discover the wonders of Tokyo and its surrounds!
Warning: you might just fall hopelessly head over heels, just like I did.
1. For those who dare to be different
From Tokyo to: Zao Fox Village // Yokohama // Kawasaki
Day 1-4: Tokyo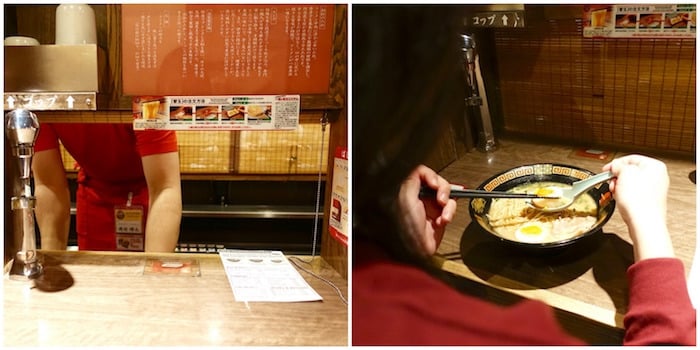 Sushi and udon are high up on any foodies' lists, but I was determined to take my Japan gastronomic experience up a notch and hunt down quirky food options to try during my stay in Tokyo.
The solo culture is extremely prevalent in Japan, exemplified by a nondescript ramen establishment that has taken Japan by storm. At Ichiran Ramen, diners have their meal in isolated cubicles so that they can wholly concentrate on the flavour. My piping bowl of ramen was served to me through a slot in the wall – everything remained very mysterious and very, very exciting!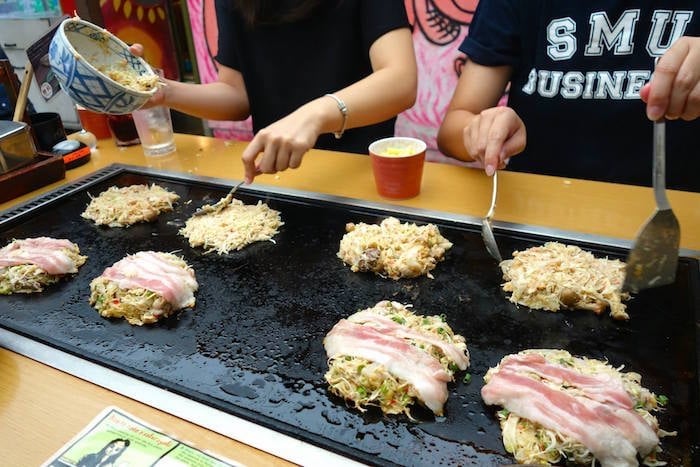 I also stumbled across Sakuratei, a DIY Okonomiyaki place tucked away in the back alleys of Harajuku. In fact, it's so hidden that it's nestled within an art gallery.
Harajuku is Tokyo's kawaii central – consider booking your accommodation in this district for a full immersive experience, where you might even be able to spot cosplayers strutting their stuff on Sundays. And I have just the thing for you – receive a 12% hotel coupon code when you book your flights to Tokyo from just S$430 with ZUJI!
Travel Cheat Sheet Tip: Harajuku is also known for being a treasure trove for foodies, don't miss out on hunting down the famous Marion Crepes or giant cotton candy. Harajuku is also just a couple of streets away from Omotesando, where Luke's Lobster can be found.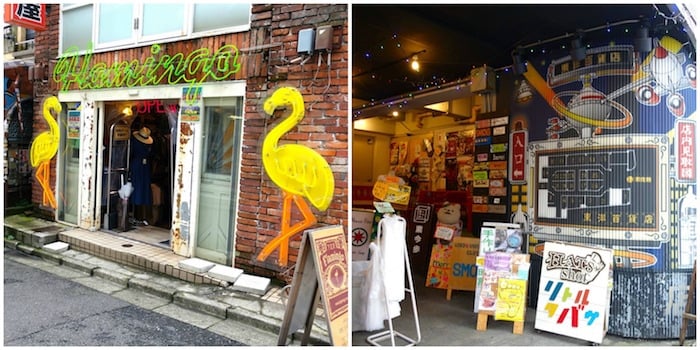 On my quest for off-the-beaten-path things to do in Tokyo, I spent a delightful afternoon exploring the district of Shimokitazawa. Dubbed as Tokyo's hipster central, the district is chock full of thrift stores and novel cafés, with graffiti adorning almost every surface available.
On top of that, seek out the unconventional by visiting a Maid Café in Akihabara, having dinner at the Robot Restaurant extravaganza in Shinjuku, wake up in the middle of the night for the famed tuna auction at Tsukiji Market, watch a sumo wrestling practice one of the Ryogoku district's stables, or take a photo with a life-sized Gundam statue at Odaiba.
Day 5: Zao Fox Village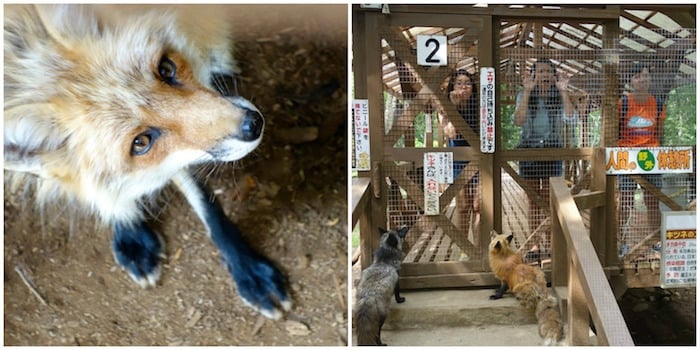 What does the fox say? Find out at Zao Fox Village, a curious village home to over 100 foxes. In case you think that this is some form of zoo, think again. Most of these foxes are wild, drawn to the fox village in search of safe sanctuary and free food. There is a free-roaming area within the compound where I walked (quite cautiously, I might add) among six different fox species, and even fed some of them from a raised platform.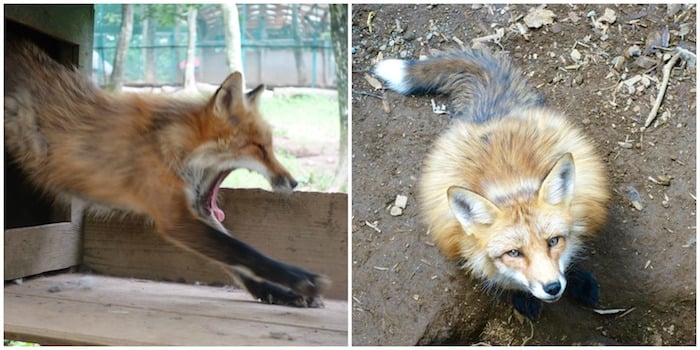 How to get there: Take the shinkansen from Tokyo Station directly to Shiroishi Zao station (109 minutes), and transfer to a taxi that will bring you up into the mountains to the Zao Fox Village.
Travel Cheat Sheet Tip: Transport in Japan, like it or not, will take up the bulk of your expenses. If you're looking at this itinerary, the shinkansen from Tokyo to Shiroishi Zao station costs about 10,350 yen (~S$130), one-way. You might want to consider getting the JR Rail Pass, which will allow you unlimited travel on all shinkansens out of Tokyo, as well as around Tokyo on the JR Yamanote line that goes to all major hotspots. The JR Rail Pass will cost you around S$300-S$350, in which case, ZUJI's awesome flight deal (where flights to Tokyo are going from just S$430) will certainly be a total lifesaver!
Day 6: Yokohama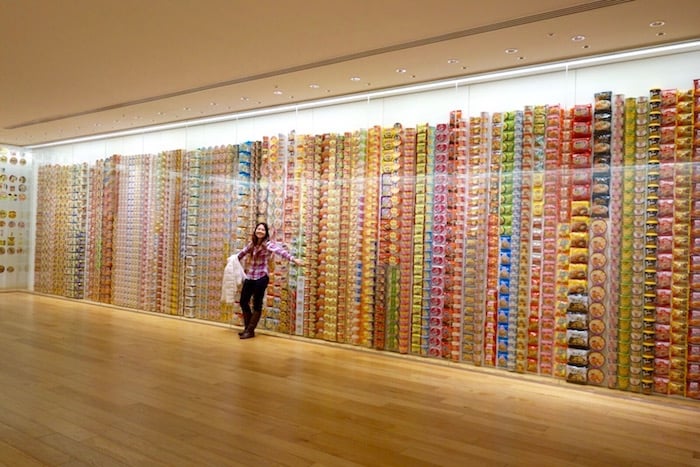 I looooooove cup noodles. And what better way to spend the day than to immerse myself in everything related to my go-to comfort food at the Momofuku Cup Noodles Museum? I learnt all about the history behind the invention of cup noodles, took lots of photos in the Instant Noodles History Cube which had all sorts of packaging on display, and even had the chance to customise and decorate my own cup of instant noodles.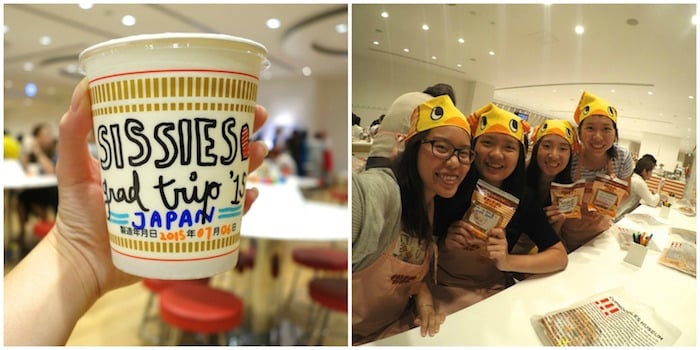 Travel Cheat Sheet Tip: Besides customising my own cup of instant noodles, I also participated in a ramen-making workshop at the Chicken Ramen Factory. The workshop is conducted in Japanese, but I was given a comprehensive English brochure that translated whatever was going on. These classes fill up really quickly, so do make your reservations in advance on their website.
How to get there: Take the JR Tokaido line from Tokyo station directly to Yokohama (25 minutes).
Day 7: Kawasaki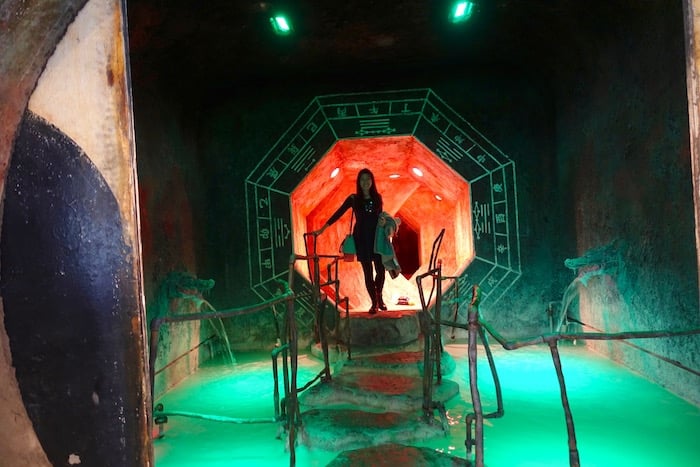 I'm not a gamer but when I chanced upon the Anata no Warehouse on the Internet, I just knew I had to check it out. Located not far from Tokyo, this warehouse (also known as Kawasaki Warehouse) is a multi-storey gaming arcade modelled after the back alleys of Hong Kong's Kowloon Walled City.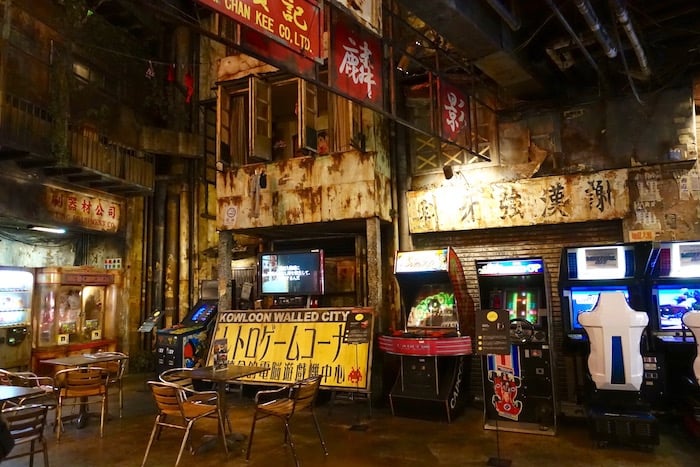 Stepping into Anata no Warehouse felt like I was transported to a dystopian wonderland; the entrance consisted of a dilapidated set of stairs over eerie glowing water, the walls were thick with grime, and rooms were filled with faux seedy posters complete with mannequins parading as fake prostitutes.
Travel Cheat Sheet Tip: Don't be too intimidated by the first floor, venture further up and you'll find a multitude of gaming machines, pachinko, as well as billiards and table tennis tables.
How to get there: Take the JR Tokaido line from Tokyo station directly to Kawasaki (16 minutes). Anata no Warehouse is a short five-minute walk from the station.
For everyone striving to find off-the-beaten-path destinations, take a step back and realise that conventional locations can contain lots of cool things to do as well, and in this case, Tokyo takes the icing on the cake.
Fly to Tokyo from just S$430 with ZUJI
– book your flights from now to 5 May 2017 to enjoy this unbeatable price!
2. For nature-loving tree huggers
From Tokyo to: Lake Kawaguchiko // Hitachi Seaside Park // Hakone // Enoshima // Kusatsu Onsen
Day 1: Tokyo
Tokyo is a bustling metropolitan city, boasting a skyline peppered with glistening skyscrapers and streets plastered with neon billboards. Amidst all this hustle and bustle, however, I was delighted to discover a few pockets of peace and quiet – by taking  a stroll along Meguro River or having a picnic in one of the city's parks, my favourite of which being Yoyogi Park.
Travel Cheat Sheet Tip: Visiting Tokyo's parks during Sakura Season is a definite bonus but with the blooms come inescapable crowds – which sort of defeats the purpose of tranquility, doesn't it? No matter the season, lush greenery or inviting autumn foliage awaits. Grab a picnic mat from Daiso for just S$2 to complete the experience.
Alternatively, go for a Yakatabune ride, a barge-style boat that are traditionally used for partying whilst out at sea. It's a really interesting experience to have – I sat on tatami mats on the floor and indulged in a kaiseki (traditional Japanese cuisine) meal. This is a great way to sightsee Tokyo from a different vantage point! I also rented a rowboat at Inokashira Park, which is available at Meguro River as well.
Day 2-3: Lake Kawaguchiko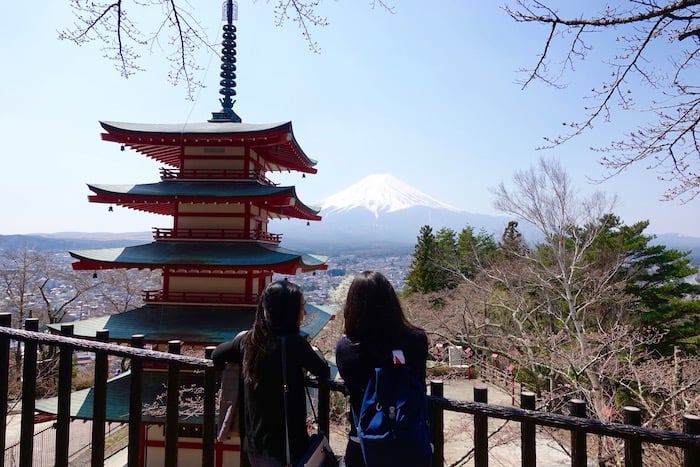 The main draw of Lake Kawaguchiko, ironically, isn't the lake, but the magnificent Mt. Fuji! The best place to view Mt. Fuji is at Chureito Pagoda, located a 10-minute walk from Shimo-Yoshida Station on the Fujikyu Railway line. I had to climb over 400 steps to reach the top; it was insanely tiring, but we persevered and the view at the top was  more than worth it!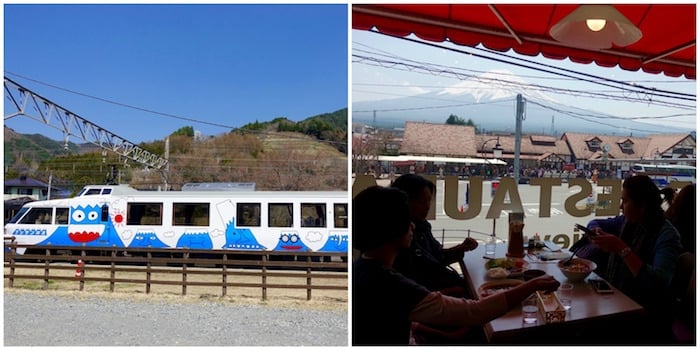 A ride on the Fujikyu Railway is also an experience in itself, where even the carriage is Mt. Fuji themed. I recommend staying a night here at Lake Kawaguchiko; there are plenty of hot springs and onsens in the area. Choose to have lunch in a restaurant overlooking Mt. Fuji, where you'll bring 'dining with a view' to a whole other level. If not, simply use the hotel coupon that you'll get from booking your flights to Tokyo from just S$430 with ZUJI to enjoy 12% off your Tokyo accommodation!
Travel Cheat Sheet Tip: Check the weather forecast before you go. Mt. Fuji is elusive, and will only be visible on clear days.
How to get there: Take a Limited Express Train from Tokyo station to Otsuki station (78 minutes), then transfer to the Fujikyu Railway towards Lake Kawaguchiko (55 minutes)
Day 4: Hitachi Seaside Park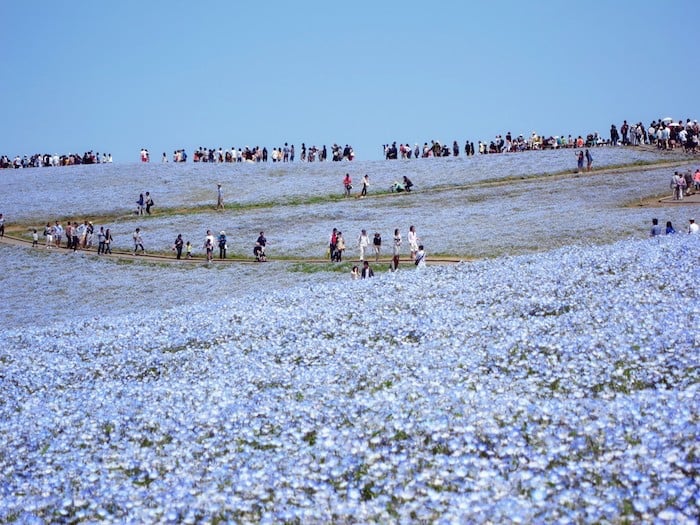 Image credit: Charmain Yong
Come spring every year, Japan erupts in a cacophony of colours in the form of various flower festivals. Late March and early April see the arrival of Sakura season, while May hails the blooming of wisteria, shibazakura as well as nemophila. I've seen countless photos of the baby-blue sea of Nemophila flowers carpeting the Hitachi Seaside Park, and simply couldn't wait to see it for myself! I definitely wasn't disappointed – the sight was simply out of this world.
Travel Cheat Sheet Tip: Don't leave without checking out the beautiful garden of tulips located near the nemophila.
How to get there: Take a direct Highway bus from Tokyo station to the Hitachi Seaside Park.
Day 5: Hakone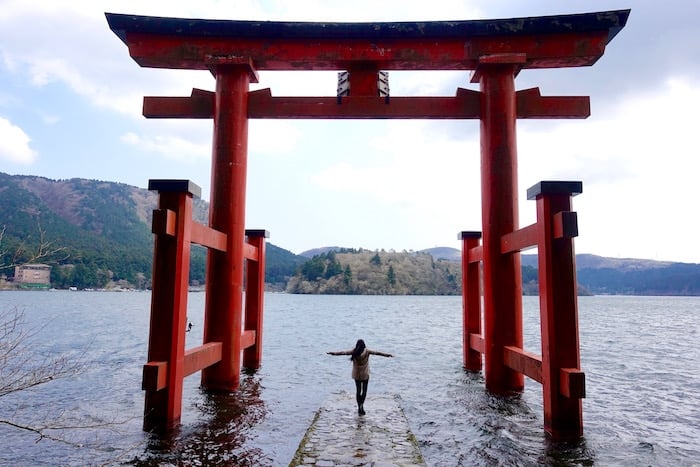 Hakone is an active volcanic region, and is home to numerous natural phenomenon! I had to take various modes of transportation to get around the island – a cable car, a rope way and even a pirate ship that brought me on a cruise around Lake Ashi. Don't leave without seeing the floating torii gate at Hakone Shrine and Owakudani, a  sulphuric hot springs area. If you have the time, do drop by the Old Cedar Path which is lined with hundreds of towering cedar trees, some of which reach up to a height of 40 metres.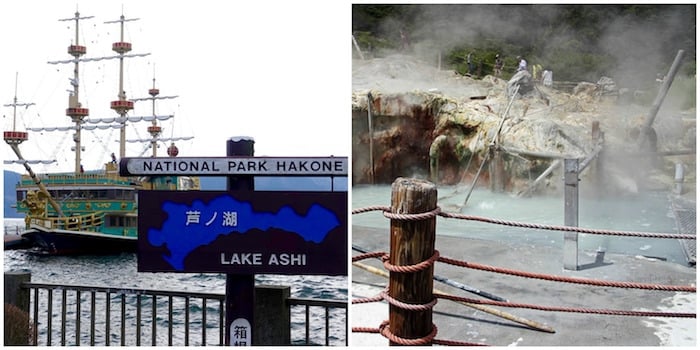 Travel Cheat Sheet Tip: At Owakudani, do try one of the famous black eggs cooked in the area's hot springs. Eating one egg is said to be able to prolong your lifespan by seven years! I also quite like the egg-flavoured soft serve, which was both savoury and sweet at once.
How to get there: The easiest option would be to purchase the Hakone Free Pass, which includes round-trip transportation between Tokyo's Shinjuku and Hakone as well as unlimited access to the various modes of transport on Hakone Island.
Day 6: Enoshima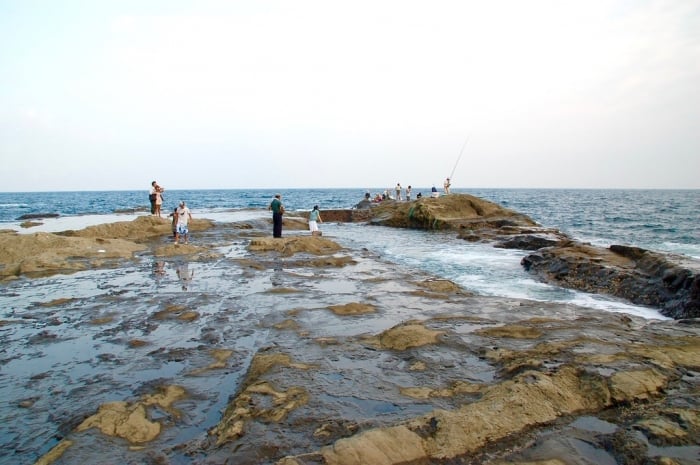 Image credit: Marufish
Enoshima is the most famous island of Sagami Bay, and is a wonderland for nature lovers. Locals and tourists alike flock to the beaches during warmer weather, where surfing and jet-skiing are commonplace. All year round, however, the island has plenty to offer – Enoshima is home to a shrine, an observation tower shaped like a lighthouse, multiple caves and a series of shallow pools along  the coast. I heard that Mt. Fuji is also visible from the island on clear days!
Travel Cheat Sheet Tip: Be warned that there are a lot of stairs to climb throughout the island; I recommend purchasing the 'Enopass', a one-day pass that will grant you access to a variety of attractions, as well as unlimited usage of a series of escalators that will bring you all the way to the peak of the island.
That's what we love about Japan – there are always lots of nifty ways to save money. And with flights going from just S$430 with ZUJI & Maybank Cards  plus an additional 6% flight/package rebate when you book with your Maybank Card, it really doesn't get any cheaper than this!
How to get there: Take the JR Tokaido line from Tokyo station to Fujisawa station (47 minutes), then transfer to the Enoshima Electric Railway towards Katase-Enoshima station (6 minutes).
Day 7: Kusatsu Onsen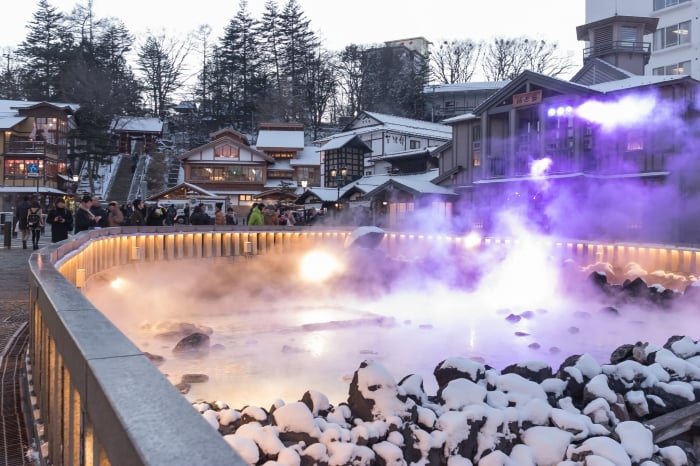 Image credit: inf_supTJ
Onsens are a dime a dozen in Japan, but my top pick is Kusatsu Onsen that dates back to the Edo period. Travel back in time at Kusatsu, which revolves around the Yubatake (hot water field) in the center of town. I suggest that you stay a night in a ryokan (most of which come with indoor and outdoor onsens) but if you're here on a day trip, you can make the most out of it with having a good soak both in the onsens and in the various free foot baths located around the town.
Travel Cheat Sheet Tip: Get the full immersive experience by watching one of the Yumomi performances, where Japanese women use large paddles to cool the temperature of the steaming hot spring water. You might even get a chance to try this out for yourself!
How to get there: Take a Limited Express Train from Tokyo's Ueno station directly to Kusatsu Onsen.
3. For self-professed Japanophiles
From Tokyo to: Nikko // Kamakura // Kawagoe // Odawara
Day 1-3: Tokyo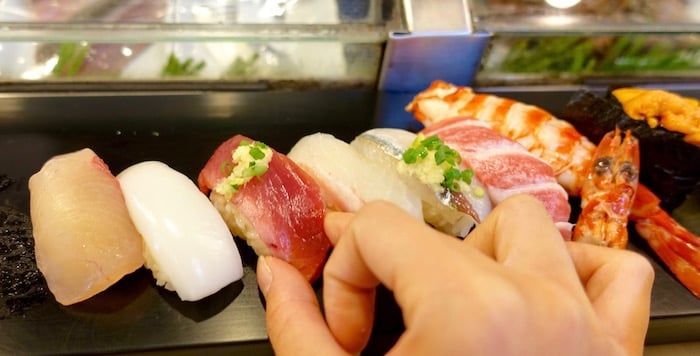 A visit to the famed Tsukiji Fish Market is a quintessential part of every Tokyo trip. A sushi breakfast is a must-do; head for one of the many establishments lining the fringe of the market. Do watch where you walk – Tsukiji Market is, after all, a working market, and the fishermen don't take kindly to tourists getting in their way.

The highlight of the market for me, however, isn't the sushi, but the outer market that lies adjacent to the main market. The outer market is home to a smorgasbord of street food, including live torched scallops topped with uni (sea urchin), strawberry mochi and tamago (a type of Japanese omelette) made fresh on the spot.
Travel Cheat Sheet Tip: The two most popular sushi restaurants are Sushi Dai and Sushi Daiwa, but queues for these two establishments range from one to four hours. I suggest heading for Ryu Sushi instead, an equally authentic outlet sans the queue. There are no chopsticks at this outlet, where customers are encouraged to eat with their hands.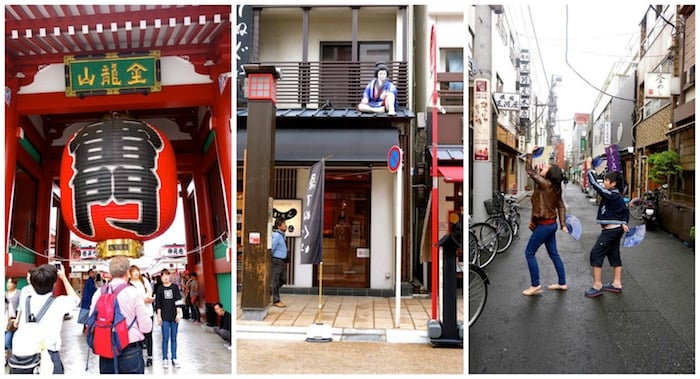 Another place to visit in Tokyo is Asakusa, most notably known for Sensoji Temple and Nakamise Shopping Street. Head for Nakamise Shopping Street to get your fill of souvenirs and street food, but the real gem of the area lies in the back alleys – I ventured beyond the touristy stalls and discovered a labyrinth of streets lined with traditional Japanese houses and izakayas (Japanese gastropubs).
I also spotted lots of couples dressed up in matching yukatas! Renting a yukata or a kimono to stroll the streets of Asakusa is apparently a really popular couple activity, with many couples often hiring a photographer as well! This is just one of the many things to do in Tokyo with your significant other – so why not book a romantic Tokyo getaway for the two of you from just S$430? If you're looking for more inspiration on where to have a couple's holiday, check out flights to Bangkok from just S$104, Chiang Mai from S$264, Koh Samui from S$458, and to Hong Kong from just S$180 as well.
To top off your holiday in Tokyo, plan a visit to Meiji Jingu Shrine, take part in a traditional tea ceremony, visit unique museums such as the Paper Museum or feast your eyes on a geisha show at the Asakusa Kenban Theatre.
Day 4: Nikko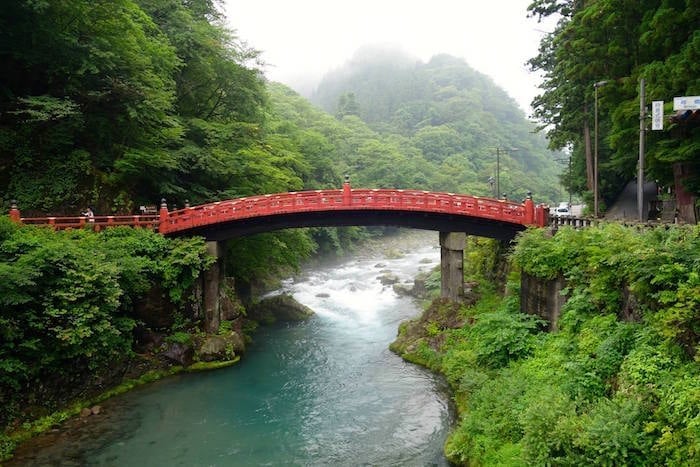 The UNESCO World Heritage Site of Nikko is an interesting one to visit; it's home to multiple temples, the iconic Shinkyo Bridge, the picturesque Kegon Falls and Lake Chuzenji, as well as a dense cedar forest. What's special about this place is the atmosphere – a thinly veiled fog often hangs over the entire area, adding an element of mystery and intrigue. I especially like how Nikko offers a unique blend of culture and nature – perfect for a tranquil escape from city life.

How to get there: Take a shinkansen to Utsonomiya station (49 minutes), then transfer to the JR Nikko line towards Nikko (42 minutes). Alternatively, take a Limited Express train from Shinjuku station directly to Nikko (~120 minutes).
Day 5: Kamakura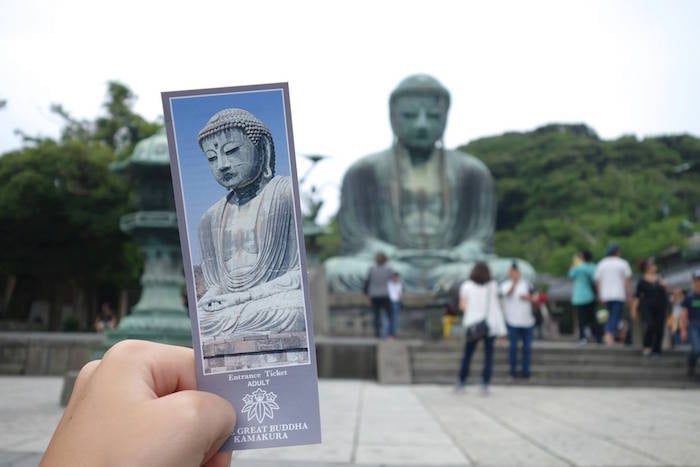 Devoid of high-rise buildings, Kamakura is a welcome breather from the frenzied streets of Tokyo. Famous for the giant Buddha statue found within the grounds of the Kotoku-in Temple, Kamakura is a delightful maze of temples and the like. If you have to choose, do make sure you drop by Hase-dera Temple, Kotoku-in temple and Enkaku-ji temple.
Travel Cheat Sheet Tip: Visit Kamakura in summer to witness colourful hydrangeas at full bloom.
How to get there: Take the JR Yokosuka line from Tokyo station directly to Kamakura (58 minutes).
Day 6: Kawagoe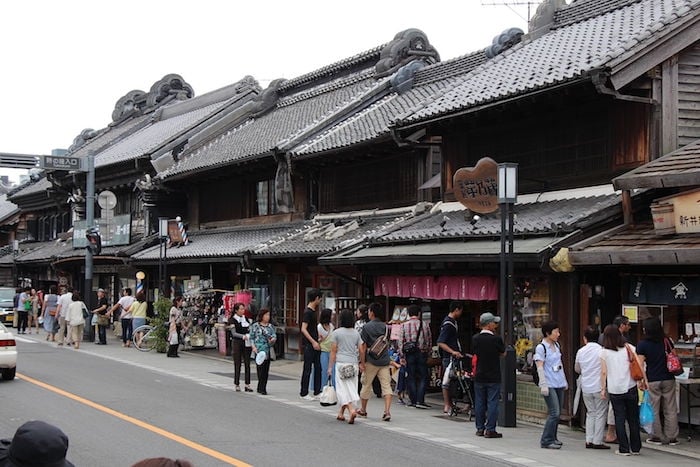 Image credit: Kanchi1979
Tokyo is full of surprises, and who would have thought there would be a quaint little town located just half an hour from the city? Go back in time at Kawagoe, a little town big on old school charm. Colloquially known as 'Little Edo', the buildings and merchant shops are reminiscent of the classical Edo era.
The main highlight is Kurazukuri Street, a long promenade lined with warehouse-style shops and back alleys framed by an iconic old bell tower. I loved the 'Candy Lane', a back alley selling all sorts of sweets and desserts.
Travel Cheat Sheet Tip: Whenever you visit somewhere new, make sure you try their local specialty! Here in Kawagoe, sweet potatoes take the limelight. Indulge in sweet potato chips or cake, with the sweet potato soft serve ice cream deserving special mention.
How to get there: Take the Tobu Tojo Rapid line from Ikebukuro station directly to Kawagoe (32 minutes).
Day 7: Odawara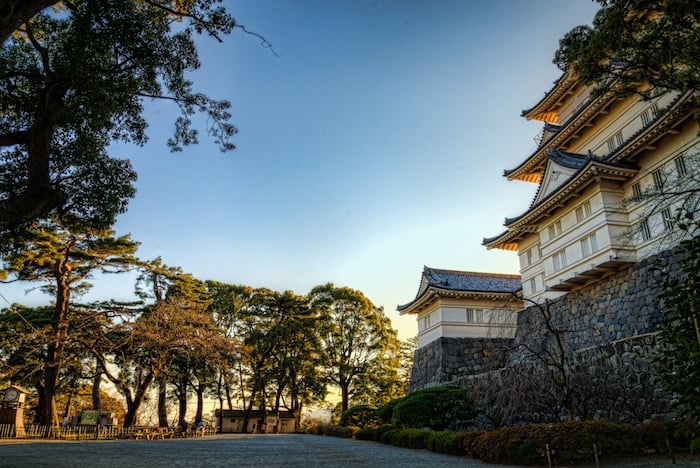 Image credit: Tagosaku
What's a trip to Japan without visiting some castles? Odawara Castle makes for a great day trip; for a small fee, I spent a couple of hours exploring the castle interior and its grounds. The top floor of the castle, in particular, offers visitors a panoramic view of the surrounding Odawara city and Sagami Bay.
Travel Cheat Sheet Tip: All of Odawara's main attractions are within walking distance of Odawara Station, so you won't have to worry about public transport!
How to get there: Take the shinkansen (35 minutes) or JR Tokaido line (82 minutes) from Tokyo station directly to Odawara.
Do you have a Maybank Credit Card? If the answer is yes, you're in luck!
Book your flights to Tokyo with ZUJI
and enjoy up to 6% flight/package rebate. That comes up to your
flights going from just S$404
!
On top of that, receive a 12% hotel coupon code and redeem a pair of FREE Adventure Cove Waterpark™ tickets*. Save yourself precious $$$ and…
*With min. S$1,500 spend & limited to first 50 redemptions.
4. For anyone who's still a kid at heart
From Tokyo to: Disneyland + Disneysea // Fuji Q Highland
Day 1-4: Tokyo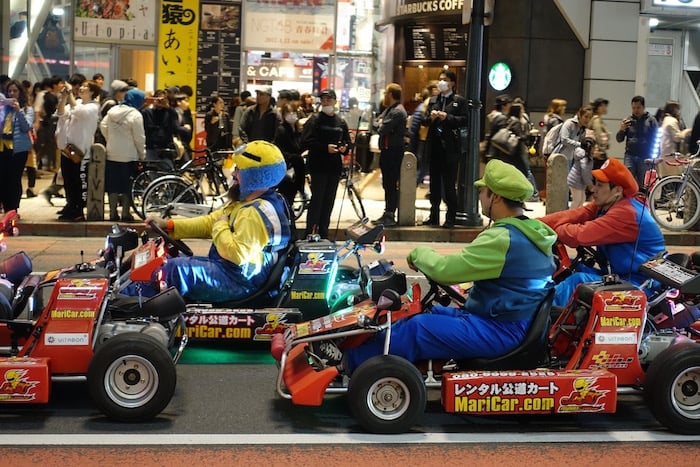 Japan is known to be home to all things kawaii (Japanese for 'cute'), but did you know you could dress up as your favourite character and take to the streets of Tokyo in a go kart? Yep, it's Mario Kart in real life! Take your pick from a variety of costumes – I chose the classic Mario one, whilst my friends dressed up as a minion, Luigi or even Woody from Toy Story. The best part about this is that you'll be driving on actual roads – I was rather intimidated by this at first, but our adept guide made driving through the busy Shibuya crossing a breeze! This is also a great way to sightsee.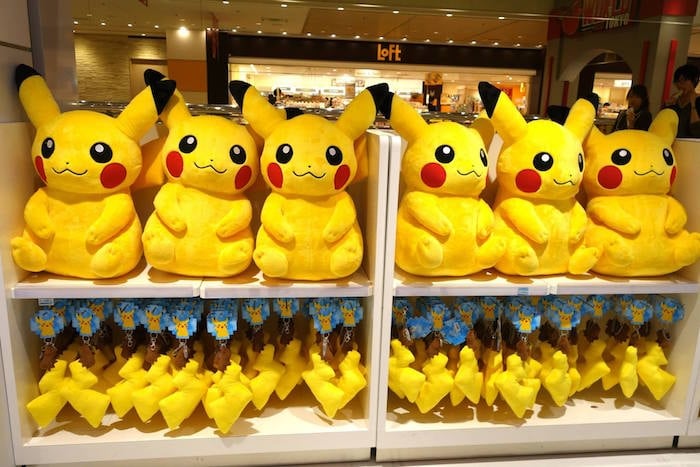 Ikebukuro is also home to a Mega Pokemon Center, where the inner kid squealed at the amount of Pokemon merchandise available (!!!). Warning: lots of self control is needed, as I almost bought up the entire store.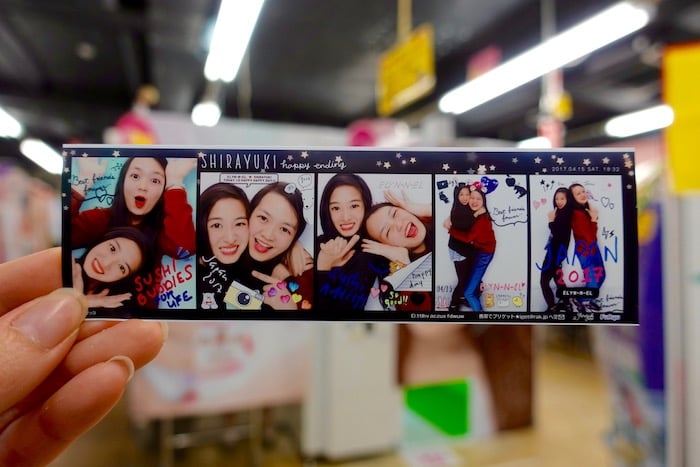 Affectionately known as 'Purikura', neoprint machines are everywhere in Japan. The funny thing about the neoprint machines in Japan is that they give you an instant makeover – my eyes somehow became bigger, my eyelashes became curlier, my lips became a deep cherry red, and my complexion turned flawless. I also loved how I was able to decorate the neoprints before they were printed. These indeed make for a great souvenir to bring home!
Travel Cheat Sheet Tip: There isn't much lead time before the camera snaps the pictures, so do plan your poses beforehand. I didn't know about this, and landed up with some pretty awkward shots, a.k.a. the cringe-worthy second from the right.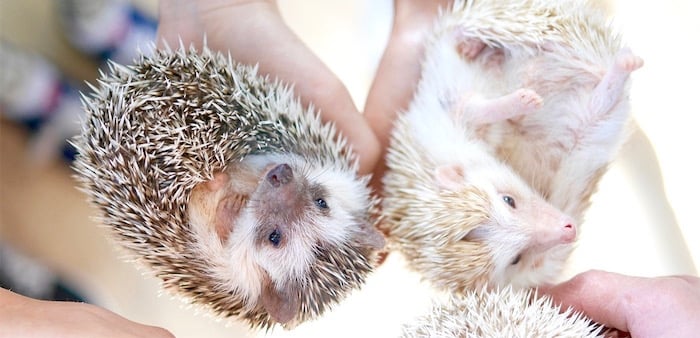 Image credit: HARRY
Lastly, there's no unconventional Tokyo without spending an hour (or two!) in one of the city's many animal cafés. Be spoilt for choice with dog cafés, cat cafés, a penguin cafe, a hedgehog cafe, or a goat café where you can sign up to walk the goats through the busy streets of Shibuya. I heard that there's even a café where a monkey doubles up as a waiter, and another where you can fish for your own lunch or dinner!
Do also check out the Studio Ghibli Museum, so popular that tickets have to be bought at least a month or two in advance. Namja Town, a Japanese-themed attraction, is always good fun as well, on top of a whirl at Odaiba's many arcades.
Day 4-5: Disneyland + Disneysea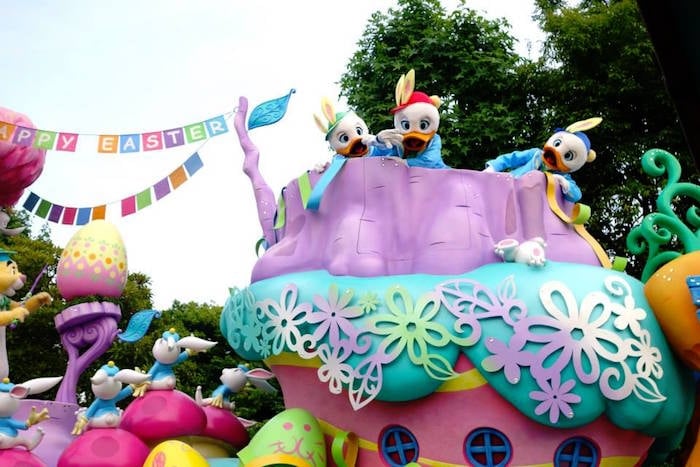 As the saying goes, one is never too old for Disney. Besides the classic Disneyland, Tokyo is home to the world's ONLY Disneysea! I loved the unique sections of Disneysea – an entire area dedicated to the Little Mermaid, an Arabian section dedicated to Aladdin, as well as a cool Toy Story section. Be prepared to dedicate at least a day to each park – there's just so much to see and do!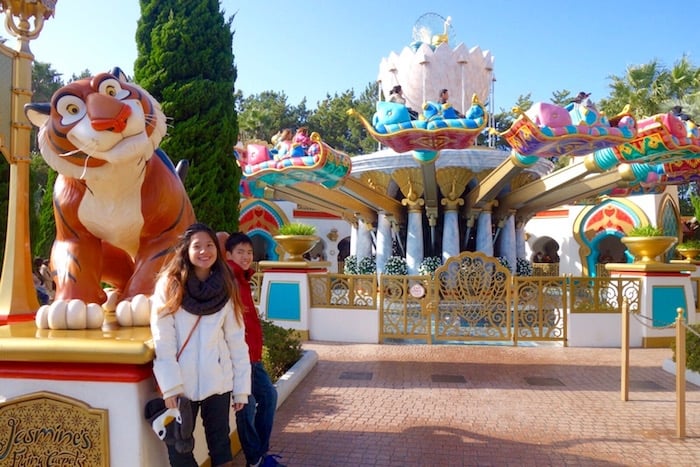 Travel Cheat Sheet Tip: The two parks are located right next to each other, so I recommend staying a night in the Disney Resort to save on the commute to and from Tokyo. Guests of the Tokyo Disney Resort also receive complimentary passes for the Disney Resort Line, which circles the resort's theme parks, hotels and other attractions.
If you can't get enough, follow up on your adventure back home with a FREE pair of Adventure Cove Waterpark™ tickets redeemed with min. S$1,500 spend when you book your flights with ZUJI. Flights are going from just S430, so grab all your family and friends and start planning your next big holiday!
How to get there: Take either the JR Keiyo line or JR Musashino line from Tokyo station directly to Maihama station (15 minutes).
Day 6: Fuji Q Highland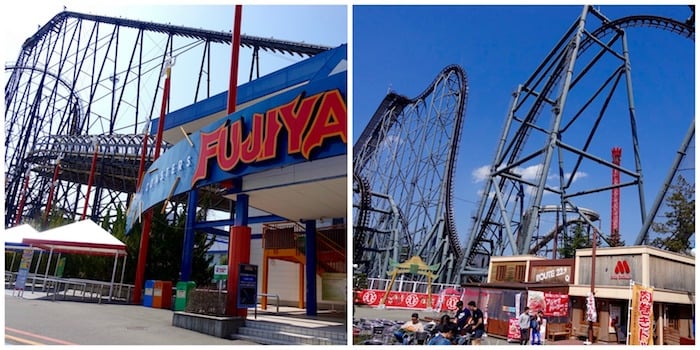 This isn't one for the faint of heart. Fuji Q Highland is a theme park that overlooks Mt. Fuji, and is home to four monstrous death-defying roller coasters. The most terrifying of the lot, 'Takabisha', is even in the Guinness World of Records for being the world's steepest roller coaster with a free-fall drop of 120 degrees! The other three roller coasters are no less thrilling – 'Fujiyama' is one of the world's longest and fastest roller coasters, 'Dodonpa' is one of the world's fastest roller coasters, and 'Eajanaika' is the world's fastest four-dimension roller coaster.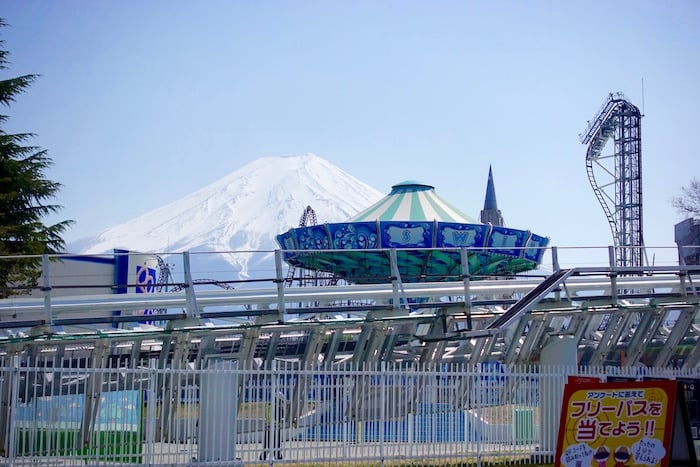 Travel Cheat Sheet Tip: Unlike most theme parks, Fuji Q Highland operates on a pay-as-you-ride basis. There is a basic entrance fee, and you buy ad hoc tickets for the rides you wish to try.
How to get there: Take a Limited Express Train from Tokyo station to Otsuki station (78 minutes), then transfer to the Fujikyu Railway towards Fuji Q Highland (~55 minutes).
So, which itinerary for Tokyo and its surrounds has taken your fancy? Whichever you pick, you'll realise that the best way to explore Japan is by train. In fact, taking the train is an adventure in itself! The train lines are a maze, and are owned by separate companies. To make things easier for yourself, download the Tokyo Subway app or use Hyperdia to check train routes and schedules.
The best thing about Japan is that everything within the country is a mere train ride away from each other and Japan is a mere plane ride away from Singapore, where tickets are going from just S$430 with ZUJI:
Yes, from  1-5 May 2017,
flights are going from just S$430 with ZUJI
; start brushing up your Japanese,and before long it'll be
Konnichiwa, Japan
– where all this and more Chirashi Dons than you can eat await you!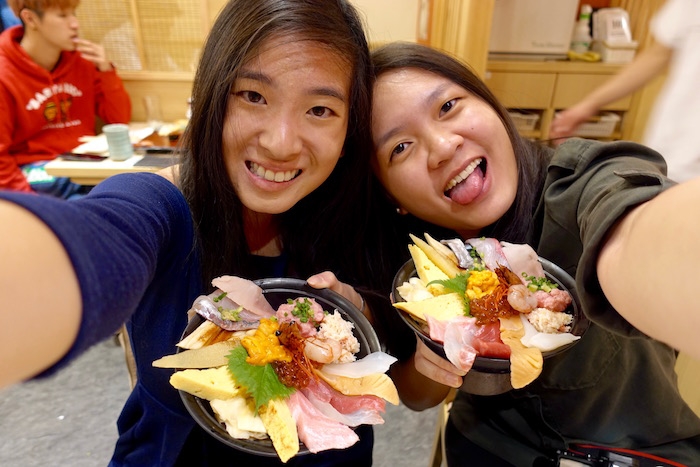 Book with your Maybank Card and enjoy ADDITIONAL:
Up to 6% flight/package rebate

12% coupon code

FREE pair of Adventure Cove Waterpark™ tickets*
But don't just stop there, start planning for the next half of the year (because we all deserve a break from time to time, don't we?) with fantastic flight deals to Bangkok from S$104, Chiang Mai from S$264, Koh Samui from S$458 and Hong Kong from S$180. Don't forget, the flash sale is ON from 1-5 May 2017, so book those tickets before they run out!
*With min. S$1,500 spend in a single booking & limited to the first 50 redemptions.
For first-hand information about ZUJI's upcoming deals and promotions, simply subscribe to their mailing list right here and have them delivered right to your doorstep: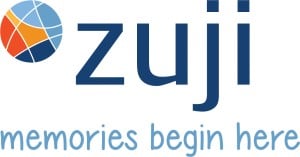 Thank you for your subscription.
By subscribing to ZUJI's mailing list, you will:
Be the FIRST to know about flash sales and exclusive airfares/promotions

Receive hints about flash sale timings – every minute counts!

Have first-hand information about ZUJI special promotions
Where will your #wanderlust take you next? Start with Tokyo, and slowly start checking the rest of the world off your bucket list. Book your flights with ZUJI & Maybank Cards today!
---
Brought to you by ZUJI.