Whenever foreign friends ask about must-visit beaches in Southeast Asia, two destinations come to mind: El Nido in Palawan, Philippines and Phi Phi Islands (or Koh Phi Phi) in Krabi, Thailand! Unless you've been living under a rock, you've probably heard about these tropical destinations at least once. After all, both are known for being home to some of the most dazzling islands in Southeast Asia. 
Through the years, El Nido and the Phi Phi Islands have become synonymous to 'paradise.' Believe us when we say that this is no exaggeration. What's more, these two also look quite alike — and we've got the photos to prove it! So, let's get to it, shall we?
1. These limestone karst formations that look like hanging gardens
Perhaps the most distinctive feature of these two groups of islands in Southeast Asia are the limestone karst formations. Whether you're in El Nido or in the Phi Phi Islands, you'll find lots of these scattered around the seascape. It's practically impossible not to stare in awe at these natural wonders as you cruise along the azure waters. 
2. These cliffside views that are worth the hike
Taraw Cliff is the highest point of the El Nido town proper that offers mesmerising panoramic views of Bacuit Bay, as well as other nearby islands. From afar, this limestone karst looks like a fortress. We recommend hiking up here at dawn, so you can catch the sunrise by the time you get to the top! 
If you find yourself in Ko Phi Phi Don, A.K.A. the largest island among the Phi Phi Islands, make sure to check out Phi Phi Viewpoint. From here, you can see the dumbbell shape of the island along with Tonsai Village and Loh Dalum Bay. It's an exquisite view, that's for sure!
3. These traditional boats that'll take you island-hopping
Forget speedboats; when in El Nido or the Phi Phi Islands, we recommend opting for traditional wooden boats while island-hopping. Might as well immerse yourself in the local culture while exploring either/both these archipelagos, right? Speaking of which, make sure to wear flip-flops or other waterproof shoes; the boats often embark and disembark at the beach, instead of a pier.
Aside from tourist rides, the bangka and longtail are also used as ferries and fishing boats. Keep an eye out for those that feature colourful designs on the hull, too! 
4. These 'hidden' coves that brought The Beach to life
Before the movie, there's often a book. Such is the case for The Beach, which is based on the 1996 novel by Alex Garland. But did you know that he got his inspiration from the Secret Beach on Matinloc Island? What's more, the British author actually lived in El Nido during the time he was writing this would-be-bestseller! 
Meanwhile, there's Maya Bay —A.K.A. the filming location of the 2000 adaptation. While The Beach has inspired a thousand backpackers to venture into Southeast Asia for this tropical paradise, the movie also garnered controversy for the over-tourism that resulted. As of writing, this beach in the Phi Phi Islands is closed until mid-2021 for rehabilitation.  Still, we look forward to when it finally reopens again! 
5. These crystal-clear lagoons that are every bit idyllic
One look at these stunning tropical inlets and you'll probably feel like you've been transported to a different world. Take in the azure and green-filled surroundings, while having a relaxing time. 
In El Nido, there are the adjacent Big Lagoon and Small Lagoon, whereas Phi Phi Islands has Pileh Lagoon. Yep, leave it to these islands in Southeast Asia to give you a memorable experience! 
And, of course, there's so much you can do in these lagoons. Take your pick among snorkelling, kayaking, swimming, or simply enjoying the scenery from your boat. Make sure to allow an ample amount of time when visiting either lagoon; trust us, you just might want to stay there forever (if only)! 
6. These small islands that are equally welcoming and secluded
Whether you're headed to El Nido or the Phi Phi Islands, there's always someplace where you can have a quiet, crowd-free time. Case in point: the following tiny islands in Southeast Asia that are nearly identical.
In El Nido, there's Brother Island, a private one that you can have all to yourself (and your travel buddies)! Stay in the vibrant ancestral house that can accommodate up to 16 guests. In between swimming and other fun water activities, you can also roam around the area to see what interesting sights you can find.
Learn more about it here.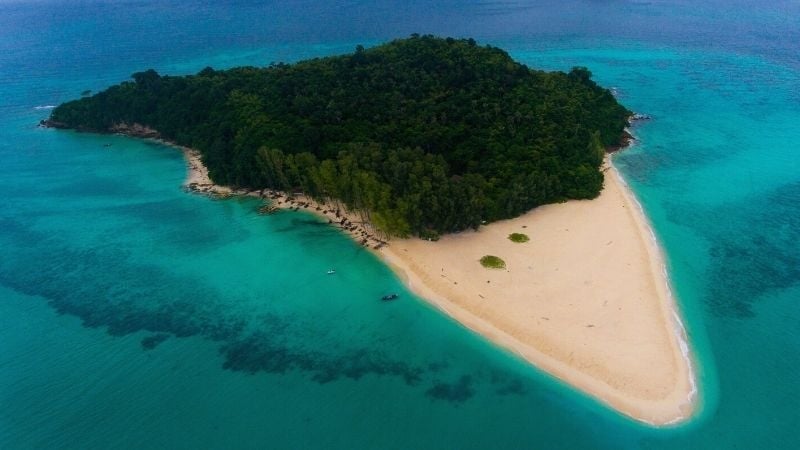 Bamboo Island, otherwise called Koh Pai in Thai, is on the northeast tip of the Phi Phi Islands. Similar to the previously mentioned one in El Nido, most of this island is covered with lush vegetation. 
However, unlike its 'lookalike,' Bamboo Island isn't a private one but rather, part of a national marine park. Still, you can opt to stay overnight in a tent. It's also a great pick for those who enjoy snorkelling, since it's near the famous Hin Klang coral reef! 
Bonus: A tale of two Long Beach
Yup, you read that right! Near these islands in Southeast Asia, you'll find coastal spots that are similarly named Long Beach. 
However, the one in Palawan isn't in El Nido. Instead, it's in the quiet town of San Vicente, which is about a three-hour drive south. This underrated tropical destination spans over 14 kilometres — making it the longest white-sand beachfront in the Philippines! It's divided into three coves, with rocky cliffs nestled between and palm trees in the background. 
On the other hand, Phi Phi Islands' Long Beach is located on Koh Phi Phi Don. Just like its Palawan counterpart, this one also boasts fine white sand, pristine waters, and an absolutely tranquil atmosphere. Oh, and about 200 metres from the shore, you can swim over to Shark Point: a diving site that's well-known for sightings of leopard sharks! (Fret not, they're small and harmless to humans.)  
Also read: 8 Secret Beaches in Asia You Probably Didn't Know About
Needless to say, these two groups of islands in Southeast Asia really do look alike. Though, if you had to pick just one, which would you visit first: El Nido or the Phi Phi Islands? (Quite a dilemma, we know!)
Fortunately, both the Philippines and Thailand are gradually reopening to local and foreign travellers. That said, make sure to check travel advisories and requirements prior to your trip. And while you're at it, might as well look for the best places to stay in El Nido and the Phi Phi Islands, too!