Ever since the Thai Government decided to promote Thailand as "the Land of Smiles", many have been flocking to see what this Southeast Asian country has to offer. And while we are glad to say that it doesn't disappoint, Thailand has changed so much over recent years. Don't be surprised if you can't keep up with the delectable cuisines, fantastic shopping opportunities, and magical beaches.
However, if you think you know ALL there is to Thailand, get ready to be schooled with Thailand's expectations versus reality!
Expectation: Thailand is a shopping haven with cheap and amazing finds
Adorable accessories retail for 100 baht (~S$4.33) while clearance outfits retail for less than 200 baht (~S$8.43). With hip and fashionable night markets popping up every week, it's no wonder shopping is so cheap! Retail therapy at its best?
Reality: Goods can get quite pricey, especially in touristy areas
Prices have gone up quite a bit with a steady influx of tourists every year. What used to cost 200 baht (~S$8.43) or less for a decent pair of denim shorts can now cost at least 300 baht (~S$12.61) off the racks. It's also easier to rip-off first-time travellers who aren't too familiar and have a lot of money to spare.
Although rates have increased, many travellers also noticed that the quality of their buys is significantly better too. Guess the saying of "you pay for what you get" stays true, even in Thailand.
TIP: Always bargain! You'll be surprised to find that some shop owners will cave in to your 50% discount demand if business is really bad. Never settle for the first shop where you see the item you like. You'll probably find the exact same piece at another shop for way cheaper!
Expectation: Thailand is every foodie's paradise!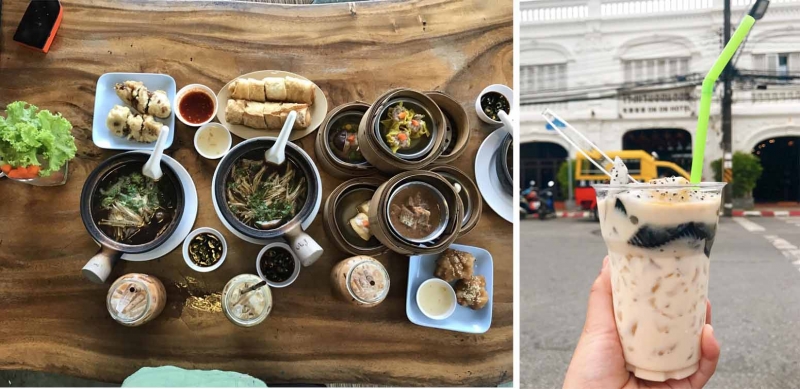 Think: Pineapple fried rice with the perfect balance of sweet and savoury flavours, tom yum goong with that spice kick at the end of every spoon and chicken rice that's so flavourful even Singapore's famous Hainanese chicken rice cannot compare.
For dessert, sink your teeth into mango sticky rice, with mangoes sweeter than honey. Or how about a milky grass jelly drink that's guaranteed to satisfy your sweet tooth? Better yet, coconut ice cream eaten straight from the husk with generous toppings of cornflakes, peanuts and nata de coco! What more can you possibly ask for?
Reality: If you're not careful, you might spend the next few days nursing a terrible stomach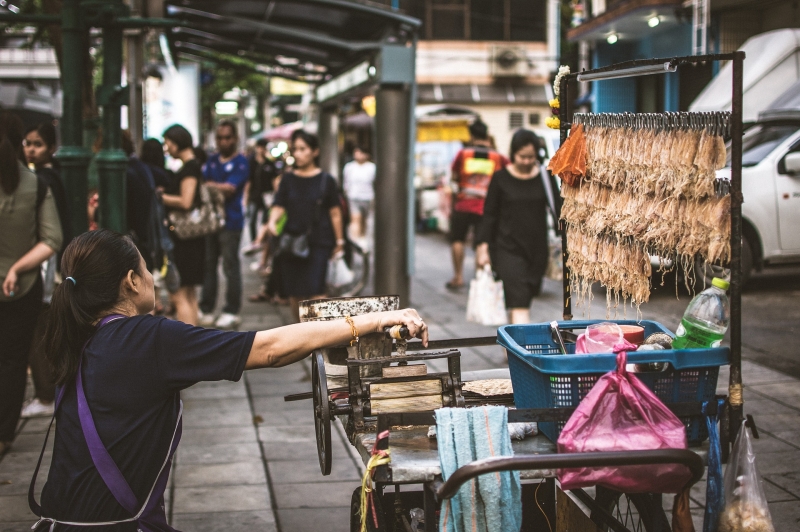 While Thailand is generally clean, especially in its bigger cities, you should still be extra careful, especially when consuming food from roadside stalls. As much as possible, try steering away from iced drinks, or bottled water, unless you know for sure that the bottle's seal has not been broken.
TIP: When choosing dining places, go for the ones that are more crowded, especially with locals. That way you can be more sure that the food served to you was prepared recently, and not frozen leftovers from yesterday.
Expectation: Thailand's beaches are to die for!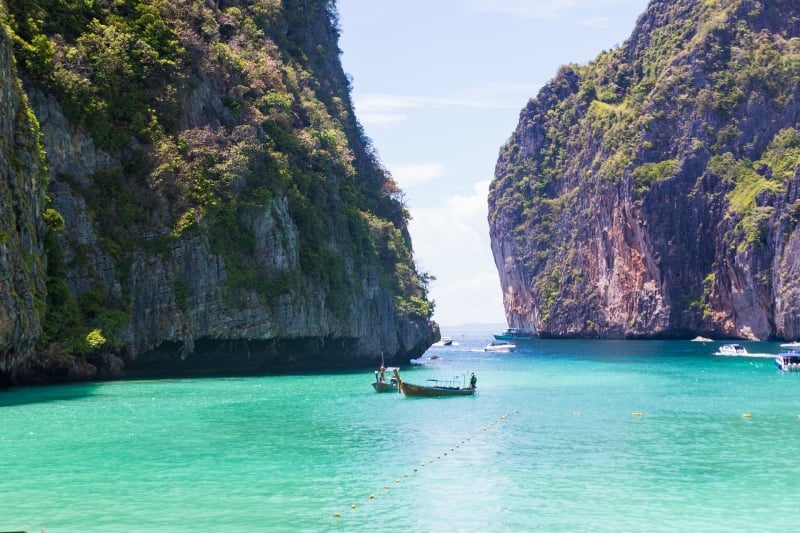 Picture vast, seemingly endless beaches, with warm white sand cushioning your feet as you find a spot to call yours for the rest of the day. You lay out your beach towel and happily slather on heaps of sunscreen, before finally running into the crystal clear waters for a refreshing dip to beat the blistering heat. When you're done, you order fresh coconut juice, and sip on it while getting your tan game on. Sounds dreamy, doesn't it?
Reality: You'll be met with overly-crowded beaches, greyish waters, and sand peppered with rubbish…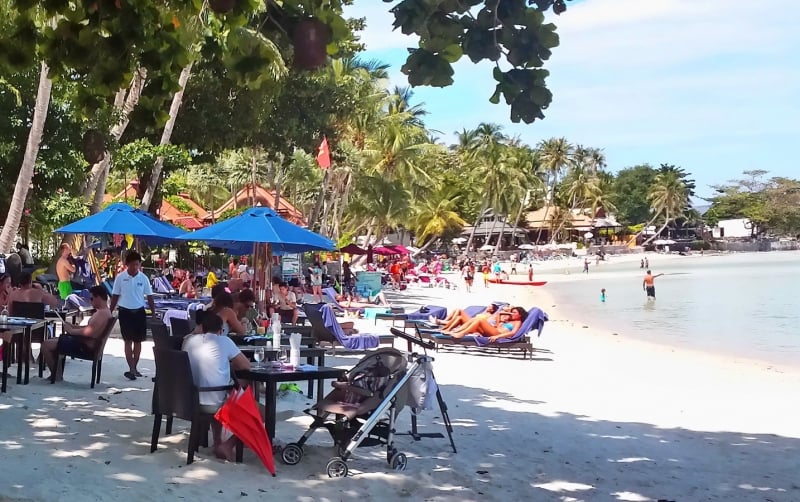 Sorry to burst your beach fantasy bubble, but the more popular beaches are often filled with hundreds of people jostling to get a spot to chill on the beach! You'll also be met with peddlers who will come up to you every few minutes to ask if you would like to buy a drink, ice cream, or souvenir.
You may have seen images of beautiful clear waters on Google and Instagram, but most of the time, the waters here are so murky you can barely even see your own feet.
TIP: If you're desperate for a beach vacation, opt for beaches or islands that are slightly "out of the way" or less touristy like Railay in Krabi, Freedom beach in Phuket or the beaches of Hua Hin.
Expectation: Thailand is only good for cheap massages, food, shopping and beach-hopping

Many travellers resonate with the thought of Thailand being known for its cheap yet amazing massages, flavoursome cuisine, endless shopping varieties, and picturesque beaches. Is that all it is to Thailand?
Reality: The rich local culture is worth delving into
For those who love to challenge their palettes, try out these delicious local delicacies! Go for the spicy locusts, marinated silkworm pupa, and sweet fried grasshoppers. If you're extra daring, go straight for the kill with fried scorpions on a stick. The best part is that fried insects are commonly found in night markets, so you won't have any excuse to miss out on it.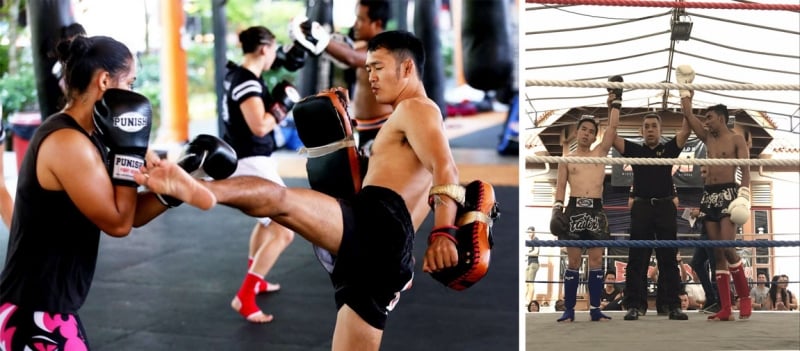 For those who cannot live a day without exercising, Thailand has no shortage of Muay Thai camps, especially in cities like Phuket, Pattaya, Chiang Mai, and Chiang Rai. If you're keen to learn about the ancient art of Muay Boran, also known as the father of Muay Thai, just ask any of the older instructors to give you a quick crash course.
If that's not your thing, you can opt to watch intense Muay Thai fights that will keep you at the edge of your seat! The atmosphere is very immersive with the crowds hanging on every kick, elbow, and punch. It's an experience you won't want to miss!
Expectation: Thailand has no shortage of gorgeous girls who are model-esque
If you've watched Thai movies, or seen Thai commercials, you would have noticed that the girls are drop dead gorgeous with their beautiful doe eyes, sharp noses, million dollar smiles, and a killer figure to match.
Reality: A significant proportion are ladyboys!
While it can be hard to differentiate transgenders from females, there's no denying that it takes a lot of effort and courage to go through such a major change. It's really fascinating when you actually see them for yourselves.
Thailand has many ladyboy shows that proudly celebrate the beauty of these iconic ladies. The best is no doubt the Tiffany Show in Pattaya. The ladyboys here are of absolute high caliber because beauty pageants are held annually and hundreds fight for the coveted title of Miss Tiffany's Universe.
TIP: While you might be curious to know if someone is a ladyboy, or a female, some may take offense to bluntly-phrased questions. Always be polite and never stare for too long!
All in all, Thailand is actually an amazing place with something for everyone regardless of age. There are still many hidden gems waiting to be discovered like Chiam Kham for nature enthusiasts, Koh Payam for beach lovers, and Nong Khai for those who want a taste of Northern Thailand's rich culture.
Sometimes all it takes is a spontaneous decision, and a curious heart to rediscover a country you think you know.