In a land that is perhaps more well-known for its glittering temples and golden Buddha images, elephants, gorgeous sandy beaches, lush rainforests, ethnic hill tribes, unusual markets, and vast array of street food, the Country and Western theme probably wouldn't be one of the first things that you would associate with Thailand. Nonetheless, the country has a surprising number of accommodations that have a strong cowboy theme. Unusual, fun, and more than a little kitsch, here are some of the best cowboy-themed places to stay around Thailand:
1. Big Joey County Resort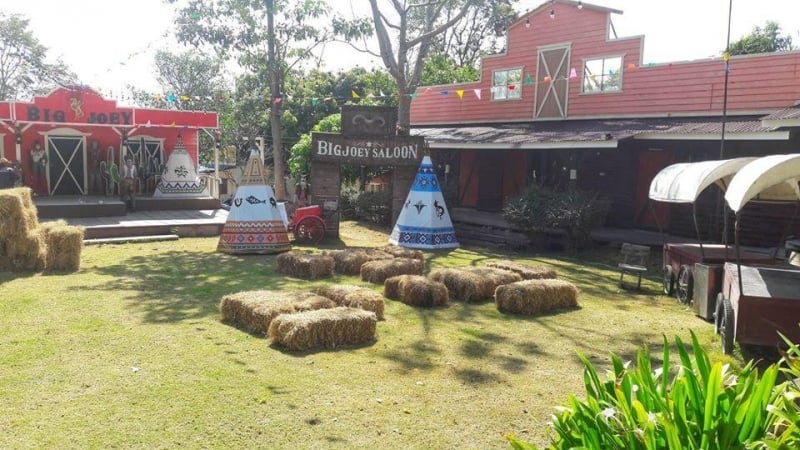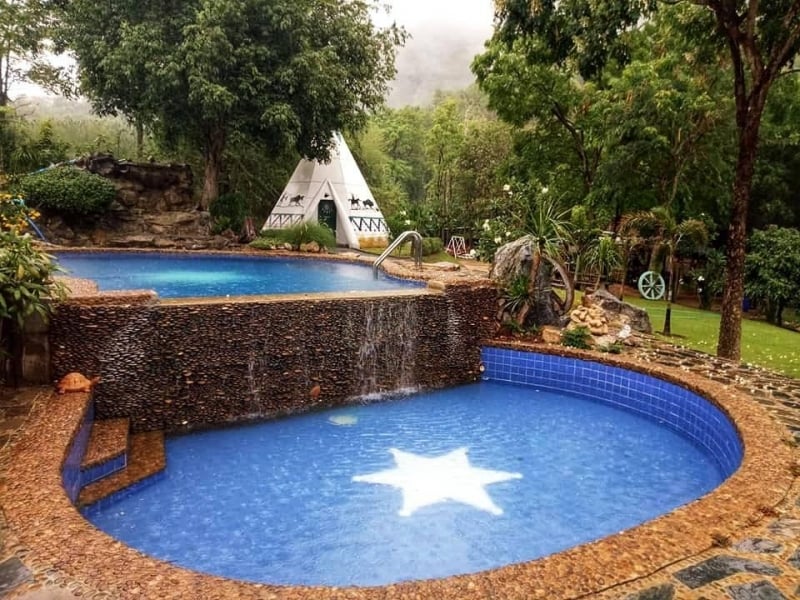 Located in Muak Lek, Saraburi Province, Big Joey County Resort is in the heart of Thailand's "Cowboy Country". This boutique accommodation with a Country and Western theme was previously known as Masi Camp Resort.
Surrounded by nature and fully embracing the outdoor life, the resort has several accommodation options. You can bed down for the night in a cosy teepee, waking up to panoramic views of the mountains and countryside. Combining rustic charms with modern comforts, the tipis come with a comfortable bed, electricity, and a TV.
Buildings of the Masi Camp have been constructed in an olde-worlde style, complete with an open porch and natural colours. The interiors are in keeping with nature too. Alternatively, you can stay in a Mexican-esque cowboy-style villa, a stone room built to resemble a cave or a regular room with cowboy-inspired décor.
The cowboy theme continues into the onsite restaurant where you can savour a variety of Thai dishes and Western favourites while soaking up the splendid views. The resort has green gardens, a kids' play area, and a swimming pool, and cowboy-themed events are regularly held here. Bright colours, bold patterns, bales of hay, wagon wheels, and cowboy memorabilia are found throughout the attractive resort.
2. Cowboy Farm Resort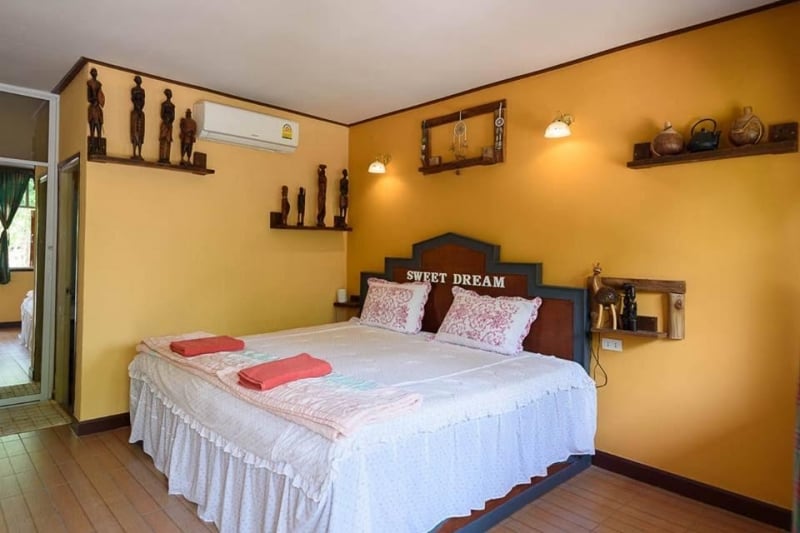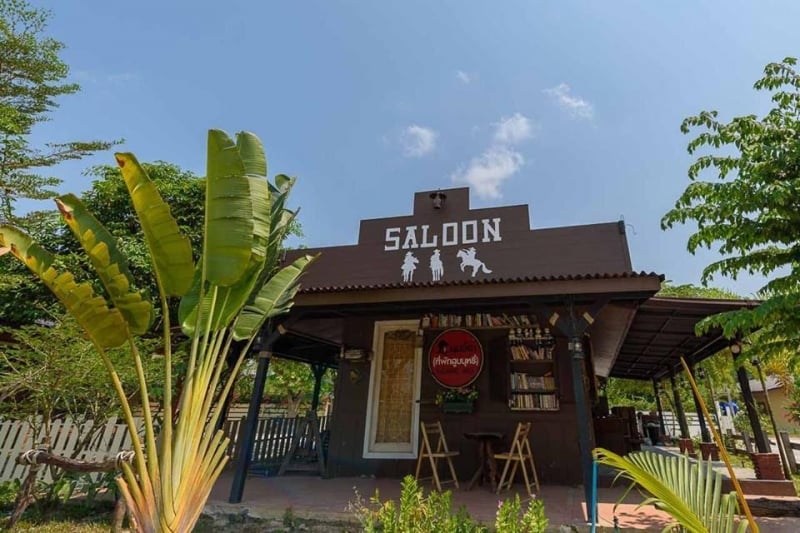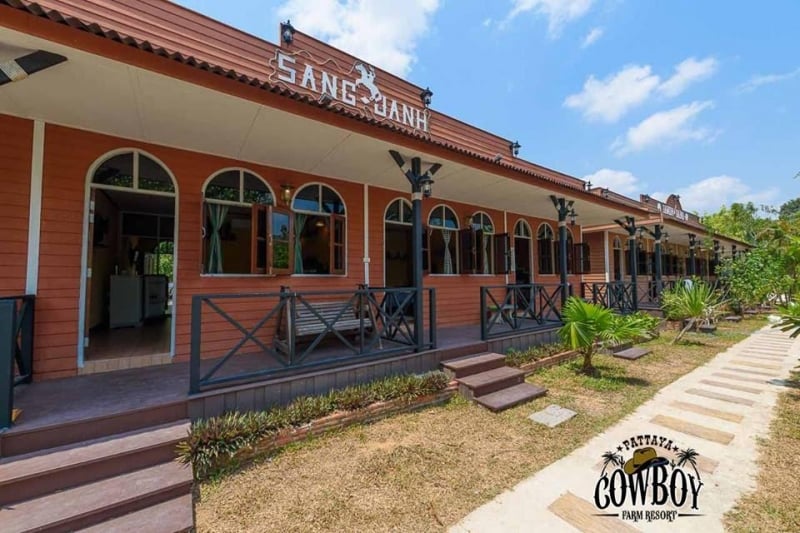 For a taste of the Wild West in hedonistic Pattaya, look no further than Cowboy Farm Resort. It's located close to the sands of Jomtien, so you can enjoy the resort after a day on the beach. Onsite activities include a small petting zoo, pony rides for younger members of the family, a karaoke room, and lovely gardens with a large pond, all surrounded by the beautiful countryside.
The restaurant offers an array of Thai and European meals and, of course, you can spend an evening relaxing with a cool beer or glass of Thai whisky in the saloon-like bar. There's often live music in the evenings. BBQ grills are available if you want to unleash your inner chef and let your own steak sizzle over the coals.
Guest rooms are rustic with wooden furnishings and cowboy-themed touches. Each has a private bathroom, a full-sized fridge, a terrace, and free Wi-Fi. The resort is child and pet-friendly too, meaning that no member of the family needs to miss out on the fun.
3. Bonanza Resort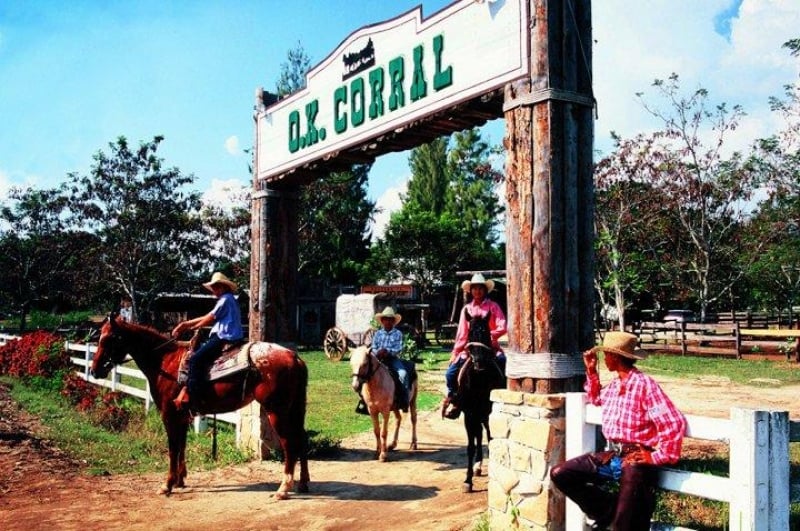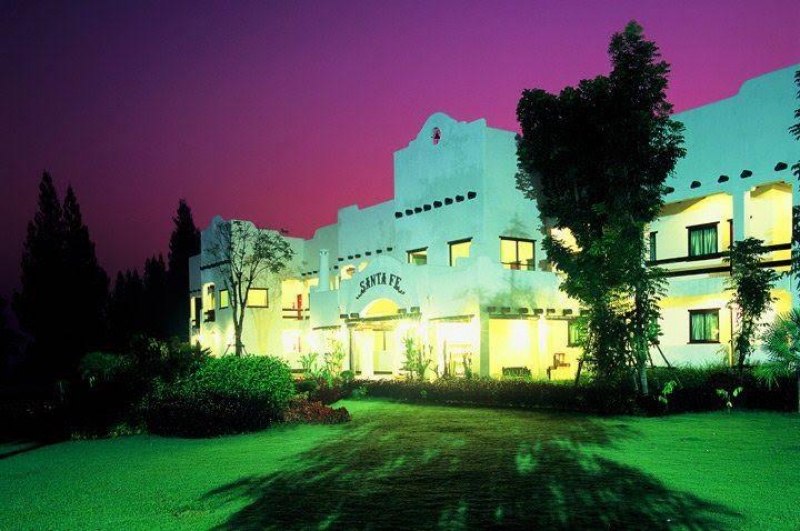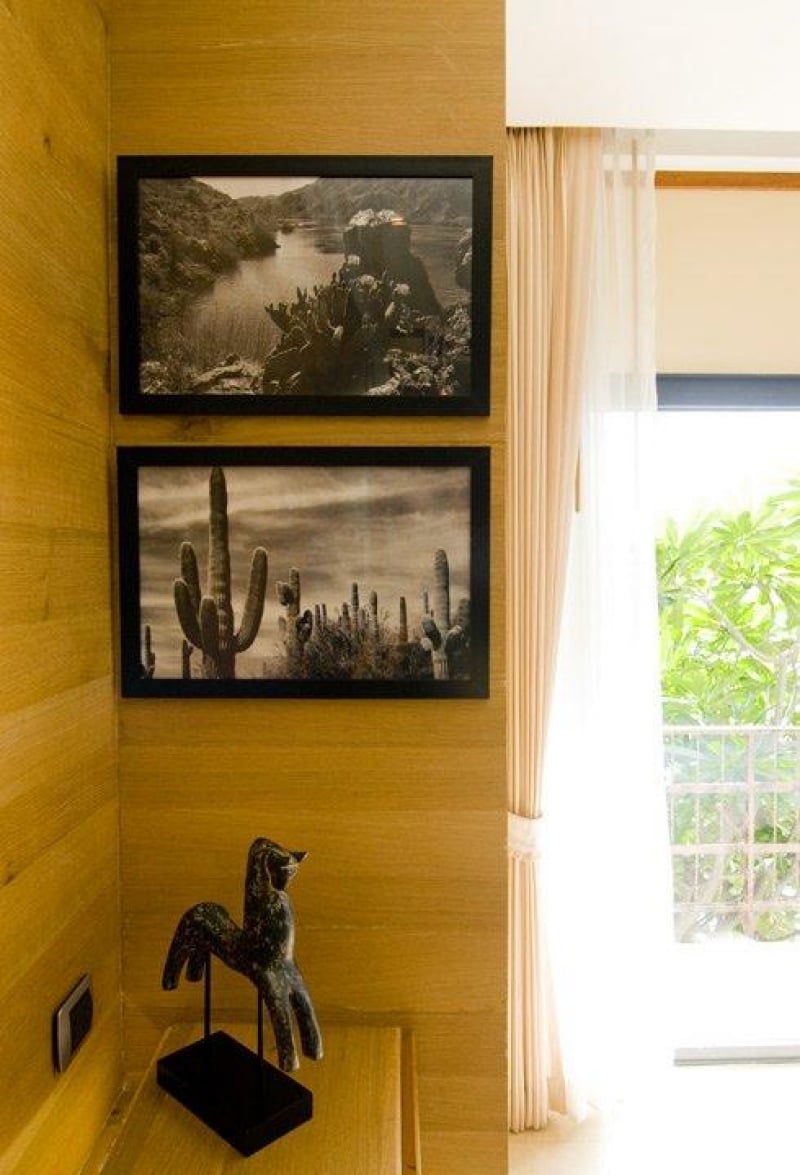 Located in Pak Chong and close to Thailand's popular Khao Yai National Park, Bonanza Resort offers a fun family-friendly stay in the countryside. Some of the buildings around the four-star resort are built in a rodeo style. The actual rooms, however, are modern and stylish, with pastel, neutral, and muted shades and tasteful artwork inspired by nature. There are six room types to choose from, all with a private bathroom and cable TV.
Get into the country mood with a horseback adventure, exploring the landscapes on the back of a friendly steed. Alternatively, feel the rush at the adventure park, with activities like kayaking, fishing, climbing, cycling, and nature spotting. The resort also has a small exotic zoo where you can get up close and personal with creatures like alpacas, gibbons, deer, lions, red pandas, orangutans, meerkats, and more.
It doesn't all need to be about the cowboy life here, though—there's an 18-hole golf course where you can unwind and perfect your swing.
There are two onsite dining and drinking options: the country-style clubhouse and the hotel's restaurant. The clubhouse serves drinks and snacks, while the restaurant serves full meals, Thai and European, made using fresh and organic ingredients.       
4. Khao Yai Cowboy City Resort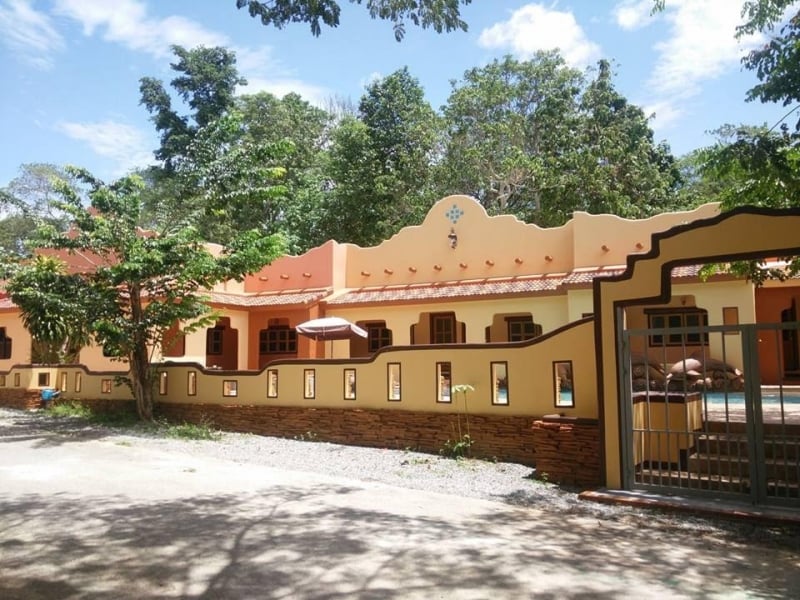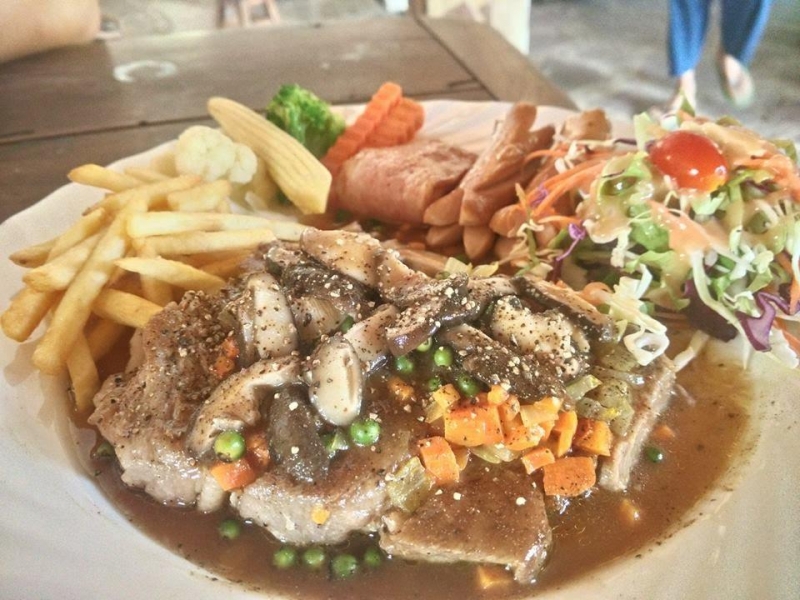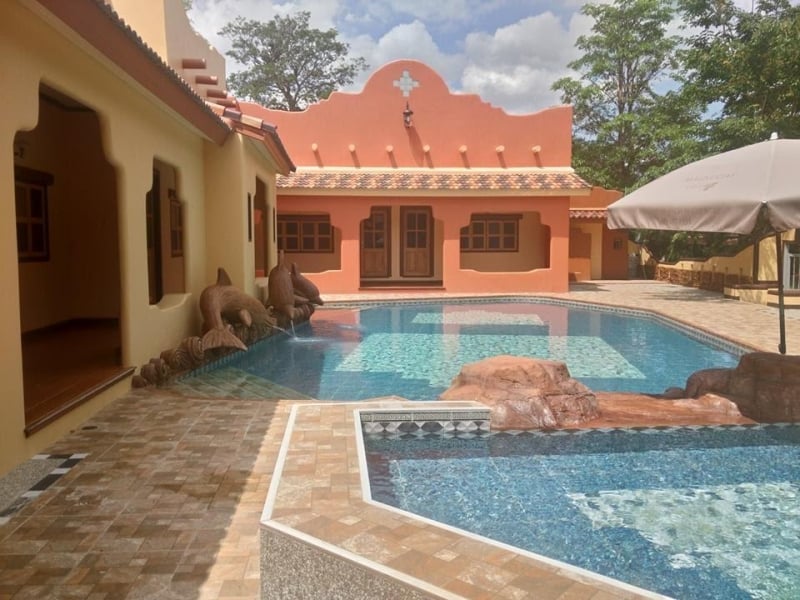 Khao Yai Cowboy City Resort offers much more than simply a place to sleep. You'll be greeted by large statues, cacti, cart wheels, and green open spaces, and the buildings enhance the cowboy feel.
There are three room types to choose from: Superior, Deluxe, and King. There are also a few bungalows that are ideal for families. All rooms are en-suite with a TV, free Wi-Fi, a fridge, A/C, and a terrace or balcony.
The welcoming restaurant serves Thai and Western dishes, including sumptuous steaks, and the bar features a band at the weekends. The resort has an outdoor swimming pool, great for cooling down in the heat.
Located in Pak Chong in Nakhon Ratchasima Province, Khao Yai Cowboy City Resort is close to Khao Yai National Park and many other places of interest.
5. Panther Creek Resort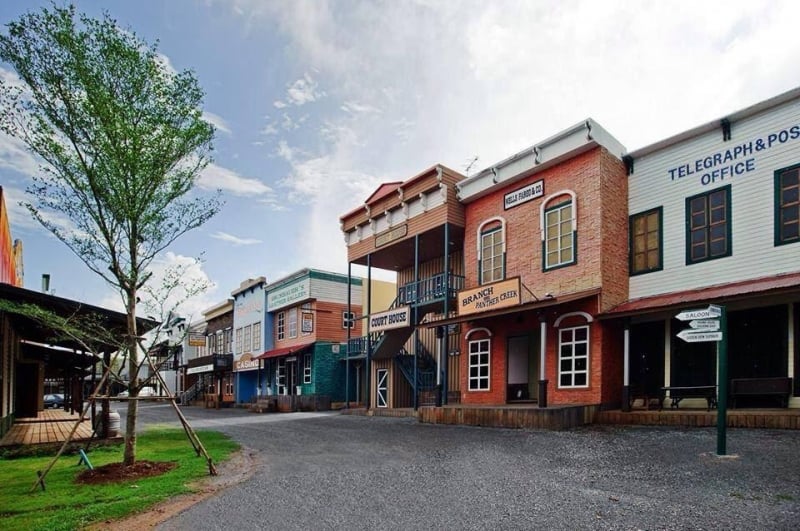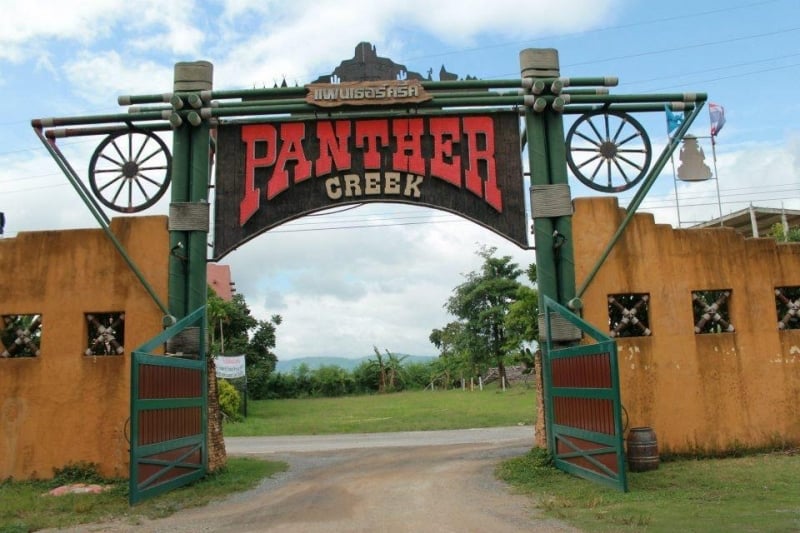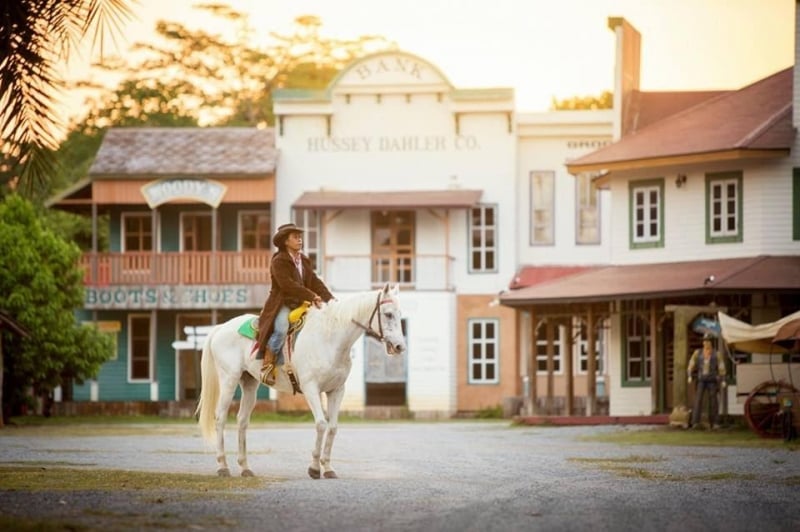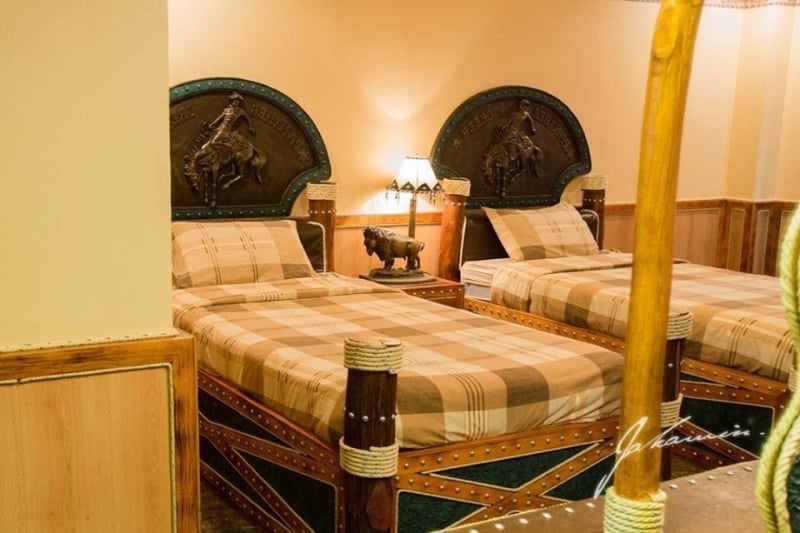 One of the ultimate Thailand resorts for lovers of all things Country and Western and Cowboy and Indian, a visit to Panther Creek Resort is sure to transport you to another time and place. The buildings are as you would expect to find in an old Western town, with a replica post office, saloon, courthouse, boot store, bank, saddle smith, and more.
The country theme continues into the rooms. All have a private bathroom and TV, and rooms are available in different sizes to suit couples, families, and friends.   
Throughout the lush grounds, you'll find a swimming pool, seating areas and picnic tables, and kids' play areas. Old barrels, wagon wheels, totem poles, colourful tipis, and statues of cowboys and Native Americans add to the appeal. You can buy a range of themed outfits from the onsite gift shop to snap some awesome selfies around the resort, and you can even borrow cool props, like pistols, lassos, and headdresses, to complete your look.
The restaurant dishes up delicious Thai and Western cuisine, and you can rent grills to cook up your own BBQ feast. The saloon is a top spot to relax and chat with country-loving friends old and new. Rent a bicycle or book a horse riding adventure to explore the surroundings, sing your heart out in the karaoke rooms, and have a memorable stay.      
6. Pai Village Boutique Resort & Farm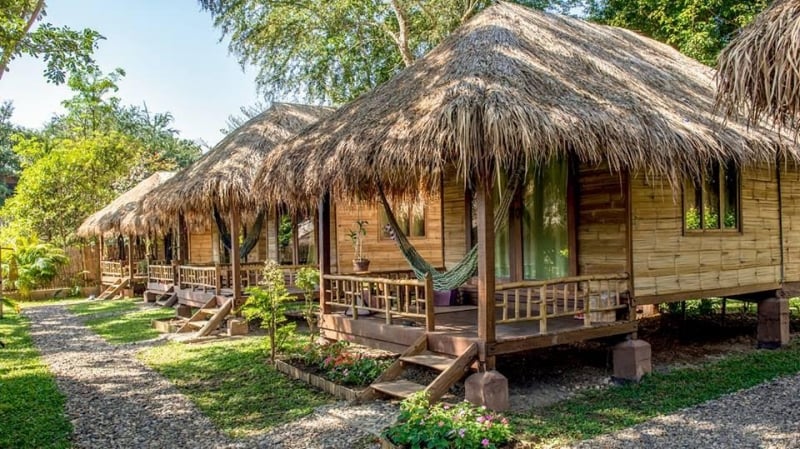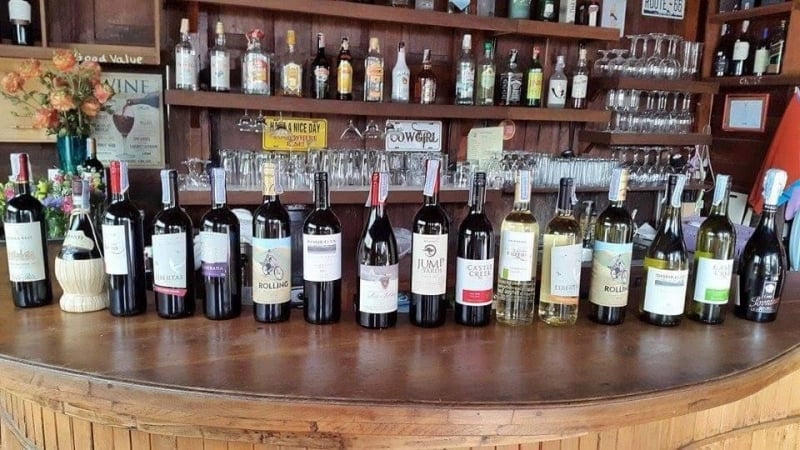 Although not strictly a cowboy-themed hotel or resort, Pai Village Boutique Resort & Farm deserves a place on this list for its fabulous country and western bar and steakhouse. Located in Pai, Northern Thailand, the resort sits amid glorious nature. Rustic-looking but super comfy wood and bamboo cottages are scattered through the verdant gardens and around the edges of a large pond.
You can meet the small animals, inhale the scents of colourful blossoms, and see the crops at the nearby Village Farm, luxuriate with a spa treatment, and book diverse activities and tours. How about a ride in a horse-drawn carriage or a river-rafting adventure?
7. Thongsomboon Club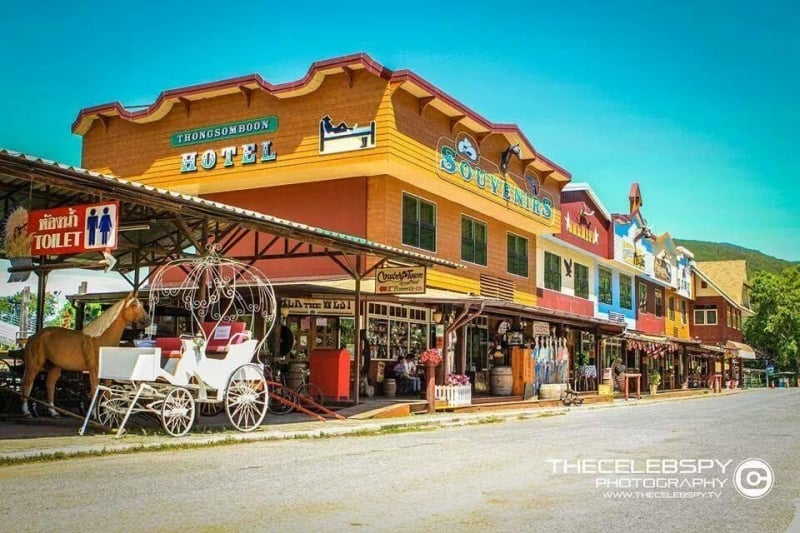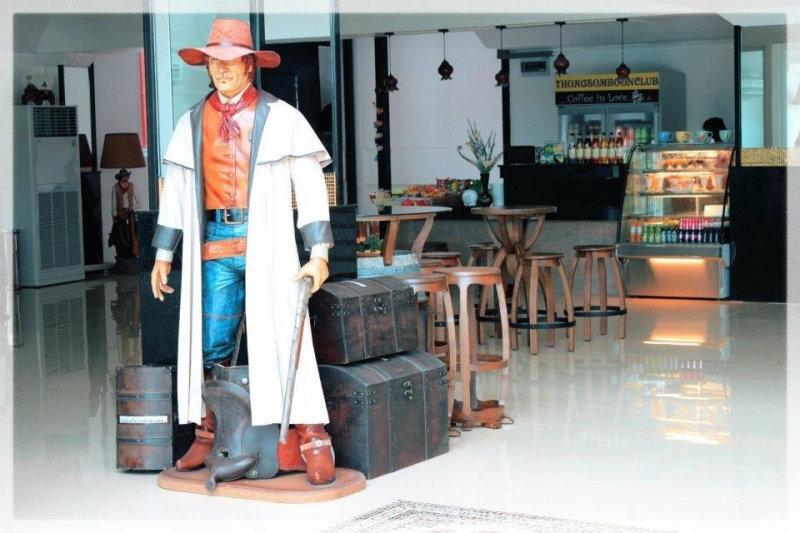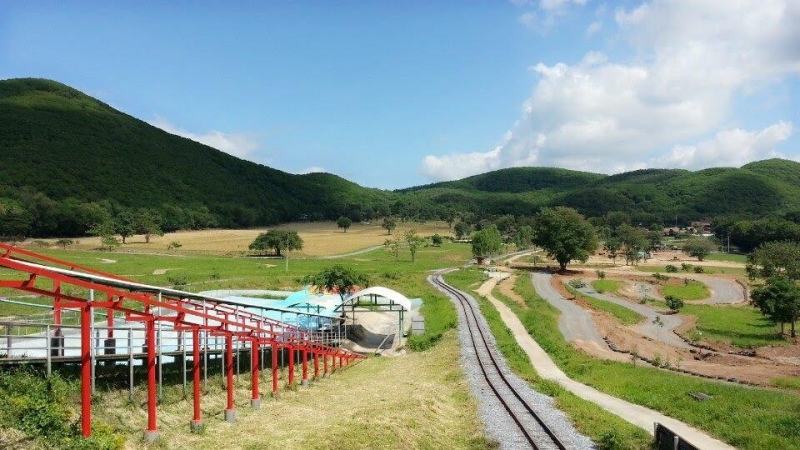 A fantastic accommodation option in Nakhon Ratchasima, Thongsomboon Club also welcomes day visitors to enjoy its diverse activities, gorgeous views, unique architecture, and fun vibe. The resort boasts a split-level adventure park, with rolling fields and soaring mountains all around. An old-fashioned steam train connects the two areas. From the flying fox, the luge, the cable car, and the ATVs to the buggies, BB Gun enclosure, and dry toboggan, there's plenty of fun for everyone. Bumper boats, zorbing balls, and a log flume provide watery giggles.
There's a cool cowboy town on the lower level, with terrific shows, a gift shop, saloon, and photo experience where you can hire outfits and snap pictures to look like you're in the Wild West. Ride the bucking bronco if you dare or take a more sedate ride on a friendly horse. You can also take aim at the shooting range.   
Accommodation wise, it's tough not to find something you love here. There are wigwams, wagons, camper vans, cowboy suites, and rooms in Cowboy Town.    
8. Farm Chokchai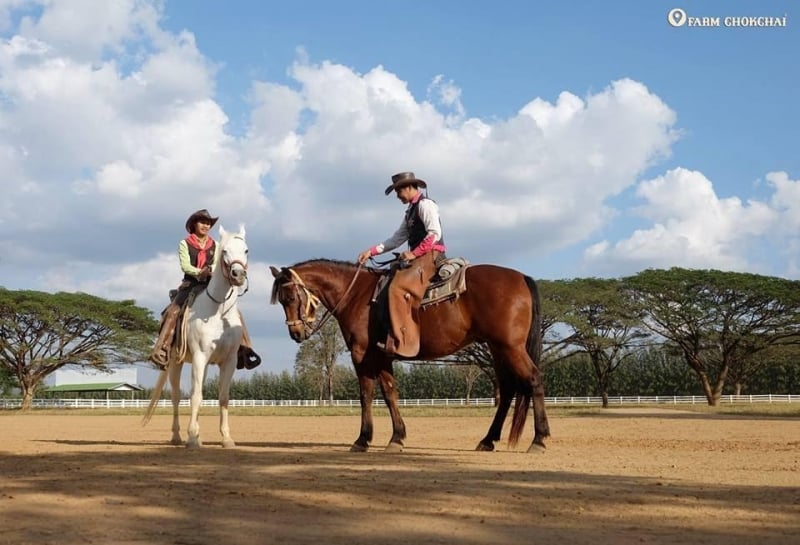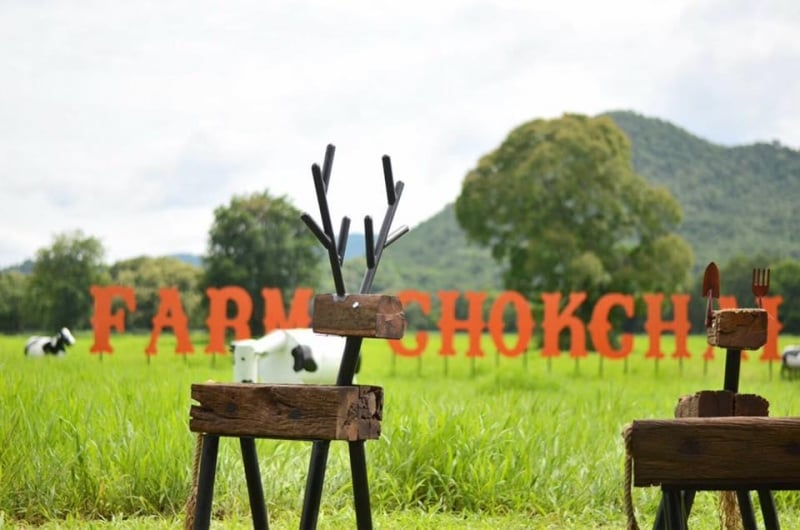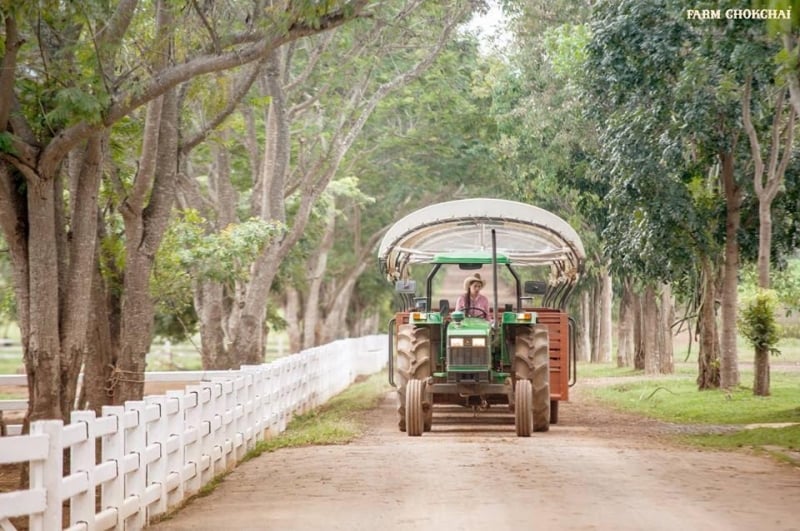 Popular for a day trip as well as for an overnight stay, Farm Chokchai lets visitors take a peek into the world of a Thai dairy farm. Rodeo shows, horse riding, tractor rides, and sheepdog demonstrations take you further into Thai cowboy land. See cows being milked, make your own ice cream, have a drink in the saloon, and stock up on gifts and mementoes in the souvenir shops. If you ever wanted to purchase a range of cowboy (or cowgirl) attire, this is your place! Little ones will enjoy the kids' play area.
The onsite restaurant serves some of the best steaks in Thailand. There are steak burgers and sandwiches too, as well as a selection of popular Thai dishes and other international meals. Of course, you'll find a good number of milk-based products on the menu as well.
The farm has a campsite for people who wish to enjoy the farming and cowboy life for longer.