Krabi is a place nestled in the west coast part of Southern Thailand, just adjacent to the borders of Phuket. For our vacation, we spent four days and three nights in Thailand. Initially, I was planning to book a flight from Singapore to Phuket, then book a return trip to Singapore via Krabi. However, due to time constraints and because we did not want to waste our time travelling from one place to another, we decided to just explore the wonders of Krabi.
Also Read: 11 Reasons Why Travellers Keep Going Back to Krabi
and 22 Krabi Travel Tips For The Ideal Beach Getaway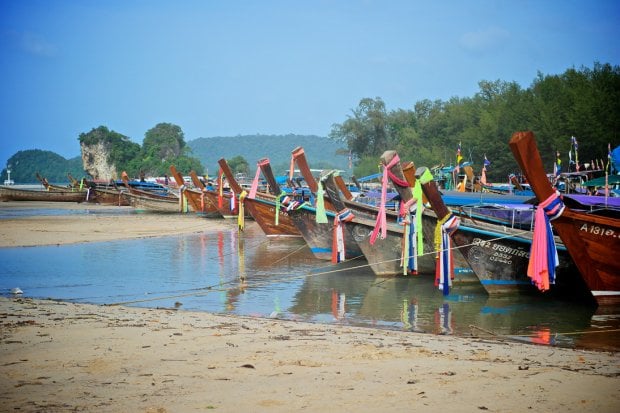 When deciding which place to visit, preference is a very important factor of consideration, especially if you want to exhaust the place within your limited time. Phuket is a place of architecture, while Krabi is a place of relaxation. According to most of the reviews I read online, most European tourists prefer flying to Phuket rather than Krabi.
In most seasons, Phuket is generally crowded, thus implying a higher cost of living. Also, tours offered via Phuket are also somehow similar to Krabi. Phi Phi Islands, which is probably one of the famous tourist destinations in the area, is offered at an estimated price of THB 1,800 if you are travelling from Phuket and THB 1,500 if the tour is from Krabi.
Planning for the trip
I learned that during the planning process, It is important to equip yourself first with ideas or guides, in order to better familiarize yourself with the place. There are many resources you can find online so you can plan a hassle-free trip. Interesting travel guides can be found on sites such as TripZilla, and will be a great help when it comes to planning your itinerary.
When going on a trip, I think it is important to plan ahead but never too much. According to our tour guide (We call him Bond, because he said he idolizes James Bond), Krabi's best season is from November to May. During this period, the Andaman Sea is stable and the weather is conducive for Island hopping.
If you have a week to explore the area, there are several backpackers' hotels situated along Krabi's surrounding islands like Hong and Phi Phi Island. The place to stay depends on the activities you would like to engage in. The Railey Island is your best option if you are planning to go rock or mountain climbing, while if you prefer to do water sports, I would suggest that you stay for a day in Phi Phi Island. There are ferry boats which travel from the mainland to Phi Phi, and the journey lasts for around 30-45 minutes.
However, for us, since we did not have enough time for all the transfers, I booked a hotel situated around the city of Ao Nang. Ao Nang is the heart of Krabi, and where most activities are held. Along the area are hotels, seafood restaurants, souvenir shops, and agencies which offer tour packages at a very affordable price. Tours range from THB 800 -2,000 depending on the inclusive tours in the package.These packages are readily available once you arrive at your place. You do not need to book these packages beforehand. I checked the rates and found out that tours offered online are slightly more expensive than those you can get on the spot.
Transportation
For flights, the best way to save airfare rates is to book around 2-4 months before your actual flight.
For those who have not been to one of Krabi's beaches, It is a 30-45 minute ride from the city to the beach area. There is a bus route from the Airport to Ao Nang. The bus fare is THB 150, but it takes longer and will leave you a bit exhausted once you reach Ao Nang. If your budget allows, you can make an arrangement with your hotel for a shuttle service which is priced at THB 700 per person.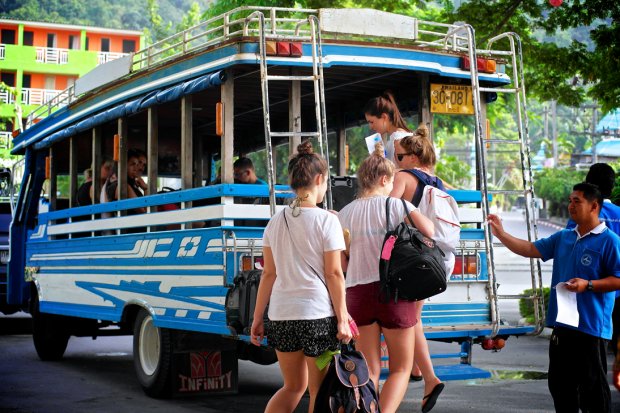 If you want to immerse yourself more into Thailand's lifestyle, I would suggest that you take a ride on one of Krabi's "songthaew" (a transportation similar to a pick-up truck). According to the residents, the songthaew runs throughout daylight hours until 10pm. Tourists are picked up from their respective hotels by this vehicle. I loved the ride as it reminded me of the "Jeepneys" that we have in the Philippines as one of our primary modes of transportation.
Usually, when I go island hopping, I would prefer riding a long boat. However, during this period, long boats are not recommended as large waves may cause destructive damage to the boats, compromising the safety of all the passengers on board. Phi Phi and Hong are located far from Ao Nang, and we thus took speed boats to these areas.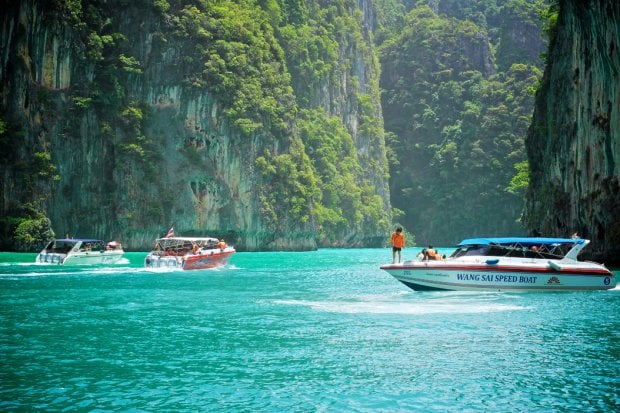 Accommodation
I chose the hotel with the best sea view, as I am an avid fan of beaches and I love choosing beachfront hotels. If you want the same, you have to be careful in choosing these hotels. Some would advertise on their website that they are located near to the beach, when they are actually not – to avoid this, Google Maps and a little bit of research would help.
Choosing a place to rest also depends on your preference. If you want to go for nightlife activities, then Ao Nang is the best place for you. If you want a more relaxing evening, you can check out hotels in Railey beach.
Ao Nang Villa Resort is a four-star hotel situated just minutes away from the busy and lively streets of Ao Nang. I booked a Superior Room at an average cost of SGD 80 per night, and the staff that I spoke to online was also kind enough to upgrade my room into a Sea View Room because I told him I was very particular about my room preference.
It was a bit pricey, but the stay was worth it. The room was comfortable and had its own balcony where you can enjoy a perfect beach sunset scenery. They also have a lot of amenities inside the resort, like a fitness centre, swimming pools, a Game Room and a Kiddie Area. They also have this garden view area just off the lobby called "Kiang Tarn" where you can enjoy complimentary coffee and tea from 4-5pm. You can savour the beach setting during breakfast and dinner inside their two dedicated food halls "Lan Le" and "Kiang Le", both of which serve international cuisines that will surely excite your taste buds.
What I particularly like about Thais is that they are very accommodating and friendly. Once you reach the hotel lobby, someone will open the cab door for you and greet you with their famous 'Wai' gesture (placing your palms together on chest or nose level). Once you check in, one of their staff will also accompany you towards your room and even open the door for you.
Discovering Thai food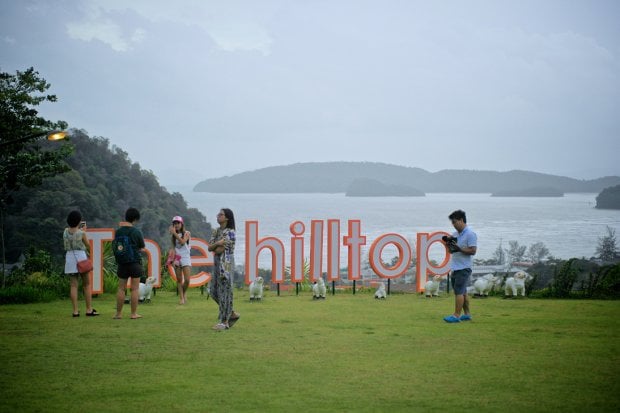 One of the reasons for this planned trip to Krabi was for my boyfriend and me to celebrate his birthday. I organised a surprise birthday dinner for him through the help of the friendly staff of Ao Nang Hilltop Restaurant. They picked us up at our hotel just in time for a great sunset view. However, since it was raining , they were not able to set up a love seat on the garden area and we were directed to a covered area overlooking the hills and the beach.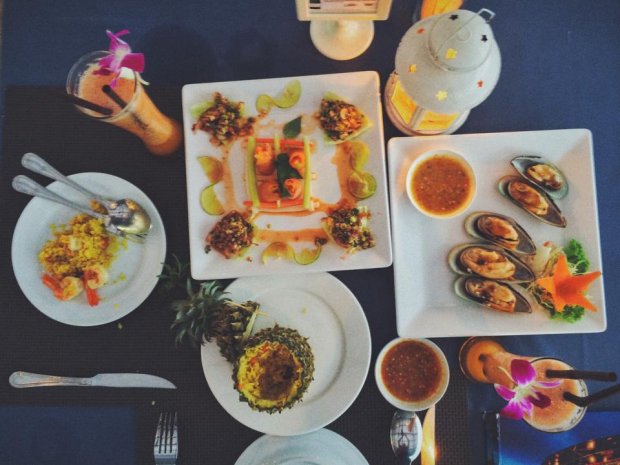 The food was incredibly delectable and presentable, with the staff being very friendly, but I have to say that their service is on the slow side. The table was decorated with candles, and we also enjoyed romantic music from a live band. I would like to give a thumbs-up to the cozy ambiance. My boyfriend had a great birthday dinner.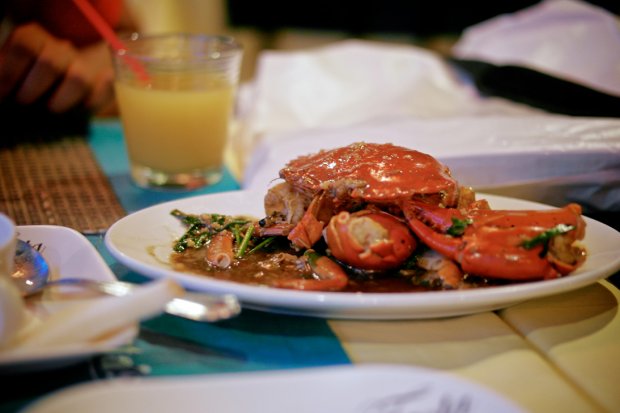 On our last night in Thailand, we decided to try out this nearby restaurant "Tanta's", which offers Thai and fusion cuisines. We ordered black pepper crab, and the taste was really nice.We spent around THB 800 for our last dinner, but the food that we ordered was worth paying for.
The Islands up close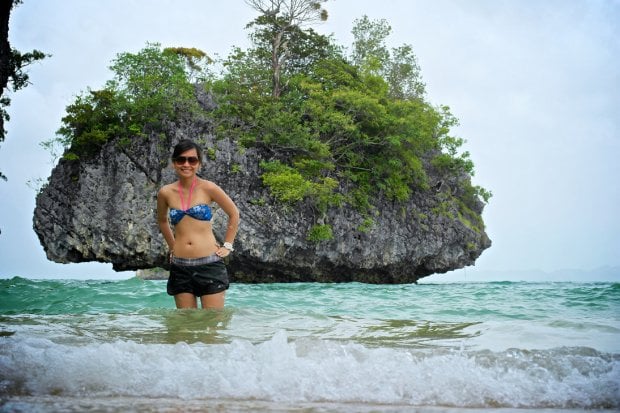 One of the main activities to do while in Krabi is island hopping, and the majestic limestone rock formations of the islands will surely leave you in awe.
On our first day, we took a Phi Phi Island tour, where we visited Bamboo Island, Hin Klang, Monkey beach, Phi Phi Don, Koh Phi Phi Leh and Viking Cave. We were supposed to go to Maya Bay, which is considered to be the most beautiful island in Krabi, but since the Andaman sea waves were dangerous at that time, speed boats were not allowed to travel to that area. It was a bit disappointing on my part, but at least we were given extra time for snorkling around the Loh Samah Bay, which cradles a wide array of fishes and corals.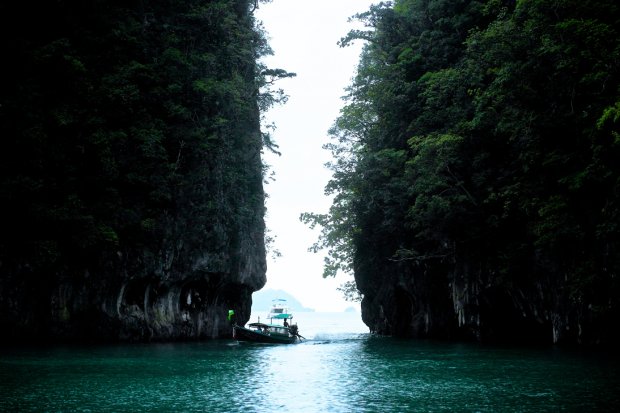 On our second day, we took the Hong Island tour. It took us 30 minutes to reach Hong Island from the mainland, and on our way, we passed by the Royal Palace, which according to Bond, is where the Royal Princess of Thailand lives. (Thailand's form of government is constitutional monarchy.) With its cliffside location, it reminded me of those castles portrayed in fairytales.
During the tour, we were able to sightsee at Hong's lagoon. "Hong" is a local term for "room or chamber", and in the middle of this beautiful island is a concealed lagoon with crystal clear waters. This is the place where fishermen would usually stay during an unpredictable storm wrath. We also went to Paradise Beach and Pakbia Island.
Unfortunately, we didn't have enough time to visit other famous islands like the Tup Island, Chicken Island, Poda Island, and the Ko Tapu or Nail Island (famously known as James Bond Island, as it was featured in his 1975 movie, "The Man With the Golden Gun").
The people
If there is one thing that I really admire about Thailand, it is its people. Thais are known for being polite, accommodating and gentle. During our trip, we met this Filipino professor who has been a resident of Krabi for about 12 years. According to him, Krabi is a very peaceful area. Crime rates are very minimal and violence is not tolerated.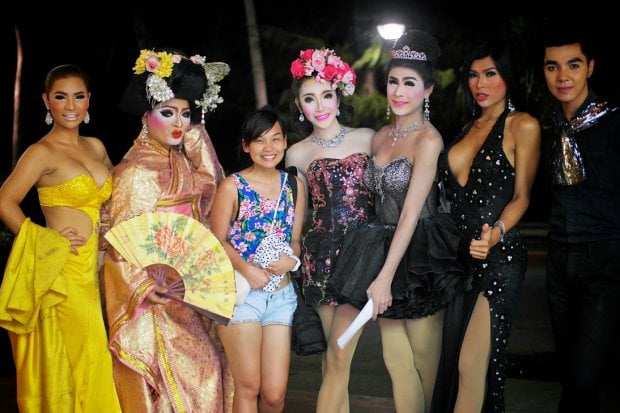 On our second day, we decided to have a taste of Krabi's nightlife activities. We wandered through the streets, and ate street food. One thing that caught my attention was the group of transgender people ("Kathoey" in local terms), dressed in fabulously styled gowns, as if they were attending some sort of awards night. They seemed to be very friendly, and I couldn't help myself but be fascinated. So, I approached them and decided to have a short chat and also take a picture with them.
Thailand is known for its growing acceptance of homosexuality and as an advocate of human rights myself, I truly admire the locals' acceptance towards diverse gender identities in Thailand.
Thai massage
Aside from island hopping or food feasting, you might also want to try their spa and massage services. These services range from around THB 200-1000 depending on the type of massage/spa that you pick. We tried the traditional Thai Massage for a cheap price of THB 200.
At the start of the process, we were asked to remove our shoes and wash our feet. We were then guided through our room and asked to change to a looser and more comfortable outfit. After that we were asked to lie on a mattress, and while I can't exactly describe what was happening the entire time, I could feel the weight of the practitioner's body against mine. She carefully traced all the pressure points of my body, as if following guided lines starting from my legs to my head. The massage lasted for around an hour, and after that I felt relieved and relaxed.
The culture and customs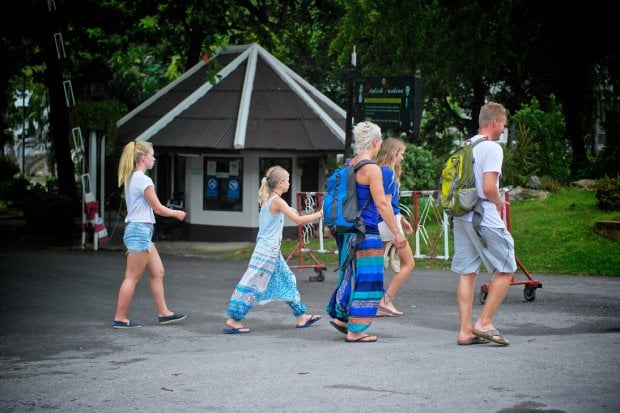 When travelling, it would be helpful if you have an idea of the culture and customs of the place. Personally, I want to make sure that even though I am a stranger to a place, I would at least know how to get around and respect the local residents. If you are planning to go to Thailand, here are some tips that I have gathered from various reviews online about Thai culture and customs:
1. "Wai" is the most common gesture in Thailand. It is the pressing of palms together, like how we position our hands during prayer. They usually do this when they want to say hello, thank you or good bye. They have different positions of "Wai" depending on whom they are giving it to.
2. Two of the most common words you can hear in Thailand is "Ka" and "Krap". "Ka" is used by females, while "Krap" is used by males. These are basically words to show respect through conversation.
3. The head is the most sacred part of the body for the Thais, while the feet is the least sacred. You are not allowed to touch a person on the head.
4. Public displays of affection are not tolerated in Thailand. If you are a travelling couple, while it is acceptable to hold hands in public, kissing in public areas would be considered as disrespectful for them.
5. Never move an object, or point an object to someone using your feet.
Thailand has many things to offer to its tourists, from the unique limestone rock formations and the white sand to its sumptuous food and people. Our stay was all worth it. Thailand is a place worth visiting if you are looking for a relaxing getaway. Getting around is easy and the people are very approachable and friendly. Although it was just a short escapade, I feel satisfied because I was able to make every minute of my trip count. Kob Khun Ka Thailand! You have taken a piece of me with you!
Image credits to Paul Lanuzo
Contributed by Going Beyond the Cliche.