There are many natural wonders around the world which will seem unbelievable and unreal unless you actually set your eyes on them. Here is a list of such natural wonders that will take your breath away!
1. PAMUKKALE, TURKEY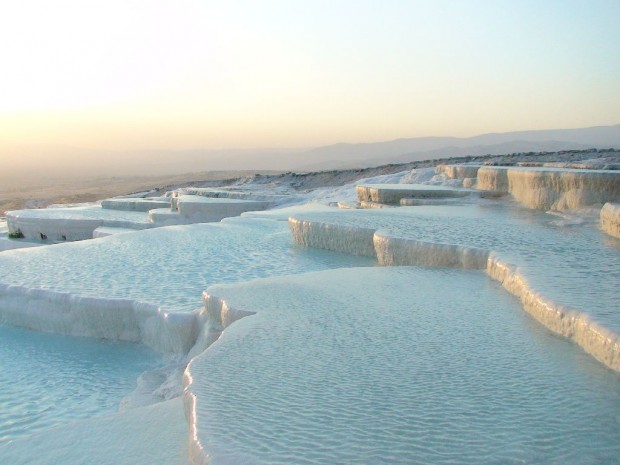 Image credits: Pvasiliadis
The hot springs and travertines in Pamukkale simply look like something from out-of-the-world. Travertines are basically terraces of carbonate minerals left by flowing water and they look like liquid marble at first glance.
There are 17 hot springs in the area and their temperatures range from 35 degree Celsius to 100 degree Celsius. The place has now been recognised as a World Heritage Site and is visited by groups of tourists all year round who come here to soak their feet or have a dip in these travertines. And Cleopatra had actually travelled to bathe in these waters which makes this place all the more interesting.
Also Read: Unknown Secrets Behind the 5 Great Wonders of the World
2. HALONG BAY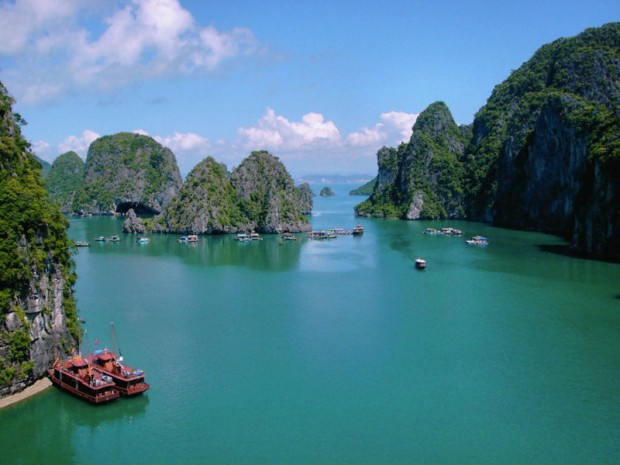 Image credits: Thierry Borie
Halong Bay, located in Northeast Vietnam, is a UNESCO World Heritage Site and a popular tourist destination. 'Halong Bay' literally means 'descending dragon bay' and local legends claim that the islands of Halong Bay were created by a great dragon. Halong bay is about 120 kilometres long and consists of almost 1969 islets. Many islands among these are hollow and have huge caves. However, other islands support fishing villages on them. These shallow waters are full of life, with more than 200 species of fishes and 450 different kinds of mollusks, which makes it a good destination for diving.
3. SALAR DE UYUNI, BOLIVIA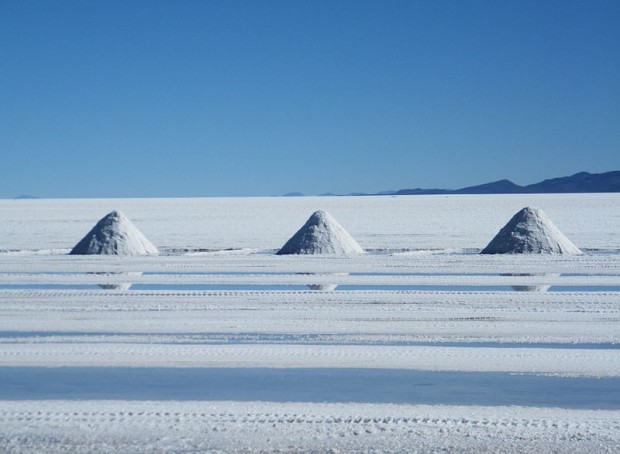 Image credits: commons.wikimedia.org
Salar de Uyuni is the world's largest salt flat, covering an area of 10,582 square kilometres. Located in southwest Bolivia, near the crest of Andes, this ocean of white sits at 11,995 feet above sea level! The savage beauty of this vast salt desert makes people from around the globe travel to take a look. This salt flat formed as a result of transformations between several prehistoric lakes and is completely bare except a few scattered islands (like Isla Incahuasi), which only enhances its beauty. Underneath the cemented salt are large reservoirs of lithium-rich brine, which has given rise to a whole industry dedicated to lithium-extraction here.
4. GREAT BARRIER REEF, QUEENSLAND, AUSTRALIA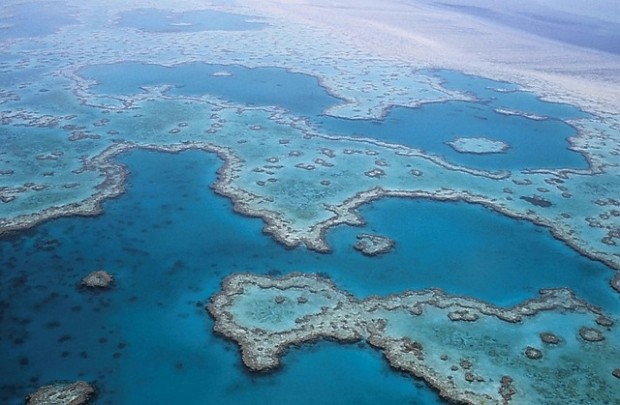 The Great Barrier Reef is the world's largest structure made by living organisms and the world's largest coral reef system as well. Built by billions of coral polyps, the Great Barrier Reef is spread over an area of 344,000 square kilometres and consists of almost 900 islands and over 2900 individual reefs. It supports a wide diversity of life and is a very popular travel destination. Travellers can engage in many activities at the Great Barrier Reef such as snorkelling, diving, boat rides and visiting underwater observatories. As such, the Great Barrier Reef is also a heaven for adventure seekers.
5. MARBLE CAVES, CHILE AND ARGENTINA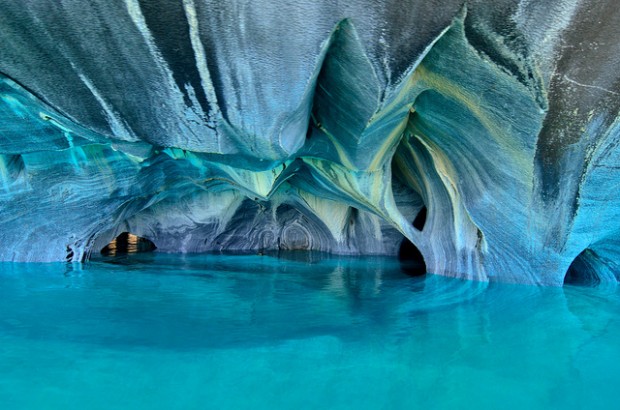 Image credits: Javier Vieras
The Genaral Cerrera Lake (Chile) or Lake Buenos Aires (Argentina) is located in Patagonia. The lake, surrounded by Andes Mountain Range, is famous for its formation of marble caves. The Marble caves, Marble Cathedral and Marble Chapel formed at the centre of the lake exhibit very unusual geographical features. These folded and weathered marble formations show a wonderful display of colours. The marble caves also constantly change their appearance with the change of seasons and the colour of water in the lake. This cave network, dubbed as world's most beautiful cave network, never fails to fascinate the visitors with its stunning beauty.
6. THE AURORA BOREALIS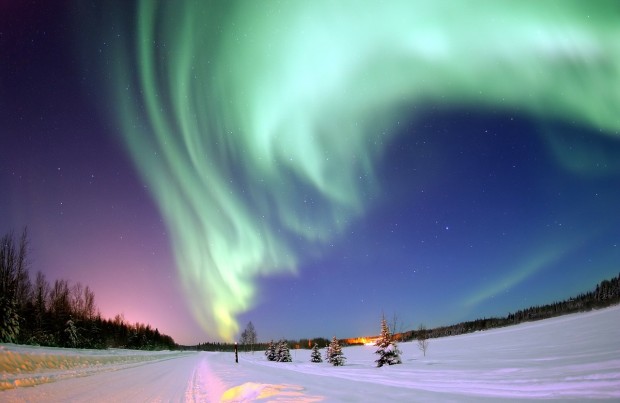 The Aurora Borealis, also known as the Northern Lights, is truly a wonder of the world. Legend has it that the Aurora Borealis occurs when spirits of the dead pass over the Heavens and the crackling and whistling noises that accompany the Northern Lights are voices of the spirits. This phenomenon, however, can be explained scientifically. The Aurora Borealis are seen when highly charged electrons from the solar system meet elements like Oxygen and Nitrogen from the Earth's atmosphere.  That said, it is easy to believe in the legends when one gazes upon the dancing Aurora Borealis.
7. THOR'S WELL, USA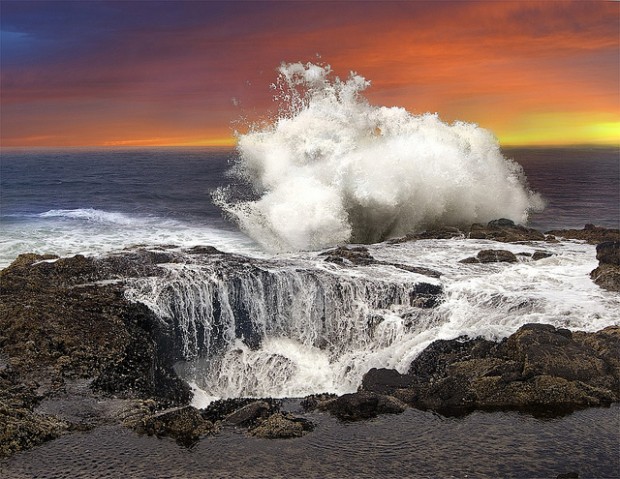 Image credits: John Fowler
Thor's Well, located in Florence, Oregon, is a gaping sinkhole caused by the powerful tides of Pacific Ocean and is really a wonder to behold. Here, waves reach the height of 20 feet during high tides or winter storms, making it deadly. Thor's well is also surrounded by sharp rocks and the strong surges of water here can draw you down into the abyss. As the waves crash into Thor's Well, the hole is filled up and water then spouts about 20 feet into the air before going back out to the sea.
8. VAADHOO ISLAND, MALDIVES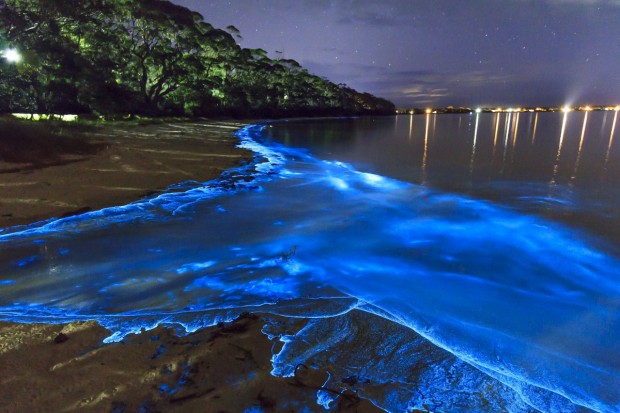 Image credits: www.reddit.com
The glowing waves of the Maldives are a natural wonder few may believe to be actually true. However, all doubts are erased once visitors see the glowing blue waves pulling up on the sands of the beach! This phenomenon occurs because of the presence of Dinoflagellates, which are phytoplanktons in the water. The Dinoflagellates glow at night like small blue stars and when they are washed ashore by the waves of the sea, they form a blue line along the beach. Apart from Maldives, this wonderful phenomenon can also be experienced in few other places like Ton Sai, Krabi in Thailand and Toyama Bay in Japan.
Also Read: Vaadhoo Island, Maldives: The Sea of Stars
9. THE WAVE, UTAH, USA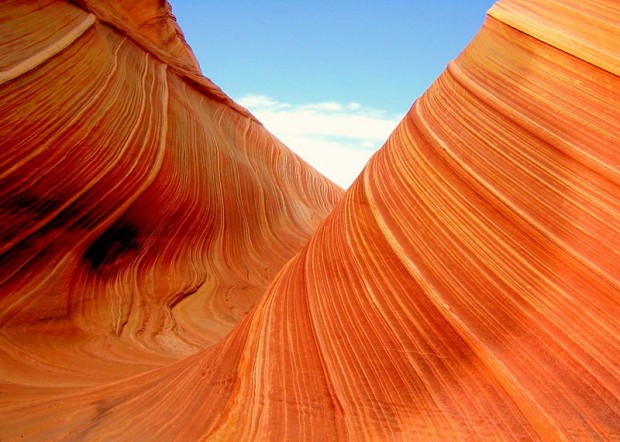 Image credits: Peter Fitzgerald
The Wave, located in Coyote Buttes area of the Paria Canyon-Vermillion Cliffs Wilderness on the Utah –Arizona border, has become a very popular tourist destination owing to  itsawe-inspiring features. The Wave is a sandstone formation on the Colorado Plateau with undulating forms and bands of colours. And swirling bands of colours run through the sandstone, which have been eroded to create amazing shapes. The best time to visit The Wave is during the spring and fall.
10. CANO CRISTALES, COLUMBIA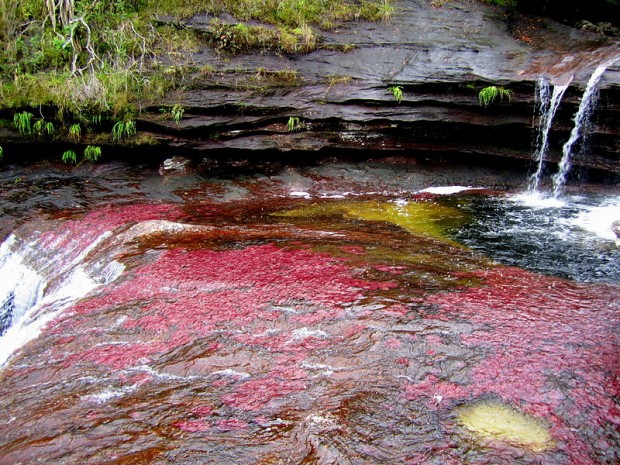 Image credits: Peter Fitzgerald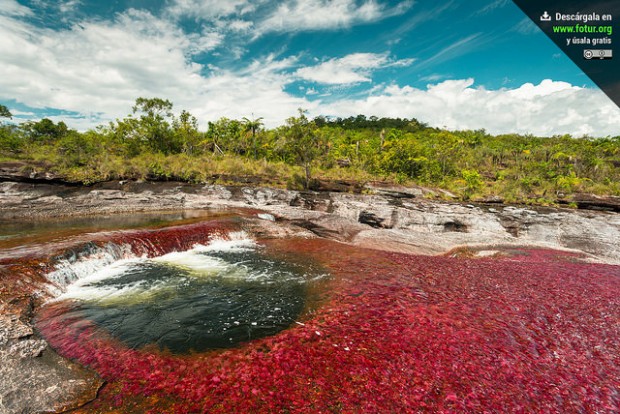 Image credits: Fotur Colombia
Columbia's Cano Cristales has been nicknamed 'The River of Five Colours' and 'the river that ran away to Paradise' for its seasonal blossom of colourful moss on the rocks below the water. During the autumn, the mosses beneath the crystal clear sheet of water blossom in colours of purple, bright red and shades of magenta. Thus, the 100 kilometres long stretch of this river is a very common travel destination and the best time to visit is between September to November, when these specimens of algae are in full bloom.
There are many more wonderful places in the world which give us an idea of how beautiful and wondrous Mother Earth is! By taking a look at these amazing places and natural wonders, you will see what a beautiful planet it is that we live in.