If you want to experience the best local experience in Southeast Asia, Vietnam is the perfect place for you. Regardless of when you visit throughout the year, there are various experiences awaiting you here. Don't believe us? Check them out! 
Things to do in Vietnam during spring
Vietnamese people believe that the better beginnings, the easier life will be. Spring is the time for the new beginnings of everything, therefore, they spend most of their time preparing for Tet – an important occasion in Vietnam.
1. Join the countdown event before New Year's Eve
If you're traveling to the main cities in Vietnam during the new year, joining the countdown festival will be an unforgettable experience. You will have a chance to ring in the new year with lots of vibrant music performances from famous singers around the country. You can also sample plenty of delicious seasonal street food and celebrate the start of the new year with locals and tourists alike! 
Before the important and meaningful switching moment between the old year and the new year, the countdown starts from the 30th second to the last second. Then, the fireworks will be lit up in the sky for 15 minutes. While watching the fireworks, you can make a wish for the lucky new year.
Recommended places to go for New Year countdown events:
Hanoi: The countdown event on Hoan Kiem Lake, Hoan Kiem Ward, Hanoi, or the event on August Revolution Square in front of the Hanoi Opera House
Ho Chi Minh City: Nguyen Hue Pedestrian Street, Ward 1
Danang City: 2/9 Square, Hai Chau Ward
2. Admire the beautiful seasonal flowers and the picturesque sights
Northern Vietnam is where you can go to check out beautiful spring blooms amidst verdant greenery. In Hanoi, you can check out Quang Ba Flower Market near West Lake and Nhat Tan Garden in Phu Thuong Ward, Tay Ho District during the Tet holidays to find colourful seasonal flowers. 
On the other hand, cities in the South often showcase white or yellow apricot blossoms. Nguyen Hue Pedestrian Street is a great place for the flower show in Southern Vietnam.
Things to do in Vietnam during summer
Summer in Vietnam is from April to early August, this is the season for relaxing and traveling after months of studying and working. Most regions are warm with mild temperatures, therefore traveling is very convenient and comfortable.
3. Go for a lovely cruise in Ha Long Bay
Ha Long Bay is undeniably one of the most charming places in the world. Visiting Halong Bay, you will be overwhelmed with numerous unique rocks while enjoying the five-star cruise life. 
Don't forget to try Cha Muc (Squid rolls), which is a specialty here. Squish fishing at night is also an exciting activity if you visit Ha Long Bay, which is not only challenging but also adventurous.
4. Have fun in the sun on Phu Quoc Island
Phu Quoc is one of the 25 best islands in the world according to Travel+Leisure. Vietnamese love the islands because of the diversity of beach activities and high-quality resorts. You will have the opportunity to admire Phu Quoc by parachuting, snorkeling, and diving. 
Sao Beach is the highlight of this Island. Not only does it provide visitors with lots of active entertainment, but the beach also has rustic natural beauty and thousands of adorable starfish. This is also the origin of its Vietnamese name!
Wanna know what to eat in Phu Quoc? Start your food checklist with Banh Canh (Seafood noodles), and Banh xeo (Pancakes), and end with fresh coconut for the complete food experience. 
5. Enjoy the tranquil beaches in Da Nang
Da Nang has a long and peaceful sandy shore, and My Khe is one of the most well-known beaches. Located in the most liveable city in Vietnam, My Khe beach has clean white sand and clear water. You should try wave surfing apart from just relaxing on this beach.
Although Da Nang is famous for seafood, tourists all over the world are interested in many unique noodles such as My Quang (Quang Noodles), Bun bo (Beef Noodles), and Grilled Pork Noodles. These food are a must-try for summer, so grab yourself a bowl of noodles when you visit Da Nang city!
Also read: 11 Best Beaches in Vietnam You Must Know About
Things to do in Vietnam during Autumn
6. Discover the peaceful streets of Hanoi
Hanoi in the autumn is very special because the weather will change from hot to cold with a comfortable breeze. It is one of the few destinations in the region where you can enjoy such lovely weather. The ideal period to travel for this season is between September and November.
One of the top places to visit during this time is Hoan Kiem Lake. When visiting Hoan Kiem Lake, you will be impressed by the colorful flowers under the mist in the early morning. From there, tourists can easily wander around the Hanoi Old Quarter. You can either take a walk or cycle to admire the whole beauty of Hanoi. 
Another location to visit is Ho Tay Lake (West Lake), especially during the golden hour. At this time, the sunset reflects off the surface of the lake. This moment creates a breathtaking picture that you can't stop looking at. Don't miss the chance to cycle or walk around the tranquil lake and visit locations like Tran Quoc Pagoda, Quang Ba Flower Market, and the Ho Tay Flower Garden too! 
The best specialty to enjoy in Hanoi during the autumn is Cốm. Cốm is leftover rice that is wrapped in lotus leaves to keep the fragrance. The way we enjoy Cốm is also an art. To eat Cốm like local people, you will use five fingers to pick them up little by little. After that, enjoy the delicious Com slowly to feel the mild sweetness and sticky texture.
7. Embrace the beauty of Brassicaceae flowers in Sapa
Sapa in September is filled with yellow fields of Brassicaceae flowers stretching endlessly. The entire mountains in Sapa this season are immersed in the yellow color of flowers, which not only brightens up the whole space of Sapa but also warms people's hearts when they come here.
There are various attractive places to visit in Sapa such as Ham Rong Mountain, Notre Dame Cathedral, and O Quy Ho Pass. From these places, you can see the magnificence of natural wonders and feel the fresh air from the mountain peaks.
8. Feel the rhythm of the harvest season in Ha Giang
When traveling to Ha Giang in Autumn, you can be astonished by the amazing golden terraced fields. The best destination you should visit in Ha Giang is Hoang Su Phi. Visitors can admire the vast fields and watch as farmers harvest rice in the middle of the yellow terraces. All while admiring the sweet scent of the paddy fields. 
Things to do in Vietnam during Winter
According to the opinions of numerous tourists, Vietnam is at its best beautiful in winter (between November and January of next year). That said, since winter is only cold in the North and Central Regions, we'll only highlight experiences from there. 
9. Dig into hearty Vietnamese food to keep you warm in winter
Here are a couple of our best wintertime recommendations from local Vietnamese foodies:
Sticky rice ball dessert
Sweet soup is part of Vietnam's traditional cuisine, and Northerners appreciate it in winter as a late-afternoon snack or after-dinner dessert.
Many people like the chewy rice balls produced from rice flour and green bean powder, but the most important part of this meal is the ginger-brown sugar broth. You can find this delicious cuisine in the old quarter of Hanoi.
Grilled corn, sweet potato, and egg on the cob
These street delicacies are maize, sweet potatoes, and eggs roasted over a fire. Many say the greatest spot to savor these modest winter street meals is in Sapa town on a cold winter night. Gathering around a little flame, eating something hot and simple to grasp with two hands, conversing, and sipping corn wine may warm many people's bodies and hearts.
Hot pot
The piercing cold of winter provides an excellent opportunity to savour hot pot, a wintertime favorite among locals. There are several types of hot pot available in Hanoi, including beef, chicken, fish, frogs, snails, duck, and goat, among others. Meat, fresh vegetables, tofu skin, mushrooms, wontons, taro, and egg dumplings are traditional hotpot ingredients.
On cold days, there is nothing more enjoyable than sharing a pot of boiling soup with family and friends. When winter arrives, you should surely sample this well-known dish.
Also read: 10 Best Vietnamese Food That You Have to Try
10. Immerse yourself in the land of winter flowers
Daisy season in Hanoi during winter
If you have the opportunity to travel to Hanoi at the end of November, you will be able to see small, purely white chrysanthemums everywhere. You can visit the big and famous flower villages in Hanoi to take pictures with daisies such as Nhat Tan, Tay Tuu, or the Red River rock.
Buckwheat Flower Season in Ha Giang
The buckwheat flower (Hoa Tam Giac Mach) is a traditional Vietnamese plant. The flower blooms white for a month, then becomes pink, purple, then dark red.
Lao Cai and Cao Bang have buckwheat farms, but Ha Giang is the most famous. During buckwheat blossom season, they eagerly prepare for a road trip to Ha Giang.
Hydrangeas in Dalat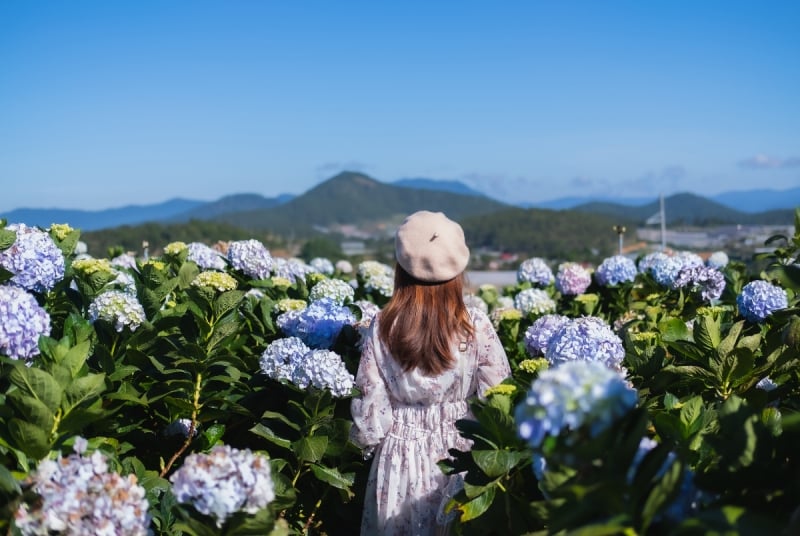 In Vietnam, hydrangeas often grow in the highlands at the end of the year when the weather becomes cold, so it is not surprising that this flower is listed on the list of the most beautiful winter flowers in Da Lat. In Da Lat, the most popular color of hydrangea is blue. Imagine a blue sky above you and a sea of blue flowers below your feet.
Final Thought
If you plan to visit Vietnam and try its various local experiences, then why not book a tour with Asianwaytravel.com? Asianwaytravel.com is a leading local tour operator based in Vietnam that specialises in customised private tours to Vietnam, Laos, and Cambodia.
We have over 100 Vietnam tour packages that may meet the demands of any client. Whether you want to modify a tour package on the website or have an itinerary built from scratch, we can create an ideal trip just for you! Best of all, our local expertise ensures that you'll be able to experience Vietnam the way locals do! 
Send your request to [email protected] now and prepare for your next big trip!