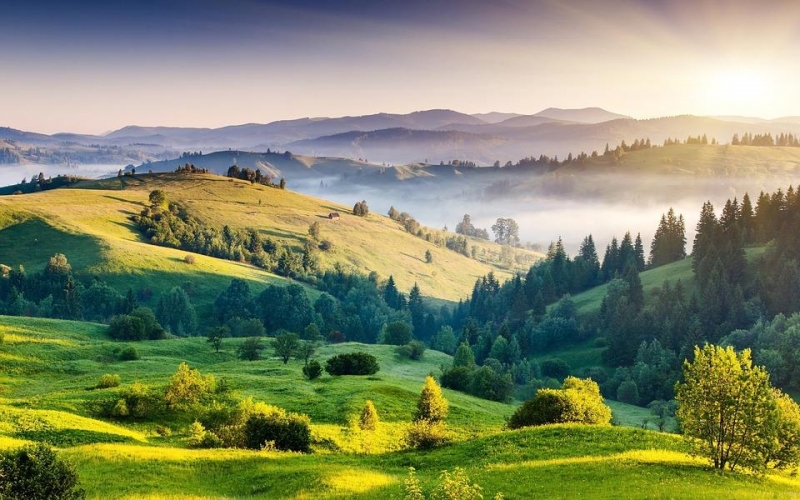 Tamil Nadu, a South Indian state famed for its Dravidian-style Hindu temples, is a beautiful region in India with prominent pilgrimage sites, colonial-era attractions, and heritage buildings rich in history.
Day 1 – Places of worship
The city of Madurai is host to one of the most respected historic Hindu temples in the state, Meenakshi Amman Temple. It was built and dedicated to Meenakshi, a form of Parvati, and her consort, Sundareshwar, a form of Shiva. It's a prominent landmark and was on the list of the top 30 nominees for the New Seven Wonders of the World. Tall layers of colourful sculptures and idols line the towers, spanning up to 52 metres of Dravidian architecture.
Next, there's the city of Thanjavur (roughly a three-hour journey by car from Madurai) where another ancient temple can be found. One of the largest temples in the country, Brihadeeswarar Temple is also one of the most popular temples in the whole of India. It can be distinguished through its sand-coloured exterior and towering main structure.
There's a great place that serves an assortment of delicious food in the same city of Thanjavur (No.3, New Daniel Thomas Nagar). It's called The Container Café and it features cosy and well-designed interiors accompanied by great music as well as a relaxing ambience. If you're a coffee fan, order the "TCC" and Cappuccino for a pleasant surprise. Opening hours are from 11am to 10.30pm daily.
Day 2 – Intriguing historical sites
Now for something a little different. The Kolukkumalai Tea Estate located in Kottagudi on a misty mountain is the highest organic tea plantation in the world. It's also considered a historical site, where tea is still made by hand in the traditional way.
Many of the ancient machines still have timestamps dating back to 1940 with labels of the English manufacturers. It was started in the early 1900s by a Scottish planter and it has won the Golden Leaf Award given by the Tea Boards of the USA and India for its excellent tea quality.
About 75km from Chennai and 65km from Mahabalipuram, Kanchipuram (or Kanchi for short) is a thriving pilgrimage site. This city was once the capital of the Pallava Dynasty, from the 3rd to 9th century CE. It's a temple town and is considered one of the oldest cities in India, filled with rich history and the strong influence of sculptural and architectural styles found across the country.
Restaurants in Tamil Nadu are often called "Hotels" even if there are no guest rooms so it can get a little confusing. The Saravanaa Bhavan Hotel located in Kanchipuram along Annai Indhira Gandhi Street is renowned for its amazing organic South Indian cuisine. Drop by and try out some of the many options here such as idli, dosa, medu vada, and thalis (which are usually called "meals" in Tamil Nadu) and more. Opening hours: from 6am to 10.30 pm daily.
Day 3 – The ancient world
Look out for the old Gingee Fort in the Villupuram District, about 85km from Kanchipuram. One of the largest surviving forts in Tamil Nadu, it's a prominent tourist attraction that was historically called the 'Troy of the East' by the British due to its impregnability. This intriguing fort was built sometime around the 15th to the 16th century by the Gingee Nayaks, lieutenants of the Vijayanagara Empire who later became independent kings.
Move on to Padmanabhapuram, an ancient historical town surrounded by yet another fort with an area of 187 acres. This ancient capital of Travancore may have been constructed as early as before 1601 AD. It has stood the test of time, with a palace featuring an area of seven acres situated at the very centre of the fort. Surrounding it are lush hills, dales, and pristine rivers. Entry fee ranges will be less than S$1 for both adults and children, and it's closed on Mondays so do take note.
There's so much to see and do in the massive state of Tamil Nadu that you should only expect to catch a fraction of what it has to offer in three days. The historical landmarks listed in this 3D2N guide should cover some of the more prominent hotspots. Be sure to come back and explore the rest another time!
Also read: 10 Places in India to Discover the "Great Indian Experience"