Mumbai is India's wealthiest city. In fact, it is home to the majority of India's billionaires. But apart from being the heart of India's commerce and Bollywood film industry, this beautiful destination has natural, historical, and cultural riches to boast, making it one of the destinations that deserve a spot in your travel bucket list.
Also read: The Myths About Mumbai That You Should Dispel
If you're visiting Mumbai for the first time, here's a 4-day itinerary that will bring you to the best of the city.
How to get there
There are several flight options available that will take you to Mumbai. However, if you're coming from Malaysia or nearby countries, we suggest that you take the fuss-free direct flight from Kuala Lumpur to Mumbai via AirAsia, which is quite timely because they are now having a Low Fare Deal for only MYR 299 ALL-IN (one-way). Grab your seats before the promo ends on 26 Nov 2017.
Now that your flights are settled, let's start exploring!
Day 1: South Mumbai tour
This is an ideal tour destination on your first day in Mumbai because it is here where you get to experience the real feel of the city. And since most private Bollywood studios tours, which is also included in this itinerary, aren't starting until mid-morning, feel free to roam around the interesting destinations around the south Mumbai district first.
First stop: Crawford Market
This is the best first option early on your itinerary because aside from having the opportunity to pick up something unique to take out with you, it also gets busy as the day progresses. So you'd better drop by the place when everything is still not in the hustle mode.
Crawford Market, in general, is a great sight to behold. The market's entrance frieze is one of its awe-inspiring features. It also has a Clock Tower embellished with Victorian art. Because of its old-school Norman and Flemish architecture, which blends in perfectly with the relatively new structures of the city, Crawford Market is a striking structural wonder that stands out in the crowd.
Second stop: Dhobi Ghat
This is another must-visit place while in Mumbai. This is the world's largest open-air laundry, where hundreds of washers gather doing just the same things: washing and drying clothes. Witness the waters literally flying in the air from individual wash pens as each Dhobi flog their washed clothes and linens before drying them. The experience here is truly one of a kind – knowing the colourful history of the site, learning about the lives of the Dhobis who work there, and knowing where all those soiled clothes and linens come from.
Third stop: Bollywood tour
There a lot of tour agencies in the city willing to take you on a private tour of the city's premier Bollywood studios. Book the tour package that suits your liking. To experience the best of Bollywood, however, we highly recommend booking the package that offers a visit to Bollywood's second-largest studio. The tour has lunch included in the package as well that's why you don't have to worry about anything the moment your guided tour starts. All you have to do is relax and enjoy the show.
During the tour, get a chance to witness an hour-long Bollywood song-and-dance show live! You can watch a short film about Bollywood's history, as well as short clips about how Bollywood films integrate special effects into their movies.
And if you are lucky enough, you can even watch a film or television taping as they happen live, plus a bonus of having a much-coveted selfie with Bollywood actors and actresses present in the set. Other places to be visited during this tour are the Dubbing studio, Wall of Fame gallery, and Bollywood Museum, which boasts of a wide array of costumes used in famous Bollywood movies that you can actually try on. After lunch, you will be taken on a sightseeing trip past famous Bollywood stars' home. The tour will end between 4pm and 5pm at which time you will be dropped to your preferred location within Mumbai.
Day 2: Mumbai City sightseeing
Spend your second day seeing Mumbai's spectacular sites. Take a walk along the beach, connect with yourself through meditation in one of Mumbai's many temples, shop, and pass along Mumbai's third longest cable-stayed bridge and see for yourself how amazing it is being 20 metres above the water.
First stop: Bungalow Eight
Bungalow Eight is a posh store in Mumbai specialising in colourful, eye-popping dresses and traditional garments, including shirts and scarves. The store also sells unique accessories such as necklaces and rings. The store opens a bit late, around 10.30am. Don't worry because the moment the store opens its doors, you can attest that it is worth the wait.
Second stop: Chowpatty Beach
Taking a stroll along the shores of Chowpatty Beach will surely calm your eyes after seeing a lot of colours from Bungalow Eight. Use your time in Mumbai to experience various exciting scenes happening only on Chowpatty Beach. One of these celebrations is Ganesh Chaturthi – a ten-day festival that falls between August and September. This annual festival honours the Hindu god Ganesha, and it attracts a throng of visitors during the celebrations. Of course, don't leave this place without tasting the street foods sold there. Food carts and stalls along Chowpatty Beach are famous for their mouth-watering street foods.
Third stop: Shree Siddhivinayak
Made popular by actors and politicians hanging out in this place during the late 19th century, Shree Siddhivinayak temple continues to be an eye-candy for both tourists and Hindus alike. Inside the temple are a lot of statues representing the elephant lord Ganesh. What's more, the temple has a gold-inlaid interior giving it the reputation as among the wealthiest temples in India. You have to see this beautiful sacred temple yourself to believe.
Last stop: Bandra-Worli Sea Link
This wonderful bridge that connects the rest of Mumbai's west suburban zones in Bandra to its central business district in Worli is an engineering marvel. Its majestic 128 m (420 ft) tall pylons holding the cables that support the bridge are like diamonds towering out of the waters of Mahim Bay. Cruising across this 5.6 km-long cable-stayed bridge is an ultimate stress reliever. You have to experience this.
Day 3: Getting a breath of fresh air
Despite being one of the busiest cities in India, Mumbai did not forget to give its inhabitants and visitors a place where they can get a breath of fresh air. Getting into these places will let you know how relaxing it is indeed to stay in Mumbai.
First stop: Marine Drive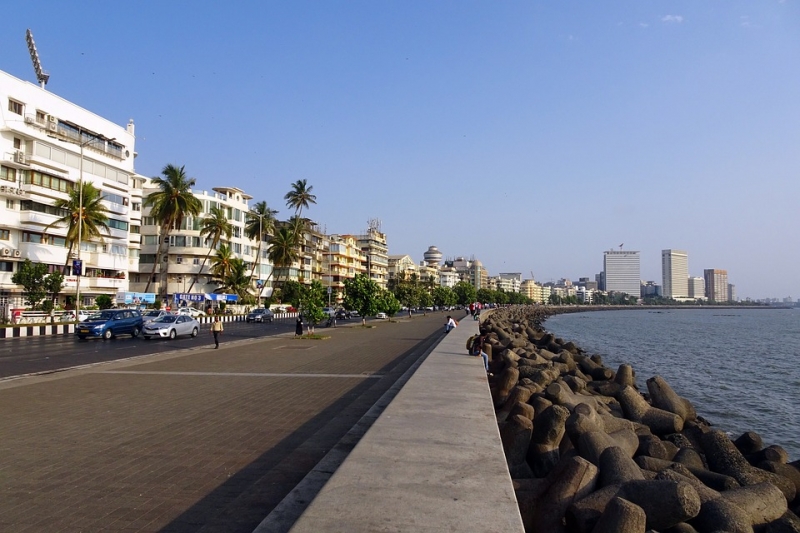 After two days of exploring the city, you definitely need a place where you can enjoy a breath of fresh air without leaving the city itself. Marine Drive, Mumbai's most well-known waterfront avenue, is the perfect place for you. Here, you can stroll and enjoy the shoreline of Back Bay on a cobbled street lined with trees. Across the street are art deco-style buildings reminiscent of the 1920's era when the famous boulevard was constructed. Fancy homes and some of the country's poshest real estate can also be found here. Needless to say, Marine Drive is an ideal place to socialise and eat.
Second stop: San-Cha Tea Boutique
Unknown to many, tea or chai is India's national drink. And as a testimony to this, Mumbai has a lot of tea shops around the city. One of these is San-Cha Tea Boutique. Here, you can shop until you drop with more than 75 varieties of teas, ranging from white, green, black and botanical varieties, as well as tea accessories.
After a picturesque stroll at the Marine Drive, you can take a side trip here. The shop will give you a chance to savour a complimentary cup as you browse their wide display of tea and tea-related things. So, may it be for your own consumption or as a gift to someone who loves tea and tea accessories better than you, a Sancha Tea Boutique stop is well worth it.
Last stop: Gateway of India
Built as a monument commemorating the arrival of the British monarchs King George V and Queen Mary in 1911. This 26-metre (85 feet) high basalt arch was later converted into a ceremonial entrance to India for Viceroys as well as the new governors of India. The mixed architectural styles employed in the construction of the arch make it one of the most beautiful structures in the country and also the reason for it being called the "Taj Mahal" of India. At the domed ceiling of the arch are inscriptions dedicated to the famed landing of the king and queen of England in 1911. Oh, did I mention that the Gateway of India is overlooking the beautiful Arabian Sea?
Day 4: Wildlife and cultural walk
Your Mumbai getaway will not be complete, of course, without having a glimpse of its wildlife conservation efforts and cultural heritage preservation. A walk through these sites will make your Mumbai trip a thing to remember.
First stop: Karnala Fort
Before leaving Mumbai, spending a day on its outdoor beauty will make you appreciate the city more. Karnala Fort is your first stop. The fort is located on a hill in Raigad district. It was once a place of conflict for both the Indian rulers of the area at the time and its neighbouring sultanates, especially the Gujarat Sultanate, because of its strategic location. The fort is overlooking the Bor Pass, a main trading route between Konkan Coast and Maharashtra. Learn about its importance and marvel at the fort's beautiful ruins during your visit here.
The hill where the fort stood is now part of the Karnala Bird Sanctuary, your last stop in your four-day Mumbai itinerary.
Last stop: Karnala Bird Sanctuary
At 12.11 sqm, Karnala Bird Sanctuary is comparably small compared to other bird sanctuaries in India. Despite its relatively small size, the sanctuary has more than 222 species of birds to boast. Spending a better part of your last day here seeing the sanctuary's inhabitants at their own home will surely become an experience of your lifetime.
The sights and sounds of Mumbai are unique and is worthy of your time. AirAsia will help you reach this exotic Indian destination through its daily Kuala Lumpur to Mumbai flights. The short 2 hours and 25 minutes flight will bring you to the heart of Bollywood in the safest and most comfortable flight possible. Their jubilant flight crew will assure that all your in-flight needs are met with enthusiasm.
Also read: Top 10 Things to Do in Mumbai for First Time Visitors
If flying to Mumbai from Kuala Lumpur has been bothering you, consider it solved already! With the MYR 299 ALL-IN (one-way) low fare, you can enjoy your trip more knowing that you saved a big portion of your fare for important and enjoyable things in Mumbai. Book your tickets today for travels starting now up to 6 May 2018. Special Low Fare deal booking is until 26 Nov 2017 only. Hurry, book now before all seats are taken. Have a nice trip!
---
Brought to you by AirAsia.