Ahh Switzerland…the landlocked heaven on earth cradled amongst the folds of its larger European compadres. Small, yes, but it packs quite the punch. Of snow-smothered alpine arcadias, shimmering basins, confessional-quiet valleys and rolling mountains each one scraping a bit more of the sky than the other. I could wax lyrical about its slumbering cities and fairytale-charmed hamlets, but you probably already know about the halcyon eden that it is.
But where's best to start your Swiss expedition? Geneva's wine sipping French laissez-faire, Lugano's intricate Italy accented piazzas, or clean and efficient Basel? They are amazing cities in their own right, but Zürich trumps them all. It is Switzerland's financial epicenter, but you won't be jostling through crowds of preoccupied suited merchants. Instead, the city bursts with intriguing hidden gems and novelties. Best of all, its world-class transportation network takes you from Hauptbahnhof to the country's greatest sights and sounds at the snap of your fingers. Here's why Zürich is the ideal starting point to discovering Switzerland and all its beautiful natural amphitheatres.
1. Stroll through Zürich's Old Town

Image Credit: Francisco Antunes
Lined with winding cobbled walkways and decked with Renaissance architecture as alluring as the illustrious history it rests atop, Old Town (or Altstadt) is the medieval menagerie in the heart of the business capital. A one-size-fits-all destination that epitomises all that Zurich stands for, you can pack an entire day's worth of fun here!
Kickstart the morning with a refreshing stroll through Lindenhof Garden's cool shade before admiring acclaimed art galleries like Kunsthaus Zürich. With colossal landmarks like Grossmünster's twin bell towers and the beautiful stained glass lining Fraumünster, you'd probably be too busy for designer label indulgence along downtown Bahnhofstrasse. Romantics wouldn't want to miss sealing love padlocks along the Mühlesteg footbridge as well. Once the sun sets, party-goers can see Altstadt electrify with life as nightclubs unreel their cordons and open their doors to an alcohol-infused experience.
2. Dribble through the interactive FIFA World Football Museum
Image Credit: FIFA World Football Museum Official Facebook Page
Regardless of whether you spell it as "futbol" or "football", the world shares a universal love for the beautiful game. From the energetic child to the mellowed adult, fans of the sport have to check out the FIFA World Football Museum when in Zürich. Besides, it would be criminal to blink past the chance to see the original World Cup trophy wouldn't it? Across the Zürich Enge Railway Station, this interactive exhibition opened just last year and is a hidden gem even amongst local circles.
3. Grab a stunning photo at the cascading Rhine Falls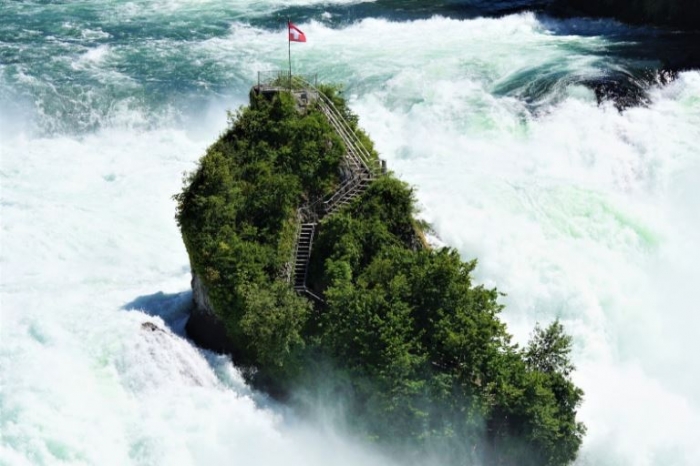 On the topic of groundbreaking Swiss attractions, there's one that truly takes the cake. The quiet rural town of Schaffhausen boasts Europe's largest plain waterfall. Though not exactly Niagara or Victoria Falls calibre, at 23m high, 150m wide and gushing an average of 600 m3/s of water, Rhine Falls is as fascinating as it gets. Take a chartered cruise out to the rock formation jutting out right smack in the middle of the waterfall to snap great angles of this wonderful vista. Take in the cascading torrents (and get splashed by the water) but remember to pack a protective case along to keep your camera dry!
4.  Stop by Interlaken's idyllic countryside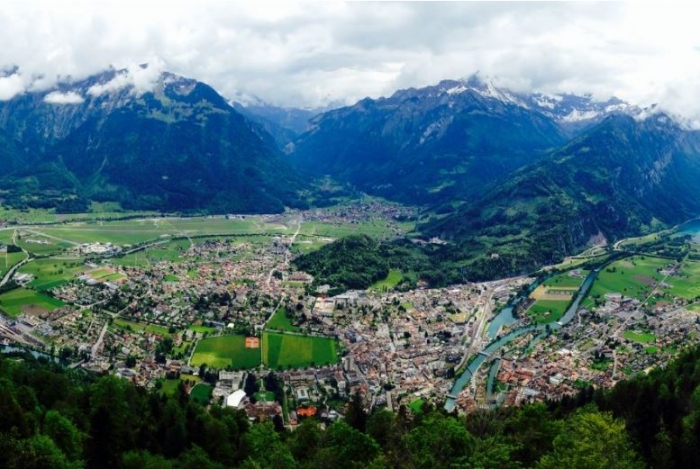 Image Credit: uniccus
Nestled snugly within Bernese Oberland and flanked by the placid turquoise-hued Lakes Thun and Brienz, sleeps the idyllic town of Interlaken. You won't find skyscraping concrete monoliths and rarely a money-churning hotelier. Instead, the town is shrouded in granite shade behind the mighty peaks of the Eiger, Mönch, and Jungfrau mountains.
With more than 45 mountain railways, cable cars and ski lifts to the countryside, Interlaken promises endless activities all year around regardless of the season.
Interlaken can be easily reached using the Zürich HB by transiting through Bern or Lucerne on a train journey that lasts no longer than 2 hours.
5. Climb to Jungfraujoch's renowned Sphinx Observatory

Image Credit: (left) Col Ford & Natasha De Vere (right) Paul Gover
Onward from Interlaken up to an observatory, seemingly straight out of a villainous James Bond-esque lair. Take the scenic route along the Jungfraujoch railway up along the steep icy mountains to what is Europe's highest altitude railway station, perched at a staggering 3454 m.
Running all year around from Kleine Scheidegg, the train trundles through the most breathtaking angles of the Great Aletsch Glacier UNESCO World Heritage Site. With the ethereal snow-blanketed mountain range for company, keep your eyes peeled for the intriguing Eispalast (or Ice Palace), where curious ice sculptures depicting everything from people to vehicles are carved into the chilly glacier. True to its namesake as the "top of Europe", the viewing deck at the Sphinx Observatory offers even more extensive angles of the surroundings, making it a sightseeing wonder not to be missed.
6. Stop for a day trip in the cultural haven of Bern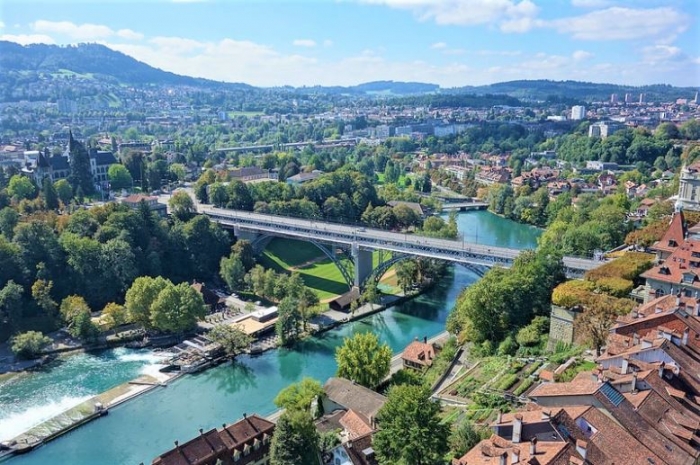 Image Credit: Olivier Bruchez
While Zürich may be the financial hub, its capital canton of Bern exudes an austere charm and simplistic beauty that makes the whole town itself a UNESCO World Heritage Site on its own. With the calm River Aare running alongside and weaving through it, this aged city is a time capsule locked away from the megalopolises of the digitised world. Weathered cathedrals, aging houses and historical relics as old as the 16th century grace the Bern landscape.
Bern is also an art-lover's paradise with impressive collections at museums like Zentrum Paul Klee. Be sure to check out the local markets at Bundesplatz for an insight into the lives of the locals.
Bern is a convenient straight train ride from Zürich HB in just under an hour through train lines like the Raileurope and Interrail.
7. Jive to the rhythms at Montreux Jazz Festival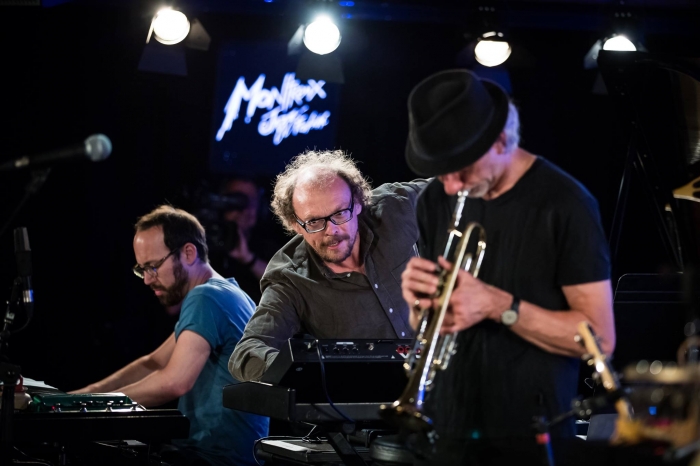 Image Credit: Montreux Jazz Festival Facebook Page
Early summer by the Lake Geneva shoreline heralds in the Montreux Jazz Festival, one of music's best-known events across Europe. Each year around July, troves of people from all across the world clamour to Geneva to hear smooth jazz improvisations played by big names in the industry. Originally exclusive to Jazz artistes, the festival has diversified over the years and other genres of music have also begun to find their place. From soulful Blues and head-banging Rock n Roll to more exotic Brazilian sambas and other subtle music alchemies, the festival is for all types of music aficionados out there.
In recent times, international superstars like Eric Clapton, Ray Charles and even the likes of Led Zeppelin have taken to the stage. Join the 51st edition this year, which lasts from 30 June to 15 July. With the music, variety of food stalls by the lakeside terraces and the Alpine backdrop for company, this is definitely an event to mark down.
8. End off with the iconic Matterhorn as your backdrop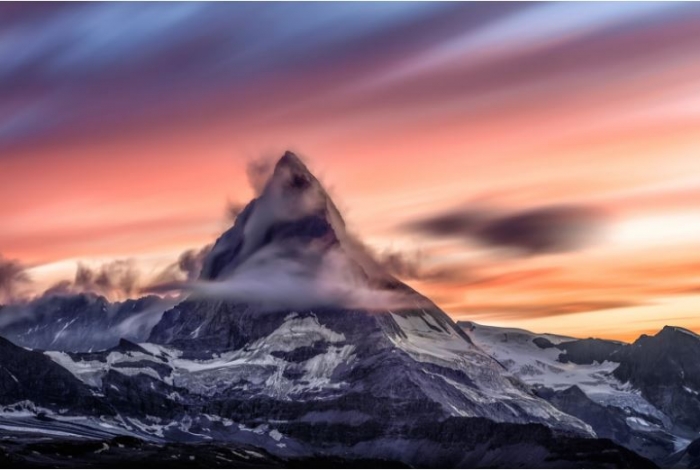 Towering over all its plateaued neighbours, Matterhorn's gargantuan peak remains an attraction a class above the rest. With sharply chiselled faces and a point that pierces the sky miles above the clouds, this mammoth reigns over the rocky kingdom resting at its feet. Europe is dotted with innumerable mountains but at 4,478 m, it stands up there as one of the continent's biggest giants.
With near symmetrical features, it's no wonder why tourists swarm for a photo opportunity. There's even the tranquil town of Zermatt below, so alternative that even diesel-reeking automobiles are banned. Instead, they use horse drawn carriages and the air preserves a rejuvenating freshness – talk about old school! Being one of the best natural photo stops, complemented with a slew of activities like tobogganing and scenic cycling routes, it's worth making the journey through to the southern border.
So there you have it! Not only does Zürich's city itself boast some pretty unique experiences you wouldn't find elsewhere in the world, it also has a transportation network that can effortlessly take you on a scenic train ride through to the country's greatest natural wonders. Rarely will you see so many picture-perfect landscapes all so closely located to each other as in Switzerland. If you don't have it on your bucket-list, it's high time you did so.
Ready to feast your eyes on all the sprawling wonders that Switzerland's impeccable landscape has to offer?
The best way to explore Switzerland is through Zürich and its transportation system. But the best way to fly to Zürich? Easy. By flying with Swiss International Air Lines! 

With prices that low, enjoy a whole new world of difference with SWISS. You can skip worrying about exorbitant air fares and concentrate on having a great time. Plus, enjoy:
Impeccable service from the friendly staff

Comfortable and spacious leg room

Adjustable headrest

Wifi on board

In-flight entertainment to ease the boredom from long-haul flights
Refresh yourselves with a hot towel right before landing, just like in business class. And in true SWISS style, be rewarded with a Swiss chocolate before you disembark. A kind gesture by the airline to symbolize a (literally) sweet goodbye, with their best wishes for your future journey and in hopes of welcoming you back soon. In addition, don't forget to take your copy of their award-winning SWISS magazine with you as you leave the plane!
It's also incredibly convenient with online check-in up to 23 hours before your departure. Choose your seat and skip all the hassle by checking in through any smart device at the SWISS website or the SWISS app!
With their unique flight schedule, you can sleep your way to Switzerland and arrive fresh at 6am in Zurich. And as for your return flight, their night flights departing from Zurich also means you still get to enjoy a full day exploring before heading home! No time is wasted on travelling at all and you get the ample sleep you deserve.
What are you waiting for? With 7 flights from Singapore to Zürich weekly, if Switzerland is on your bucket list, then there's no reason to wait any longer. Swiss International Air Lines will whisk you off to begin your alpine adventure today!
---
Brought to you by Swiss International Air Lines