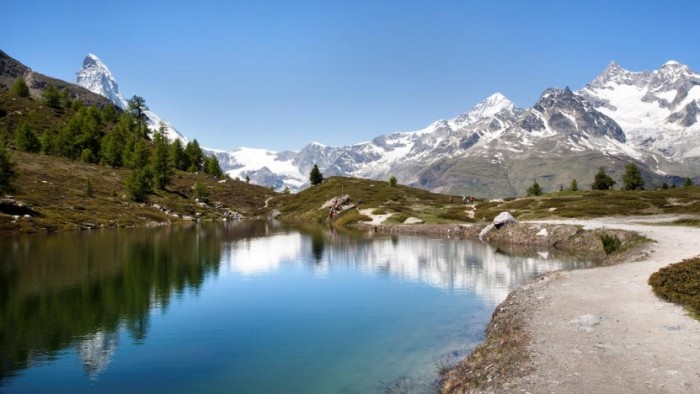 Image credit: Kosala Bandara
While slowing down seems to be an alien concept in today's metropolitan society, there are places around the world that, every now and then, remind us of the rejuvenating benefits of basking in the unbridled charm of nature's handiwork. If there ever was a better place to embrace fresh alpine air whilst shuffling every ounce of work-related stress into the back of your exhausted mind, it would have to be the idyllic resort town of Zermatt.
Also read: 15 Reasons Why You Must Visit Switzerland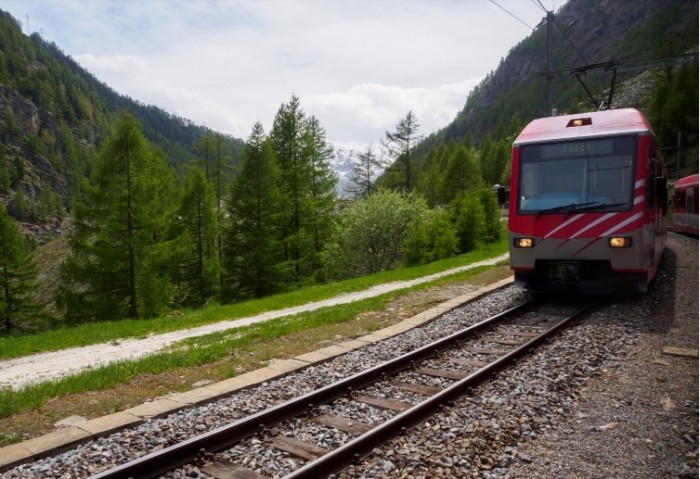 Image credit: Wesley & Brandon Rosen
As you make your way by train from Visp to Zermatt, you can already feel the gradual disappearance of modern paraphernalia — heavy transportation vehicles like buses and trucks; throngs of 9-to-5ers walking briskly to the train station; and smog. The train to Zermatt is non-air-conditioned, so clean air flows freely throughout the carriage as it exits the metropolis and into the sun-filled valleys of nothing but streams and lush. Although the rate of ascension masks it, the train climbs a total of 1,000m to reach the foot of the Pennine Alps that draw the border lines between southern Switzerland and Italy.
The train approaches Zermatt, passing through a few small, quiet towns that sit snugly on sprightly meadows. Oddly, not a single car passed you by — you later realise that Zermatt is wonderfully car-free. Tranquillity beckons.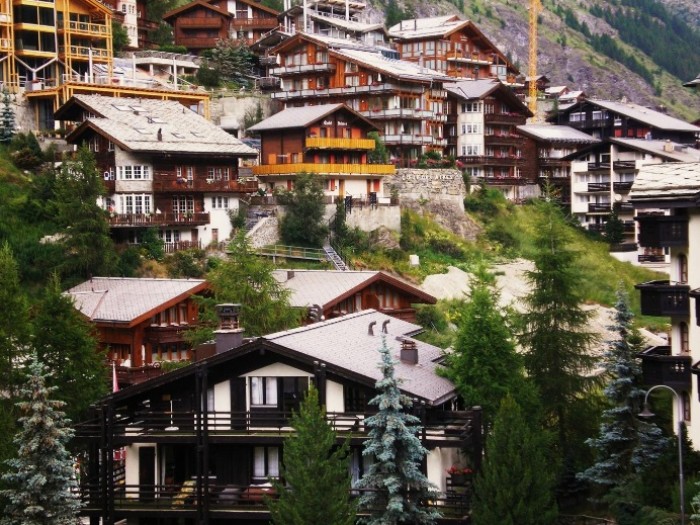 Image credit: cfloryan
All around you, a range of mountains tower above.
Although it may have seemed like Zermatt is enclosed within the ranges, you ironically feel more liberated than when you were standing by the window of your office 50 storeys up, looking down at a dull street and trash cans with half-extinguished cigarette butts. 
Here, the cool breeze lifts your spirits, because you know it comes from an alpine filter and not from an air conditioner that has not been cleaned out in ages. Clearly, it smells better, too.
Having a town like Zermatt built upon a mountainous foundation makes for an uneven layout; compact inns (most of them no higher than 4-5 storeys) bob up and down the landscape. This stretches on, and brown specks continue to dot the distance beyond your peripheral vision. In winter, they are all fully booked as eager adrenalin junkies embark on their annual dose of gravity-defying winter sports. This time, however, you are here in the thick of summer, even though with an average summer temperature of 15°C, it certainly does not feel like it.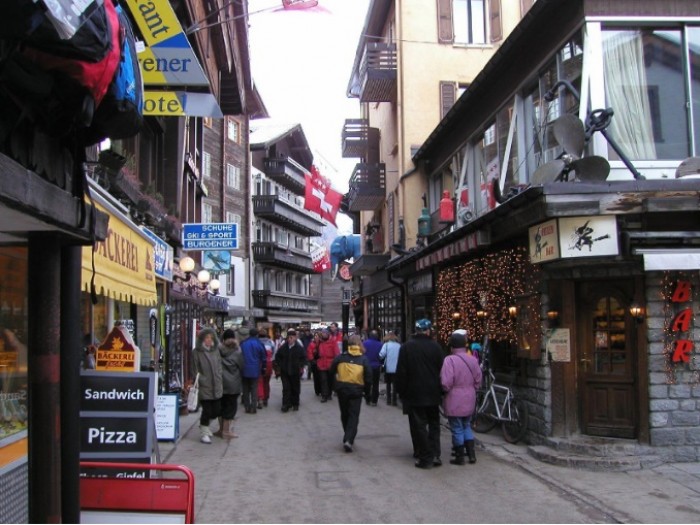 Image credit: Timo Newton-Syms
Walking through the main district, you find yourself flanked by tourists, and like you, they are still coming to terms with the pedestrian speed at which this sleepy town operates on. It is nevertheless a refreshing experience to soak in Zermatt's sights and sounds at your own leisurely pace.
There is precious little to do there, but that itself is the allure — the luxury of not fussing over activities that might have otherwise crammed your itinerary.
Apart from bistros that serve delicious rösti (large potato fritters best enjoyed with a copious amount of cheese and egg), adventuring shops, and souvenir stands, Zermatt is at its quiet best. Walking past a row of beautiful multi-tiered, cabin-like shop houses, you now come before a short overhead bridge that links the shopping district to the inns. The melodious downstream flow of the Gornera beneath you captures your attention even as your approach it from a distance. Somehow, the knowledge that the water it carries comes straight from the Gorner Glacier makes the sound even sweeter.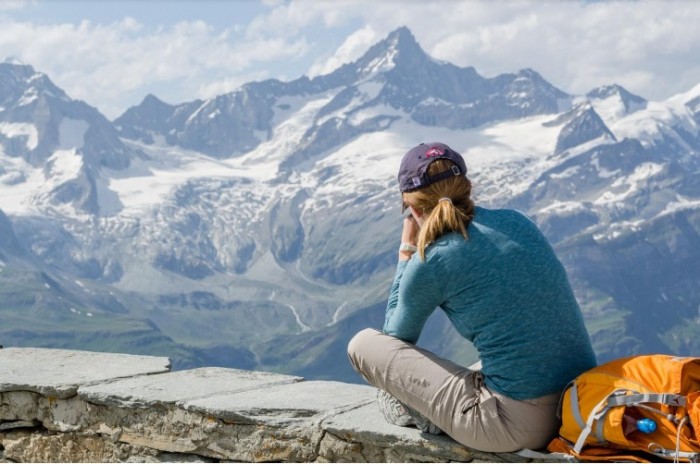 Image credit: Gabriel Garcia Marengo
Then, there is the great alpine mountain, and the poster image for your favourite Toblerone cocoa, The Matterhorn, eclipsing its less glamorous siblings. 
Like great monuments of our time such as Le Tour Eiffel and La Sagrada Familia, it is truly majestic when admired from a distance, or, in this instance, from a similar elevation high up on the Gornergrat. Efficient cable cars take you to and fro, and although fellow tourists flock the premise, there are always little pockets of space that you can hog, where it is just you and the Swiss Alps. Remember to take a cringe-worthy photo of an unopened box of Toblerone placed side-by-side with The Matterhorn's iconic peak.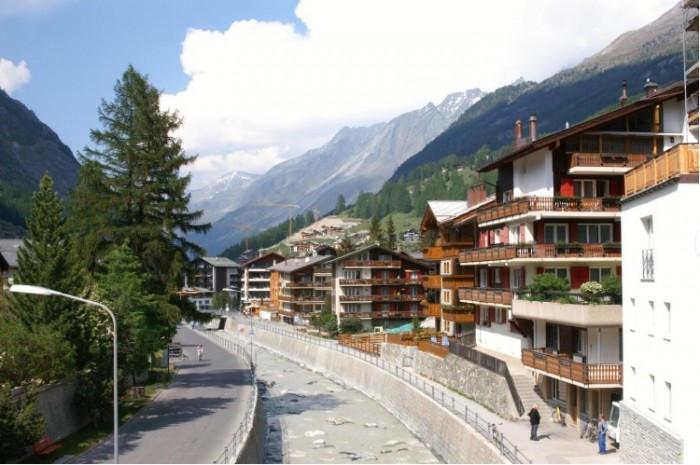 Image credit: Gerry Labrijn
Back on level ground, the echoes of the local church bell fill the tiny town. A few churchgoers slip into the building while others loiter outside, gratefully absorbing the slight warmth of the 5pm sun after a chilly few hours atop the mountains. Behind you, a rare eBus approaches, ferrying passengers who prefer not to navigate Zermatt on foot. However, for an active person like yourself, surely there are better ways to move around without walking. From the corner of your eye, you spot a bicycle rental shop, conveniently located next to the Gornera River. With immaculate roads on either side, you enjoy a smooth ride from one end of the town to another, accompanied by the pristine river itself and the amazing weather.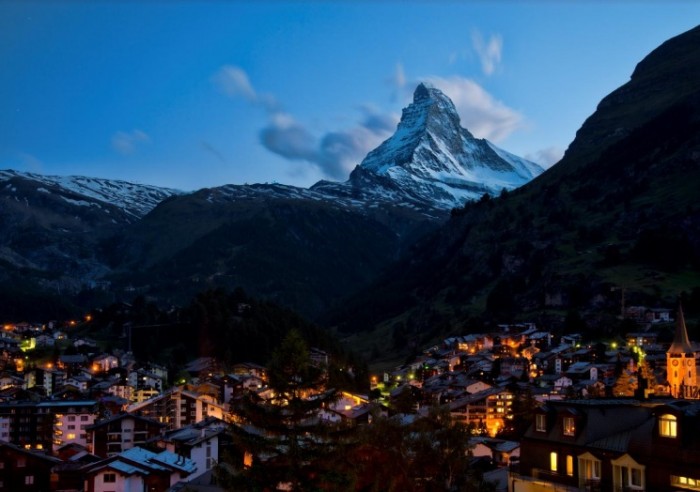 Image credit: Wikipedia Commons
Sunset drags its feet during the summer, but it eventually arrives, and the subsequent view is one to behold. Underneath the darkening sky, light from inn windows, houses, and street lamps is scattered across the town; some even a warm shade of bright orange. The temperature plunges, and now it really feels — and looks— like winter; the black and white of blankets of snow over silhouettes of mountains; the vapour that escapes your mouth with each breath; the lit windows against the vast backdrop; an indescribable moment to cap off an unforgettable day.
Also read: Switzerland Summer Activities That Are Loads of Fun in the Sun
Compared to the urban jungle you come from, Zermatt feels like another planet altogether.
Days often pass us by in an instant, rendering time into a blur — memories are short-lived, patience wafer-thin. It takes the magic of a certain sleepy ski town to reverse the ills of the rat race, and to make each waking day worth slowing down for.