There are few places in the world that are fully enveloped in true beauty, and to say that Switzerland is one of them is no form of exaggeration. Switzerland will greet you with fields of green, luscious countryside and blankets of glaciers. In this gorgeous country you can loll about the powdery white tips of the Swiss Alps while eating a fluffy, creamy blend of warm, melted cheese.
Before you embark on your Swiss journey, here are a few things to note:
In Switzerland you pay in francs. Euros and pounds are not accepted here.
Switzerland is a winter paradise, and sometimes this is so even when it is supposedly summer. Do bring along your winter jackets, which you might need especially if you're heading up the mountains.
Most shops across the country close as early as 7pm on weekdays. On Sundays, many shops will be closed, but you may find grocery stores in train stations which remain open.
Zermatt, Matterhorn
Standing bold and majestic, Matterhorn is one of the most magnificent sights you will come across in your lifetime. Though it is not the highest peak in Switzerland, it is famous for its extraordinary structure: shaped like a pyramid with edges facing the four distinct compass points (north, south, east and west). Matterhorn is one of the world's most photographed mountains, and it is also one of the most dangerous for climbers. That doesn't stop the adventurous souls from taking them on anyway!
Take the aerial cable car from Zermatt to the highest cable car station, the Klein-Matterhorn (Matterhorn Paradise).  Be captivated by the beauty you can view from 3820m above the sea level.
Treat yourself to a mesmerising morning with a splendid red and gold sunrise display at the peak of Matterhorn. Although getting up the mountain to see the sunrise will cost a hefty sum of CHF 62.50, it is a sight you don't want to miss!
The best time to climb the mountain is from mid-July to mid-September. However, do take note that this is subject to weather changes. The most frequent and easiest route is up the Hornli ridge while other routes include the Zmutt ridge, the north face and the Italian ridge.
Lucerne Lake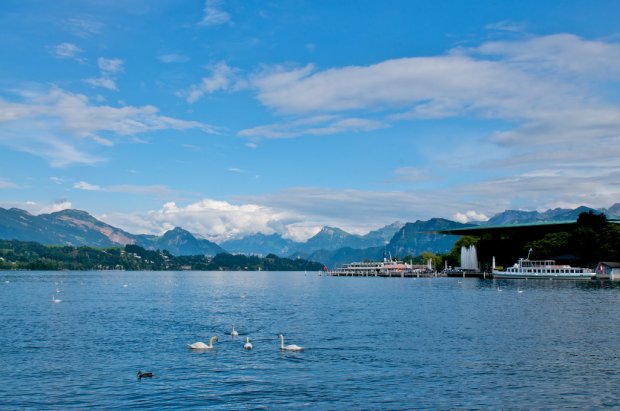 Image Credits: llee_wu
Located in north-central Switzerland, Lucerne is known to be one of the world's most gorgeous cities. A cruise through Lucerne Lake will offer sights including luscious green meadows, surreal houses, dramatic fjords and looming cliffs. Simply board one of the steamers at Lucerne's quayside and prepare yourself for an unforgettable experience. You can take a day pass or even just hop on a 1-hour boat ride. Ticket prices differ for different cruises.
Travellers can also extend their scenic journey by boarding the Wilhelm Tell Express. It is a two-part steamer and train ride that takes passengers on a sightseeing and historic journey across Lake Lucerne. It begins with the steamer ride in Lucerne that will take you to Flüelen. This 3-hour cruise include full-course meals in the Belle Epoque floating restaurant. Passengers then transfer to the Gotthard line which passes through the Reuss Valley, and afterwards across the scenic landscape of Ticino.
Also read: Feel a Different Kind Of Bliss Only Lake Zug Can Offer!
Glacier Express
Catch your breath as you whisk yourself away into the heart of Switzerland on the world-famous railway, The Gracier Express. A ride on The Glacier Express offers passengers seven hours worth of captivating Swiss beauty as it slowly eases its way across an array of uninhabited landscapes.
It passes through 91 tunnels and 291 bridges, and along the route there will be mountain landscapes, stunning valleys, primordial forests, green pastures and deep gorges. Beginning at Zermatt and ending at St. Moritz, this fairytale railway ride is a comfortable and scenic passageway from the eastern to the western side of the Swiss Alps. Do check timetable and ticket prices beforehand.

Trummelbach Falls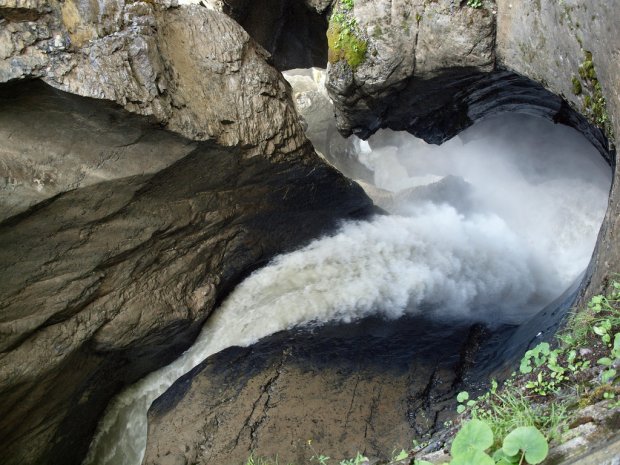 Image Credits: Anita
The Trummelbach Falls are a series of 10-glacier waterfalls hidden deep inside the mountain. In offers a spectacular performance of foamy water twisting, turning, and plunging into darkness. The Trummelbach Falls alone drains the glacier desecrates of three mountains: Eiger, Monch and Jungfrau, and carries up to an incredible 20,000 litres of water per second. Carving out deep caverns into the mountain, the powerful waterfall is accessible through caves and man-made tunnels.
Opens daily from:
Apr-Nov: 9am to 5pm
Jul-Aug: 8.30am to 6pm
Prices: CHF 11 (adults), CHF 4 (children)
Jungfraujoch (Top of Europe!)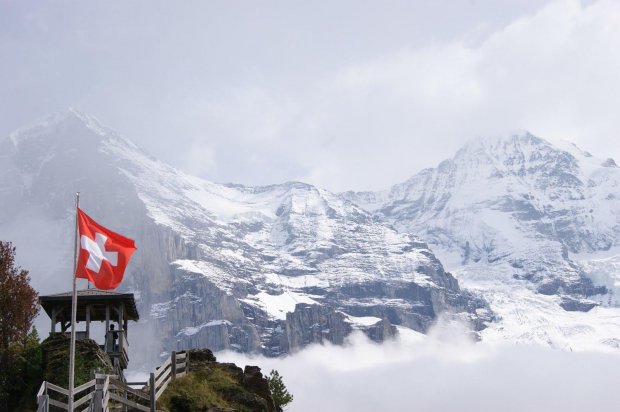 Step into perpetual winter wonderland at Jungfraujoch. It is accessible via an exhilarating cogwheel train ride departing from Kleine Scheidegg where you will be engulfed by breathtaking scenery from all four sides. Kleine Scheidegg in turn is an easy train ride away from Interlaken, Wengen and Grindelwald. Do not hesitate to whip out your camera along the way to snap tons of photographs! The cogwheel train will frequently stop by numerous viewing platforms where visitors are given time to take in spectacular views.
One of the major attraction of Jungfraujoch is the Sphinx observation terrace that provides stunning 360° views of the mountain range. The Ice Palace is also one of the star attractions of Jungfraujoch and it showcases a collection of exquisite, detailed ice sculptures. Jungfraujoch is also home to a number of activities including skiing, snowboarding and tobogganing. On Saturday, two children (up to 15 years) can ski for free with the purchase of an adult day ski pass.
Rhine Falls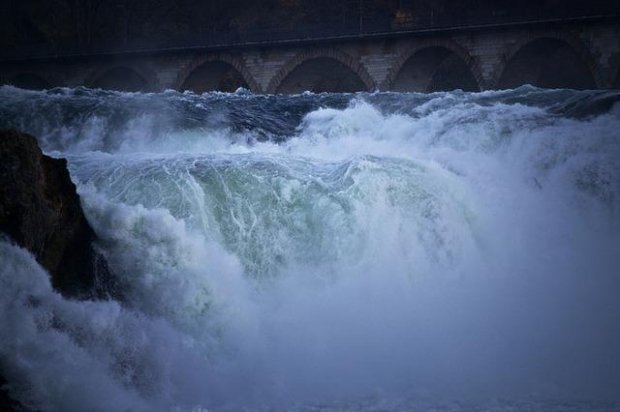 You will hear it before you see it; Europe's largest waterfall roars louder than a lion! The Rhine falls span a mighty 50 metres. This majestic wonder is located near Schaffhausen. Trains from Zurich leave every hour to Schaffhausen, and from there local buses will take you directly to the falls. If you wish to walk along the riverbanks from  Schaffhausen, Rhine falls is just 2.4km (about 45 minutes) away. There are clear and easy signs that you can follow throughout the route.
You can get a bird's eye view of Rhine Falls at Schloss-Laufen complex which has a Rhine Falls visitors centre, a children's playground and "Historama", an interactive exhibition about the falls. You can also get up and close to Rhine falls by taking a boat ride which will lead you to a massive rock in the middle of the falls where you can experience the sensation of surging water crashing against the bottom. Bold visitors can even ride out a canoe near the falls.
Grab a fantastic travel deal to Switzerland and you can catch these gorgeous sights and check them off your bucket list!