Europe, oh Europe. The vast and riveting continent that is nowhere short of excitement around every corner. From its stunning architectural design, dating back hundreds of years, to its rich diversity in culture and tradition, Europe has plenty to offer for the spirited and adventurous. But where does one start?
Look no further. For those of you who are far too busy (and also lazy) to plan, you're in luck! Contiki's trips around Europe are exclusively for 18 – 35 year olds; perfect for the young, wild and free! You'll have the adventure of a lifetime, and get the chance to make tons of new international friends from all over the world as well. What a great way to expand your social circle! We know, you might be fretting about the total cost because let's be honest, Europe isn't exactly a cheap destination to travel to.
So, it's time to rejoice because Contiki is offering a 7.5% Early Payment Discount
, and an
ADDITIONAL 5% discount
for those who send their enquiry through TripZilla! Book and pay by
11 May 2017
to enjoy a WHOPPING TOTAL OF 12.5% OFF
their package prices! Awesome or what? There's no time to waste,
start booking your grad trip now
!
Here are five carefully crafted itineraries to suit your squad no matter what. All you have to do is TAKE YOUR PICK!
Dream Trip #1: Italian Espresso for the Pasta-Pizza-Gelato-Loving Squad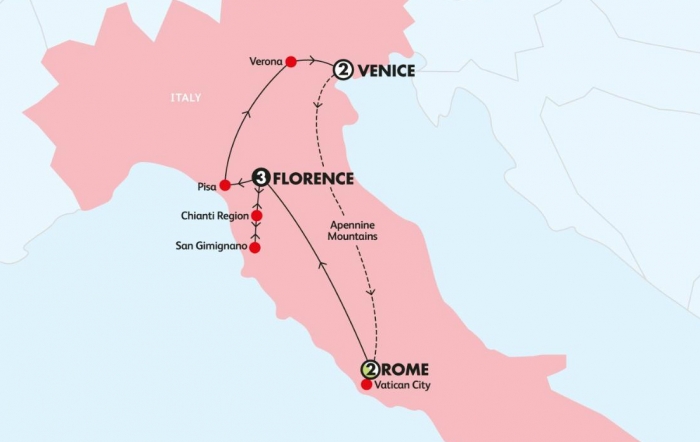 Route Overview: Rome > Florence > Venice / Rome
Duration: 8 days
Price: From S$1435 per person
Home to the greatest number of UNESCO World Heritage Sites in the world, Italy boasts of its status as the Bel Paese (beautiful country) of the world. Start your graduation adventure in the Eternal City of Rome, home to the ancient Roman Empire. Check out its many architectural grandeurs, especially the majestic Trevi Fountain, and contribute to the $1.5 million that lies at the bottom of the fountain!
As the saying goes, "when in Rome, do as the Romans do",  so go ahead, grab a refreshing gelato and stroll down the spectacular Piazza Venezia and the Piazza Navona. You'll realise that this is everything you've ever dreamed of!  Don't forget to check out the world-renowned Colosseum, originally built to seat 50,000 spectators for gladiatorial combat. Grab an Instagram-worthy picture with your squad to gain full bragging rights on social media – you'll certainly make tons of people jealous.
A visit to Rome wouldn't be complete without a stop at the Vatican City, the smallest country in the world. Check out St Peter's Basilica – regarded as one of the holiest Catholic shrines – and you might be lucky enough to catch a glimpse of the pontiff in his Popemobile!
In Florence, kill three birds with one stone and visit the Duomo, Giotto's Bell Tower and the Baptistery, all within walking vicinity of the church's compound (Piazza del Duomo), buildings that are designated UNESCO World Heritage Sites! That's three UNESCO World Heritage Sites conquered for your squad. You'll even get to watch leather craft demonstrations and learn more about this unique trade.
Next, raise a toast with your closest friends as you head to the rural and rustic region of Chianti for some wine tasting, and to visit the Tuscan, walled medieval hill town of San Gimignano! The town, famed for its Romanesque and Gothic architecture, is also designated a UNESCO World Heritage Site. With sweeping views of lush, rolling hills, this quaint town is the ideal place to take a languid stroll and indulge in local specialties like wild-boar salami!
Stop off at the famous Leaning Tower of Pisa – another Instagram-worthy landscape as your squad takes all sorts of quirky poses with it! Re-enact Romeo and Juliet in their hometown of Verona and appease the inner literature nerd in you. Ride a gondola down the narrow alleys of Venice and explore this charming, floating city. Don't forget to indulge in some delicious cicchetti along the way! Check out the Bridge of Sighs, the Doge's Palace and St Mark's Square before enjoying a splendid Venetian dinner at the colourful island of Burano. You won't be able to stop yourselves from snapping away!
I hope you've had your fill of pastas, pizzas, and gelato throughout the trip, because you'll never taste the same ones elsewhere! Besides, a vacation is all about indulging in good food, so go ahead and conquer #EATALY. Your adventure can either conclude in charming Venice, after breakfast, or back in the gladiatorial landscape of Rome, via a free transfer.
BOOK THE ITALIAN ESPRESSO FOR YOUR GRAD TRIP NOW!
Dream Trip #2: European Horizon for the Ambitious & Energetic Squad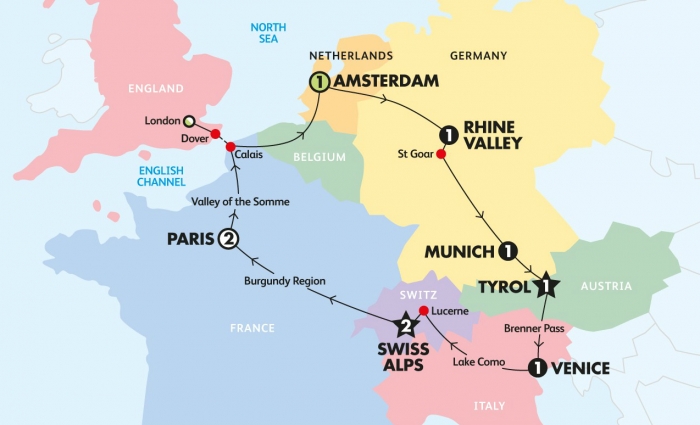 Route Overview: England / Netherlands > Germany > Austria > Italy > Switzerland > France
Duration: 10 days
Price: From S$1649 per person
7 countries in 1 trip?! Oh yes, it's very possible. If your squad is full of ambitious friends raring to conquer the best of Europe, then European Horizon is your answer. Your journey begins in London or Amsterdam, depending on your preference. In the case of the former, it will start with the White Cliffs of Dover and in the case of the latter, with the canals and gable houses at night, via a night cruise.
For the foodies, go cafe-hopping with Amsterdam's myriad of eclectic cafes! And as for the history buffs, you can jump from museum to museum in this historical enclave. Also, the famed red light district is a definite must-go for the cheeky and curious at heart! 
After a scenic journey through fairytale castles, sprawling vineyards and valleys, you'll arrive at Germany's famous Rhine Valley. You'll have a fascinating experience learning about how beer steins are crafted, and get to indulge in a wine-tasting experience thereafter as well! I hope your crew loves drinking wine, because you are all in for an exciting drinking session for sure.
If you had enough of wine, then its time to swap your glasses for jugs of refreshing beer! Head South to Munich, the capital of Germany as well as the largest state of Bavaria, and get your beer steins ready! No visit to Germany is complete without a trip to one of its beer halls, where you can spend a chill evening chugging down pint after pint over hearty laughs and good conversations. Check out the gothic landscape of Munich before bidding "Auf Wiedersehen", because it's time to head off to neighbouring Austria for its wide array of adventure sports!
Arrive at Austrian Tyrol whose mountainous region is famed for its adventure sports. Stop by Contiki's very own Austrian Gasthof (guest house) before the dauntless can opt to try out white water rafting. Still can't get enough of adrenaline? Opt for a paraglide to appease the thrillseeker in you!
After your dose of adrenaline, head to Venice and take a trip down the narrow alleys on a gondola– be sure to capture your entire crew in this picturesque setting! Check out the Bridge of Sighs, the Doge's Palace and St Mark's Square, all of which are within the same vicinity. You will even get your own private motorboat to explore the historic islands!
Next up is your visit to the Swiss Alps, the magnificence of Europe just doesn't stop! Bunk in at Contiki's very own Swiss chalet, with a resplendent view of the snowcapped mountains before your very eyes! For the more adventurous souls, opt in for a cog railway ride up the Jungfrau Mountain, one of the main summits of the Bernese Alps.
After which, pass through the vineyards of Burgundy in France and arrive in Paris! Known also as the "City of Lights", Paris boasts many important cultural institutions of the world that you've been dying to witness in real life.
Feast your eyes on some of these attractions such as the magnificent Arc de Triomphe, the Champs-Élysées, Notre Dame Cathedral, The Louvre and of course, the quintessential top attraction of Paris – the Eiffel Tower. There's no way you and your squad will have a shortage of photo opportunities here! To celebrate your journey here, pop some champagne and try out some escargot on your "Paris by Night" sightseeing tour!
Choose to end off this journey either at Paris' Charles de Gaulle (CDG) Airport or opt for a complimentary transfer to central London.
BOOK THE EUROPEAN HORIZON FOR YOUR GRAD TRIP NOW!
Dream Trip #3: England and Scotland for the Culturally Curious Squad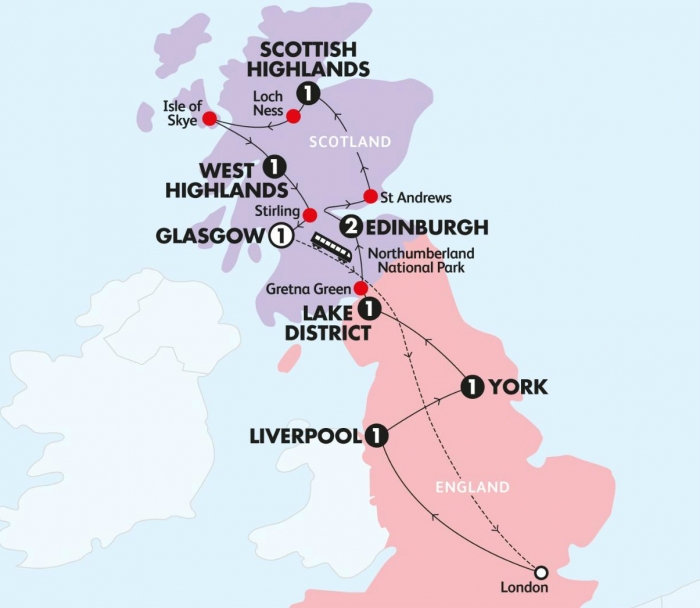 Route Overview: London > Liverpool > York > Lake District > Edinburgh > Scottish Highlands > West Highlands > Glasgow
Duration: 9 days
Price: From S$1763 per person
If you've always wanted to uncover the best of Britain, then you'll undoubtedly love this tour for sure. Home to soothing tea and delicate biscuits, start your visit in London, the capital of England and the United Kingdom, with a visit to the Queen at Buckingham Palace. Be sure to grab a group photo with the Queen's Guard while you're at it! They're notoriously good at keeping straight faces no matter what you do, so why not challenge everyone in the squad to try and get them to change their expression?  *winks*
After which, you will be transported to the city of Liverpool, home of The Beatles and famed for its football teams. Follow in the footsteps of The Beatles on a Beatles Magical Mystery Tour and converse in your best Scouse accent – the local dialect of the people of Liverpool!
Bid "ta-ra" to the city of Liverpool and head to the city of York. Embark on a guided tour of the city and for the courageous, opt for an evening "Ghost Walk" that's sure to give you and your squad plenty of goosebumps.
Ready to leave the city and immerse yourselves in the idyllic countryside? Continue on towards Cumbria's Lake District, home to endless green hills, 16 lakes and streets of stone. Witness the stunning beauty of Lake Windermere and you'll never want to leave this place. Stop off next, at Gretna Green and witness a historic wedding ceremony before you stop by Hadrian's Wall, designated as a UNESCO World Heritage Site!
Arrive in Edinburgh, the capital of Scotland and the first member of the UNESCO Creative Cities. With music festivals and bars aplenty, you'll definitely be kept occupied for your stay in this city. Have a taste of Scottish cuisine with some haggis, a pudding containing sheep's pluck, strictly not for the faint hearted. For the rest, grab a traditional deep fried chocolate bar, which is so sinfully delicious, you won't be able to stop yourself from having another.
Head off to the Scottish Highlands, but not before stopping by Scotland's oldest university town and teeing off at the birthplace of golf, St Andrew's. Back on the road, witness the beautiful Scottish mountainous regions and landscapes as you head towards Loch Ness for a boat cruise with your crew. You might just be lucky enough to spot the legendary Loch Ness Monster!
Visit the picturesque "capital" town of the Isle of Skye, Portree, famed for its pastel houses and grab an Instagram-worthy picture with your crew! Before the day ends, feast your eyes on Britain's highest mountain, Ben Nevis, whose summit is a collapsed dome of an ancient volcano!
Next up is a drastic change of environment as you head to the biggest city in Scotland! But prior to that, stop by "The Gateway to the Highlands", the city of Stirling and feel like royalty in the Stirling Castle. Shortly thereafter, arrive in Glasgow, a UNESCO City of Music. With a gothic cathedral and snazzy tunes around every corner, take in the surrounding environment while traipsing around the city. Your journey ends the next day, either in Glasgow or London.
There's no reason to wait any longer, because Contiki is offering a 7.5% Early Payment Discount and an ADDITIONAL 5% discount for those who send their enquiry through TripZilla by 11 May 2017! That's a whopping total of 12.5% off their package prices! Round up the squad and get everybody's details so you can start booking pronto!
Dream Trip #4: Mediterranean Quest for the Sunshine Beach-Fanatic Squad

Route Overview: Spain (Barcelona) > France (Nice) > Italy (Cinque Terre, Florence, Rome, Sorrento)
Duration: 9 days
Price: From S$1535 per person
If your definition of a vacation comprises of gorgeous azure waters, chilling by the coastline, and leisurely strolls along cobblestoned streets, then the Mediterranean Quest is definitely your cup of tea! Journey through Italy, France and Spain and you'll find yourself falling helplessly in love with the spectacular scenery before your very eyes. Kickstart your journey in Spain's second biggest city, Barcelona, where you'll indulge in delectable tapas and sangria, before bidding a quick "Adios" as you and your crew head to France.
Sit back, listen to some music and chill with your squad as you cruise down the sapphire coastline of Côte d'Azur before arriving at the sun-soaked shores of Nice. Have a taste of either some lavender honey, aioli or rose wine – or even ALL, which the region is famous for! Plus, you'll also get to visit the Fragonard Perfumery in the French Riviera, where you can buy perfumes for all your families and friends. It's so much more affordable here and authentic as well! 
Channel your inner spy mode in Monaco where you will visit a Monte Carlo Casino, widely associated with the James Bond novels, and Monaco's Prince's Palace.
After your espionage mission, head south to Italy in search of the UNESCO World Heritage site of Cinque Terre, which means the "Five Lands". Comprising of five small coastal villages, Cinque Terre's dramatic beauty is the ideal scenic place for a wide variety of activities for you and your squad. For foodies, embark on a food crawl and for adventure junkies, go for a hike! The incredible panoramic view you get from hiking through the five villages will be etched in your mind forever, mark my words. Every corner of Cinque Terre is just so picturesque, you won't be able to resist taking tons of photos!
Travel to Sorrento, a town with beautiful architecture in the region of Campania, and witness a breathtaking sunset as the sky turns awash with warm orange hues. Sail over the Tyrrhenian Sea for a day trip to the Isle of Capri! Sip on a cup of coffee as you head to the hillside town of Anacapri where the cliffs meet the sea. Hop on a cruise around the Isle of Capri to see more of the magnificent surrounding beauty of this region, before returning to Sorrento for the night!
Onward to Rome, stop by the ruined, ancient city of Pompeii! Partake in a Pompeii Guided Walking Tour, for all you history buffs, to learn more about this UNESCO World Heritage Roman city. Hit the road again and marvel at the grandeur of Mount Vesuvius. Spend some time exploring the Roman Forum or the Colosseum with a gelato or espresso in hand, before concluding your epic grad trip! 
BOOK THE MEDITERRANEAN QUEST FOR YOUR GRAD TRIP NOW!
Dream Trip #5: Western Rocker for the Squad Who Wants Both City & Nature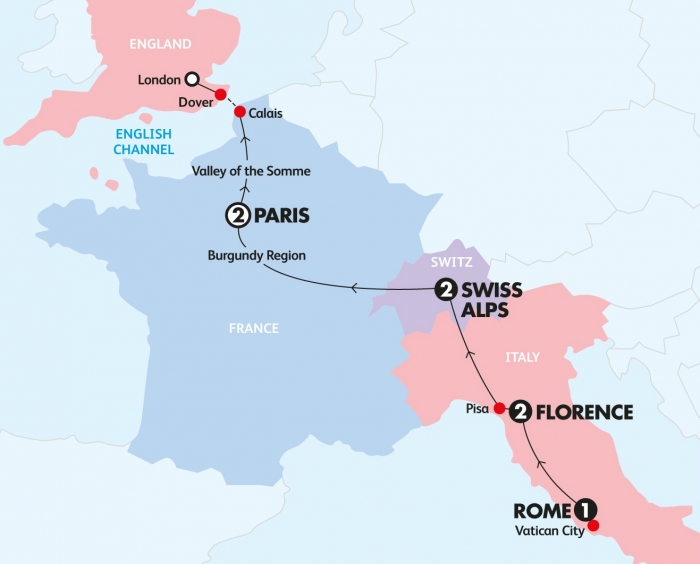 Route Overview: Italy > Switzerland > France / England
Duration: 8 days
Price: S$1466 per person
Buon Giorno, welcome to the West side of Europe! Start your adventure with Rome, the capital and largest city of Italy! You'll be spoilt for choice with the eclectic array of attractions available for you in this ancient city, as we've mentioned previously. You can't possibly miss out on the Sistine Chapel, nor the St Peter's Basilica, which will blow you away.
Next, witness Florence's architectural and cultural grandeur as you cruise along the River Arno and toast to your newfound freedom with a glass of Chianti wine. Apart from touring Michelangelo's David, Basilica Santa Croce and the Medici Palace, to name a few, visit the local markets and wander around the city's vibrant streets with your squad. Finish off the day with a gelato in hand and an optional Tuscan dinner filled with cured meats, olives and yes, more wine!
Start the next day with a trip to Switzerland, but not before visiting the iconic Leaning Tower of Pisa for a photo opportunity with the squad! Get your poses ready, you're in for an intense (and hilarious) photo session ahead.
Continue your journey towards the Swiss Alps and take a break in Contiki's very own Swiss chalet! Doesn't this view just look absolutely surreal?! You'll get to marvel at this spectacular sight right from your window! For those adventurous enough, catch the cog train up to Jungfrau Mountain located in the Bernese Alps. You'll certainly feel as if you're on top of the world!
Once you've soaked in the spectacular views, it's time to head back to the bustling city of Paris. With a multitude of iconic attractions: the Arc de Triomphe, the Louvre, Champs-Élysées, Notre Dame Cathedral and the magnificent Eiffel Tower, you'll be ticking all of these off your bucket list with a squeal of delight. Celebrate your first night with some champagne and escargots, through an exclusive Paris by Night Sightseeing Tour. Don't forget to take a relaxing walk around the city, sampling fresh baguette from its many bakeries, or opt for a cabaret show to conclude your French adventure with an absolute bang.
You can choose to end your trip in Paris or take a drive through the World War I battlefields before disembarking and ending your journey in London, England.
Excited to kickstart your grad trip plans? There's no time to lose! Grab the squad and choose from any of these awesome Europe itineraries and you're all set! It's completely fuss-free and perfect for all you first-timers visiting Europe.
BOOK THE WESTERN ROCKER FOR YOUR GRAD TRIP NOW!
[CONTIKI FLASH SALE]
Worried about the cost of your grad trip? Fret not! Contiki is offering a 7.5% Early Payment Discount, and an ADDITIONAL 5% discount for those who send their enquiry through TripZilla!
Simply choose from any of these 5 itineraries below:
And start booking! It's never been more easy and fuss-free. To enjoy the total 12.5% off, book and pay by 11 May 2017. Now, prepare for the adventure of your lifetime, frolicking around Europe and feasting on gastronomic delights with your closest friends!
---
Brought to you by Contiki.