Entering adulthood often means another step away from enjoying things we liked as a kid. Do you remember the last time you went to a water park and how fun it was? Recently, I visited the newest water park in Malaysia and it was such a memorable time spent! 
Here's why in the upcoming weekends or holidays, you should pay a visit to SplashMania at Gamuda Cove which opened on 6 Feb 2023, for an adventurous time with your family and friends!
Also read: A Guide to the Best Theme Parks Around the World Worth Travelling For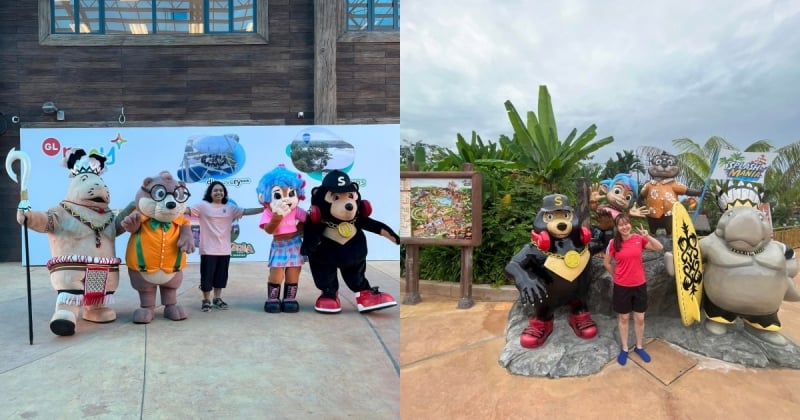 Located in Kuala Langat, Selangor, SplashMania at Gamuda Cove catches eyes from afar with its massive pirate ship. We were welcomed by a bunch of adorable mascots from SplashMania at the entrance. There are a total of 39 water slides and attractions in the park. The lockers, changing rooms, praying rooms, and toilets are located next to each other, thus it's easy to store your items and get prepared before entering the water. 
Tip: Do remember to wear appropriate swimsuits or sports attire, as some facilities are not suitable for cotton clothes. 
SplashMania's slides, rides, and attractions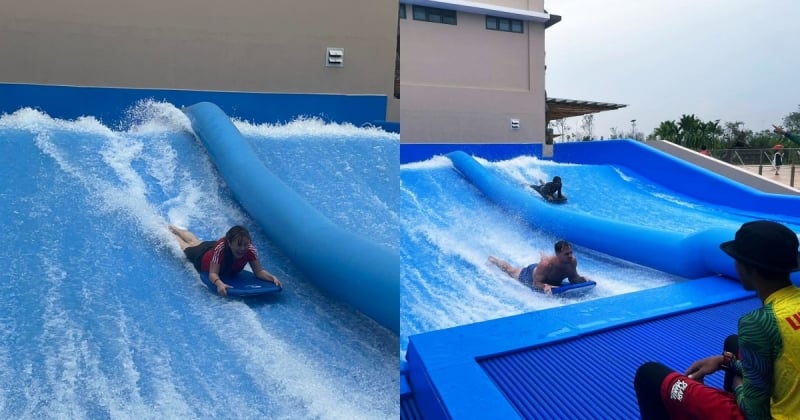 The first attraction, also one that many may miss out on easily, is Surf Mania, aka the bodyboarding attraction. Each guest has to attend a briefing by the staff before starting. The staff, or coach, would explain how to use the bodyboard, the correct position when bodyboarding, and things to do when you accidentally fall. 
As someone who has never tried surfing and is not familiar with most watersports, I find bodyboarding quite fun and it's easy to learn. The only thing to be careful of is your eyes when bodyboarding, especially those who wear contact lenses, as the water directly splashes onto your face. Besides that, due to the waves constantly hitting your knees, they may be painful and turn red, thus I would recommend wearing long pants.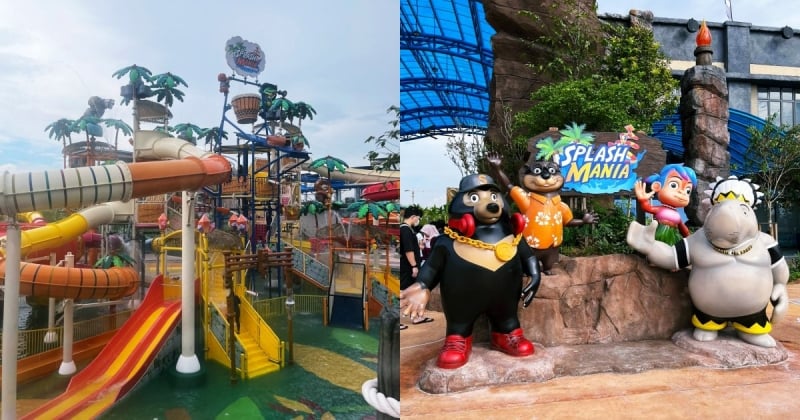 Since it's a family-friendly destination, some slides and attractions in SplashMania are only allowed for kids. For instance, the giant Treasure Tower, Mini Mania, Splash Sploosh, Tiny Twista, and more. Most of these slides and attractions have a particular age and height limit, but parents can accompany the kids to enjoy most of the rides.
Also read: Penang Nature Parks: A Local Guide to the Best Weekend Escapade
From breathtaking rides to calm, comforting family-friendly activities, SplashMania has so much to offer. If you're coming along with your family, try out attractions like Omba'king Cove and Ravage River, both are on the chiller side and more relaxing.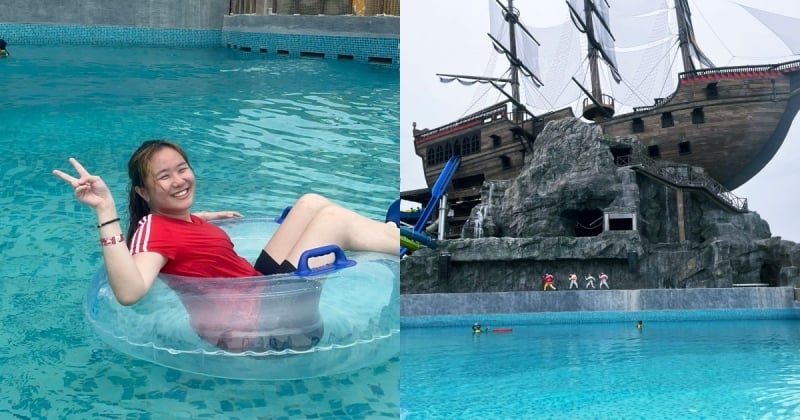 The Omba'king Cove resembles the beach, whether it's the waves or the man-made sand. When you're sitting on the tube and enjoying the waves, you get a better view of the ship. There are also K-pop and DJ performances so you can never get bored. Meanwhile, the Ravage River allows you to just rest on a swimming tube and flow through the river, enjoying the serene atmosphere as you float along.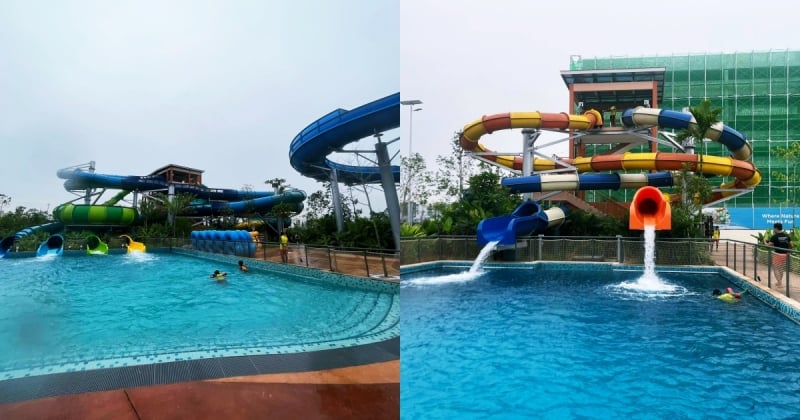 Aside from these, the Typhoon Terror, Curl & Swirl, and Wild Rush slides are my personal favourites. The first two slides require the use of swimming tubes (which are available at the side of each slide for free), while Wild Rush is only suitable for guests who know how to swim, as the pool is three metres deep. There are swimming tubes for a single person and two people, so you get to relish together with your loved ones as well.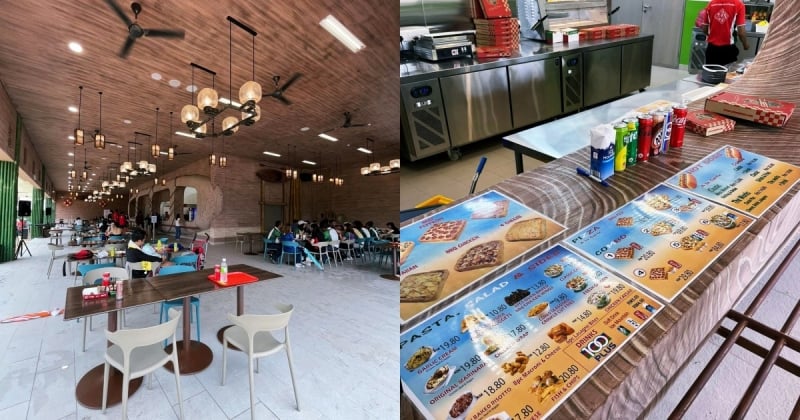 There are plants everywhere amidst the pools and slides. You need not worry about getting thirsty or hungry either, as there are stalls at every corner selling snacks and drinks. During lunchtime, we had chicken noodles, pizza, fizzy drinks, and lemonade at SplashMania's largest food area named the Jungle Jamboree. I was surprised that there were actually quite many food options at the food court, including western food, local Malay food, Chinese food, and more.
Also read: How I Spent Less Than S$200 on a Super Budget Trip to Singapore and Johor Bahru!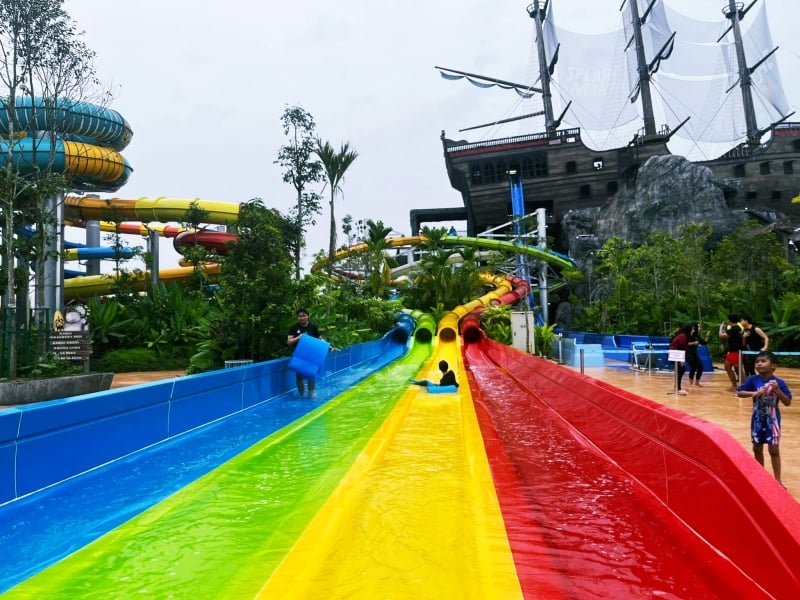 After lunch, it was time for some thrilling activities, so we tried out other adventurous slides, like the Maniac Racers and the Plunge. Maniac Racers include four slides of different colours: red, yellow, green, and blue. Apart from the other slides where we sit or lay at the back, this slide requires us to stand on the designated mat, and jump down with our heads facing the front. There's even a timer to calculate who's the fastest "racer" to reach the end!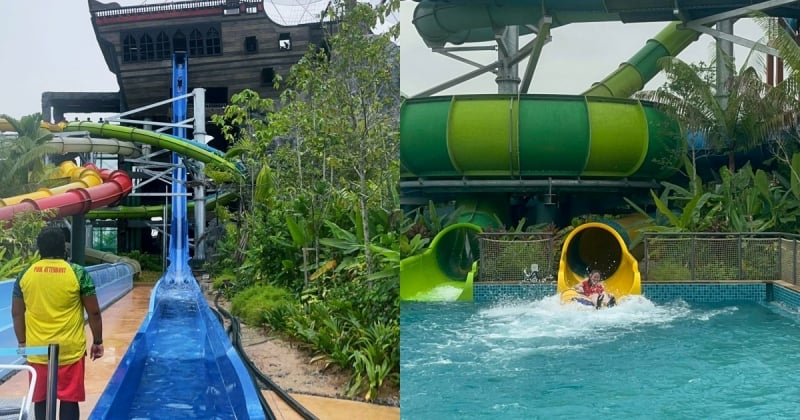 The Plunge, on the other hand, is perhaps the most extreme slide out of all the rides at Splashmania. It's a straight blue slide coming out from the aforementioned pirate ship. Just looking at the degree of the slide makes me shiver! It's definitely not for the faint-hearted (like me). The guests who tried it out told me that it was scary and fun at the same time. Moreover, they didn't even have the time to scream as it all happened too fast!
I also tried out super enjoyable rides like Shaka Waka, Rush Havoc, Whacka Boom Boom, and Whoopa Loopa. The first two require swimming tubes and are suitable for one or two persons, while the rest are body slides. One thing I remember the most was the rainbow halos inside the slide, which makes the ride even more satisfying and aesthetically pleasing.
P.S. In most of the rides, handphones, bracelets, watches, and slippers and prohibited.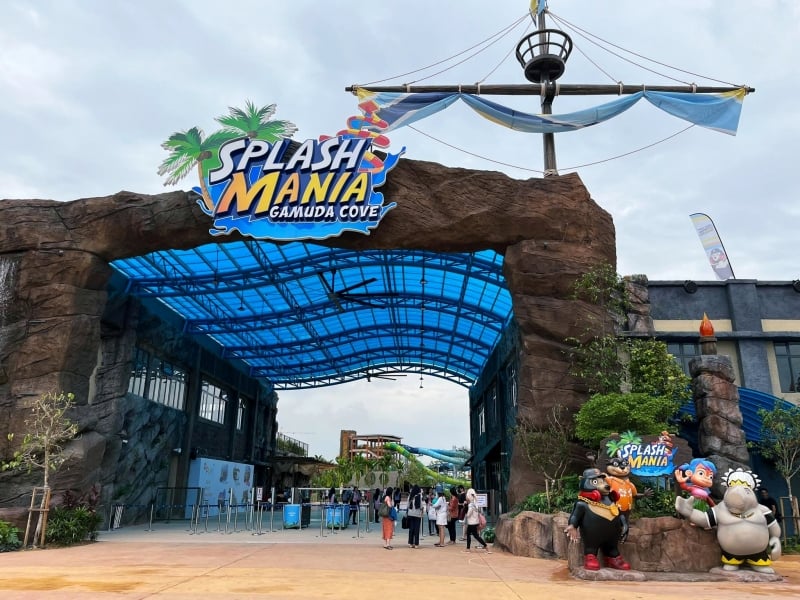 Other than the mentioned rides, there are many other attractions that have now open to the public and are coming very soon. For now, the tickets are selling at early-bird prices of only RM63 per ticket for senior citizens (60 years old or above) or children (height between 90cm to 120cm), and RM79 for adults. 
Free park admission applies to children below 90cm in height with a paying adult, while children who are 12 years old and below must be accompanied by an adult aged 18 years old and above at all times. 
Also read: How I Spent Less Than S$200 on a Super Budget Trip to Singapore and Johor Bahru!
You can purchase tickets at SplashMania's official website. The opening hours of SplashMania are 10am to 6pm, but we do recommend checking out their official Facebook page in case there is any update. 
Although the time spent here was not too long, I definitely had a fun-filled adventure here. Like SplashMania's catchphrase: "Where nature meets fun", enjoying the rides while surrounded by the rainforest was quite a unique experience as well. I highly recommend you to come to SplashMania with your loved ones soon, and I'm sure you will create many wonderful splashing memories here as I did!
---
Thank you SplashMania for the invite.
All images credited to Cecelia Chang