It was in a guesthouse one evening in the Cameron Highlands after I had been in Malaysia for less than a week that I found myself having a typical backpacker's conversation with a fellow traveller I had just met. It was an unremarkable chat about the topics travellers usually discuss and I doubt I would remember the conversation or my new acquaintance – but one thing she said stuck to me. When I asked what she thought about Malaysia, she screwed up her nose and shook her head in disapproval. She didn't like it, she said. There was no culture. She preferred India.
After that, the conversation didn't go much further. I was shocked she could apparently dismiss the whole country so flippantly.  It seemed that only somebody dwelling in a black hole of ignorance could think such a thing; but I had only just arrived and I didn't know how to respond.  So after a few attempts to counter, I let it go.  
In fact, Malaysia receives more international tourists than any other country in the region, regularly beating Thailand into second place. On the backpacking circuit, however, Malaysia is often viewed simply as a place with convenient transport connections and a good place for a visa run; it is commonly overlooked as a destination worthy of further exploration.  My first impressions of the country were overwhelmingly positive and it left me curious as to why it is so underrated among backpackers.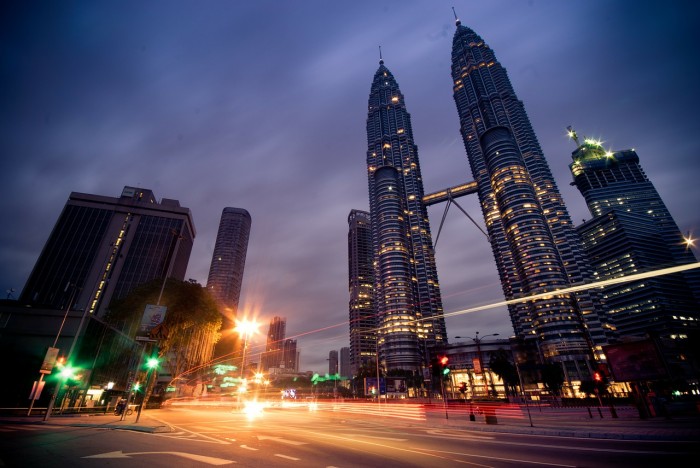 Several days before, I had arrived in KL on a flight from Vientiane. After the sleepy Lao capital, Malaysia's modern metropolis was energising. I made my way straight to Chinatown, dropped my bag off at a hostel, found a table outside one of the Chinese restaurants that line Petaling Street, ordered a bottle of cold Tiger and sat back to watch the world go by.
Peninsular Malaysia's social fabric essentially consists of a mix of three main ethnic groups, the majority Malays, the Chinese and the Indians, as well as indigenous groups known as orang asli, the "original people", and it is here in Chinatown's famous market that it is possible to witness in microcosm one of the aspects that constitutes part of the country's appeal. Chinese waiters dodge between shoppers and run between tables with food while at the same time trying to coax new customers to sit down; Western tourists in shorts and t-shirts rub shoulders with fully-veiled Muslim ladies and Indian Hindus haggle with Malay stallholders as they all weave their way through the crowd. Visitors from around the globe mix with locals of every description in the great melting pot of the nation's capital; the scene is loud and captivating and it is the diversity of all these different people coexisting side by side in chaotic harmony that best represents a lot of what Malaysia has to offer.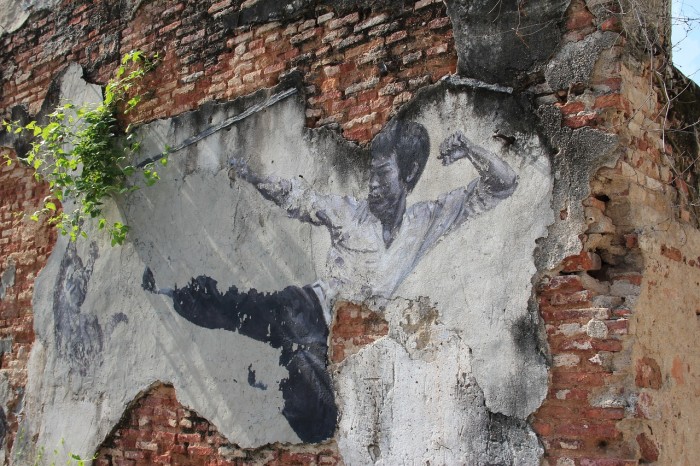 A few days after the conversation in the guesthouse, following a couple of short stops along the way, I found myself in Georgetown on the north-western island of Penang, a place very much on the itinerary of almost every tourist in Malaysia. After several days' exploration of the UNESCO-listed old town tracking down the best examples of street art, visiting elaborate Chinese Kong Si buildings, temples and seafront jetties and gorging myself on the city's renowned abundance of culinary treats, I discovered that, by chance, I would be in the city for the Hindu community's important Thaipusam festival.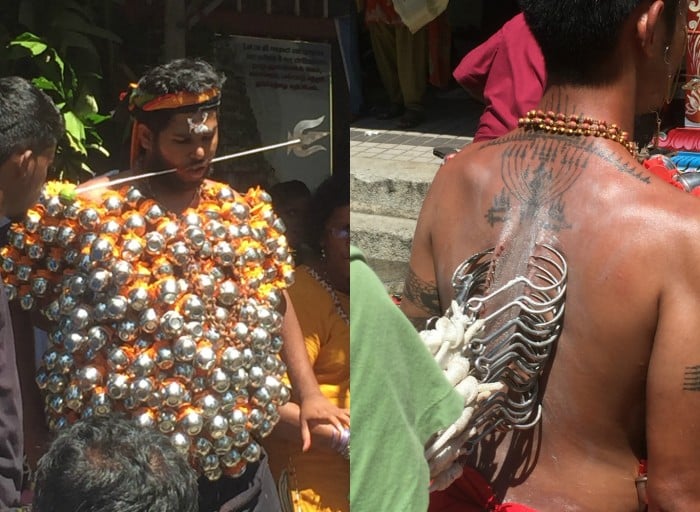 Along with the Batu Caves in Kuala Lumpur, Georgetown is one of the two most important locations in Malaysia for Thaipusam celebrations and on the day of the festival, parts of the city come alive with colour and dancing, effigies are paraded through the streets and hundreds of coconuts are smashed in a tradition representing the fulfilment of sacred vows. Later, outside of the city, it is possible to witness the gruesome spectacle of devotees, their bodies pierced with hooks and spears as a form of penance, climbing the stairs to the Arulmigu Balathandayuthapani temple on the top of a hill.  Men can be seen having their heads shaved in a specially erected pavilion and free vegetarian food is distributed along the way.
Surrounded, as I was, by the most visible manifestations of Indian and Chinese culture, by murals and metal sculptures on every corner, by the reminders of Penang's history before Malaysian independence and by the almost bewildering choices of food, it was impossible to find any justification for those words I had heard back in the guesthouse in the Highlands: it was hard to imagine a place with more culture. But as I reflected, I realised that one aspect was missing. In amongst the raucous expressions of Indian culture and the flamboyance of the elaborate Chinese temples, for an outsider, the culture of the Malays seemed more elusive. I could see mosques dotted around the town and I could eat nasi lemak for breakfast – but beyond this, the somewhat understated Malay culture seemed to be drowned out by the more ostentatious expressions of the other two communities.
To go in search of specifically Malay customs and traditions you need to branch off from the beaten track and the best place to head is undoubtedly Kelantan state in the northeast of the peninsula. This part of Malaysia is by far the most conservative in the country and the ethnic diversity is much less pronounced than in the cities of the west coast; but a reputation they have for insularity and dislike for outsiders is undeserved. I was even warned off visiting by a Malay I met in Kuantan but this was a misconception: the people here are proud of their heritage but are friendly and hospitable. It is significant that in this part of the country you are more likely to hear "welcome to Kelantan" rather than the usual "welcome to Malaysia" that greets visitors so often elsewhere.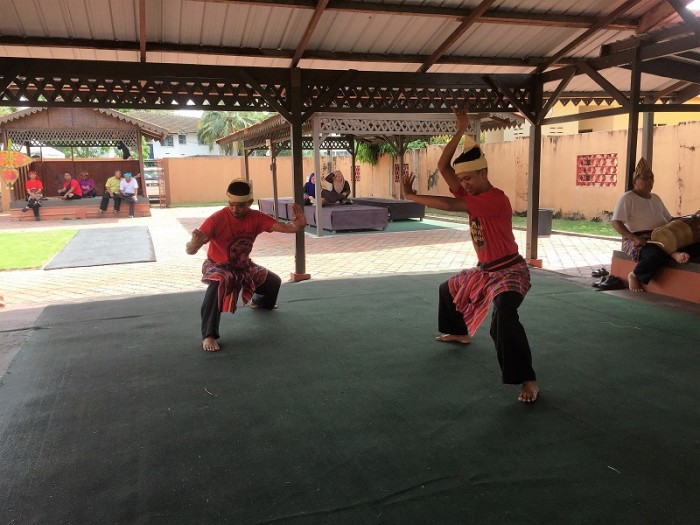 More intrepid explorers who spend a few days in the state capital of Kota Bharu instead of rushing straight through to the Perhentian islands will find an excellent cultural centre which organises demonstrations showcasing traditional Malay arts. Daily activities include kite making, musical performances, demonstrations of the Malay martial art silat and evening performances of wayang kulit, traditional shadow puppetry which is now suppressed elsewhere in Kelantan as it is considered un-Islamic. There is a museum in the city with displays on Malay rituals and ceremonies and it is also possible to organise a tour into the surrounding area to see artisans making traditional kites, shadow puppets and Malaysian batik fabrics as well as stopping at fishing villages along the way.
It can be slightly more difficult travelling in this part of the country. The area receives fewer visitors than tourist hotspots like Georgetown or Malacca so locals are a little less used to seeing foreigners, the tourist infrastructure is less well developed and English is not as widely spoken – although this is relative as communication is never really an issue. However, those who do make the effort will be amply rewarded by the discovery of a repository of Malay culture where traditions are preserved and proudly displayed to any who are interested in seeing them. If I ever meet my "friend" from the Cameron Highlands guesthouse again I will be able to direct her to Kelantan state where she will be able to discover true Malay culture for herself.
Apart from this perceived lack of culture, perhaps another reason why Malaysia is not a backpackers' favourite is that it is considered somehow too easy.  For a certain type of traveller, maybe a minibus with no chickens on the back seat, no squealing piglets tied to the roof and one that doesn't break down at least once on route seems somehow to lack authenticity. Maybe a country with a comfortable and efficient transport system where everyone seems to speak good English is just not enough of a challenge. If this is the case, then it really is rather a perverse attitude. A punctual and affordable network of buses crisscrosses the country making it relatively simple to travel to almost anywhere and is perfect for independent travel.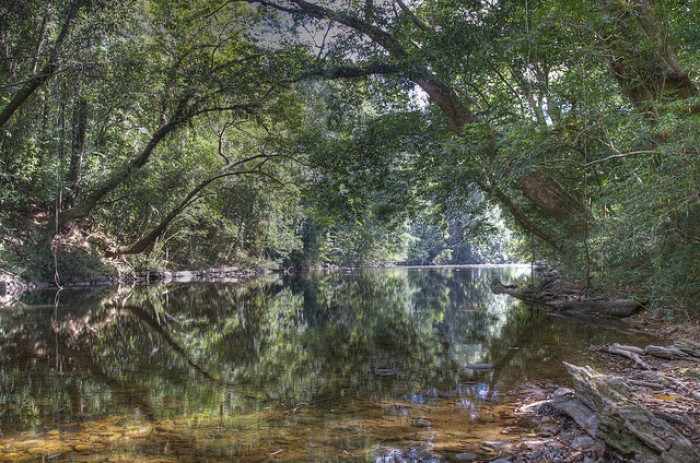 Image credit: Peter Gronemann
Away from the cities, there is also a wealth of outdoor activities available to entice more adventurous-minded backpackers. The country's oldest reserve, known simply as Taman Negara, "National Park" in the Malay language, offers visitors the chance to trek into the jungle with a slim chance of coming face to face with Malayan tigers or Indian elephants but also a much more realistic chance of seeing smaller animals like snakes and monkeys.  Braver travellers can undertake an eerie night walk into the forest after dark when sightings of tarantulas, bizarre stick insects and phosphorescent fungi are all but guaranteed.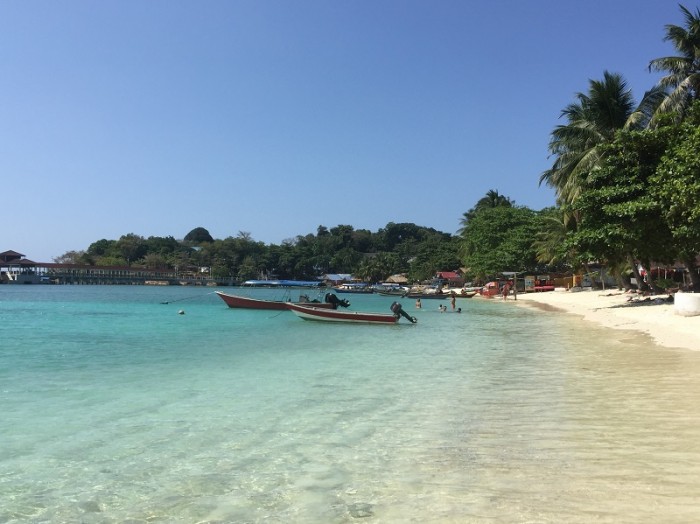 For the more active, there is the possibility of surfing at the isolated and laid back Cherating beach –although even arriving there in the first place can be testing.  When it all becomes a bit too much, there are two outstanding island locations on the east coast ideal for relaxing after the exertions of travel and discovery. The Perhentians in the north offer the chance to dive with black tip reef sharks in crystal-clear and current-free seas for half the price you would expect to pay in Thailand.  To the south, you can make your way to the largely untamed (and duty-free) Tioman island where more diving is available at similar rates or where you can snorkel or just relax on a beach shared with local macaques and the occasional giant monitor lizard. All of this without even mentioning the jungles and riverways of Sarawak and Sabah, the Bornean states of East Malaysia which quite simply belong to another world.
Despite everything Malaysia has to offer, it remains less popular with the backpacking crowd than its more frequented neighbours.  The claim that there is no culture cannot be taken seriously and merits no further discussion but a lack of understanding may account for the decision of some to stay away. Other reasons remain a mystery because for those travellers willing to dedicate a little time to exploring the country properly, what lies in wait is a land of great natural beauty both above and beneath the waves and a country of true diversity where people are friendly and helpful whatever their ethnicity or beliefs.  It is a place where travellers will uncover a dynamic amalgamation of distinct cultures that have become blended together through a shared history to create something that is truly Malaysian.  The result is utterly compelling.