Out of all the things to do in Penang, Malaysia, or any destination for that matter, getting lost might not be high up on your priority list. But hear us out. You already know that Penang's a fast-paced melting pot known for good grub, great art, and historical sights. From Instagrammable (halal!) cafes, to its iconic murals in George Town and its many heritage structures, Penang makes for the best city walking tours in Malaysia.
Where do you go when the city empties your social batteries? Peel back those layers of cosmopolitan living, and you'll find a raw side of Penang that lets you spend your weekends walking amid lush greenery instead. Let us show you the best places to lose track of time, in the heart of Penang's nature preserves.
Yes, you read that right: You can now grab free seats on your flight to Penang to start your therapy in nature.
From now till 5 Jun 2022, AirAsia is offering free seats* on their flights to Penang! Book your flight and travel from today till 31 Oct 2022 to secure your free flights.
Here's something else to sweeten the deal: Book your hotel in Penang via the airasia Super App and use the code [PENANG10] to enjoy a 10% discount on all hotels on the platform!
* Terms and conditions apply.
Top nature parks in Penang that are perfect for weary weekenders
If you're travelling to Penang soon, set aside time to get lost and get loose in nature. That way, you come back not only with travel memories, but also with a renewed sense of self and purpose. These nature parks in Penang are the perfect balms to work burnout and digital fatigue — and they're pretty to boot! 
Take photos you won't post ASAP. Forget about your emails. Turn those notifications off. It's time we make weekends in Penang slower and sweeter in the company of Mother Nature.
1. The Habitat @ Penang Hill
No need to imagine what a million years old looks like on planet earth. The Habitat @ Penang Hill is a 130-million-year-old rainforest enlisted as a UNESCO Biosphere Reserve. While some of the world's most extensive conservation projects close their doors to the public to ensure longevity, The Habitat Penang Hill aims to conserve, educate, and inspire through eco-tourism initiatives.
Forest bathing at The Habitat Penang Hill
Among Penang's nature Parks, The Habitat offers guided Forest Bathing — called Shinrin-yoku by the Japanese, who developed this therapeutic quiet-in-nature approach to combat major health crises linked to chronic stress. On the surface, it sounds pretty easy to forest bathe, but believe me when I say it's easier said than done. Our digital-savvy selves are prone to multitasking and having short attention spans, even on subconscious levels. When was the last time you truly let yourself just be present in nature? Let's see how you'll fare during this three-hour activity.
Other things to do at this Penang nature park
That's not all there is at The Habitat. The scenic train ride aboard the Penang Hill Funicular Railway to get to the top of Penang Hill, where you can start your journey to The Habitat, is already an experience in an off itself. 
Once you're settled, try these activities: Climb a centuries-old Meranti Tree, a type of timber usually logged in the region; observe wildlife in their natural habitat along Kancil Walk Nature Trail; stretch those legs some more at the canopy walk Langur Way; or visit the Curtis Crest Treetop Walk, the iconic oval walkway that lets you take a leisurely stroll among the treetops. There's also the dynamic Flight of the Colugo, where you can zipline your way through a forest bursting with life. 
Fun fact: The colugo is a species of flying lemur native to the rainforests of Southeast Asia.
When you need a break, head to Shop on the Hill for some coffee and souvenirs.
Of course, you can also stay longer and go for The Habitat Penang Hill's Starlight Camping experience. This will also afford you more time with the resident naturalists, who will serve as your forest guides. Soak in as much as you can, folks; you don't get to stay overnight at a UNESCO Biosphere Reserve every day!
2. Entopia by Penang Butterfly Farm
Entopia by Penang Butterfly Farm is an exquisite example of alternative learning in the soothing presence of nature. It touts itself as "nature's largest classroom and discovery hub" and it's easy to understand why. 
Here, visitors can get up close and personal with several species of insects and the flora that they usually coexist with. Even those who might be a little "entomophobic" might find themselves quite comfortable within the premises. Among other things, Entopia by Penang Butterfly Farm is the one Penang nature park dedicated to confirming: There's actually nothing creepy about these crawlies.
Fun fact: Entopia was founded by a teacher, David Goh, who is also a self-taught entomologist. His passion for butterflies pushed him to create a space where people can learn about these beauties and also immerse themselves in nature, while in Penang.
The Natureland at Entopia
A living, breathing "garden vivarium," The Natureland at Entopia houses insects, reptiles, and amphibians in an ecological space that mimics their natural ecosystems. Imagine this: A closed garden with about 15,000 free-flying butterflies. Sounds picture-perfect. A single visit acquaints you with about 60 species of butterflies alone. 
You'll also meet various frogs, snakes, geckos, lizards, and invertebrates along the way. Take your time inside so you also get to appreciate the landscaping carefully designed for the critters' ecological needs. Caves, ponds, waterfalls, and flower-laden pathways await, alongside 200 species of flora. 
Spot the Home Tree from the mezzanine terrace, too, for a bird's eye view of the inspiring vivarium. Before heading home, if you time your visit right, you can also participate in the beautiful Vita Nova event, where you can release a newly-emerged butterfly into the vivarium!
Other things to do at this Penang nature park
Step into Entopia's The Cocoon, an indoor facility featuring exhibitions equipped with hands-on learning activities. The discovery centre also boasts exciting attractions, such as the Pandora Forest, which glows in the dark and tells you more about the butterflies you'll encounter; Breeding Ground, a haven and observation deck for caterpillars; Metamorphosis, where you can follow insects' life stages.
There are sections that are dedicated to certain types of insects, too: Underground Mysteries for burrowing critters, Downtown Entopia for invertebrates, Mystery Cave for crevice dwellers, and Lumino City for fireflies.
Feeling famished? The in-house restaurant, Tapestree, offers both indoor and outdoor seating, and comfort food even the kids will find irresistible. Did we mention, they're Halal-certified, too? On top of this, special facilities such as a prayer room and baby changing areas allow families to go about their daily affairs worry-free.
With Entopia being just a 40-minute bus ride from George Town, the insect-centric Penang nature park makes for a sweet escape for any weekend traveller. With so many things to do here, you might not actually get to see all of the exhibits in just one visit. (Of course, it helps if you're unapologetically into bugs.) We'd totally suggest staying nearby if you plan to visit more than once during your trip.
Grab free seats to Penang and enjoy 10% off on all hotels on AirAsia's platform!
From now till 5 Jun 2022, AirAsia is offering free seats* on their flights to Penang! Book your flight and travel from today till 31 Oct 2022 to secure your free air tickets.
Book your hotel in Penang via AirAsia and use the code [PENANG10] to enjoy a 10% discount on all hotels on the platform!
* Terms and conditions apply.
3. ESCAPE Penang
ESCAPE Penang — where to start? We say that because it literally is an explosion of outdoor activities that are hinged on a "Low Tech, High Fun" principle. The idea is to reignite our natural instincts to engage in physical play; in ESCAPE Penang's words, "Adventureplay." 
To bring you back to the basics in the best way possible, ESCAPE Penang's play facilities are situated in the middle of a forest, so you can sweat it out with Mother Nature as the proud witness. Least to say, you won't be minding your phones here… unless it's for documenting how you conquered several obstacle courses in the wild!
BASE Camp at ESCAPE Penang
If you're looking to milk your weekend at this adventure-packed nature park in Penang, check out their BASE CAMP. It's ESCAPE Penang's camping experience, that will let you stay the night. Of course, it's camping, so expect to kick old school. 
We're talking about family-style barbecues and trusty tents. This ain't no glamping experience, but it's comfortable (pathways are lit and 24/7 security will keep your worries at bay). Plus, you have the rest of the park to look forward to when you aren't getting some shut-eye.
Other things to do at this Penang nature park
We were serious when we said, "Where to start?" BASE CAMP offers a myriad of Adventureplay activities in the great outdoors. By that, we mean you have a whopping 40 activities-slash-facilities to choose from. Let's not waste time on a rundown, but here's a sneak peek of the fun: Flying Lemur, an obstacle course that will have you up in the air; Gecko Tower, to test your climbing skills; Hill Rider, basically cycling downhill on three wheels; and Zip Coaster, the world's longest zip coaster that lets you fly through the trees of the surrounding forest. There's water play, too: the Lazy River experience; several waterslides that are as exciting as they sound (Speed Racer, Super Looper, Tubby Rapids, to name a few); and pools for chilling when your sore muscles finally give. Let's also not forget The Longest, which holds the current Guinness World Record for being the longest tube waterslide in the world! For a full list of the endless, adrenaline-pumping activities at this Penang nature park where active fun takes centre stage, click here.
Other nature parks in Penang worthy of a weekend escape
While the ones mentioned above are our top three picks for a memorable weekend escape in Penang's great outdoors, there are other nature parks you can plan a trip your trip around, too. These places are ideal for quick day trips, or even camping.
Also read: 22 Fun Things to Do in Penang On Your First Trip
4. Penang National Park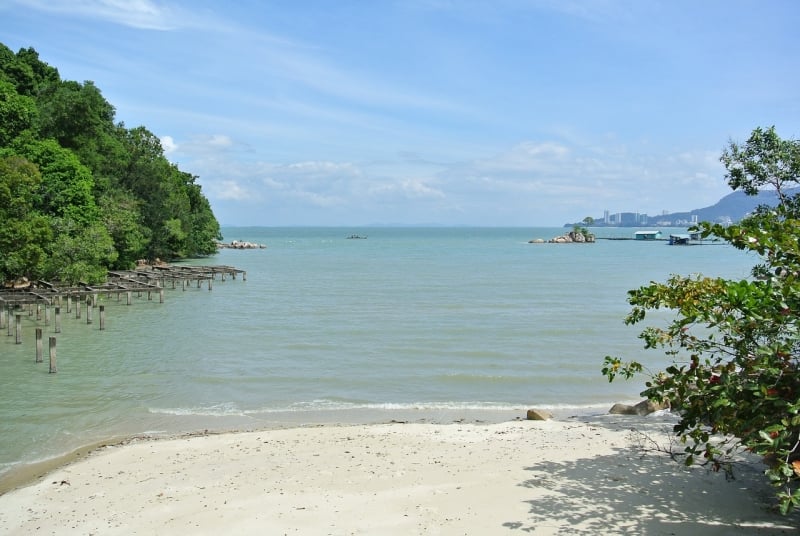 Wandering nature lovers will usually find themselves in any of their chosen destination's national parks. For Penang, there's Taman Negara Pulau Pinang, otherwise called Penang National Park. 
A protected site, this is one of the nature parks in Penang that will easily take you from the beach to the mountains on the same day. What to do here? Jungle treks, wildlife observation, fishing, and leisurely beach strolls, among other things. You can also drop by the Turtle Conservation Centre managed by the Fisheries Department; the office safeguards the area's Green Sea Turtle and Olive Ridley Turtle populations.
Have the time to spare? You can also opt to camp in Penang National Park, but only at designated camping sites. You'll also have to coordinate your stay with local officials.
5. Penang Tropical Fruit Farm
Malaysia often boasts of the best durian in the region; best believe they also produce other tropical fruits that'll easily make your mouth water. Plan a trip to Penang Tropical Fruit Farm, with fertile grounds that grow around 200 species of tropical, edible fruit. 
Penang Tropical Fruit Farm not only aims to conserve rare fruit trees from all of the world's tropical regions (India, Central Africa, Central and South America, the Middle East, the Caribbean, and the Pacific Islands, to name a few); they also want to highlight the many economic and social benefits of agritourism or agriculture-based ecotourism.
6. Tropical Spice Garden
Penang's fruit farm also has a spice garden counterpart, where you can learn all about spices and herbs integral to Malaysian cuisine. Book a visit to the Tropical Spice Garden, where you'll have eight acres of spice trails and camping grounds to explore. With over 500 species of flora, Tropical Spice Garden serves as a treasury of sorts for local and live ingredients you won't just find anywhere.
Guides will tour you around and share their knowledge of botany and Malaysian cooking. You can even try your hand at whipping up some popular Penang specialities. For those who want to linger longer, you have the option to camp or glamp within the premises. 
Also read: Top 8 Hidden Bars & Speakeasies to Discover in Penang
7. Penang Bird Park
This guide to the Penang's best nature parks won't be complete without a wildlife facility dedicated to saving a species, or in this case, several species of birds. Make your way to Penang Bird Park, where you can see various species of endangered owls, hornbills, eagles, and kits in the pink of health! For a complete list of the birds under Penang Bird Parks' care, click here.
Aside from bird shows, Penang Bird Park also hosts pelican nesting, responsible bird feeding, and social outreach activities (such as park cleaning). For a meaningful time in Penang, get to know the feathery friends that make the world a better place.
Yes, you read that right: Fly to Penang for FREE and reconnect with nature. Penang's rainforests await, plus it's au naturel therapy to boot.
From now till 5 Jun 2022, AirAsia is offering free seats* on their flights to Penang! Book your flight and travel from today till 31 Oct 2022 to secure your free flights.
Here's something else to sweeten the deal: Book your hotel in Penang via the airasia Super App and use the code [PENANG10] to enjoy a 10% discount on all hotels on the platform!
* Terms and conditions apply.
With so many things to do at these Penang nature parks, it looks like a weekend won't be enough to have everything covered! Well, with multiple flights come multiple trips, so plan your future weekend escapes ahead. Penang will welcome you back warmly each time.
---
Brought to you by AirAsia.