Not many Muslims would fancy the idea of travelling during the holy month. The exhaustion of traveling on top of fasting isn't very enticing. But there are some bravehearts who take up the challenge of wandering the streets of nearby Muslim-friendly cities to revel in their Ramadan spirit.
Truly, the notion of waking up in a neighbouring country soaking in the essence of Ramadan is all too good to give up! So here's a taste of what these five Southeast Asian Cities have to offer for the globetrotters in Ramadan.
1. Kuala Lumpur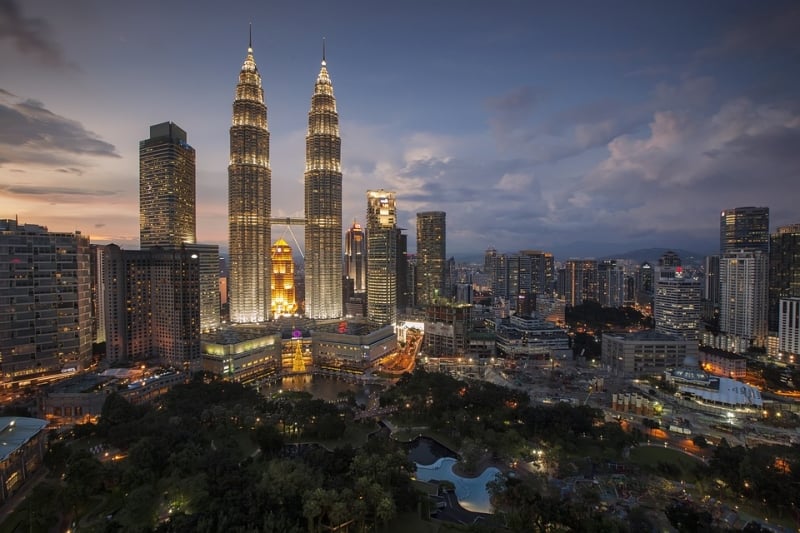 As the capital of a predominantly Muslim country, Kuala Lumpur is a bustling cityscape teeming with remnants of cultural and religious significance that are best experienced in the month of Ramadan.
To begin, one cannot experience a fulfilling Ramadan without heading to the local mosque. And when in the Malaysian capital, what better mosque to visit than the National Mosque of Malaysia, Masjid Negara. Walk the sprawling grounds of the mosque as you explore the embellished interiors and exteriors of the architecture, or get a sense of brotherhood when you witness the congregational prayers!
Kuala Lumpur's streets only come to life after the sun sets. Malaysia is hailed as the hub of street food in Southeast Asia! The country is adorned with countless alleys overflowing with all sorts of street food such as ayam percik (grilled chicken), satay (marinated meat skewers), keropok lekor (fish crackers) and more. Even the capital city is not spared from traditional food markets dotting its urban fabric!
With so many food markets to hunt down, it is easy to be overwhelmed. But, let's be honest, the heart of Ramadan bazaars lies in Kampung Baru. Even on normal days, Kampung Baru is a street food haven serving up impeccable feasts that incorporates a range of flavours. The amount and variety of delicacies multiplies during the holy month. From cendol drinks to an array of kuehs, patrons will be spoilt for choice at Kampung Baru!
2. Johor Bahru
Embrace Ramadan in Johor with a peek into the iconic Victorian-style Sultan Abu Bakar State mosque. Stop by the mosque to marvel at the colonial architecture that sits grandly atop a hill overlooking the Straits of Johor! Saunter and explore the surrounding areas and discover Johor Bahru's Sultan Abu Bakar Museum. What was once the royal palace of Johor's Sultanate, it has since been revamped into a public museum now. The 19th-century building offers an insight into the opulent lifestyle of the royal family through many artefacts and documents.
As dusk creeps in, make a beeline to S'MART Pandan Ramadan Bazaar for a kaleidoscopic food fest! As one of the largest bazaars in Johor Bahru, the myriad of stalls see thousands of patrons every day looking to spice up their iftar meal.
Mounds of lip-smacking fried chicken, trays of diced up kuehs, bundles of satay sticks and pots of piping hot sup kambing – these only make the tip of the iceberg! Jostle amongst the crowd and sift through a diverse range of delectables that will leave you drooling.
3. Singapore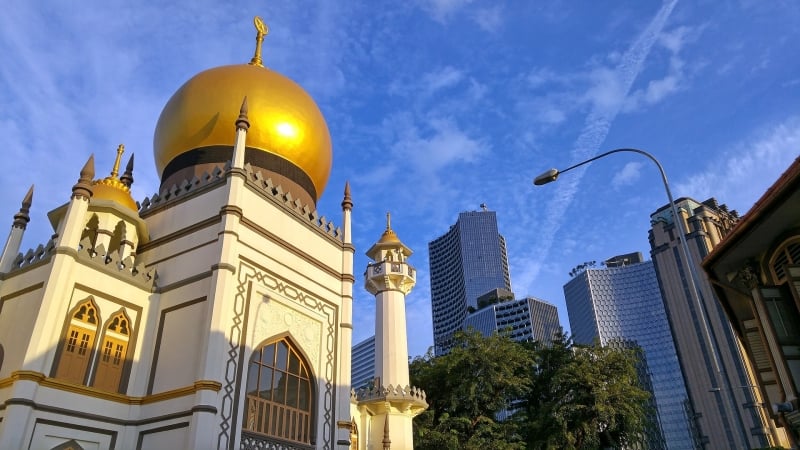 Dotting a region of predominantly Muslim countries, Singapore prides itself as a Muslim-friendly city that boasts multiracial harmony. Delicious halal food and stunning mosques are not difficult to spot in Singapore. Similarly Ramadan in Singapore is celebrated and enjoyed by both Muslims and non-Muslims alike.

Take a leisurely stroll down Arab Street which brims with unique stalls selling traditional textiles, Persian carpets, Islamic bookstores – all swathed in Middle-Eastern aesthetics. The Sultan Mosque rises tall at the end of the street with its magnificent golden dome and minarets piercing the skyline. Of course, the highlight of Arab Street during the holy month is the Ramadan Sultan Bazaar right outside Sultan Mosque.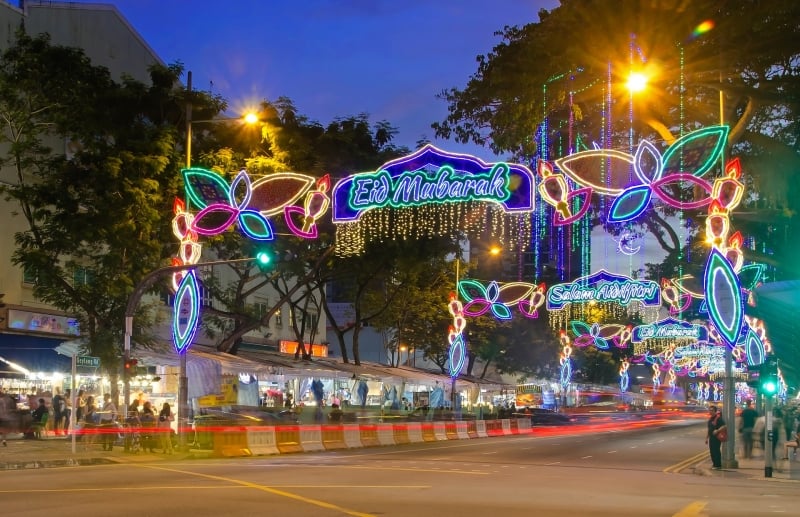 In fact, Singapore sees plenty of pop-up bazaars during the month of Ramadan, many of which centre around the heartlands, such as the Woodlands Bazaar, Celebraya and Punggol Bazaar. But the biggest and grandest of all would be the Geylang Serai Ramadan Bazaar. Every year, Geylang Road is decorated with brightly-coloured lights to grace the month of Ramadan. Hundreds of stalls selling clothes, home decor and tantalising food line the bustling streets.
Apart from traditional Malay food, the bazaar has also seen a surge in unconventional delicacies, such as tom yam russet fries, rendang buckets and rainbow bagel burgers, catering to the younger demographic. At Geylang Serai Ramadan Bazaar (and the other heartland alternatives), you're bound to have an amazing feast of both traditional goodies and unique delectables!
4. Bangkok
As most of us know, Thailand is no stranger to night markets and street food. Ramadan is not celebrated as widely here since Muslims only comprise 6% of the population. Fret not though, Bangkok is home to people of different races and religions and there are parts which see a higher concentration of Muslims.

For a mosque experience, head over to the Islamic Foundation of Thailand, which is also the largest mosque in Bangkok spanning over two prayer halls with the capacity to hold 3,000 worshippers. Both the interiors and exteriors of the structure incorporate vivid colours on its glass panes and come adorned with beautiful Islamic geometric designs. Surely, there can't be a better way to get an insight into the Muslim community of Bangkok other than through the Islamic Foundation of Thailand!
As for the mandatory Ramadan food market, Phetchaburi Soi 7 is the place to go! Also known as Ratchathewi by the locals, this food street overflows with Halal goodies during the month of Ramadan. Look out for traditional meals including roti canai, nasi kerabu and even fruit murtabak! Indulge in local delicacies such as thodmanplaa (deep fried fish paste), kai thod (deep fried chicken) and Thai popiah!