Hong Kong has been a popular destination in Asia among many travel junkies for quite awhile now. The city on the other side of the Pearl Delta across from Macau is a modern metropolis blending tradition and an air of sophistication, filled to the brim with lavish malls and insanely tasty eateries. It's no wonder that almost everyone wants to visit Hong Kong these days.
However, as many who have visited Hong Kong will most likely have told you, it's not exactly the cheapest place to travel to. The highly successful economy of the city also brings with it a relatively high cost of living. But fret not if you're planning to visit Hong Kong but don't have cash to burn, because here are five tips to travel Hong Kong on a budget.
PS. I'm a university student, so rest assured these actually work -wink-
Public Transportation and the mighty Octopus Card
Taxis in Hong Kong aren't exactly cheap, let's get that out of the way. Thankfully, though, like many other tourist-packed destinations, public transport in Hong Kong is extremely reliable and quite affordable.  If you find yourself on Hong Kong Island, the Hong Kong Trams are an extremely affordable means of transport to get around (be wary that service lines and destinations are somewhat limited), costing a meager 2.30HKD per journey regardless of where you stop off.
If you're on the Kowloon Peninsula looking to head to Central, most people will tell you that the MTR, Hong Kong's subway, is the quickest way to get there. However, for those who are truly budget-sensitive, it is much cheaper to hop on the Star Ferry and sail across Victoria Harbour. It's been a while since I last utilized the ferry but I'm certain that each fare costs less than 3HKD (weekdays) and 4HKD (weekends).
However, the ultimate money-saving tip is the all powerful Octopus Card! The equivalent to London's Oyster Card, the Octopus Card is an all-purpose cash card which can be purchased at the Airport or any MTR station. It is especially effective when riding the MTR as Octopus Card users get a discounted rate and on specific routes (such as a return journey to the Asia-World Expo), users only pay the same fare as a one-way trip!
You can also use the Octopus Card on buses, the ferry, vending machines and some eateries and shops (no discounts there, buddy!) which is one heck of a convenience!
Budget Accommodation
With so many people visiting regularly, Hong Kong has no shortage of hotel rooms and accommodation options. They usually range from the modest single bed studio to lavish suites in 5-star hotels. Needless to say, the latter is rather expensive, so we'll leave that out.
If you're looking for affordable accommodation for your stay in Hong Kong, there are quite a few homestay options you can find online but if those aren't what you're looking for, then one should look toward the many budget hostel/guesthouses on the Kowloon Peninsula. These establishments are easily found in abundance in places like Yau Ma Tei and Mong Kok.
However, the most famous of these must be the Chung King Mansions in Tsim Sha Tsui. The 17-storey building houses over 60 different budget hostels and guesthouses. It is densely populated by a wide variety of different people as it is popular among many backpackers. Some might even call it the Mos Eisley Cantina of Hong Kong. Rooms in the different hostels there go for relatively low(er) prices and sell out pretty fast. The lower floors feature many South Asian stalls and the building is right across from the MTR station, making it a convenient location (and budget-friendly!)
Do note that because there are so many different hostels located in that building, you will often find yourself being solicited by the staff of competing establishments as you enter the building. My advice is to ignore them and go straight up to the lobby of your chosen accommodation.
Inexpensive Activities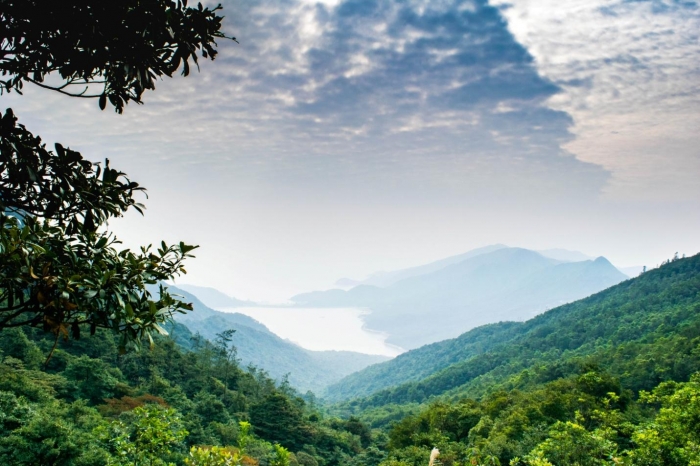 Needless to say, there are many things to do in Hong Kong and luckily enough, most of them are inexpensive and even free!
Of course, most famously, there's Victoria Peak (Peak Tram tickets cost about 40HKD) and other beautiful parks that cost literally next to nothing to visit and offer amazing views and serene walks. On Lantau Island, one could and should visit Ngong Ping Village for a scenic hike around the hills and to see the Po Lin Monastery and the Big Buddha.
The conventional way up is to ride the cable cars (which cost approximately 200HKD for a return trip). However, there are other more economical ways to get to Ngong Ping Village, such as taking the public bus from Tung Chung MTR Station. Actually, since the cable cars are currently suspended (up to 3 months from now), the public bus is one of the only ways to get to Ngong Ping at the moment.
Apart from these, the art scene in Hong Kong is thriving, with many local artists eager to showcase their work in pop-up art galleries that offer free entry and viewing. What's more, Hong Kong's many museums (I recommend the Heritage Museum in Sha Tin) offer free entry to all individuals on Wednesdays, which is great for museum enthusiasts everywhere! You know what else is free, though?
The Symphony of Lights show that happens every night around 8pm at Victoria Harbour. Make no mistake, the night view from the Harbour itself is amazing enough, but when the clock strikes 8 and the show begins, you'll be treated to a performance of colourful lights and lively music, all for free!
Also Read: 15 Cheap & Cool Things to Do in Hong Kong
What (and HOW) to Eat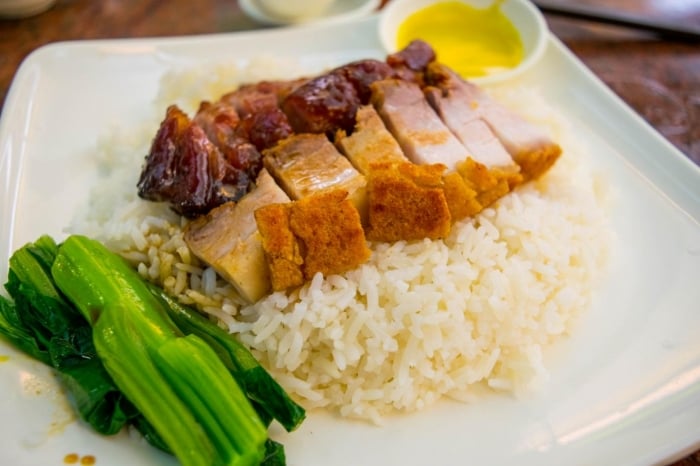 For a student for whom deciding what to eat every day could be the deciding factor between surviving or going broke, this is one thing that I'm fully confident about.
There's a ton of delicious food and tasty snacks in Hong Kong, but the range of pricing differs significantly depending on what and where you eat. Take a bowl of Wanton Noodles for example. You could find one shop selling it at 45HKD per bowl only to take a few steps down the road and find one peddling the same menu at 30HKD.
The key to the best food, in terms of taste and budget, is to look out for shops that look slightly dated. They are the ones which most likely have been in business for over a few generations and continue to provide quality meals. The same applies for snacks. Stay away from fancy looking restaurants and look for shops which operate in side alleys instead of ones facing the main road, as these are usually pricier.
But the good news is: BEER is cheap!…if you buy them from convenience stores or the supermarket. Speaking of supermarkets, most supermarkets in Hong Kong sell delicious cooked food along with fresh groceries. However, if you want the best bang for your buck, visit these food sections after 6pm. This is when the food is sold at a discounted price in order to get them sold so you're more than likely to get a good deal. You might have to reheat some of them occasionally but hey, that's life sometimes.
Also Read: 8 Michelin Street Food Stalls You Must Visit in Hong Kong
Shopping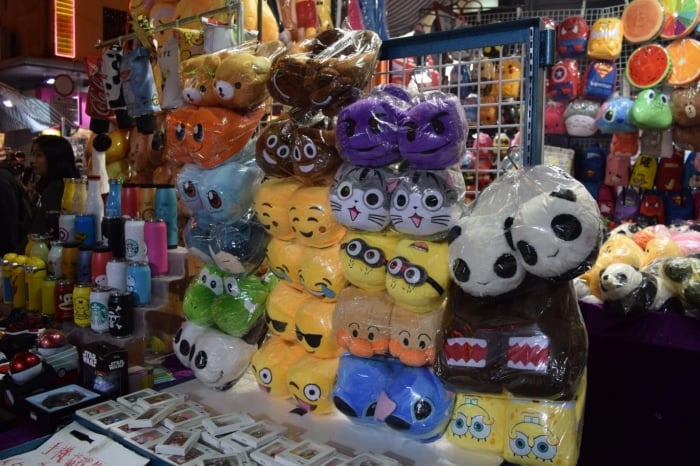 It's no secret that Hong Kong is most commonly known as a shopping paradise with amazing deals on some of the most popular designer brands. I'm here to say: "Yeah….but."
You see, while it may be true for some tourists that SOME products in Hong Kong (usually cosmetics) are cheaper, it's not necessarily the case for everyone. In fact, most likely, if one were to do a little bit of research, chances are, you may just find what you're looking for in your home country, with a much cheaper price. However, there is a good way to shop in Hong Kong without having to potentially overspend: night markets.
I say night markets but really some of them operate throughout the entire day. The most popular markets are the Ladies Street and Temple Street Markets. Selling anything from chic jewelry to imitation brands and plushies, these markets are a great place for a great bargain. Most of the items sold here, despite their stature, are quite top quality goods and are often cheaper than things found in malls.
You may even be able to get away with dirt-cheap deals if you're willing to bargain with the vendor and are adept in the skills of haggling. Most vendors speak decent English and are more than willing to compromise to some extent to sell off their goods, so these are ideal places to shop for cheap souvenirs and other accessories. Shopping doesn't have to be expensive, you know.
Don't go broke, go to Hong Kong!
And there you have it, money-saving tips for travelling in Hong Kong, from someone who actually needs to do these things on a daily basis! Not sure if that's good, or comically sad. But regardless, if you want to visit Hong Kong but are wary of the potentially extravagant expenses, these tips will go a long way to help you fulfill that budget-friendly trip to this wonderful city!