Contributed by Everywhere with Ferna
The 3.7km excursion to Khao Ngon Nak is the first place that I hiked in a foreign land all by myself. I know some people think that 3.7 km is not a long way to explore, and I thought the same, but being alone in a strange land is for me a different journey. I'm used to trekking in a dry humid season in the Philippines but with guests or with friends; I haven't tried by myself. Though I haven't tried climbing the highest mountain in the country, I bet my experience in trekking every month is a great preparation to do this activity overseas. Solo hike to this unfamiliar country is definitely one of the highlights in my 3-week solo travel in Thailand.
Also read: Hiking in Southeast Asia: 6 Lesser-Known Mountains to Catch the Sunrise
Khao Ngon Nak or known as Dragon Crest is a 30-minute drive from the main town in Krabi. I hired a tuk-tuk at a reasonable price (1,200 Baht round trip with no time limit). Fortunately, the driver was also a local guide who is so welcoming, willing to be asked about Krabi province, its Thailand living, and that captivates my soul (I am forever curious about local living).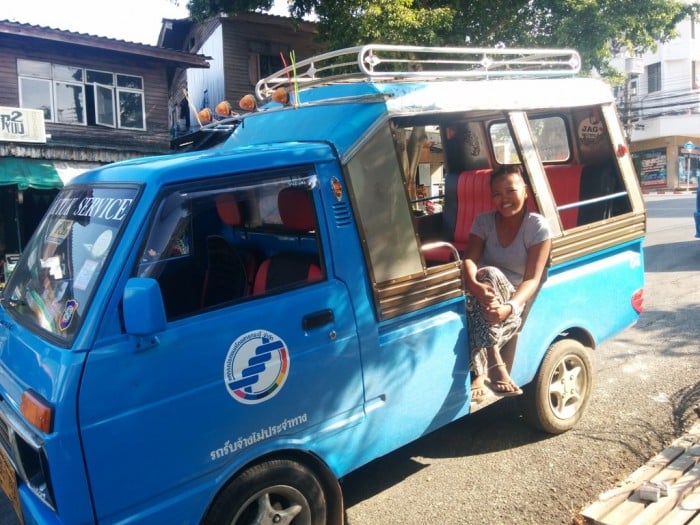 The Tuktuk I hired in Krabi
Krabi town's laid back scenery reminds me of Dumaguete City, its vibrant colour plus the orderly ambience set the same style. Along the way to the crest, I was delighted by the seascape in Tubaek beach which is visible from the road, the limestone karsts and its landscape, and the green palms that surrounded the area makes the whole town energetic with the sun shining through its colour. It's no question that Thailand is a well-developed country for tourism, their constructed roads are beyond my expectation. Though a third world country, its avenue and highways are well built up compared to other Southeast Asian third world countries.
The time I arrived at the base of the trail, I was the only one who was about to do the trek. I signed the logbook and was informed by the keeper that there were 2 other groups who came in first an hour ahead of me. He gave me an information on the 3.7 km trail and suggested to take a photo of the map for reference. It was the end of April 2016 when I dropped by this place, it was the dry season where there was no water in most of the springs in the country. The keeper mentioned that it will be a waste of my time if I visit the falls as there is nothing to see. So I figured, I will try to see if I can hear the sound of the water from afar then I will walk in that path.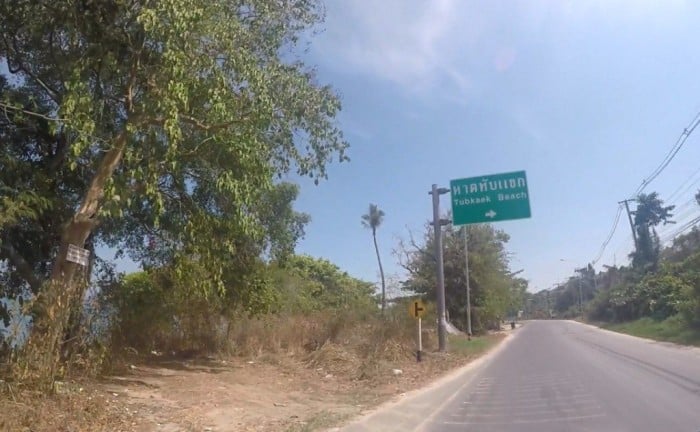 Tubaek Beach Krabi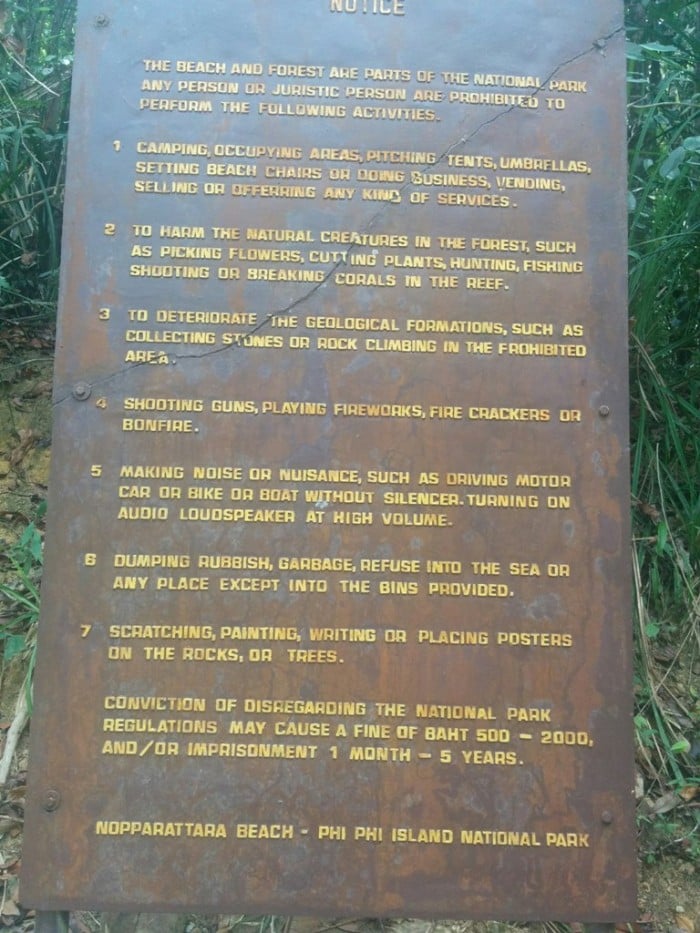 Notice for Public Khao Ngon Nak Krabi Thailand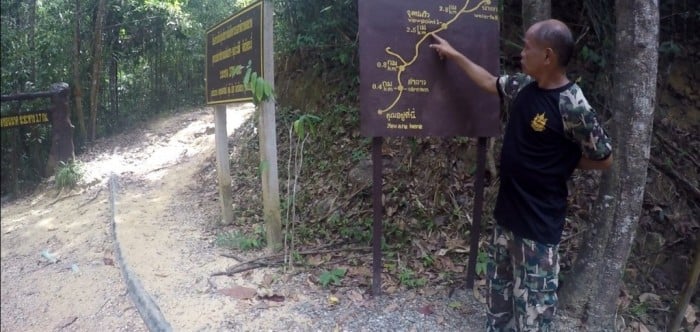 Orientation with the Keeper in Khao Ngon Nak Krabi Thailand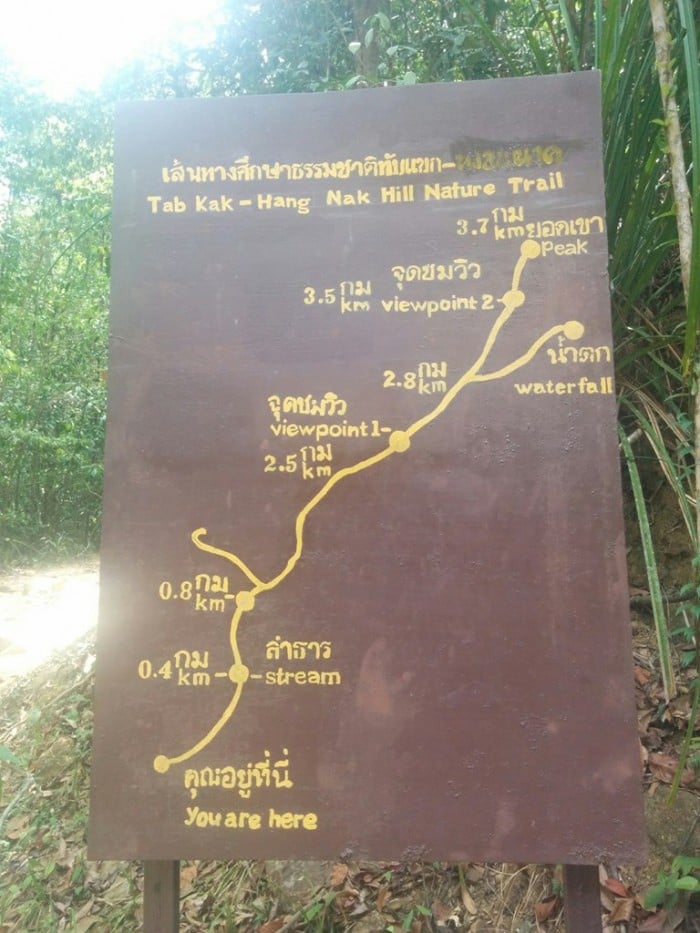 The trail
The keeper gave an edifying advice, especially that I'm all by myself, checked if I brought massive amounts of water and food, even questioned me if I'm used to wearing flip-flop (yes, I hike and trek with my reliable flip-flop) for it's dry over there. So, after the orientation, I moved my butt out to pass through the trail.
The natural sound of the birds and the uninterrupted noise of the crickets were the ones who greeted me as I started my course. I'm a bit surprised on the first 100 metres — there's a detailed embellishment which is posted in every zone, engraved in Thai and English. I like how it's being presented. This is a good way for people to know the name of the trees, the name of the zone, what's the purpose, what's their use and what's on it. I'm not an expert with the names of the trees, but I somehow know some of it, and on this trail, there are different kinds of trees which are new to me, what struck me most is the red-orange colour that uniquely stands among others, 500 metres before arriving at the peak.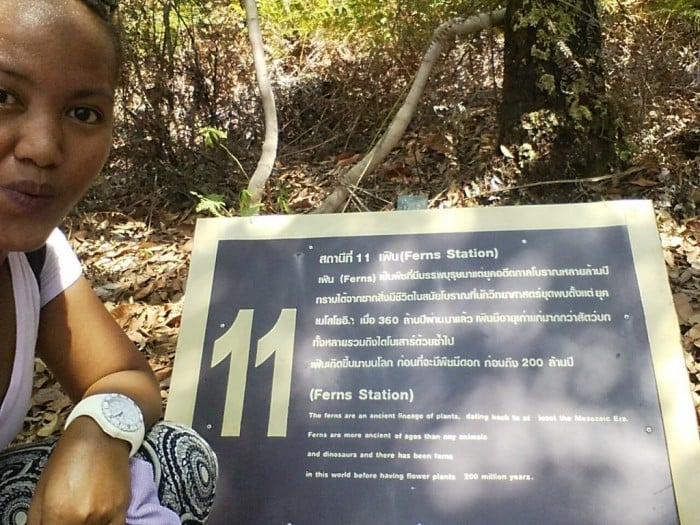 Fern Station in Khao Ngon Nak Krabi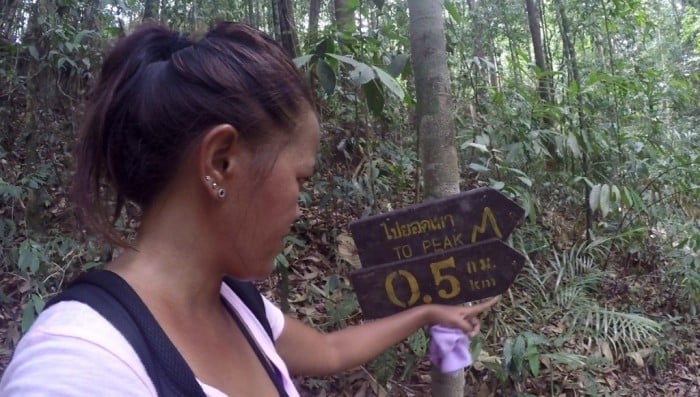 0.5km more with the steep hill sign in Khao Ngon Nak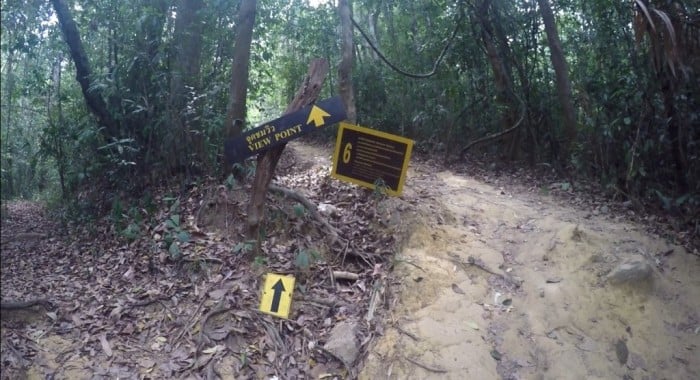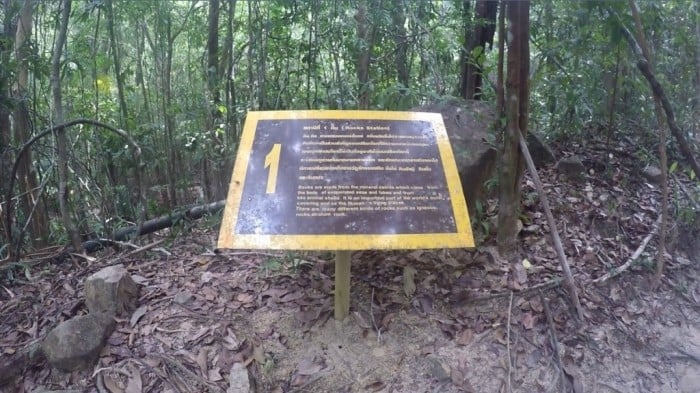 First Information in Khao Ngon Nak
It took me a while to arrive at the peak since there are heaps of stuff to capture, to notice, to witness the irresistible movement of the creatures that were mysteriously hazy to me, yet, my braveness stood still regardless of its unpredictable motion (I obviously have no choice). The parched mountain stream never ceased my thoughts to move forward for this great adventure. I was, in fact, amazed by nature — it's still colourful in my eyes. The dryness of the slope is difficult to maneouver, but, with my tried-and-true sandal, I was able to push myself up the steep hill. When I reached the waterfalls station, I decided not to attempt, I agree with the keeper's advice since I didn't hear the echo of the water.
I stumbled upon one group who surprisingly happened to be Filipinos who live in Negros Island, the same island where I came from. They worked in Ao Nang and went up there for the first time in their 2 years in Krabi.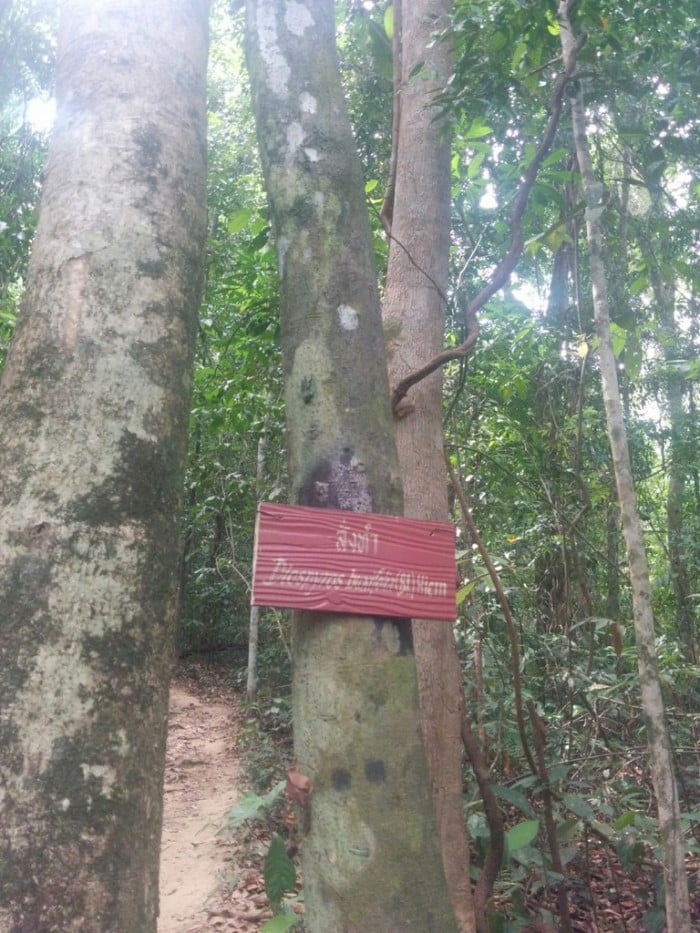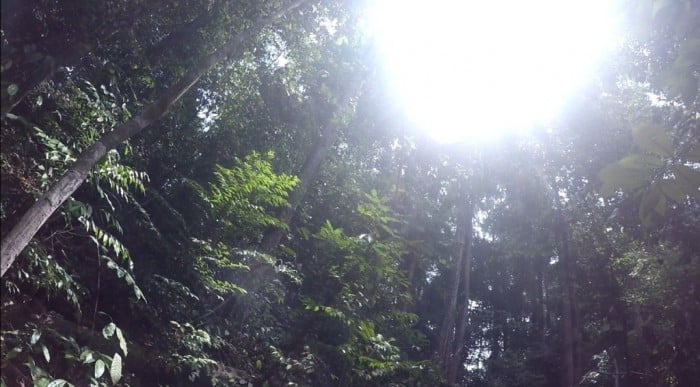 The sun shining through the vibrant green colour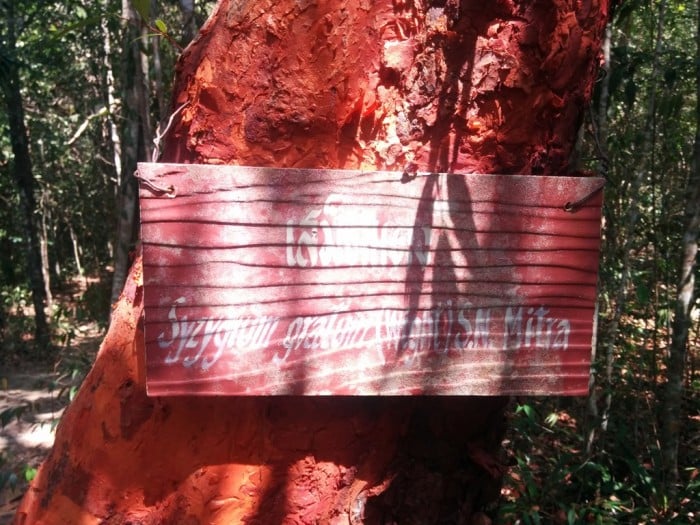 Red orange tree with its name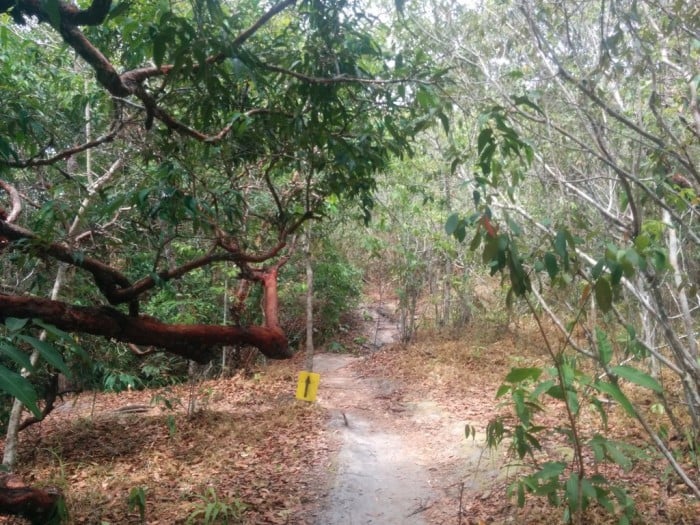 Signs and path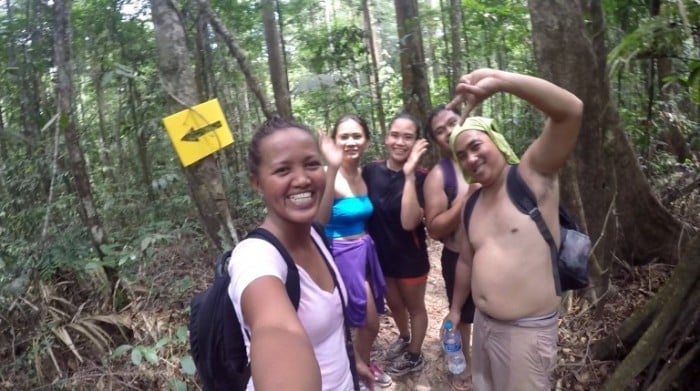 After which, I got stunned by the amazing limestone karsts situated along the Andaman sea. I thought it was the tip of the hill, but I was 500 metres away from it. So I excitingly stepped further but I erratically underestimated the path. There were massive stones trapped in a freaking steep hill, my yoga stunts were of huge help to brawl the dry area on a scorching 39 degree Celsius mid afternoon. This is for me, the hardest, almost 500 metres of this trail.
After all, the panoramic view of the tip of the hill welcomes me with an abundant flow of Krabi town. I have been fed by nature's presence again and again. An indescribable feeling had me when I reached the peak, I had the best moment at that time. Luckily, though, there was no one around, so, I felt the queen about me being treated fairly. I managed to capture in every way I can of the view, joyfully playing in every area. As far as I could remember, I seated there for almost an hour when another group came, they were an English couple who were stunned by the view as well. We then took our turns to take photos. I brought with me sandwiches, 2 litres of water and 1 Coca Cola (Coke is the one that helps me with my sugar, it's always been my confidant when I trek).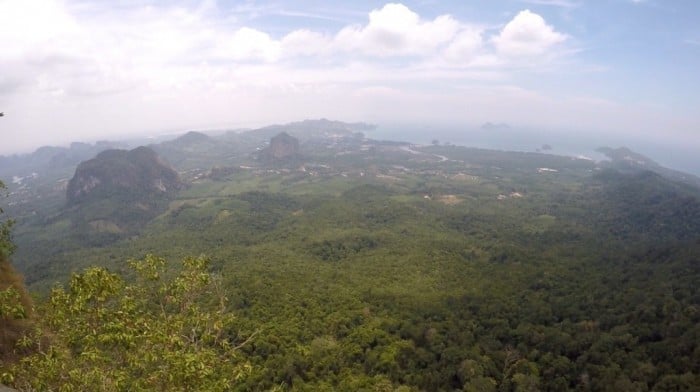 Panoramic view in Khao Ngon Nak Krabi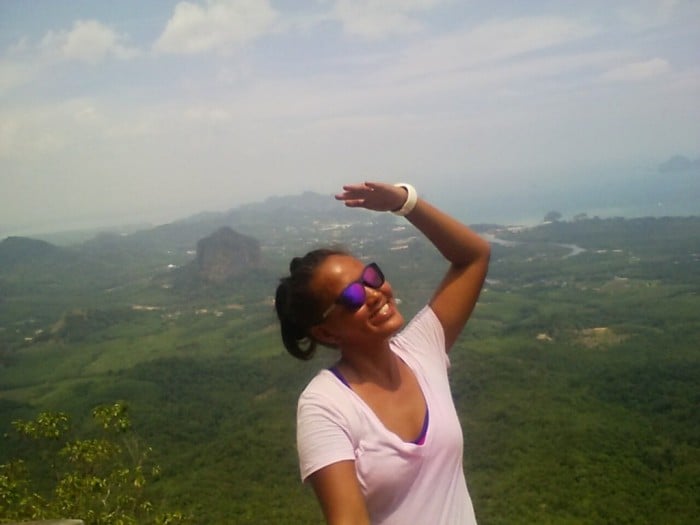 I love Khao Ngon Nak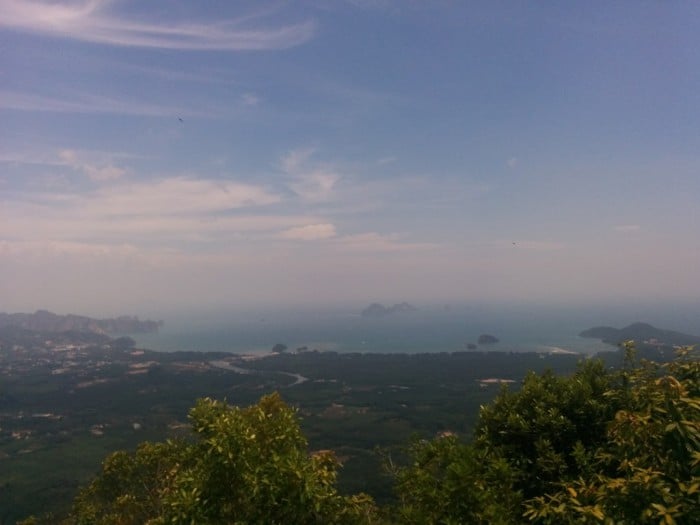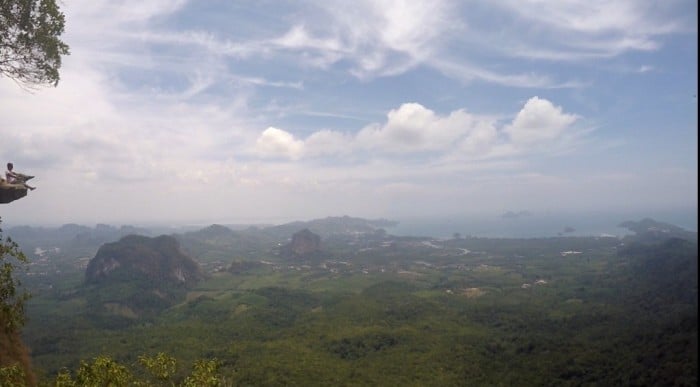 Visible Andaman Sea in Krabi, Thailand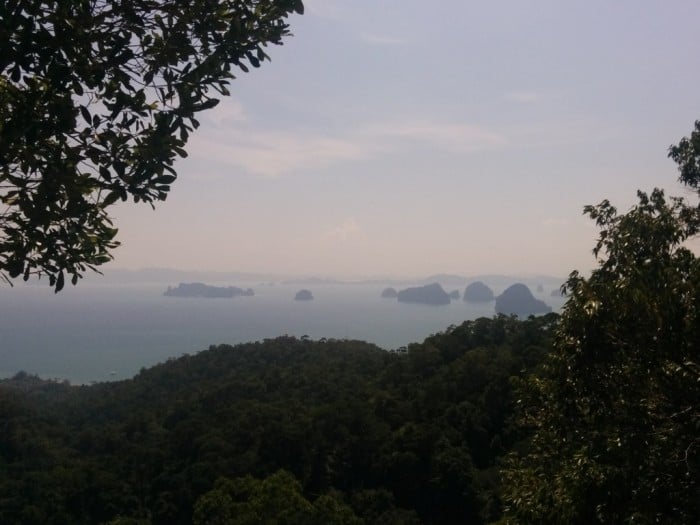 Andaman Sea Near Ao Nang Krabi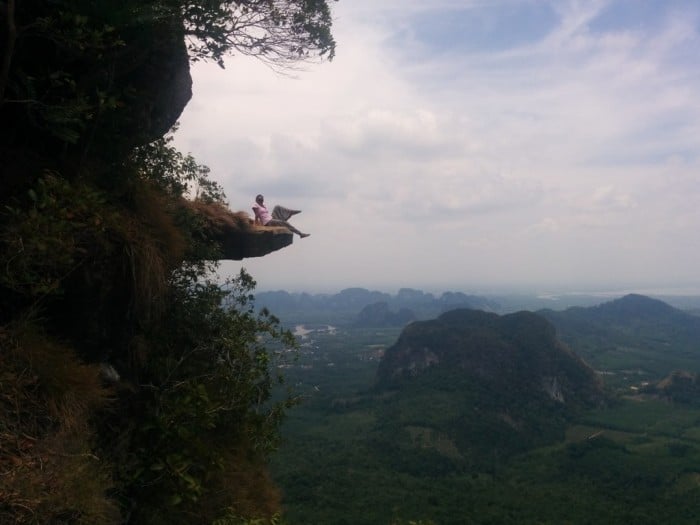 The solo hike to this amazing view of 565 metres above sea level was one of the best adventures I had on my 3-week Thailand visit. I mean, not all women on earth would be brave enough to do this, right? Or maybe I knew no one in my circle of friends.
Also read: Northern Thailand 5-Day Itinerary: Chiang Mai, Chiang Rai & Pai
I realised being alone will never make you lonely. Embracing every venture in life, taking little steps all by myself, had me pass through every difficulty with patience, strength and determination.
Here's a video for full view.
Have you hiked solo to anywhere? What was your experience like?