Think Thailand and the amazing cheap shopping and delectable street food scene in Bangkok or the idyllic white-sand beaches in Krabi will come to mind. Sure, those are amazing but you know what? More than just a country filled with great retail therapy and beaches, Thailand is home to many stunning flower festivals – with these three happening from November to February. Good things ought to be shared, so here goes!
1. Lopburi Sunflower Blooming Festival
Every November until January, the fields of Lopburi transform into a magnificent sea of yellow, thanks to the radiant sunflowers which are in full bloom during that period. Lopburi is home to the biggest sunflower fields in Thailand including the biggest one in the Phatthana Nikom District, and many visitors flock to Lopburi yearly for a glimpse of this enchanting scene. Besides taking photographs of the stunning view, visitors are encouraged to take scenic bike rides around the sunflower fields and do some recreational boating nearby. Moreover, One Tambon One Product (OTOP) produce which supports locally made products will also be available for purchase. Do also try to catch the military activities such as shooting, rowing and demonstrations on how to survive in the forest, which are all part of the festival highlights!
When: November 2017 to January 2018
Where: Lopburi, Thailand
Price: FREE
2. Flora Park Festival
Calling all flower lovers! This is something you DON'T want to miss out on. Showcasing more than 100,000 flowers of over 20 different species in their five zones, this festival is bound to be hard to beat. With slightly more uncommon flowers such as the Pink Cassia, Cassia Grandis, Cassia Fistula and even the Spathodea Campanulata beautifully blooming and ready to greet visitors, you're sure to be enthralled the moment you step in. Zone 1 features many of the aforementioned flowers as well as a Rose Zone with approximately 4,000 roses whilst Zone 2 houses a Learning Centre 'Flora Park' for sustainable agricultural development. Zone 3 consists of a tower where visitors can get a great view of the entire place, Zone 4 has a 90-metre-long bamboo tunnel for growing gourd plants and finally, Zone 5 has a Vertical Garden which houses numerous species such as petunia, begonia and more! Furthermore, over 5,000 English roses of 400 species will be showcased as well. Doesn't that sound absolutely marvellous?
When: November 2017 to February 2018
Where: Wang Nam Khiao, Wang Nam Khiao District, Nakhon Ratchasima 30370, Thailand
Price: 100-150 baht (adults), 50 baht (children & elderly)
3. Blooming Bua Tong (Mexican Sunflower) Festival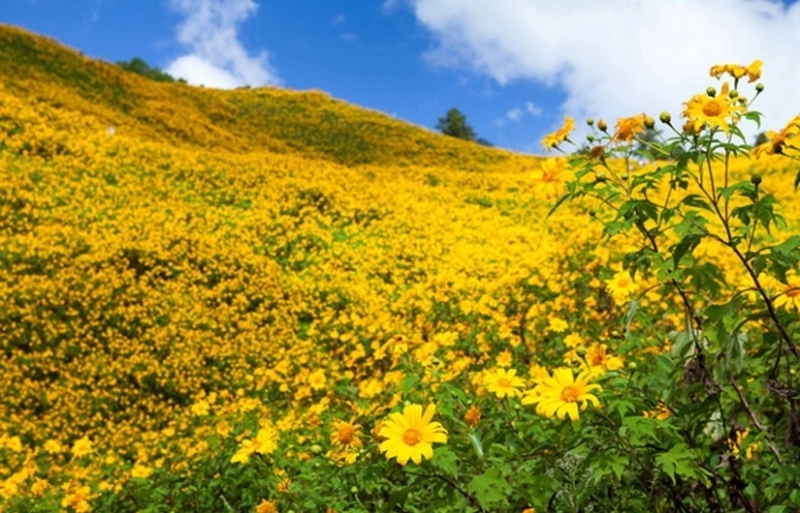 Every November to December, the Bua Tong Ban or Blooming Mexican Sunflower Festival is held in the Mae Fah Luang District and Mae Hong Son province, providing locals and visitors the opportunity to catch a glimpse of the vibrant sunflower fields, waterfalls and mist at Ban Hua Mae Kham. Originating from Mexico, these fields of  'wild sunflowers' are yellow to orange in colour and truly a sight to behold when they bloom over the hills, located 1,600 metres above sea level. Besides enjoying the gorgeous flowers, visitors can catch the hilltribe performances and enjoy fresh agricultural products that are available at the stalls along the way up the mountain. Most tourists opt to visit the Bua Tong fields as a day trip; however, camping overnight at Doi Mae-U is also ideal for enjoying the spectacular view of these yellow gems during sunrise or sunset. Don't forget to bring your cameras and selfie sticks!
When: November to December 2017
Where: Mae Fah Luang District/ Mae Hong Son Province
Price: FREE
Don't all these flower festivals sound enchanting? You now know where to head to this year-end for the most picturesque and unforgettable trip yet!