Relaxation in any form is important for all of us – for me, it's venturing out to a driving route, whether it's familiar to me or something new I'm exploring. Whether you're a student, working adult, or everything in between, we're certainly no stranger to the repetition and tediousness of daily life in Singapore. The routine nature of the familiar can amount to exhaustion, both physical or mental, and it compels us to find an outlet to relieve our stress — whether that's by exercising, cooking, reading a book, or even just hitting the hay. 
Stress needs to be relieved
I find great reprieve in driving out to quiet areas where I can blast the music in my car — anything to silence the chaos in my mind that accumulates throughout the day. I prefer to drive at night, when the streets are quiet and there are few cars and passers by on the road, and so traffic is light; it feels like it's just me on an empty road with zero disturbance. As driving is something that is so familiar to me, the music that complements this setting is like hitting a reset button in my mind: I once again feel ready to face a new day and the challenges that come along with it.
Also read: 20 Nature & Hiking Trails in Singapore To Discover on Your Weekends [UPDATED 2020]
Thus, included in this is a personally curated list of driving routes familiar to me — I've either sought these locations out in the past, or wish to drive to them at some point, based on Google reviews from individuals who have, like me, found solace in driving. Hopefully this inspires you to drive out to these locations should you need to get away from it all; if you don't drive, you can always hop along with a friend who does and spend the night talking your troubles away. 
Scenic driving routes in Singapore
1. Tebing Lane car park
Though not exactly a driving route, Tebing Lane car park is more of a place that I'd drive to in order to seek reprieve. Not a stranger to those who've visited the Punggol East Container Park for its unique architecture constructed from shipping containers, what's more often overlooked is the car park that is situated right next to the restaurants. 
With no high rise buildings surrounding it, passers-by are treated to an unblocked view of bright and sunny, blue skies. If you happen to chance upon the car park during off peak hours, there'll be few cars around you, making the car park feel open and spacious — I've certainly felt like I was in a vast car park in the Woolworths and Coles of Australia, filled with excitement as I was about to wander around an equally vast hypermarket. 
If you're a resident of the area or are wishing to go to the containers for a meal, perhaps you can schedule your visit when it's less crowded so that you can enjoy the peace that comes with being in a (rarely) sparse car park. 
Address: 10 Tebing Lane, Singapore 828849 or "Car Park beside Punggol Police Station" on Google Maps 
2. Tampines Quarry (via Tampines Industrial Ave 1 or 11)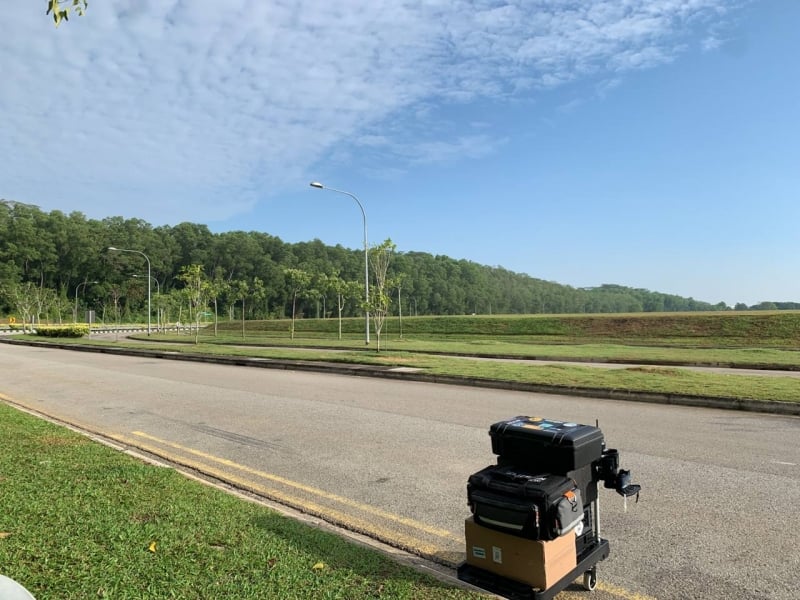 Even if you're a resident of Tampines, the beauty of this road might be unfamiliar to you as it's located on a road off Tampines Avenue 10. It's even a bit tricky to access if you're not driving, as it's accessible by public transport only via bus service 58, and is a 5-10 minute walk away from the bus stop. However, if you're jogging or cycling through, you might not be a stranger to this road: It's where the entrance to Tampines Quarry lies, and is frequented by families and trekking enthusiasts. 
Also read: Escape to The Great Outdoors: 6 Best Places to Hike in Singapore!
What stood out to me about this location though was hardly the quarry — which certainly does not take away from its splendour — but it was this driving route that had no high rise buildings in sight. The only thing you could see was the vast majesty of the sky and the long road of trees on one side with an empty field on the other (depending on which direction you were driving from). It certainly gives you the freedom to clear your mind as the driving is very straightforward (haha, literally) and you're allowed to take in the awe of the clarity of what surrounds you. 
Address: entrance via Tampines Industrial Avenue 1 or Tampines Industrial Ave 11, both located along Tampines Avenue 10 
3. Arcadia Road
Listed as a heritage road, it is no wonder then that Arcadia Road is amassed with dense foliage and tall trees, and is part of the conservation of National Parks Board. This driving route makes one feel immediately transported away from the typical high rise skyscrapers and HDB flats that populate Singapore's lands — one is enthralled by the shrubbery and jungle-esque nature of this kilometre-long road. With its entrance located along Adam Road before the PIE entrance, it is definitely an easy one to miss; include this as a must-see for your next driving adventure if you're ever in the Bukit Timah area. 
Address: entrance via Arcadia Road, located along Adam Road
4. Punggol Barat and Timor Islands (via Seletar North Link)
Located in northern Singapore, these offshore islands start from Punggol and end at Rowers Bay Park in Seletar Aerospace. Popular among cyclists who traverse these islands to catch the breathtaking views of the sunrise and sunset, I decided to drive through these islands after dining in the Punggol Settlement area. 
Also read: 12 Perfect Spots to Catch The Sunset in Singapore [Updated 2020]
This area seems to be split in half. While Punggol Timor Island is lined with industrial buildings, trucks, and sand dunes, Punggol Barat Island welcomes you with open, clear reservoirs, foliage, and an unobstructed view of the sky. However, don't overlook the monotony of Punggol Timor Island — it is still a treat to drive down a straight, unobstructed road. 
Perhaps the next time after your supper at Jalan Kayu or Punggol, take the 4.8km driving route through these islands. You can relish the sights of the island while tuning into the radio blasting in your car. 
Address: entrance via Seletar North Link next to Marina Country Club or Rowers Bay Park
5. Tanah Merah Coast Road
And saving the best for last: At the eastern extremity of Singapore, this driving route is one that's definitely off the beaten path as it's nearly impossible to access with public transport. This rarity is popular on Google reviews among cyclists and fishers who hope to catch a truly immense view of the sunrise and sunset as the only thing that accompanies this road are open waters. 
With designated fishing and sunrise spots, and the longest on the list at roughly 10km, why not incorporate this driving route the next time you plan on visiting Changi Beach or Changi Village for much needed R&R? 
Address: entrance via Aviation Park Rd or ECP 
Regardless of where you live and which areas of Singapore you're familiar with, we hope that this article has provided you with some ideas on where you can venture to the next time you need a mental break. Don't forget to share this article with your friends who are always on the lookout for a scenic driving route in Singapore!