Hong Kong is popularly known as a shopping mecca where you can find malls with high-end luxury brands and street bazaars with affordable bargains. With the wide variety of shopping areas in Hong Kong, you are certainly spoilt for choice. Here are the six best areas to shop in Hong Kong to get your money's worth!
1. Mong Kok
If you are looking for an all in one shopping experience in Hong Kong, Mong Kok is the place to head to. You can revel in the novel experience of walking down the winding paths while browsing cheap fashion accessories, sneakers, flowers and even goldfish. The Ladies Market, which stretches a kilometre along Tung Choi Street, stocks up souvenirs, traditional Chinese handicrafts and stylish clothing. The bustling streets are best explored at night when the atmosphere is rousing.
Also read: Hong Kong: Why Visit Mong Kok on a Saturday Night
The Langham Place Shopping Mall, which houses over 300 shops consisting of international and independent labels, is spacious and trendy. Located along Argyle Street, it is conveniently linked to the Mong Kok Metro Station, making shopping a breeze.
The Flower Market Road and Sneaker Street are interesting places to check out with their reasonably priced stalks and chic sneakers. The Goldfish Market, on the other hand, is a spectacle on its own, brimming with not just goldfish but also turtles, snakes, spiders, frogs and reptiles. Fifteen minutes away from the Mong Kok Metro Station is the Temple Street Night Market, where you can experience the local culture and traditional craftsmanship with a host of street performers lighting up the crowded streets. 
How to get there: Tsuen Wan and Kwun Tong Lines, Prince Edward Station (North), Mong Kok Station (South)
2. Tsim Sha Tsui
Huge shopping malls and high-end shopping are what you can expect at Tsim Sha Tsui.
Spanning over 340,000 square feet, K11 is the world's first art mall, where elements of nature and art are integrated into the architecture of the building. Besides fashion, beauty and lifestyle shopping, you can also view artworks, featuring 19 exhibition panels of local artists.
In the area, you can also find Hong Kong's largest mall, Harbour City Mall, which is a combination of three separate malls together with 400 other shops. It houses Chanel's flagship store in Asia and Louis Vuitton's largest outlet in Asia.
1881 Heritage is a new cultural and shopping landmark that used to be the marine police headquarters. With a luxury shop and a heritage hotel, the 120-year-old building houses brands such as Tiffany & Co, Tudor and Piaget.
If you're looking for a nice place to rest after shopping in the Tsim Sha Tsui area, head to the Park Lane Shopper's Boulevard. At the end of the lane is the entrance to Kowloon Park.
How to get there: Tsuen Wan Line, Tsim Sha Tsui Station
3. Central
For luxury shopping, Central Hong Kong is the place to go. The Galleria, positioned between the Mandarin Oriental Hotel and office towers is a five storey mall that houses the Louis Vuitton flagship outlet. Prices at this LV store are significantly lower than other outlets in Hong Kong. Other brands include Stella McCartney, Helmut Lang, Coach and Manolo Blahnik. L'Atellier, a Michelin-starred establishment and ZUMA are fine dining options available at the mall. Besides shopping, you can also head to the ZUMA lounge, one of Hong Kong's hottest night spots where international DJs play and a variety of cocktails are served.
Queen's Road is also a popular shopping street in the area that has international retailers such as Longchamp, Topshop, Zara and Calvin Klein. Queen's Road East which stretches from Wan Chai to Happy Valley has a heritage trail that you can explore. The Hopewell Centre that stands in Wan Chai is an iconic skyscraper that's great for photo taking. You can take the lift to the top floor for a scenic view or dine at the revolving restaurant.
How to get there: Airport Express at Hong Kong, Central and Admiralty Stations
4. Causeway Bay
With a bunch of shopping malls, markets and cafes around, Causeway Bay is perhaps the most convenient area to explore for those with a tight schedule. Times Square is a great place to visit at night with its glass walls that look splendid when lit up. You can also drop by SOGO, Hong Kong's largest Japanese-style department store that consists of several levels of fashion, electronics and household items.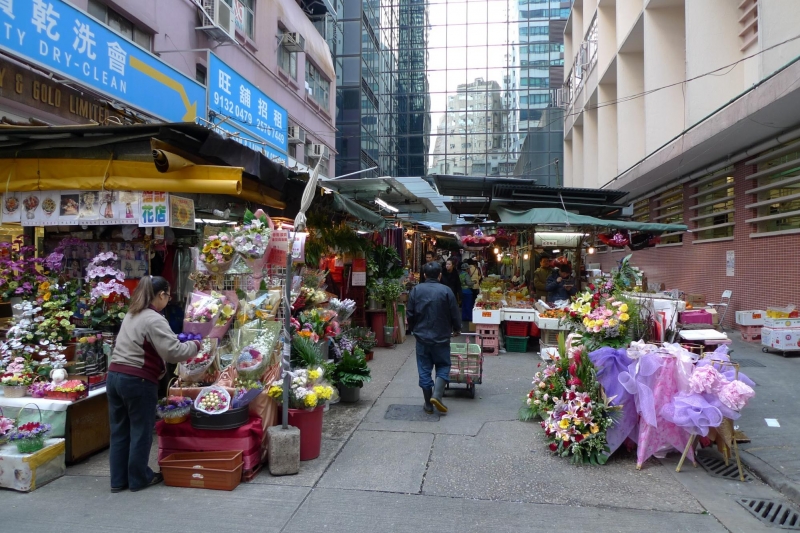 Image credit: bricoleurbanism
Also in the area is Jardine's Crescent, a shopping market that is worth a visit. It is a narrow street with stalls lined up selling bargain clothing, accessories and domestic goods. There is also a small wet market at the end of the street and flower stalls selling fresh blooms at very low prices. Hop over to Jardine's Bazaar that is parallel to Jardine's Crescent for more bargain items. After a day of shopping, take a rest at The Coffee Academics where you can enjoy a cuppa while people-watching.
How to get there: Tin Hau and Causeway Bay Stations
5. Sham Shui Po
Electronics enthusiasts will be delighted to know that Sham Shui Po is literally the mecca of all types of gadgets, parts and DIY materials. Dragon Centre has nine levels of electronics, with an ice skating rink on the eighth floor and 90s-style games arcade on the top floor. On the fifth and sixth floors, there is a Japanese and Korean style mall. This is the second largest shopping centre in West Kowloon. Down below, Yu Chau Street is filled with DIY materials and other items such as toys, wholesale stationery and souvenirs.
Down below, Yu Chau Street is filled with DIY materials and other items such as toys, wholesale stationery and souvenirs.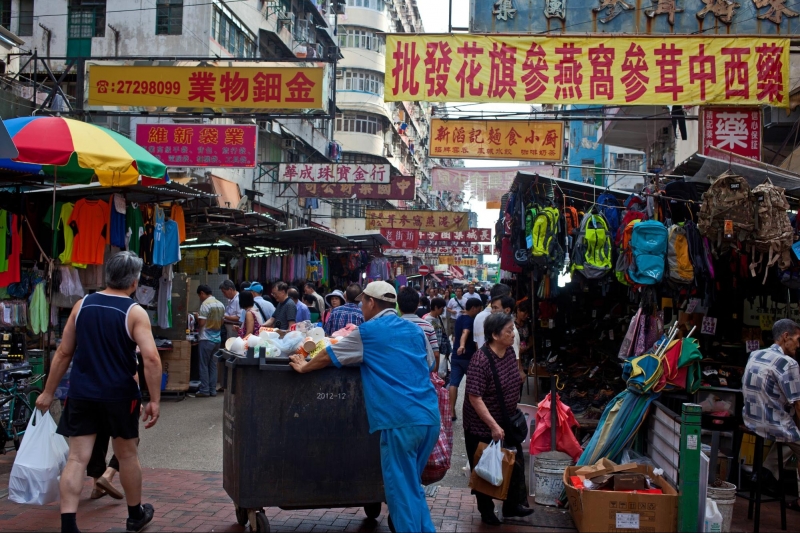 Image credit: Chris Brown
If you're into second-hand electronic components, Apliu Street sells bargain items as well as jade and jewellery. You can also head to Cheung Sha Wan Road, where 250 fashion shops await you.
How to get there: Tsuen Wan lines, Sham Shui Po Station
6. Hollywood Road and Upper Lascar Road
These two streets are known for antiques, wooden handicraft items and jade.
Hollywood Road is the centre of the art and antique trade in Hong Kong. Begin your journey at Possession Street, where the British Royal Navy landed in 1841, and explore the street to your heart's content. There are some interesting shops such as Okura, a Japanese concept store selling leather goods and Grana, a Hong Kong based fashion label selling Chinese silk and Irish linen. The Hollywood Road Police Married Quarters, also known as PMQ, was initially built as a dormitory for police officers and has since been converted into a creative hub. Check out some of the indie enterprises, gift shops and pop-up stores such as Goods of Desire and Kapok.
Cat Street Bazaar on Upper Lascar Road is an ideal place for souvenirs and antiques. The 100-metre-long street includes bargains in jade, silk, embroideries and wooden handicraft items. You can also check out art galleries along the way.
How to get there: Island line, Central Station