A cool city on the island of Borneo, Kuching is the capital of the Malaysian state of Sabah. A fairly small city, it's pretty easy to get around on foot. Known as the City of Cats, Kuching has a long and interesting history, having formerly been the capital of the unusual White Rajahs of Sarawak. A culturally diverse city with plentiful places to eat, drink, and shop, Kuching is also one of the cleanest cities in all of Malaysia. Nature, history, and culture meet in Kuching, and the city also has its fair share of quirky sights too. Here are some of the best things to see and do on a trip to Kuching:
1. See the city's large cat family statue
Located rather unglamorously on a roundabout in front of a McDonald's fast food restaurant, the charming cat statue cannot help but make you smile. A large statue of a family of felines, the giant cats come in all colours and patterns. Make sure you stop by to snap plenty of pictures.
2. Visit the Great Cat of Kuching
Sitting at the centre of a large roundabout on Jalun Padungan, the Great Cat of Kuching was the city's first such cat statue. The tall statue is all white, and the cat has striking blue eyes and scraggly whiskers. The cat stands with one poor in the air, as though ready to playfully swat someone. Plants grow around the cat and an ornate Chinese arch stands in the near background behind the cat, making for some lovely pictures. On special occasions, the cat is dressed in cheerful clothes!
3. Hunt for the city's OTHER cat statues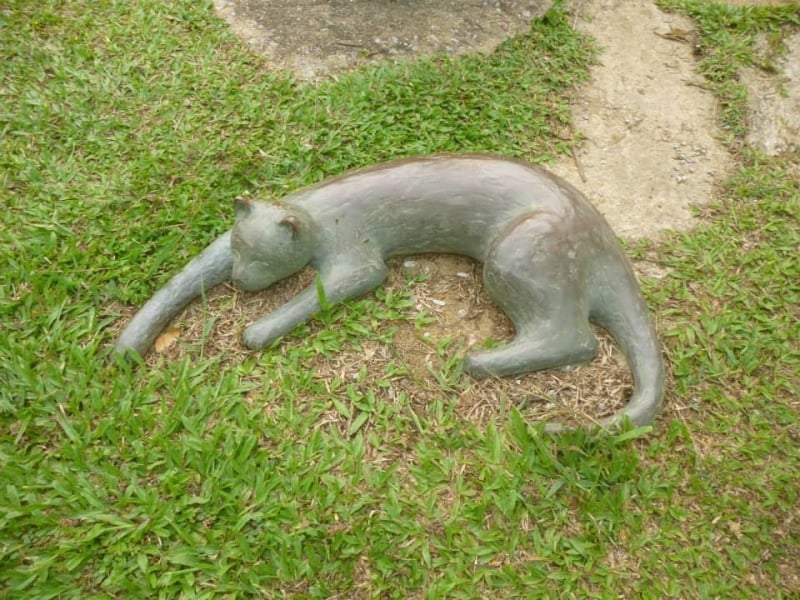 There are several other cat statues dotted around Kuching, including two playful kitties in the Malaysia-Chinese Friendship Garden and life-size cat statues cast in bronze on a patch of grass between the riverside and the James Brooke Bistro and Café. Walk to the opposite end of Jalan Padungan from the Great Cat of Kuching, towards the Soho area, and you'll find another four small white cats on a platform around a lamppost. This was one of the most interesting statues for me as the lamppost not only features snow-white cats but is topped by a giant Rafflesia flower too.
4. Get your feline feel at the Cat Museum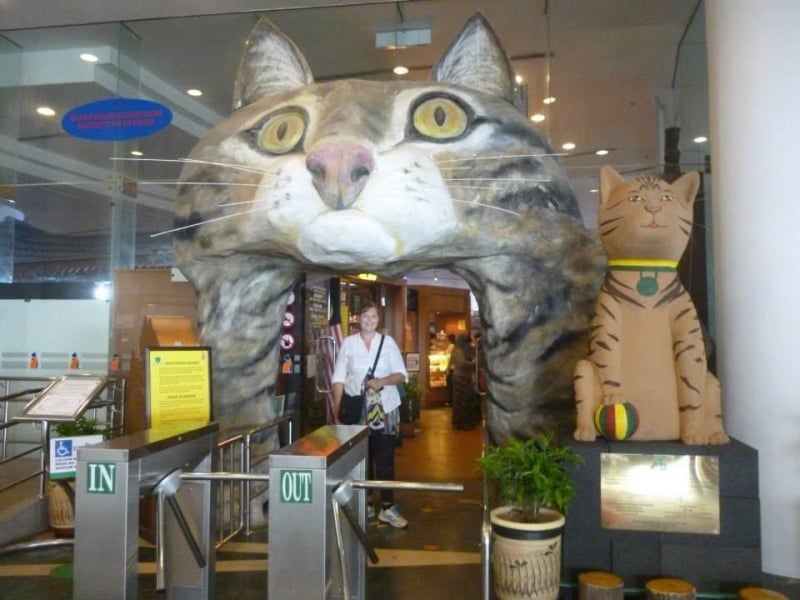 I love cats. I was so excited to visit the Cat Museum in Kuching and it didn't disappoint. Previously I'd read mixed reviews, with some people saying it was a cool and unusual museum and others saying it was tacky and just plain weird. All reviewers, however, seemed to agree on one thing: 30 minutes is all you need to really spend at the museum.
How much you like the museum really depends on how much you love cats and how much you enjoy seeing unusual displays (both get big check marks from me!). Even if you're not that into either, it's still worth making the trip, even if just for half an hour or so. I, however, spent around two hours here, poring over the displays, taking heaps of photos, reading the myriad captions, and, in general, having a great time.
Imagine a space entirely dedicated to cats. Now think of an array of items and add a cat theme. Not quite sure what I mean? In addition to statues of cats in all different sizes, colours, and poses, from various parts of the world and made from diverse materials, you'll find a large collection of pictures, posters, and books about cats. Add to that vintage and modern advertisements for pet food and actual pet food supplies, information about cat health and medical care, cat-print clothing, cat toys, and adverts for a huge array of products that share one thing in common: they use cats in their marketing campaign.
Tea towels, shoes, bags, teapots, cushion covers, games, toys, costume jewellery, money boxes, tobacco tins, snuff boxes, eye masks, scarves, serving trays, plates, bowls, bedding, floor mats… all featuring cats. You'll even find a cat skeleton and a touching cat's tombstone!
The cat-mosphere is cool! Educational, fun, and more than a bit bizarre, the Cat Museum is home to the biggest collection of feline-related memorabilia on the planet.
5. Admire the colours and details at Tua Pek Kong
Tua Pek Kong is one of the oldest Chinese temples in Kuching. The statues and pictures depicting characters from Chinese folklore are interesting, and there are plenty of brightly coloured details to admire. Colourful carvings adorn the outer walls, while inside the elegantly carved and ornate main temple building you'll find many statues, lanterns, and more. The smells of incense float through the air and the atmosphere is one of calm.
6. Photograph the Kuching Town Mosque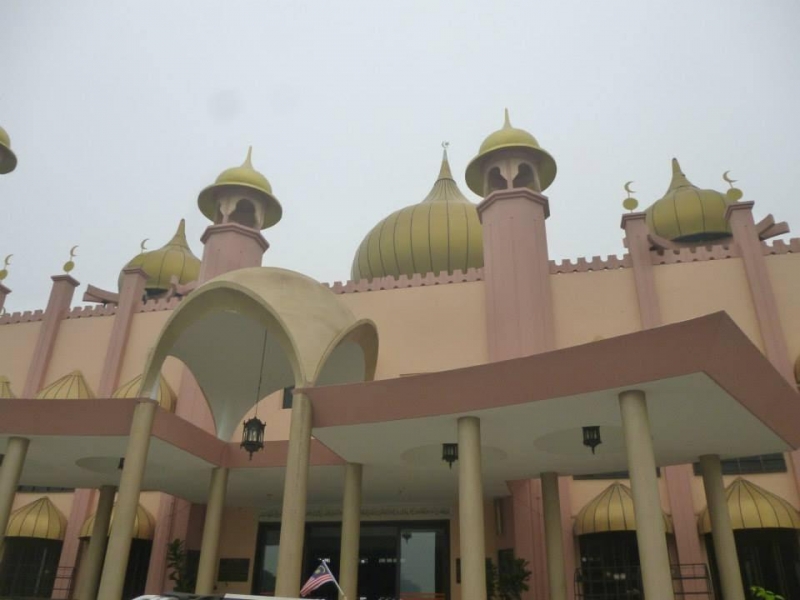 Once the main mosque in Sarawak, Kuching Town Mosque sees many devout Muslims coming to pray five times each day. The main building is a dusky pink colour and it is topped with yellow domes. Although non-Muslims are not allowed to look inside, the exterior vies make it worth going here. There's also a Muslim cemetery in front of the mosque, with simple markers honouring those who have passed.
7. Tour Kuching's other religious buildings
As with many places in Malaysia, Kuching is home to a variety of religious buildings from different faiths. Showing the multi-religious makeup of the population, each religious site is special in its own way.
Sri Srinivasagar Kaliamman Temple is one of the city's main Hindu temples, and it features a colourful gopuram above the entrance. Masjid Jamek is another of Kuching's busy Islamic places of worship. Beautiful Chinese temples include Hong San Si, Hiang Thian Siang Ti, and Chingsan Yan Temple. You'll come across interesting religious buildings simply wandering Kuching's streets—go forth and discover!
8. Stroll along the riverfront
Previously lined by warehouses, the renovated waterfront in Kuching is a pleasant place for a stroll. Several interesting buildings can be seen, including the small castle-like structure of the Square Tower and the Sarawak Steamship Building, while on the opposite side you can spot the Astana and the New Sarawak State Legislative Assembly Building. The riverside is a popular place for locals to hangout, and several food stalls try to entice visitors.
9. Shop at the Main Bazaar
While Kuching has several shopping centres, the Main Bazaar is a bustling shopping area where you'll find an array of goods at reasonable prices. Perhaps one of the best places to buy souvenirs in the city, the old shophouses contain many delights, with stalls set up in front of the shops to act as an enticement to enter.
10. Discover Kuching's many (non-cat related) museums
Kuching is home to an assortment of museums that cover different topics and cater to varying interests. Many are free for you to look around. Do note that photography is not allowed in some of the main museums.
I particularly enjoyed the Sarawak Museum / Ethnology Museum. This elegant historic building shows visitors more about the local heritage and culture. Exhibits include a replica of a traditional dwelling, tools, day-to-day items, and beautiful tribal carvings.
Other local museums include the Textile Museum, the Timber Museum, the Art Museum, the Sarawak Islamic Museum, the Natural History Museum, the Police Museum in Fort Margherita, and the Chinese History Museum.
Enjoy the wide variety of local dishes, take a cooking class, admire street art, visit Malaysia's oldest planetarium, and take a trip to the awesome Sarawak Cultural Village. There are many natural attractions to explore too, including the national parks of Gunung Gading and Bako. With so many purr-fect things to do in Kuching, it would be cat-astrophic to skip it!
Also read: 10 Reasons Why Kuching Should be Your Next Weekend Getaway Destination